Even though summer is just around the corner, that doesn't mean it's too soon to start browsing this collection of crochet jacket patterns for our fall wardrobes.
Once the weather starts getting cold again, you know you're immediately in search of a new cute jacket to show off!
32 Crochet Jacket Patterns
So, when the short clothes are enclosing themselves in the closet, it is the season for jackets to reappear and take over the world.
Since there are many crochet jacket patterns available, we have narrowed it down to 32 of the very best jackets to crochet this season, from glamping-inspired to office-appropriate, below.

1. Bomber Jacket Crochet Pattern by TCDDIY
This jacket features deep pockets, an oversized fit and alpine stitches for texture! This jacket is made slightly cropped, but you can make it to any size and fit to your choosing.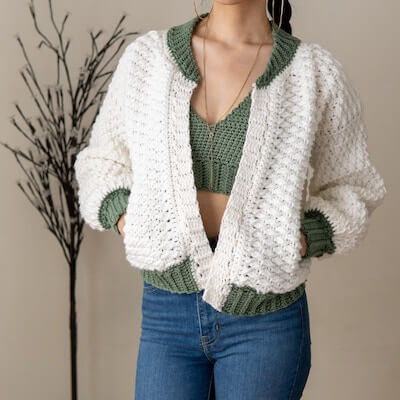 Get the Pattern by TCDDIY here

2. Crochet Granny Square Jacket Pattern by Red Heart
Show your passion for the granny square motif on this fashionable crochet jacket. Featuring vibrant colors, granny squares are stitched against a black base to achieve the designed look.
This warm and casual layer is a stunning alternative to a plain old jacket.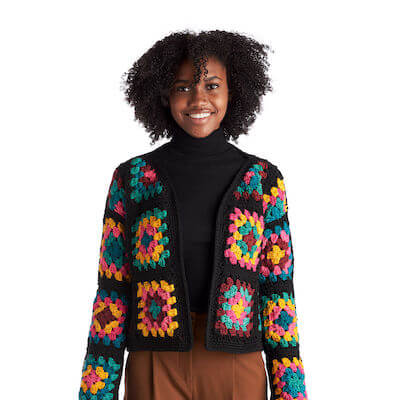 3. Crochet Sweater Jacket Pattern by Make And Do Crew
This surprisingly easy crochet sweater jacket pattern uses very simple stitches and construction to create a stylish cold-weather staple. Add an optional belt or leave it open for a comfy, oversized fit.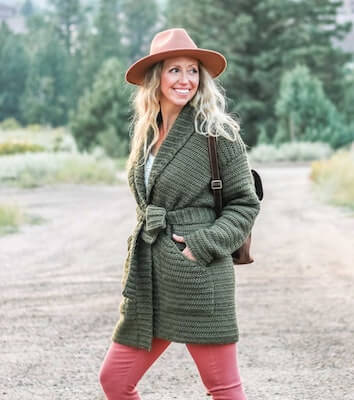 Get the Pattern by Make And Do Crew here

4. Hooded Crochet Jacket Pattern by Morale Fiber
A warm, practical outerwear garment with a touch of magic! This Hooded Crochet Jacket uses the unique structure of Tunisian crochet to create a gorgeous woven look that is eye-catching with any variegated yarn.

Featuring a deep, draping hood and cropped kimono-style sleeves, this includes the pattern for sizes small, medium, and large.
This is made from a few simple rectangles, resulting in piece that mimics the cut and open-wear style of indigenous loom garments.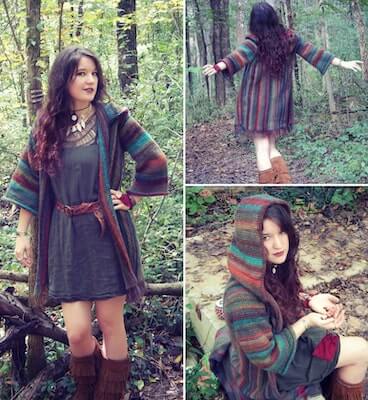 Get the Pattern by Morale Fiber here

5. Kids Jacket Crochet Pattern by Crochet Garden
This Kids Jacket Crochet Pattern is perfect for all seasons and will last all year. Watch their little eyes sparkle as the colors come alive with the mandala yarn. fun workup with both solid and multi colored yarn with all the elements they need.

A darling crochet hood will trot along with them keeping their little ears tucked in and warm. Little pockets adorn each side, a perfect place for sacred trinkets and magical things. With so many sizes, all the kids can have one!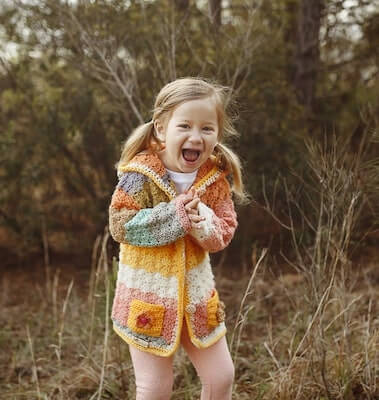 Get the Pattern by Crochet Garden here

6. Free Crochet Jacket Pattern by Joy Of Motion Crochet
This is the perfect crochet jacket to have as one of your wardrobe staples. With the classic spin on a solid colored crochet cardigan, having the wide outer edge in a different color.

In the middle of the back panels you also find a lovely stripe from the center back neck down that creates an interesting look.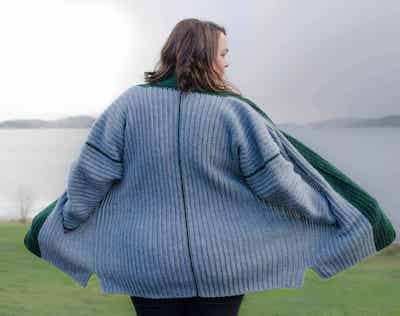 Get the Pattern here

7. Faux Fur Coat Free Crochet Jacket Pattern by For The Frills
This Faux Fur Coat Jacket is the fluffiest crochet project ever! Made from a luxurious faux fur yarn, this stylish crochet coat is a quick and easy make that's perfect for the chilly winter months!
This fluffy crochet coat is made up entirely of half-double crochets – that's it!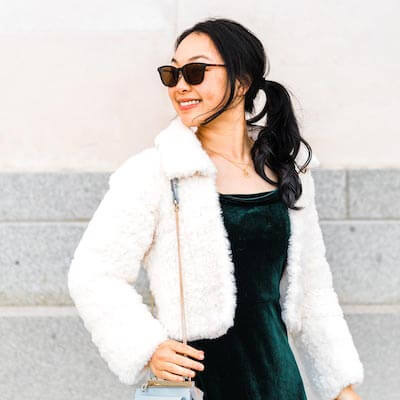 Get the Pattern here

8. Crochet Ribbon Jacket Pattern by Yarnspirations
Autumn Red gives this elegant jacket impact on white, making it a fantastic summer fave. The jacket crochet pattern brings this bold beauty to life, or imagine a different shade that shapes it exactly as you imagine.
It's a striking piece that makes you the focus of all your summer events.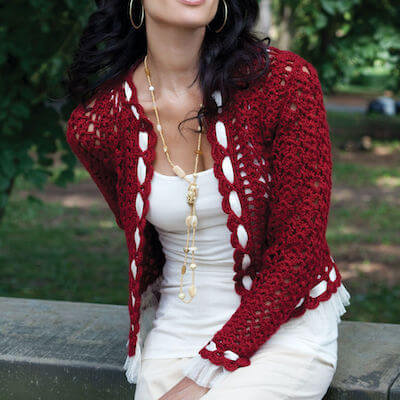 9. Crochet Shag Jacket Pattern by Mermaid Cat Designs
This oversized Crochet Shag Jacket Pattern is perfect for when you're feeling a little extra! Its crochet details add amazing texture to this jacket. It's a piece that will surely turn heads!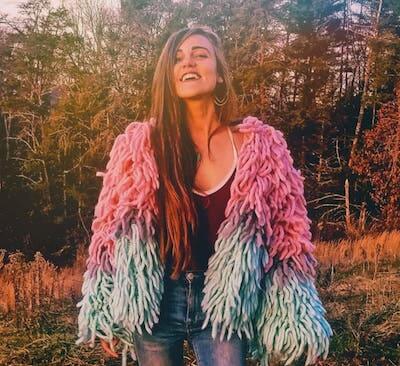 Get the Pattern by Mermaid Cat Designs here

10. Smock Top Crochet Jacket Pattern by Peanut And Plum
This smock top is a timeless, stylish jacket that can be both casual and formal. The smock edging adds a gorgeous, frilly, vintage touch to this jacket that goes perfectly with many styles.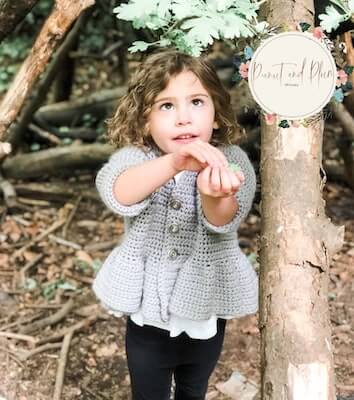 Get the Pattern by Peanut And Plum here

11. Ginger Crochet Jacket Pattern by Creativa Atelier
Crochet this beautiful and practical Ginger Jacket using nice color stripes. Try crocheting it using only two colors, crochet it all with multicolor stripes or using a pattern of repeated stripes – you decide!
It will be perfect whether you make it for your baby, or as a present to a baby, a guaranteed success!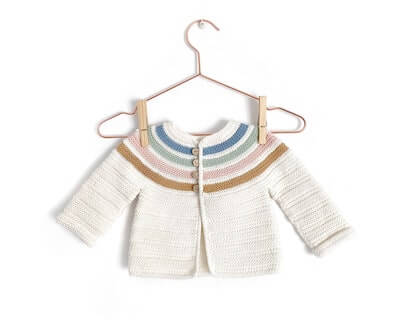 Get the Pattern by Creative Atelier here

12. Crochet Tie-Front Jacket Pattern by Red Heart
This pretty jacket has the power to transform a t-shirt and jeans into a beautifully coordinated ensemble! It features a flattering, elongated fit and cute tie-front finish that makes it a great transitional garment.

Crochet using any shade that works for you, or take the guesswork out and complete it as shown. If you're the causal type, give this free crochet jacket pattern a try!

13. Crochet Varsity Jacket Pattern by By Katerina Crochet
This Varsity Jacket has a top-down construction with a positive ease of about 18 cm around the bust circumference. It is worked in single crochet stitches with slip stitches in the back loop only ribbing.
This particular design has hidden pockets, but the jacket can be worked without them if you prefer. The finishes are making the difference.
From the hided pockets to the way of sewing the zipper and surface slip stitches details, everything will make you love to wear this piece.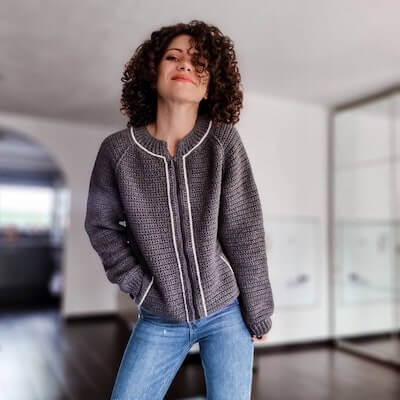 Get the Pattern by By Katerina Crochet here

14. Throwback Thursday Jacket Crochet Pattern by I Like Crochet
Chilly summer evenings have met their match with this jacket. A nod to the old granny square pieces of the past, this Throwback Thursday Jacket has granny squares that are connected with cream instead of black yarn. This subtle shift makes all the difference!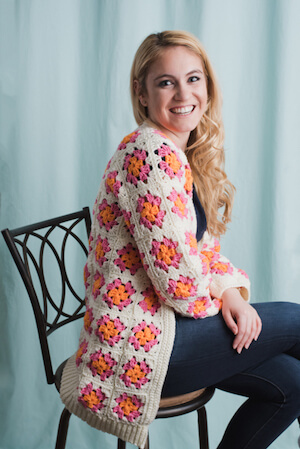 Get the Pattern here

15. Chunky Crochet Jacket Pattern by Mama In A Stitch
Get ready to cuddle up in this cozy, chunky, sherpa fleece jacket! Using jumbo yarn and a large hook, it works up quickly and easily using only single crochet stitches.

Featuring slanted pockets and a roomy optional hood, it's perfect for fall and winter alike. This ultra soft coat will be your new wardrobe staple and the yarn doesn't shed.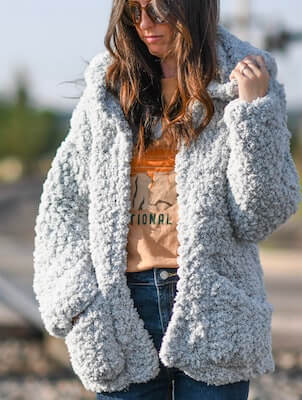 Get the Pattern by Mama In A Stitch here

16. Crochet Infinity Cape Jacket Pattern by Briana K Designs
Isn't it so much fun to dress our children in stylish and beautifully handcrafted clothing? The wonderful aspect about this fashion cape is it can be worn in the crisp fall or cool summer evenings to keep the bugs and chill away yet not be too hot.

And as an extra layer in the winter, it could even be worn over a coat. Just imagine a little one stomping around in snow boots draped with the infinity cape jacket, such cuteness!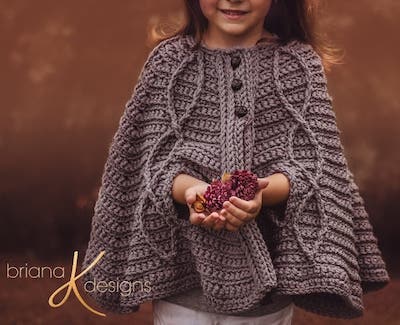 Get the Pattern by Briana K Designs here

17. Simple Crochet Jacket Pattern by Make And Do Crew
This free crochet jacket pattern is effortless to make as it is to wear. The natural texture and weight of cotton blend yarn lends a beautifully organic drape and look to this casual sweater.

While the yarn is on the heavier side, the open stitches combine for a comfortable, flattering fabric. Two short shoulder joins are the only seaming you'll do while whipping up this speedy and simple cardigan project.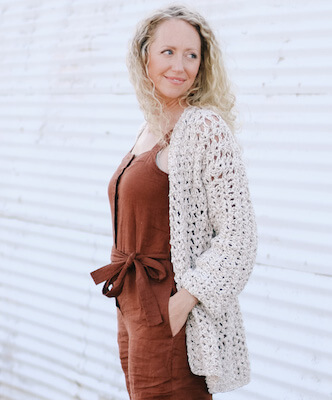 Get the Pattern here

18. Rainbow Fringe Festival Simple Crochet Jacket Pattern by Mokie See Mokie Do
The perfect punch of color for any music festival! Rock the rainbow with this eye-catching shaggy overcoat. Will keep you warm while still comfortably breathable.
The pattern is fairly easy, however it is time-consuming to attach all the fringe.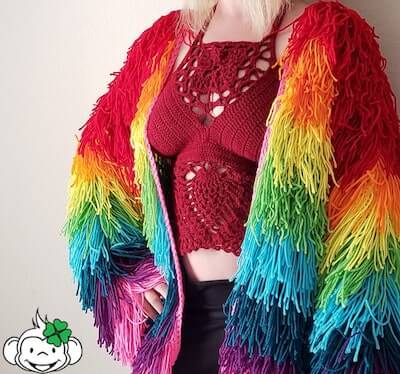 Get the Pattern by Mokie See Mokie Do here

19. Crochet Mandala Duster Jacket Pattern by Morale Fiber
This Mandala Duster is a stunning circular jacket sure to get attention with a central mandala design and tons of floaty ruffles, alluring mesh stitching, and mega dramatic pointed bell sleeves! This pattern leaves you free to plan your own color changes.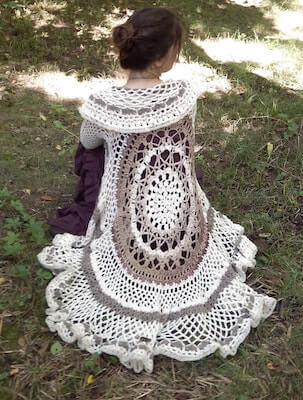 Get the Pattern by Morale Fiber here

20. Tunisian Crochet Jacket Pattern by Yarnspirations
This colorful crochet jacket is a stylish way to warm up your look. The pattern features Tunisian crochet in rows for the body, while motifs are worked in short turn rows in Tunisian crochet, and sewn on after.

The free crochet jacket pattern also includes handy diagrams for more visual learners. It's a stylish alternative to a usual jacket, and a seasonal favorite for cooler days.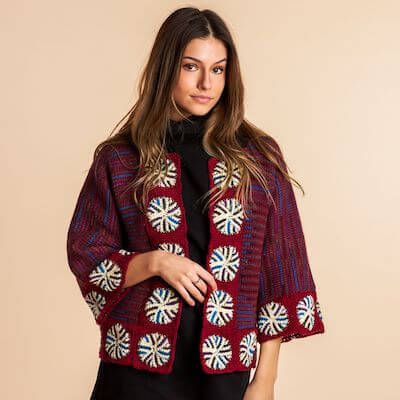 21. Crochet Men's Vest Jacket Pattern by Interunet
This button up Sleeveless Crochet Vest Jacket is suitable for many occasions and will complement your outfit and style. The crochet item is shown in small size, but it can be easily adjusted to fit any body shape and measurements.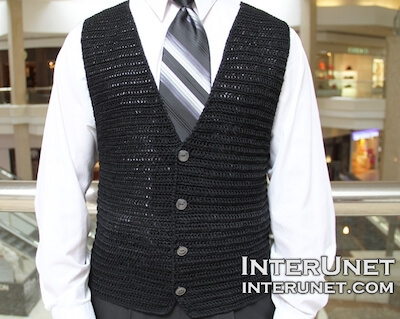 Get the Pattern here

22. Crochet Houndstooth Jacket Pattern by A Crocheted Simplicity
This Crochet Houndstooth Jacket is is such a fun, functional and stylish jacket for your little girl! Perfect for any time of the year and great for dressy and casual wear. this project can be changed up in so many colorful ways. Go wild with color!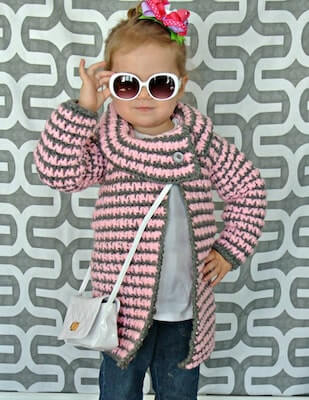 Get the Pattern by A Crocheted Simplicity here

23. Crochet Cropped Granny Jacket Pattern by Theodora Goes Wild UK
Colorful granny squares combine to make a fun and funky cropped jacket, with three-quarter length sleeves.
An incredibly versatile pattern, it can be adapted to any DK (8-ply) yarn in any colour combination, to suit any individual taste, making it the perfect stash buster.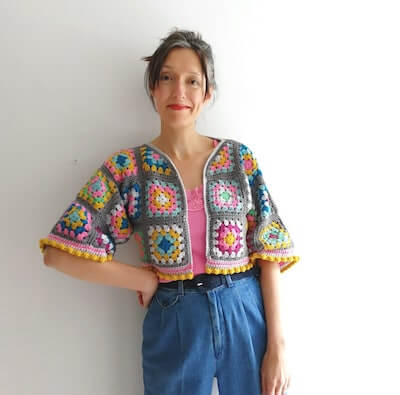 Get the Pattern by Theodora Goes Wild UK here

24. Crochet Cable StItch Jacket Pattern by TCDDIY
This gorgeous make is an elegant and trendy jacket that can be work with any outfit! It has a classic cable stitch detail aligned with alpine stitches for texture. The body is a sleek, ribbed texture made from double crochets and slip stitches!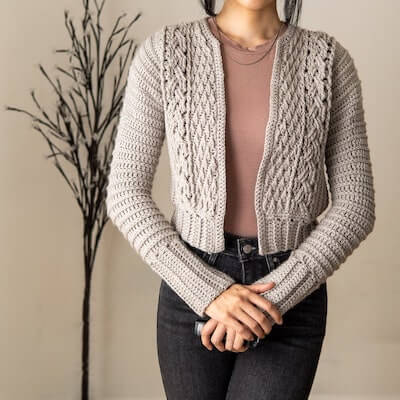 Get the Pattern by TCDDIY here

25. Sunset Bomber Crochet Pattern by Evelyn And Peter
Cozy up in this Sunset Bomber all winter long! It features a wide ribbing and warm pockets! This cute jacket works up quickly with the bulky yarn so you will be adding to your wardrobe in no time!
Get the Pattern here

26. Crochet Lacy Jacket Pattern from Caron Yarn
A welcome addition to any wardrobe, this versatile jacket lets you achieve so many fashionable looks. The pattern makes it stylish as you stitch in the suggested color, or imagine a different vibe that brings out your personality and style. It's a fantastic fit and looks great over its companion camisole.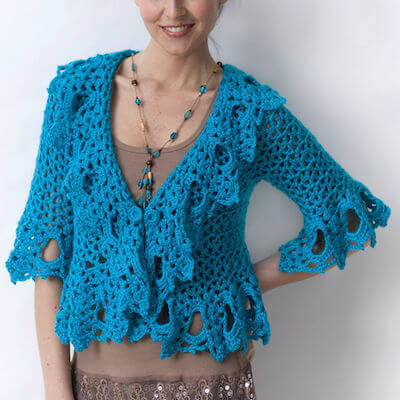 27. Crochet Bear Hooded Jacket Pattern by Baby Crochet Designs UK
This cute little bear jacket is made from the yoke down then joining the yarn to make the hood and sleeves, it works up lovely and cozy.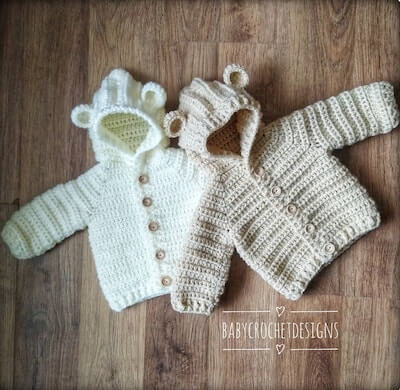 Get the Pattern by Baby Crochet Designs UK here

28. Crochet Amalia Jacket Pattern by Milla Mia
Short, snappy and stylish, this Amalia Jacket uses spike stitch to create rows of stunning color. This neat Chanel-inspired jacket is worked in pieces and seamed. Sized from XS to XXL, Amalia has three quarter length sleeves and neat hump-stitch edging detail.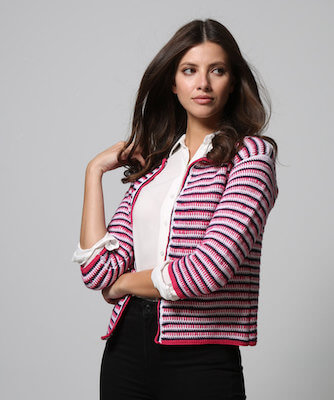 Get the Pattern by Milla Mia here

29. Crochet La Jolla Cove Jacket Pattern by Paintbox Yarns
You will love this cool crocheted jacket to throw over jeans and vests for warm days or evenings when you need a little more protection from the sun or breeze.

This color blocked jacket has textured panels using front and back post stitches to create a raised ripple stitch, and an easy boxy shape to flatter every bodyshape.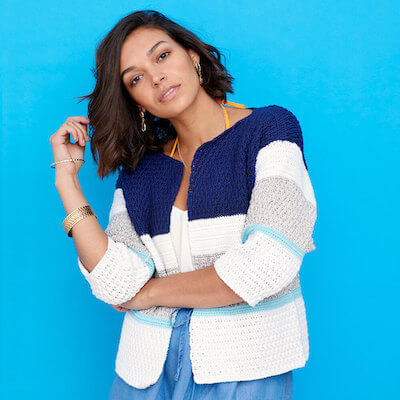 Get the Pattern by Paintbox Yarns here

30. Crochet Jacket With Pocket Pattern by TCDDIY
Having pockets, corset ties and textured/color details this jacket is the farthest thing from boring. Customize this jacket by switching up the colors with your favorite sports team colors or any combination you choose, sport what you love and look trendy while doing it.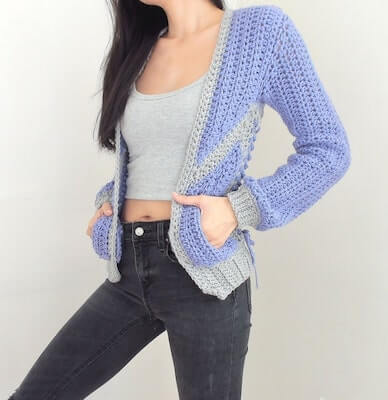 Get the Pattern by TCDDIY here

31. Crochet Spider Lace Jacket Pattern by Red Heart
Imagine the pretty look of this crochet jacket over so many outfits. With its casual spider lace pattern, jacket is designed to be worn with an open front, yet can be stretched to pin closed too.

It's a fun project to crochet in any shade, but the pattern designed it in a neutral tone for versatility. You're sure to keep this lacy beauty handy all year long!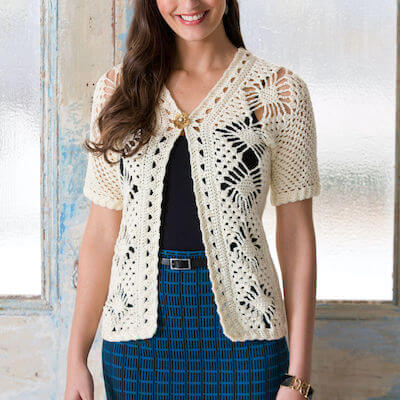 32. Crochet Mont Blanc Jacket Pattern by LillaBjorn's Crochet World
The jacket is designed to fit with 4 – 8in (10-20 cm) of positive ease at the bust and 2 ¼ – 3in (6 – 8 cm) of positive ease at the upper arm. The jacket is worked seamlessly from top down.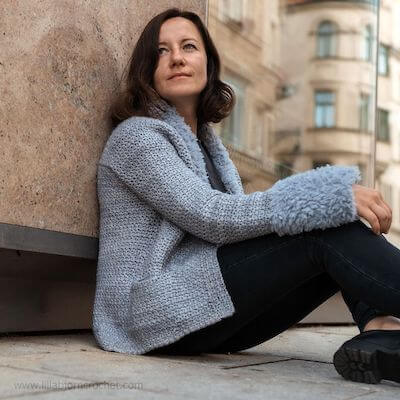 Get the Pattern here
FROM LIGHT CROCHET JACKETS FOR SUMMER, SNUGGLY COATS FOR WINTER AND SO MANY OPTIONS FOR IN BETWEEN!
Crochet cardigans are kinda our fave, so we've got lots more where these came from. Find all our crochet cardigan patterns here or peruse all styles of crochet sweaters here.

Share your work! Post a photo of your crocheted pieces on our Facebook Page to show off your stitches!

Wrap up in your new crochet jacket, brew some tea and congratulate yourself for adding a new piece to your handmade wardrobe!