With so much time stuck at home during the quarantine, it's the perfect opportunity to tackle a few crochet home decor patterns. Whether you have a blank wall that's just begging for an amazing piece of artwork or have an old piece of furniture that needs a makeover, now's the time to dive in!
Create something beautiful for every room in the house with these inspiring crochet patterns. You'll find something cozy, stylish, or practical to have in your home all year round or to bring out on special occasions.
30 Crochet Home Decor Patterns
With these DIY crochet home decor projects, a cozy abode is just a few stitches away – because home is where your hooks are!

1. Crochet Home Decor Wall Hanging Pattern by Woodland Stitch Craft
Floral arrangements are an essential part of a lot of home decor. Now you can create that same colorful and nature inspired decor for your home with crochet!

This Lovely Day Wall Hanging includes instructions for both the flag and 4 flowers and 2 leaves. Using these 6 basic motifs, you can arrange your flowers and leaves in countless combos to fit into any space in your home.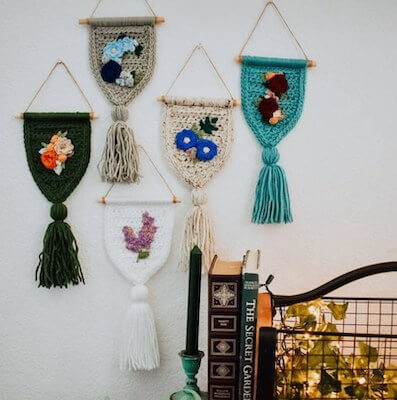 Get the Pattern by Woodland Stitch Craft here

2. Crochet Home Sweet Home Table Runner Pattern by Lady Jay Crochet
The sweet, sweet comforts of home. What's more cozy than homey decorations? Especially if they include lace and/or bobbles!

This Home Sweet Home Table Runner is the perfect addition to your boho or farmhouse chic decor. Your tables need not be naked ever again!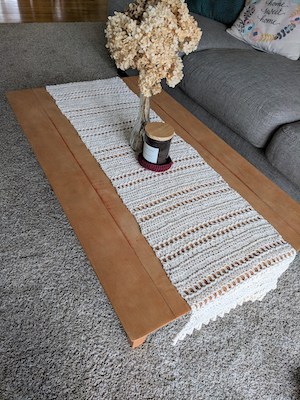 Get the Pattern by Lady Jay Crochet here

3. Granny Hexagon Pouf Home Decor Crochet Pattern by Yarnspirations
Need a pretty spot to rest your feet? How about this granny crochet puff? This pouf is made of seamed hexagons with a linked double crochet base.

It's an easy-level pattern that's also great for practicing half double crochet and treble crochet techniques. Measuring 24″ x 8″, it's a cute and versatile accent for the family room, bedroom, zen room and more!
Make more poufs with these Crochet Pouf Patterns.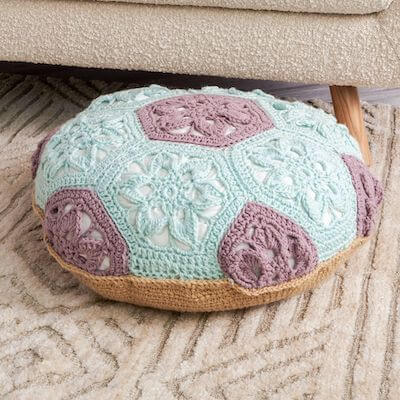 Get the Pattern here

4. Crochet Parker Pillow Pattern by TLB Patterns
This crochet pillow is the perfect way to show your state pride. Simple and classic, this modern farmhouse inspired crochet design truly showcases that home is where the heart is. Personalize any room in your house by adding a little bit of extra handmade warmth to your home decor.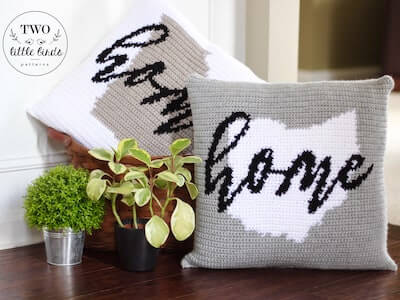 Get the Pattern by TLB Patterns here

5. Crochet Anvlop Wall Hanging Basket Pattern by DeBrosse NYC
The Anvlòp is a crochet wall hanging that mimics a typical envelope. Hang it in a bathroom for storage of tiny accessories, an office for project supplies, or on a doorknob simply as decor.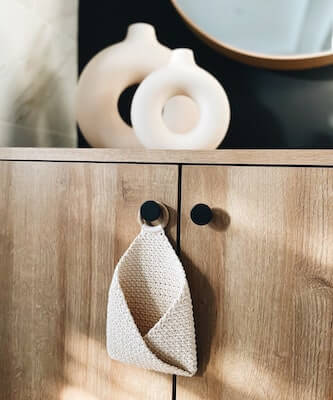 Get the Pattern by DeBrosse NYC here

6. Crochet Chair Socks Pattern by Knitting With Chopsticks
Ditch those annoying felt pads on the bottom of your chair legs, and upgrade to these adorable Crochet Chair Socks. They'll protect your floors, silence your chairs, and the best part – they're easy to clean!

Make a set for each holiday or special occasion and bring instant festivity to your dining room. This fun crochet home decor pattern is super easy and only uses a small amount of yarn, so it's perfect for using up your existing stash.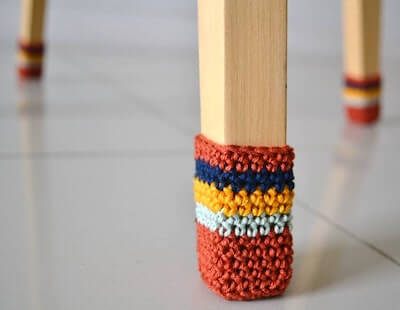 Get the Pattern by Knitting With Chopsticks here

7. Crochet Beaded Curtain Pattern by Emma Leith
Give your home a super splash of color with this fabulous Beaded Curtain Pattern. With its fab crochet motifs, shisha mirror sparkles and bead embellished curtains, it's a make that is bound to impress your guests!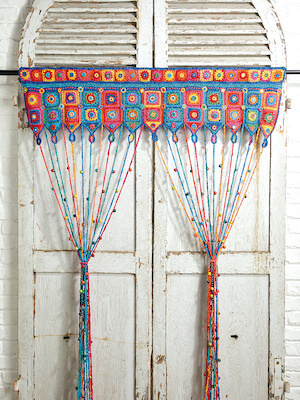 Get the Pattern here

8. Crochet Lantern Home Decor Pattern by Crochet Mazing
These Firefly Lantern Crochet Patterns are a fun, simple way to add color to your room, a smile each time you see them, and a great conversation piece. The pattern includes three different designs and lengths. Each completed using a combination of the 3 different row designs.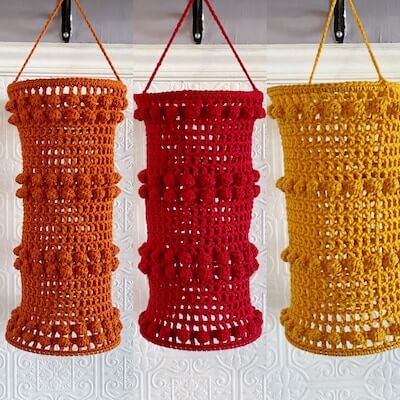 Get the Pattern by Crochet Mazing here

9. Crochet Rainbow Burst Stool Cover Pattern by Red Heart
Add a burst of rainbow colors to a plain wooden stool. The drawstring edge is tightened to fit round stool seats.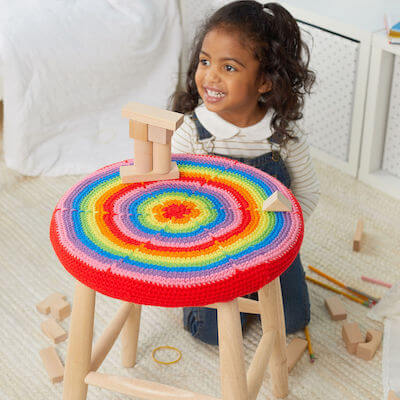 Get the Pattern here

10. Boho Crochet Coasters & Placemats Pattern by For The Frills
Elevate your summer home décor with these easy boho crochet coasters and placemats! Crocheted using 2 strands of cotton yarn held together in a simple spiral construction, this easy crochet pattern comes in 3 sizes – mini (coaster size), midi (fruit bowl + vase size) and maxi (tablemat size).

The unravelled fringe adds a fun touch of whimsy to add a boho chic feel. These tablemats are the perfect complement to a summer dining table set up and the coaster size is great for a cosy mug of tea or a fun, summery drink!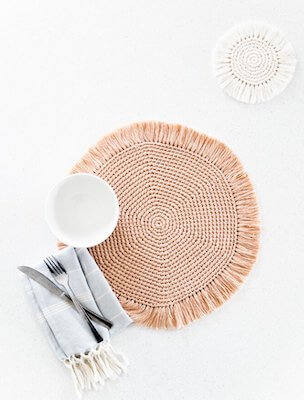 Get the Pattern by For The Frills here

11. Free Crochet Picture Frames Pattern by Gathered
If you fancy adding a bit of crochet style to your home but want to keep it subtle, these gorgeous picture frames are a fab quick project that you can easily hook up in an evening. Crocheting around a basic bangle creates a dainty pattern to compliment your image, and they make great gifts too!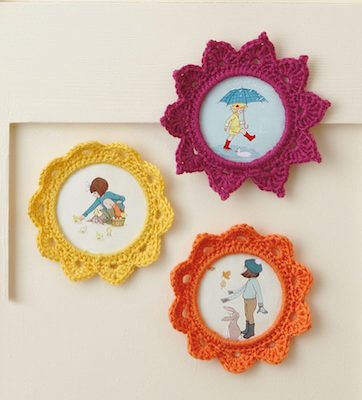 Get the Pattern here

12. Crochet Flower Wreath Pattern by Winding Road Crochet
This thin summer modern flower crochet wreath has a beautiful bohemian design and will be a lovely addition to your summer home decor.

You can use the cherry blossom style crochet flower appliques pattern provided or you can use your own favorite flower applique with this wire wreath. Use pastels to make a spring wire floral wreath or bright colors for a summer vibe. It is your choice.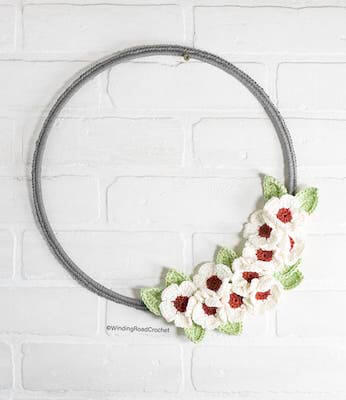 Get the Pattern here

13. Boho Crochet Plant Hanger Pattern by You Should Craft
Add simple, bohemian flair to your home with this free boho plant hanger crochet pattern. This easy hanging planter is crocheted with worsted weight cotton yarn and fits 4-5 inch pots.
Check out more crochet hanging plant patterns for you indoor plants.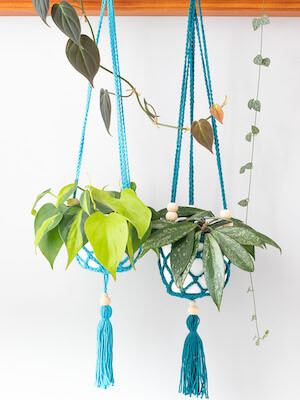 Get the Pattern here

14. Modern Crochet Home Decor Basket Pattern by Angela Plunkett
This basket crochet pattern creates a set of 3 flat bottom, sturdy baskets for using as modern décor in your home.

Crocheted with cotton cording and cotton yarn, these baskets can be used for storing everything from towels and yarn balls, to large blankets, and everything in between.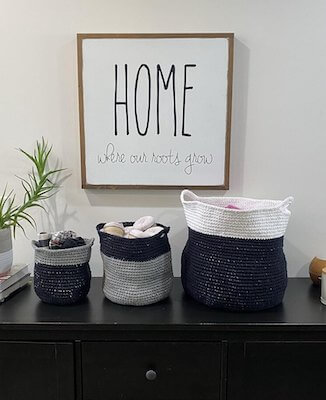 Get the Pattern by Angela Plunkett here

15. Crochet Farmhoue Candle Cozy Pattern by Ashley Edmonds
This Farmhouse Candle Cozy is the perfect quick make to add some rustic charm to your decor. The pattern works up quickly, and is easy to adjust to the size of any candle.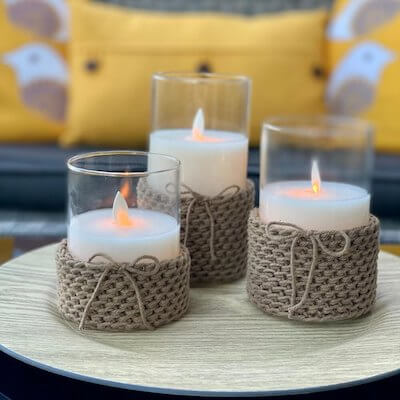 Get the Pattern by Ashley Edmonds here

16. Boho Granny Stitch Crochet Garland Pattern by Whistle & Ivy
This easy boho crochet garland uses basic crochet stitches and techniques to create a modern piece of crochet decor! One of the very first stitches you will learn in crochet is the granny stitch, use it to make something pretty and modern!

This project uses the time-honored granny stitch, so it's great for beginners. The twist is that it's a triangle, so the shape paired with the added fringe gives it a modern infusion.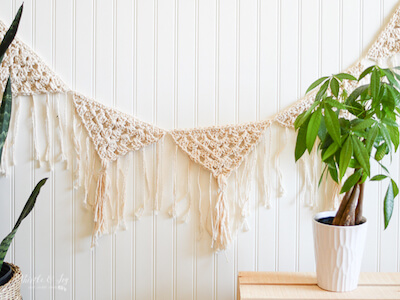 Get the Pattern here

17. Striped Hourglass Area Rug Modern Crochet Home Decor Pattern by Moogly
Sometimes, it's the rug that really brings the room together! This Striped Hourglass Area Rug features a modern geometric design, combined with texture, coziness, and a gorgeous rainbow of color stripes – make it the colors of your coziest crochet home decor with this free pattern.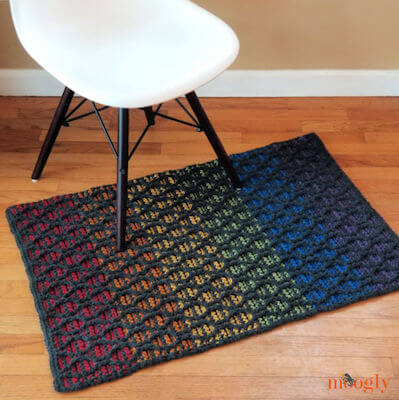 Get the Pattern here

18. Crochet Potted Plant Pattern by Knot Monster
What happens when you're a wannabe plant parent, but every single plant you own just keeps dying? Crochet one (or twelve), of course! These Crochet Potted Plants aren't just ideal for brightening up your boudoir or adding a bit of kitsch to your kitchen – they make fab gifts!
Also see: Crochet Cactus and Crochet Succulent Patterns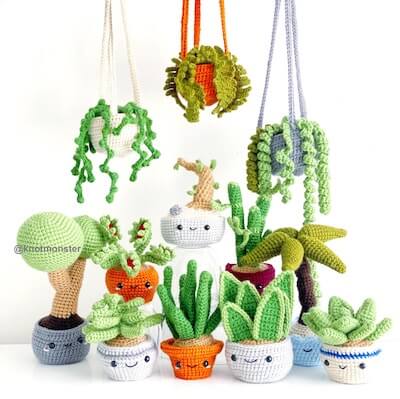 Get the Pattern by Knot Monster here

19. Macrame Inspired Crochet Wall Hanging Pattern by Meghan Makes Do
Get the look of macrame without all the knots with this wall hanging. This macrame inspired wall hanging is the perfect weekend project. Crocheted in separate pieces, it works up quickly and adds the perfect touch to any home decor.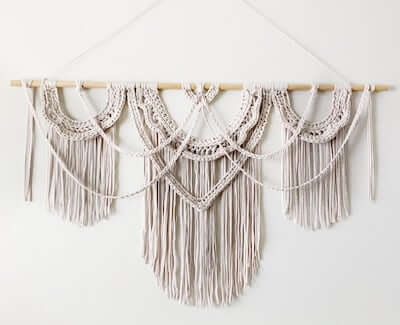 Get the Pattern by Meghan Makes Do here

20. Crochet Dahlia Lampshade Pattern by Day's Crochet & Knit
If you're having trouble finding that perfect lampshade for your stylsh lamp, you can always make one for yourself. This has a gorgeous and artistic pattern along with it that will elevate any lamp you have, making it look more creative in the end.

Depending on the lampshade you have underneath, this can have a remarkably different appearance with the light on and off, allowing your room to change up the atmosphere you give off at any time during the day.
Get the Pattern here

21. Crochet Pyramid Doorstop Pattern by Veronika Cromwell
We all have that one annoying door that needs propping opened, don't we? Create this Crochet Pyramid Doorstop as a stylish and practical addition to you crochet home decor.

This is such a stylish piece that can fit in with various decorative themes as well, so you can feel more comfortable using this in any room without taking away from any of the other decorative items you have.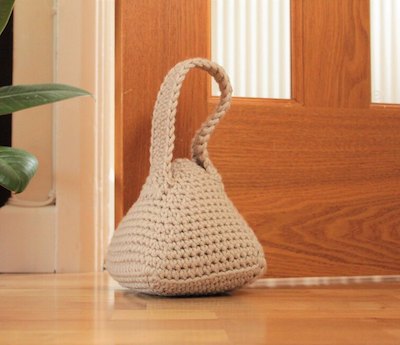 Get the Pattern by Veronika Cromwell here

22. Crochet Candy Potholder Home Decor Pattern by Knitting With Chopsticks
This fun, colorful and easy potholder crochet pattern is a great addition to your home decor. Make it in one color or use as many as you want (shown with 14 colors), it will protect your table from your hot dishes while adding a touch of color to your table.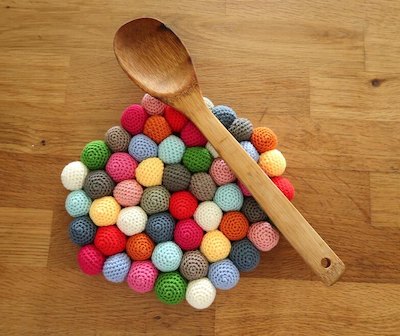 Get the Pattern by Knotting With Chopsticks here

23. Crochet Mosaic Basketweave Placemat Pattern by Red Heart
You don't need to spend big bucks to bring new life to the kitchen when you can stitch up a set of crochet placemats to brighten it up! Bring your crocheting skills to the table with this pretty 2-color set. Choose the color combination that perfectly complements your space.
Get the Pattern here

24. Free Crochet Magazine Rack Pattern by Sweet Everly B
A little handmade love for your house is always welcome. This easy DIY magazine rack has a simple modern look that will be a conversation piece in your living room. The round shape with the brass hoops leaves an airy minimalist feel while still being functional.

The combination of sturdy t-shirt yarn and the woven stitch create a dense fabric that will hold your magazines and books in place.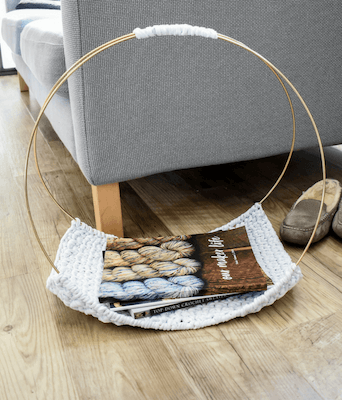 Get the Pattern here

25. Boho Mirror Crochet Home Decor Pattern by Make & Do Crew
The perfect way to introduce some color and texture to your home decor. This mirror can be made in different color ways to suit your decor theme and adorned with colorful tassels to give it that wow factor. This is an easy beginners project using simple crochet stitches and techniques.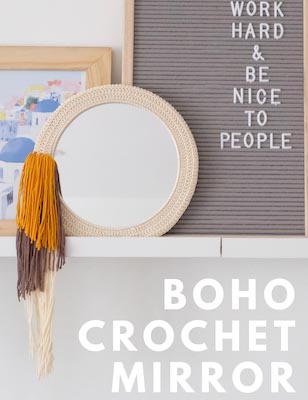 Get the Pattern here

26. Braided Cable Block Bolster Crochet Pattern by Crafting Friends Designs
Add a classic look to your home decor with this Braided Cable Block Bolster Pillow. Bolster pillows are a great accent to any bed, daybed or couch. They can provide light neck support, while being decorative. Neutral colors really enhance the elegance of this cable design.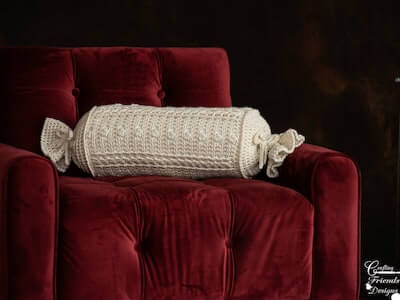 Get the Pattern by Crafting Friends Designs here


27. Crochet Coaster Pattern by TLB Patterns
This Coaster set has a modern, geometric style and makes a really unique, handmade hostess gift or housewarming gift. They would look great in any color combination and would compliment any contemporary decor. You can make multiple sets from just 2 skeins of the recommended yarn!

This comes with the pattern for all four crochet coaster designs, a detailed tutorial on Tapestry Crochet, and works up really quickly. (See more quick crochet projects here.)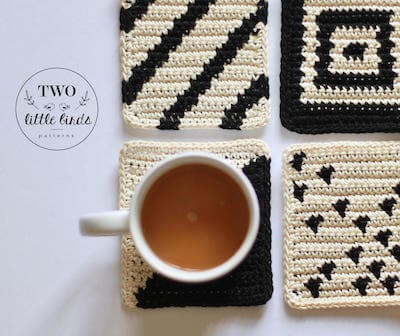 Get the Pattern by TLB Patterns here

28. Crochet Dog's Home Throw Pattern by Red Heart
These clever crocheted doghouse motifs are perfectly suited to the household with a special canine member. Use this throw on your pet's favorite resting spot or near any seat where you may want a layer to warm you.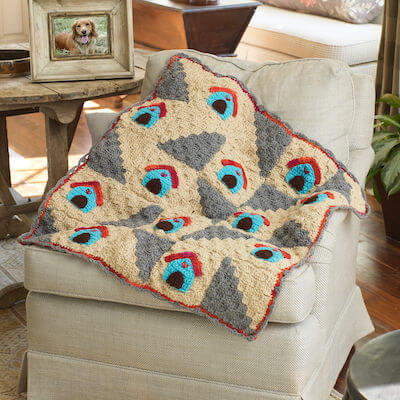 Get the Pattern here

29. Crochet Succulent Tissue Box Cover Pattern by Crystalized Designs
Whether you need the tissues for allergy season or flu season, these Crochet Succulent Tissue Box Covers are a great way to dress up your tissue boxes and home!

If you're a plant lover, this tissue box is for you. Pairs great with a "Get Well" card as well as a great way to add crochet to any room.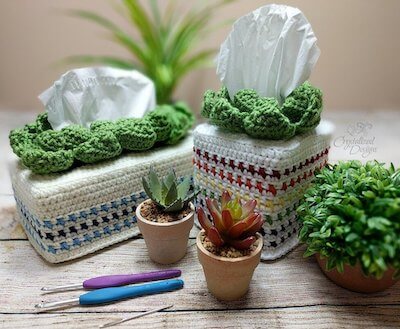 Get the Pattern by Crystalized Designs here

30. Crochet Bouquet Baskets Pattern by Yarnspirations
Bring a garden theme into the kitchen with bright and cheerful baskets you use to hold utensils and more. Select the shades that remind you of spring or begin with one of the combinations shown. It's a wonderful way to celebrate the changing season.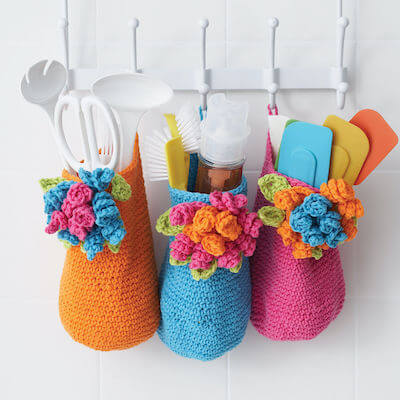 Get the Pattern here
THESE CROCHET HOME DECOR PATTERNS ARE GUARANTEED TO ADD A LOT OF CHARM AND GOOD VIBES TO YOUR NEW AND IMPROVED SPRUCED UP HOME!
Are you looking for more ways to add stylish DIY crochet home decor to your home? Don't miss these crochet home decor projects. Find all our home decor patterns here.
Please do post a picture of your projects on our Facebook Page. We would love to see what you create!
With your hooks, a few skeins of yarn, and a couple of hours of your time, you can knock out any of these crochet home decor patterns on our list. Happy crocheting!