Welcome to the blooming wonderland of crochet flower pot patterns! From dainty daisies to radiant sunflowers, these crochet creations are sure to bring a smile to your face and a burst of color to any space. Each one is a tiny masterpiece just waiting for your crochet hook to bring it to life!
While it's easier than ever to buy live flower pots online, sometimes, despite our best intentions, those live flowers become, dead flowers. These crochet flower pots offer a solution. They'll never outgrow their pots and there's no need to worry about watering! The best part? They last forever without any of the fuss that the real deal requires!
15 Crochet Flower Pot Patterns

1. Crochet Mini Flower Pot Pattern by Sunny Princess Crochet
If you're looking for a fast and easy Mother's Day gift idea that's both beautiful and practical, look no further than these mini flower pots! With just a few simple materials and a little bit of creativity, you can create a stunning gift that Mom will cherish for years to come.

This set includes 5 crochet patterns: 2 daisies, tulip, sunflower, and heart plant in a mini flowerpot.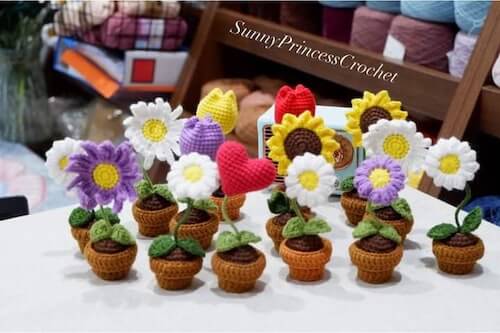 Get the Pattern by Sunny Princess Crochet here

2. No Sew Crochet Flower Pot Pattern by Stitch By Fay
This crochet flower pot is no-sew and works up fairly quickly. It's the perfect size to sit on a desk or shelf and doesn't require any watering! Make it in your favorite color and add some twine and a charm for an extra special touch.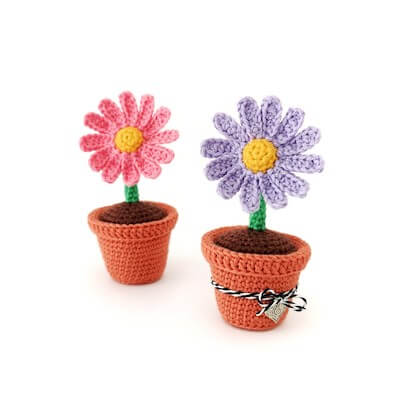 Get the Pattern by Stitch By Fay here

3. Loving You Flower Pot Crochet Pattern by Sweet Softies
This "Loving You" flower pot can be used to add a color around the house, a cute crochet photo prop, or even an adorable desk/office accessory.
It can be customized and personalized in a variety of ways – change the colors, add beads to the middle of the flowers, attach decorative buttons or ribbons to the pot, embroider names, and more!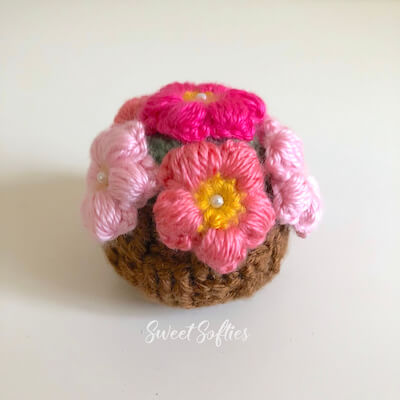 Get the Pattern here

4. Crochet Tulip Flower Pot Pattern by Lily's Lyric
Springtime means tulips and while not everyone can pick tulips from their garden to display in the home, it is possible to make tulips by crocheting one! Here's a tulip flower pot to decorate your home or to give as gifts!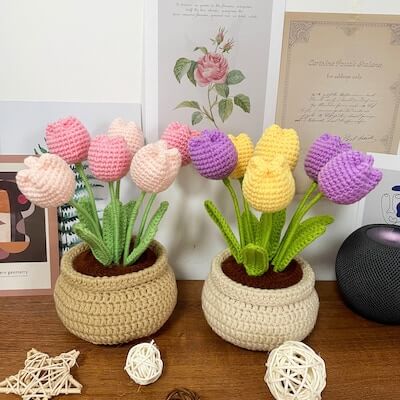 Get the Pattern by Lily's Lyric here

5. Crochet Amigurumi Potted Flower Pattern by Lion Brand Yarn
Looking to spruce up the decor in your home or office? Plants and flowers are a great way to freshen up a space, but stylish pots are expensive and living plants can be difficult to maintain. This pattern for a crochet flower pot, complete with instructions for the flowers and pot, could be the solution for you.
Get the Pattern here

6. Bumble Blossom Daffodil Crochet Pattern by Erin May Crochet
A Bumble Blossom is an extraordinary flower variety, exuding brightness and cheerfulness that remains perpetual, never withering or losing its bloom throughout the year. Moreover, these delightful blossoms possess a unique ability to attract bumble bees, creating moments of interaction with these busy insects.
By crafting a crochet Bumble Blossom, you can enjoy its everlasting charm on any shelf or windowsill, adding a vibrant touch to your daily life and sharing the joy with a dear friend!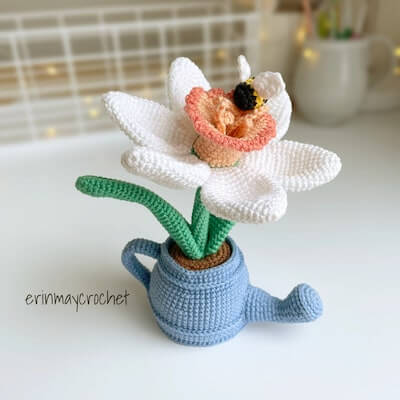 Get the Pattern by Erin May Crochet here

7. Crochet Daisy Flower Pot Pattern by Lingzhi Handmade
Imagine white and yellow daisies bringing happiness and joy to any room. Crochet this flower pot in the colors shown, or use shades that have more meaning to you. Whether placed on a windowsill, a desk, or a shelf, this crochet daisy in a pot brightens up any corner of your home.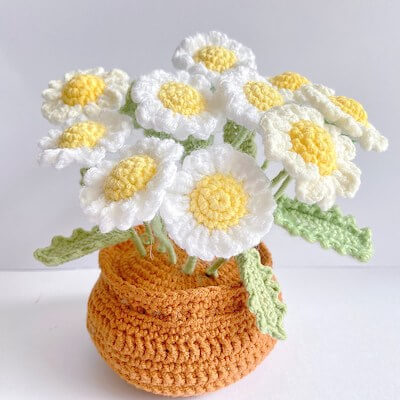 Get the Pattern by Lingzhi Handmade here

8. Crochet Flower Pot Coaster Set Pattern by Hygge Crochet Co
This delightful crochet pattern offers a combination of fun and practicality, presenting a charming flower bouquet design that serves both as decorative elements and a set of coasters, neatly stored in its own basket.
The versatile crochet flower coaster set is an ideal addition to your decor during the spring and summer seasons, offering a wide range of color combinations to suit your taste. It also makes a thoughtful handmade gift option for occasions like Mother's Day or Valentine's Day.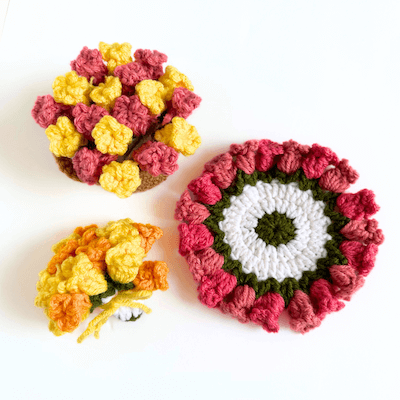 Get the Pattern here

9. Crochet Spring Flower Pots Pattern by Christine Harvey
After a quick and easy project that will be a great present for a friend or loved one? Looking for a potted plant fit for a non-green thumb?
These little spring flower pots are aimed to brighten everyone's day. Crochet one or make all four different flower pots: Pansy, Primrose, African Violets and Miniature Rose.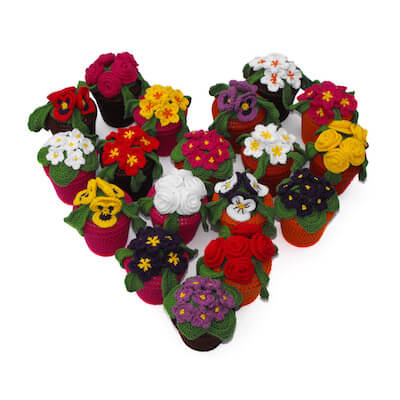 Get the Pattern here

10. Crochet Asters Flower Pot Pattern by Jean Kris Toys
Asters typically bloom in later summer and early fall, so why not make a bunch to enjoy now? These crochet aster flowers are such sweet, little blooms in their own crocheted little pot. This flower comes in a variety of colors and sizes, so feel free to get creative with this one!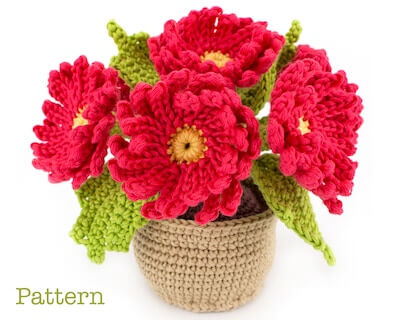 Get the Pattern by Jean Kris Toys here

11. Crochet Dahlia Flower Pot Pattern by Uniquely Tangled
Dahlias produce bright, beautiful flowers that come in a wide range of colors. Capture their beauty with no maintenance involved by crocheting one yourself. When you're done, you'll enjoy gorgeous, showy blooms all summer long!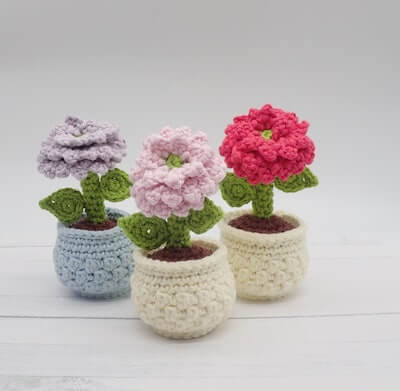 Get the Pattern by Uniquely Tangled here

12. Crochet Pansy Flower Pot Pattern by Crazy 4 Crochet 71
Isn't this flower pot such a joy to look at? Look at those happy, tiny faces! Pansies come in so many different colors and color combinations, giving you plenty of room to be creative.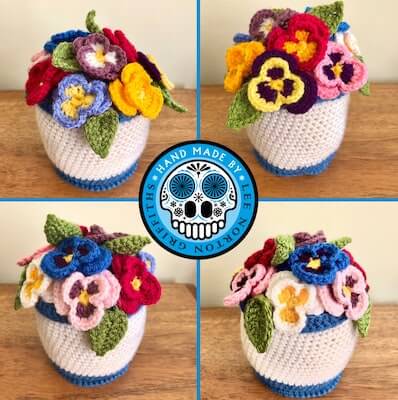 Get the Pattern by Crazy 4 Crochet 71 here

13. Crochet Potted Sunflower Pattern by Sierra's Stitches Store
Sunflowers are one of the big flower joys of summer, turning their faces towards the sky, bringing to mind cloudless blue skies and holiday times. But why confine them just to summer? With a this crochet potted sunflower, they can bloom in yarn all year round.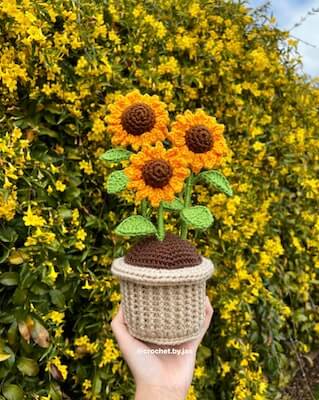 Get the Pattern by Sierra's Stitches Store here

14. May Flowers Pen Amigurumi Crochet Pattern by Furls Crochet
These potted flowers are full of surprises – they're not just pretty decorations, but also versatile and practical! Guess what? They're actually pens! With their beauty and functionality combined, these little wonders would make an ideal Mother's Day present.

The pattern includes instructions for making a daffodil, a daisy, and a tulip, but don't worry if those aren't mom's favorites! You can easily switch to her preferred flower and attach it to one of the stem bases! How cool is that?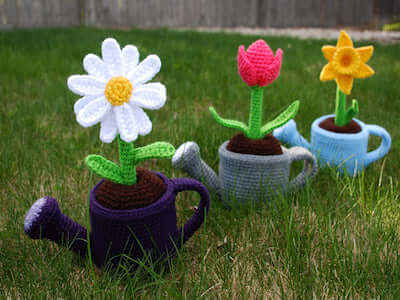 Get the Pattern here

15. Crochet Lavender Mini Flower Pot Pattern by Neng Crochet
Picture this: a charming crochet potted lavender flower, delicately crafted with love and care. Its purple hues evoke a sense of calm, bringing a touch of tranquility to any space it graces. Nestled in its cozy crochet pot, this lavender bloom seems to whisper tales of blooming meadow on a warm summer's day!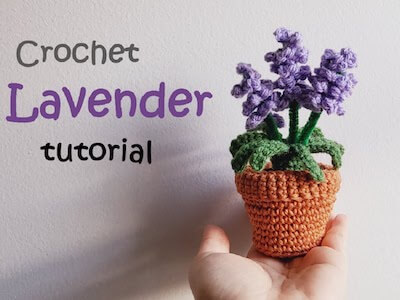 Get the Pattern here
WITH THESE CROCHET FLOWER POT PATTERNS IN HAND, YOU HOLD THE POWER TO CREATE A GARDEN OF EVERLASTING BEAUTY RIGHT IN THE COMFORT OF YOUR HOME.
When done, snap a photo and share the magic of your finished crochet flower pots on our Facebook Page. I can't wait to see a virtual gallery of handmade wonders that will leave everyone in awe!
Ready to add a touch of nature to your crochet repertoire? Picture yourself crocheting a lush hanging plant that drapes gracefully from your ceiling, or a cute cactus that needs no water but radiates endless cuteness!
So, grab your yarn, pick your favorite crochet flower pot pattern, and let your crochet adventure continue to bloom. Happy crocheting, and let the beauty of nature inspire your every stitch!