You're going to love these gorgeous crochet egg basket patterns which are perfect for collecting all those eggs in your chicken coop! Whether you, your kids, or someone else is the daily collector, it is always more fun to do when you get to use something fun. And if you're a real city slicker who never has and never will collect eggs, use one of these cute baskets for storing store-bought eggs over your countertop.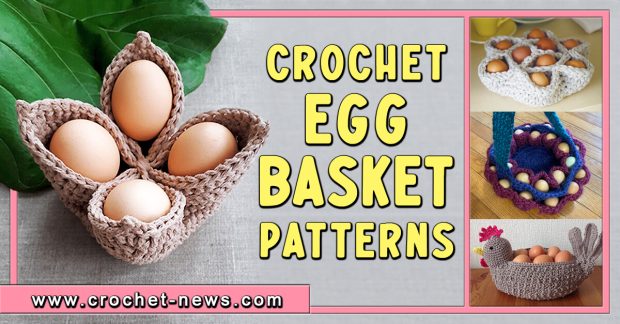 From the hen house to your home, these crochet egg baskets provide a delightful, sturdy, and functional addition to both your egg gathering chores and your home and kitchen decor. They say not to put all your eggs in one basket, but these baskets will keep your eggs nice and safe!
10 Crochet Egg Basket Patterns

1. Baker's Dozen Egg Basket Crochet Pattern by Runic Otter By M Lovell
Tired of breaking eggs in your pocket? Worried the kids may not make it back with as many as they could have? Not with this Baker's Dozen Egg Basket that allows for safe transport of a baker's dozen eggs (13)! Make one for yourself and one for a fellow chicken-lover!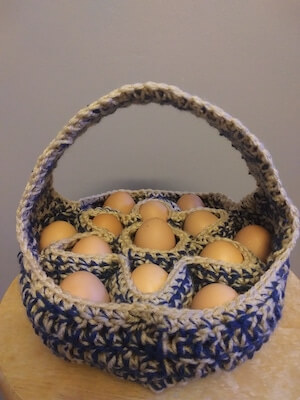 Get the Pattern by Runic Otter By M Lovell here

2. Crochet Chicken Egg Collecting Basket Pattern by Yarns About Yarn
This is a fun and mulifunctional Chicken Egg Collecting Basket that is attractive enough to be on display in any kitchen. If made in pastels, what a fun Easter Basket that can hold plenty of goodies and little toys that will delight the child in all of us!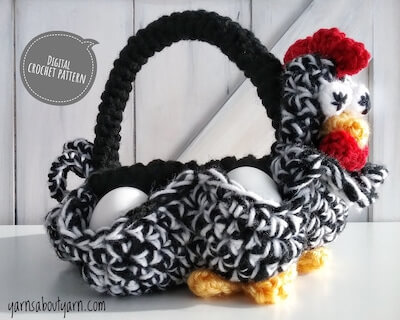 Get the Pattern by Yarns About Yarn here

3. Crochet Egg Basket Pattern by Lenora Michelle's Crochet
This Crochet Egg Basket is perfect for any chicken lovers! Its compartments ensure eggs remain undamaged, while the extra space in the center provides room for more eggs or items you wish to carry!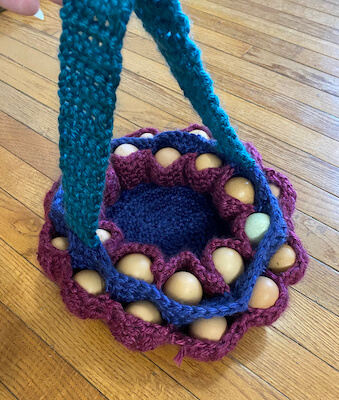 Get the Pattern here

4. Crochet Chicken Egg Basket Pattern by Dina W
Here's such a cute option for your eggs to sit in. Use this Crochet Chicken Egg Basket to collect and display your farm fresh eggs. It's functional, decorative, and an imaginative gift basket that you can fill with more of your hand-crafted goodies!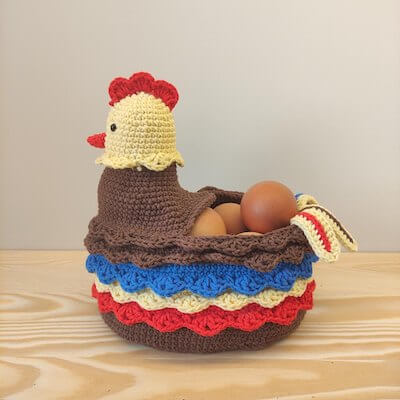 Get the Pattern by Dina W here

5. Crochet Sunflower Egg Basket Pattern by The Homemade Hen
This Crochet Sunflower Egg Basket is such a functional and stylish solution for gathering fresh eggs! Make it truly yours by exploring different color combinations.

Crochet it with or without a handle so it can be used for collecting eggs, as well as displaying them in your kitchen, too.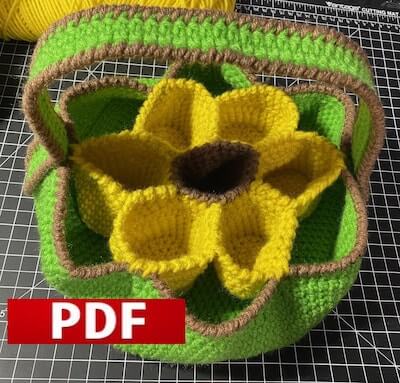 Get the Pattern by The Homemade Hen here

6. Crochet Hen Egg Basket Pattern by Sara Huntington
Another egg basket that reminds you quite efficiently as to exactly where your eggs originated from, this cute Hen Egg Basket adds a dash of fun to your kitchen set-up.

This egg bowl cover is designed to fit over a shallow oval bowl approximately 20cm long and 15cm wide, but it will work over any similar sized bowl.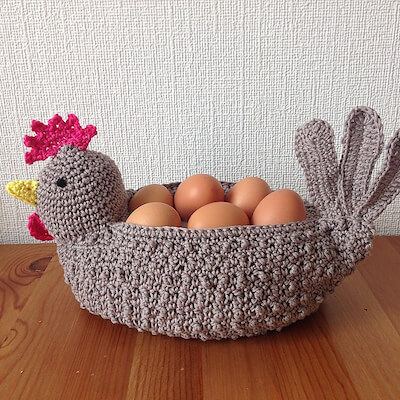 Get the Pattern here

7. Free Egg Basket Crochet Pattern by Cara Medus
This crochet egg basket may look intricate, it is actually composed of three simple pieces that are joined together. It's a delightful and manageable project that doesn't require advanced skills. Moreover, it is not exclusively meant for eggs as you can use it for storing other items such as bobby-pins or makeup.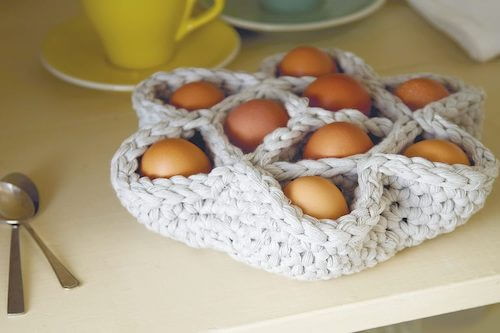 Get the Pattern here

8. Crochet Kitchen Egg Basket Pattern by Cozy Home Patterns
Made with a warm, earthy-toned worsted weight yarn, this cute basket is designed to hold up to four eggs securely. Whether used for Easter festivities or as a year-round decor item, this Crochet Kitchen Egg Basket is will be a great table accent in rustic style.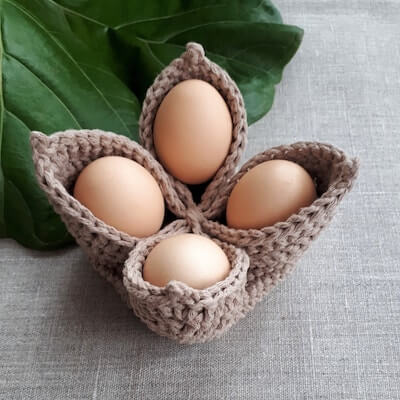 Get the Pattern by Cozy Home Patterns here

9. Crochet Egg Holder Pattern by Made By Lisek
Each of this Crochet Egg Holder stands alone, providing you the freedom to hold as many eggs as you wish and by allowing you to change the design freely, you can mix and match colors, textures, styles, and embellishments to your preferences.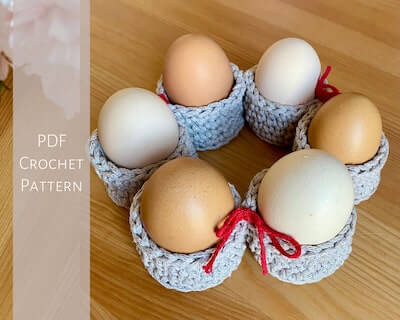 Get the Pattern by Made By Lisek here

10. Egg Basket Crochet Pattern by Little Owls Hut
Adorned with buttons and flowers, this egg basket is a cute way to display your eggs in! It's perfect for youngsters who like to help in egg gathering and doubles as a practical container for storing your treats and accessories.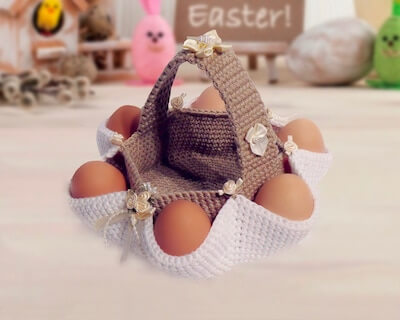 Get the Pattern by Little Owls Hut here
WHETHER YOU'RE INTO A SUCCESSFUL PARTNERSHIP WITH CHICKENS AT HOME OR YOU'RE LOOKING TO A BIT OF FLAIR TO YOUR DECOR, THESE RELIABLE CROCHET EGG BASKETS ARE MUST-HAVES!
If you're after simpler baskets for storing your Easter eggs in, you could always try these crochet Easter basket patterns instead, or check out these rest of our crochet basket patterns for more amazing makes!
Keep crocheting and have fun making these cute, useful crochet egg basket patterns!