If you're looking for a gift for a donkey devoted person in your life, check out these crochet donkey patterns for ideas and inspiration. If you can't afford to have one at home, what better way to bring them into our lives than crochet?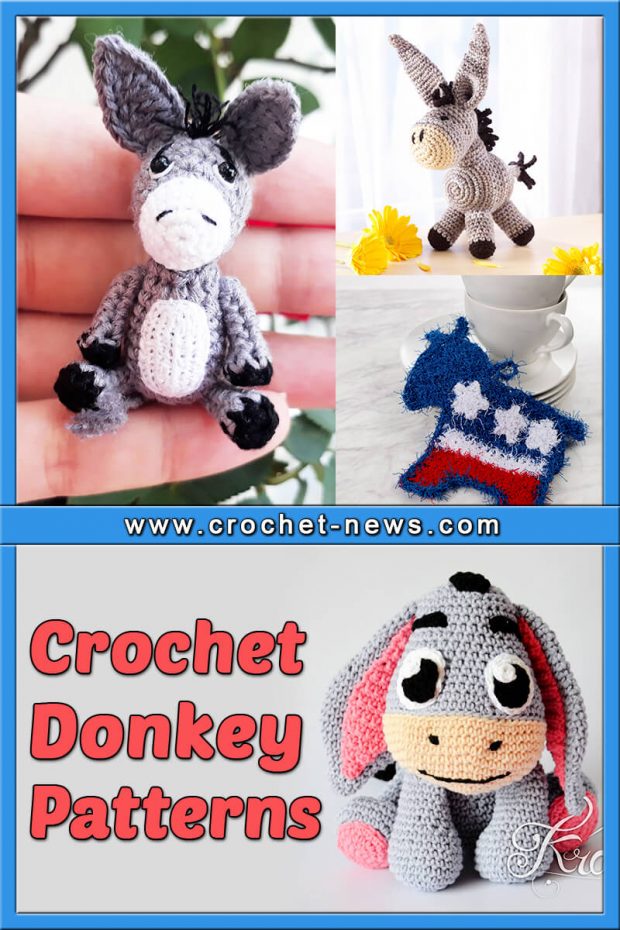 Donkeys are like sad-looking, long-eared real-life teddy bears who look like they need a big hug every time you see one.
These gentle, hee-hawing and long-suffering animals may be seen as less glamorous than their steed cousins, but they are still loved by so many people.

If you know one of these people, with a great heart for donkeys, these crochet projects are with them in mind. Keep them as desk or bookshelf buddies, or gift them to a donkey-loving kid!

1. Free Crochet Donkey Pattern by Red Heart
What a joy it is to stitch up this endearing crochet donkey toy to light up a child's face. Don't worry, this donkey isn't stubborn, but a faithful friend that will happily accompany you wherever you go.

Crochet him as shown, or choose your child's favorite colors. It's an entertaining project that warms hearts and makes a perfect companion for kids of all ages!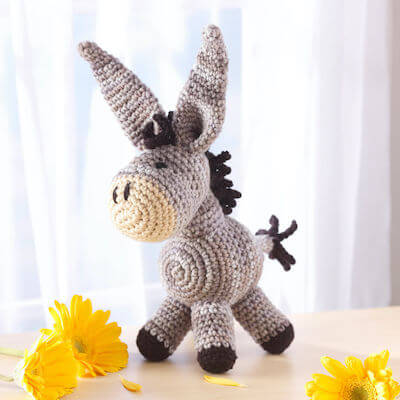 Get the Pattern here

2. Baby Amigurumi Donkey Pattern by Amigurumi Today
If you're looking for an absolutely adorable baby donkey amigurumi pattern, take a look at this little guy with cute face and funny mane style. The convenient size of this amigurumi donkey is also one of its many charms.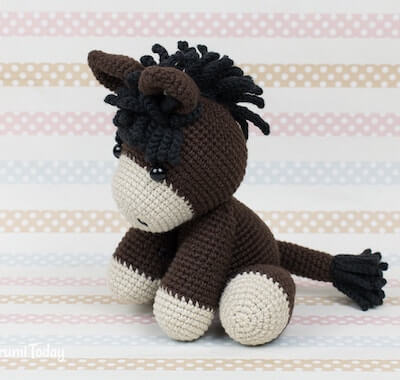 Get the Pattern here

3. Crochet Donkey Lovey Pattern by Whistle And Ivy
This Crochet Donkey Lovey features a fun but simple color work blanket and adorable little donkey friend!
The blanket also features cute tassels on each corner, which are crocheted as part of the blanket, making a safe way to provide baby with some texture stimulation.

Have fun switching up the colors and making it perfect for your baby, or for a special upcoming baby shower.
Here are some more crochet lovey patterns for your little one.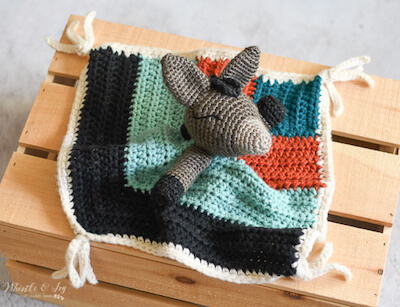 Get the Pattern here

4. Amigurumi Donkey Crochet Pattern by Patchwork Moose
This is Dylan, the sweetest little donkey, looking for hugs. Dylan measures about 8 inches sitting in a DK yarn, but he can be made from any weight yarn and appropriate hook for different sizes.
The pattern contains instructions for both a jointed donkey and a donkey with fixed arms and legs.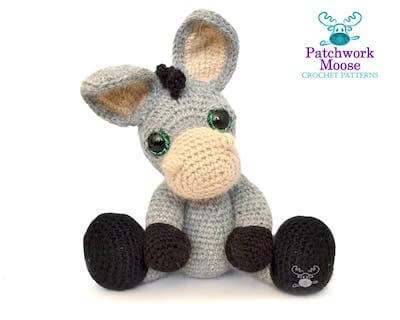 Get the Pattern by Patchwork Moose here

5. Cuddly Crochet Donkey Pattern by Hannah Cooper
This cute donkey is the ideal gift for a little one as she is just so huggable! With simple color changes and similar shaped limbs, this is the perfect make if you're new to amigurumi since this free crochet donkey pattern is straightforward and repetitive.

With her brightly colored mane and sweet face, this adorable little donkey will definitely clip clop her way into your heart!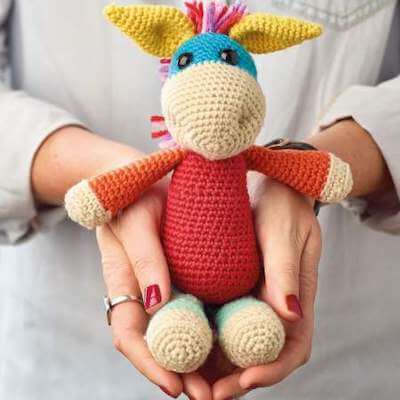 Get the Pattern here

6. Tiny Crochet Donkey Pattern by Obscurely Small
From his itty bitty hooves to his long, big ears, he is a feisty little thing full of personality and spirit! A tiny 2.2 inches tall, he works up in only a few hours, resulting in a guaranteed cuteness overload!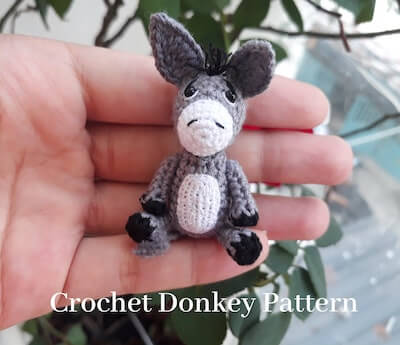 Get the Pattern by Obscurely Small here

7. Crochet Donkey Pattern by Krawka
This donkey is a beautiful equine indeed. Overall, he is a fun, very soft-edged amigurumi with adorable, soulful eyes. This cute crochet donkey will be around 21 cm ( 8.2 inches) when finished.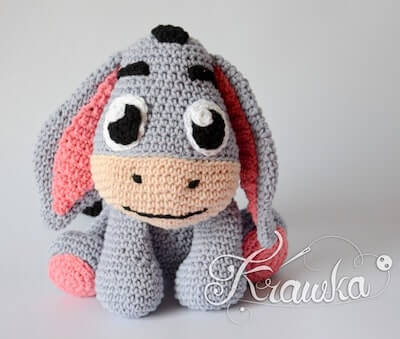 Get the Pattern by Krawka here

8. Crochet Donkey Hat Pattern by Wanita Legacy-Sabin
This is a warm cozy hat. The mane is made with eyelash yarn so it looks raggity and rough but is actually soft and comfortable.
It can be made with Pom Poms as shown or with braids. This is perfect for being the donkey in a reenactment of the nativity scene.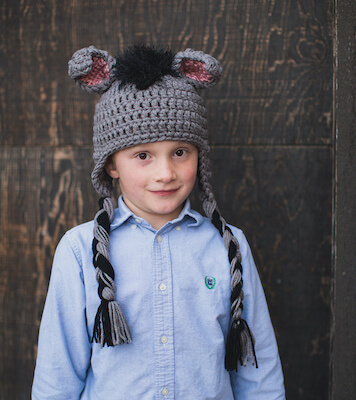 Get the Pattern here

9. Christmas Crochet Donkey Pattern by Sarah-Jane Hicks
This dinky amigurumi donkey is crocheted with a selection of simple processes, meaning you can take the time to perfect tight stitches and neat sewing up.
If you prefer, omit the accessories – by losing the mini Santa hat, you've got yourself a year-round toy to be adored.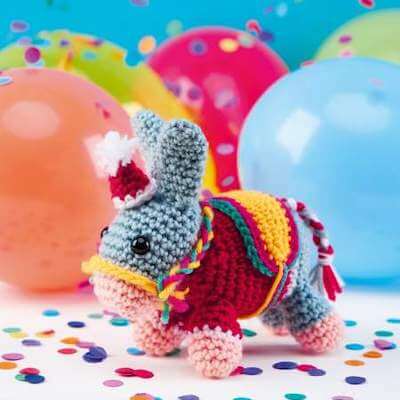 Get the Pattern here

10. Crochet Patriotic Donkey Scrubby Pattern by Yarnspirations
Enjoy showing your party affiliation with this clever donkey scrubby! This free crochet donkey pattern design features true patriotic American colors.
You can find even more stylish crochet scrubbies by clicking HERE.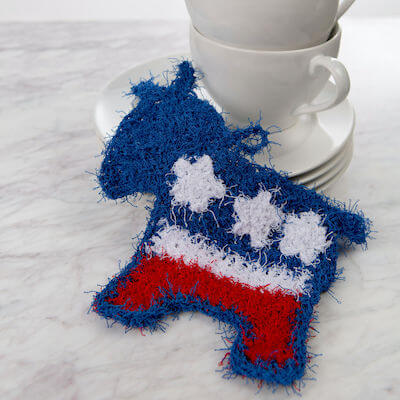 Get the Pattern here

11. Pedro, The Amigurumi Donkey Crochet Pattern by Airali Design
Pedro, is a crochet amigurumi donkey with striped blanket, saddle, browband and rein. He is without a doubt just about the most adorable ami burro you can find.
He'll be a perfect gift for a child, or a cute token of endearment to accompany some flowers.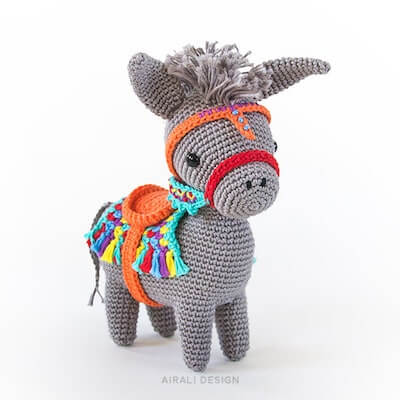 Get the Pattern by Airali Design here

12. Bernard, The Amigurumi Donkey Crochet Pattern by DIY Fluffies
Donkeys, like horses, love treats, especially carrots. In fact, carrots are donkey's favorite snack of all time, which is why Bernard is always carrying a carrot everywhere he goes.
Standing at 21 cm/8 inches tall, he will warm the heart of any young equestrian, or an older one at that.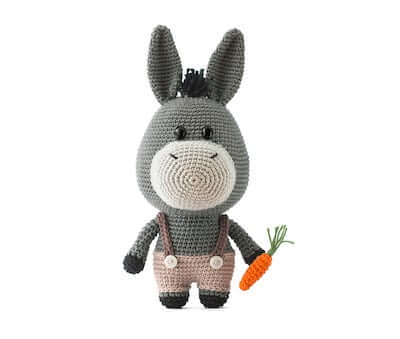 Get the Pattern by DIY Fluffies here
WE HOPE YOU'VE ENJOYED THESE CROCHET DONKEY PATTERNS!
Crochet animals are possibly the cutest things on the earth, and they're always a good option for your next DIY project.
You can find loads in our pick of the best animal crochet patterns. From farm animals to woodland, pet, sea and zoo, there is something for everyone!

When you complete your projects, please leave a comment below or share a photo on our Facebook Page. We love seeing your creations!

For all your equine needs, these crochet donkey patterns will surely hit the spot. Happy crocheting!