Need to update your living room? Wanting some privacy in the bedroom? Looking for a way to class things up in the kitchen? You will be completely surprised how much a room can change by the addition or upgrade of curtains.
Below are crochet curtain patterns that you can brag about!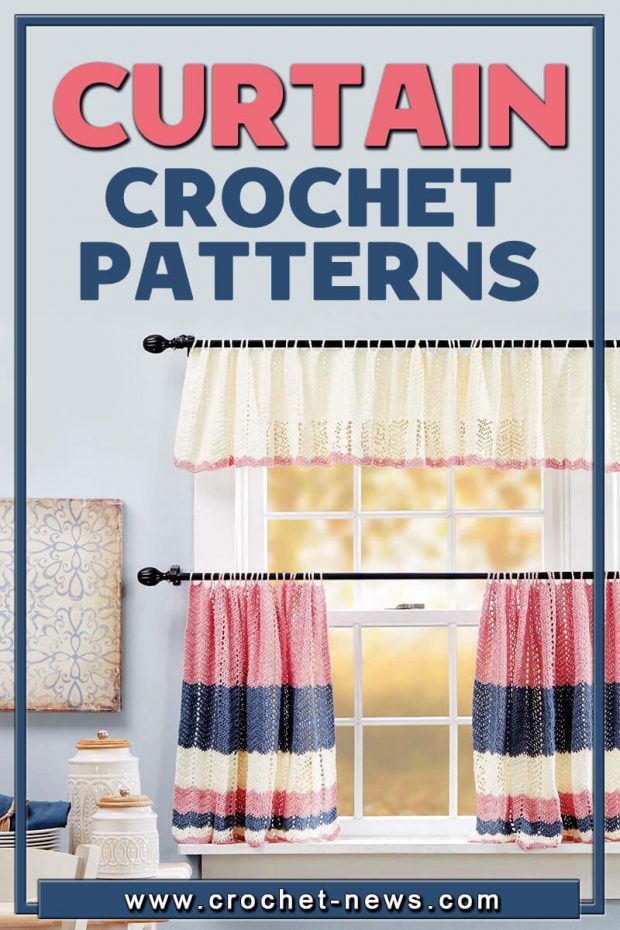 Designing and creating your new curtain is a ton of fun and will really allow you to customize and personalize them to your home's color scheme and your own personal desires.
Go for something vintage to get that romantic feeling or something heavy-duty that is functional. Whatever your taste, there is a curtain design out here for you!
21 Crochet Curtain Patterns
1. Chevron Free Crochet Curtain Pattern by Moogly
A little bit of stash from your leftover projects is all you need to whip up this lacy chevron curtain – add a tension rod and done! It's nice and open so that the light comes in, but the bold lines obscure the view of any looky-loos.

The design uses a big chevron crochet pattern that could be worked in the alternating neutral color scheme shown here or in any color scheme from plain white to vibrant rainbow hues.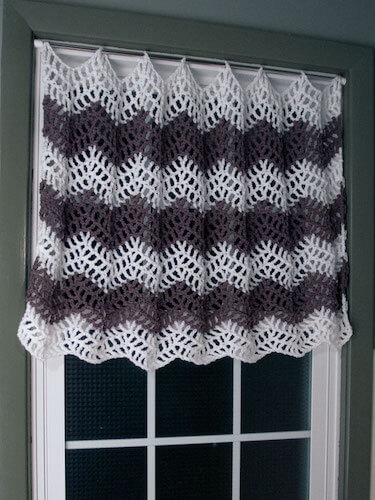 Get the Pattern here

2. Crochet Lace Curtain Pattern by Tulipolga Shop
A crochet curtain is a true embellishment, coziness and unique spirit of your home, and something the lady can be proud of, of course! Following this pattern you will be able to make a curtain of the desired size.

The curtain fabric consists of individual lace motifs, joined together in the process of crocheting, and diamond strips. The curtain on the photo is made with lace cotton yarn but you can work with any 100% cotton, linen or any other yarn up to your taste.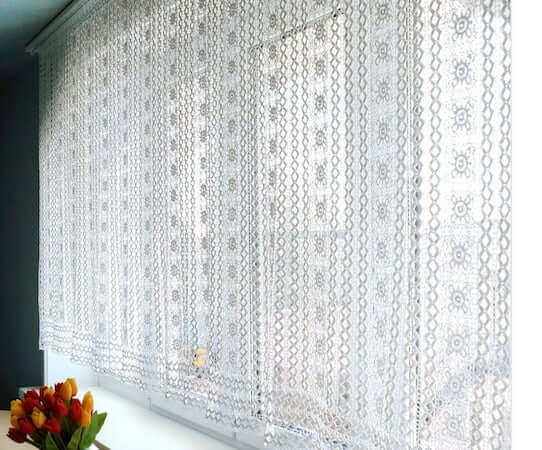 Get the Pattern by Tulipolga Shop here

3. Crochet Flower Power Valance Pattern by Once Upon A Pink Moon
These crochet valances are retro and perfect for anyone who wants to add a little fun to their home. The flowers are designed with simple stitches so these curtains should work up fast.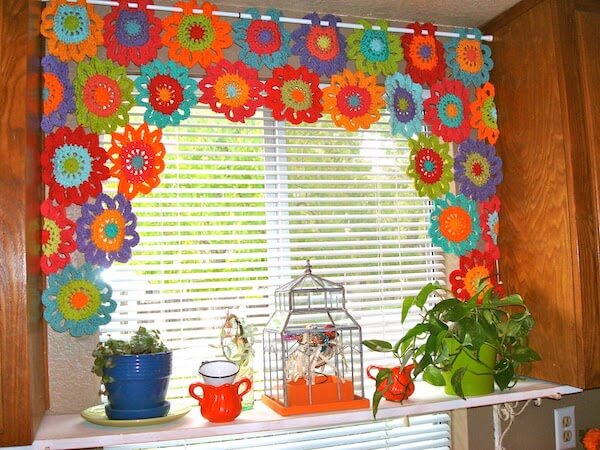 Get the Pattern here

4. Crochet Lacy Hearts Curtain Pattern by My Little Cute Amis
This is a cute free crochet curtain pattern based around the design of hearts. The lacy hearts serve as curtains that cover the uppermost portion of the window, about half the length of a traditional valence.
Additional length is added with beautiful curlicue tassels that hang down from the hearts.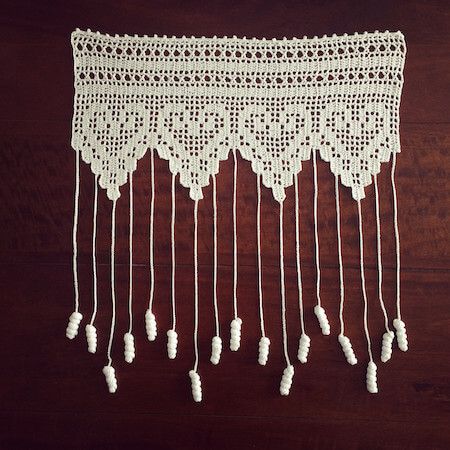 Get the Pattern here

5. Crochet Statement Curtain Pattern by Infiniti Crafting Co
Spring has officially sprung and its time to get creative with our décor! Being indoors most of the time these days, things get to look a little drab. Spruce up your space this year by stitching up these fun and simple curtains!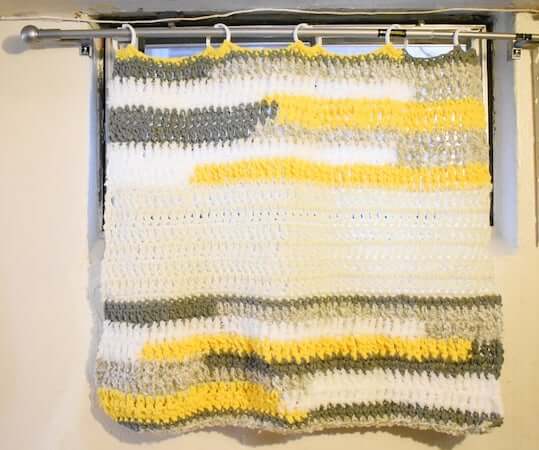 Get the Pattern by Infiniti Crafting Co here

6. Crochet Flower Lattice Curtain Pattern by Dearest Debi
Instantly brighten up any room in the house with the addition of this floral crochet window valence. It was designed using variegated yarn to give it an interesting color pattern without having to change colors while you work.
Of course, if you want a simpler look for your home, you could work the same curtain crochet pattern in a single color.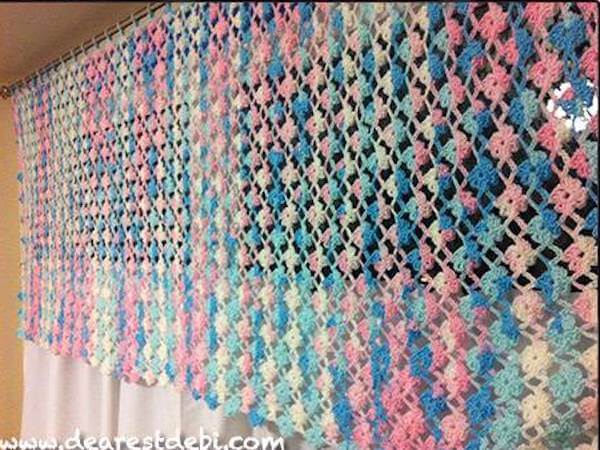 Get the Pattern here

7. Tunisian Crochet Lace Curtain Pattern by Denise Voie de Vie
Pink lace could be a recipe for sugar-sweet disaster, but not if it's balanced with geometric structure and trimmed in a tonal color.
These surprising Tunisian lace curtain panels hit just the right balance—open, airy and light—with just the right amount of color contrast at the curtain rod band.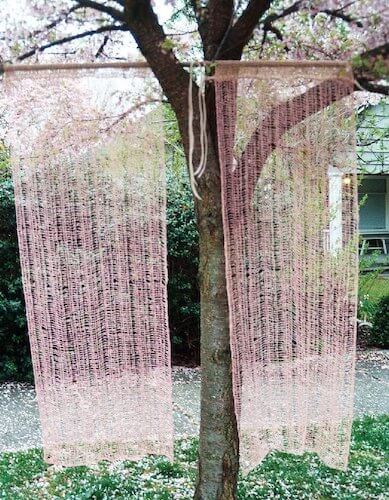 Get the Pattern by Denise Voie de Vie here

8. Boho Crochet Curtain Pattern by ATERG Crochet
Such fun to see and to crochet this boho curtain yourself! The pattern is the base, the fun part of 'choosing colors' is for you! Lovely and bright — and they look like they could be a great stashbuster too!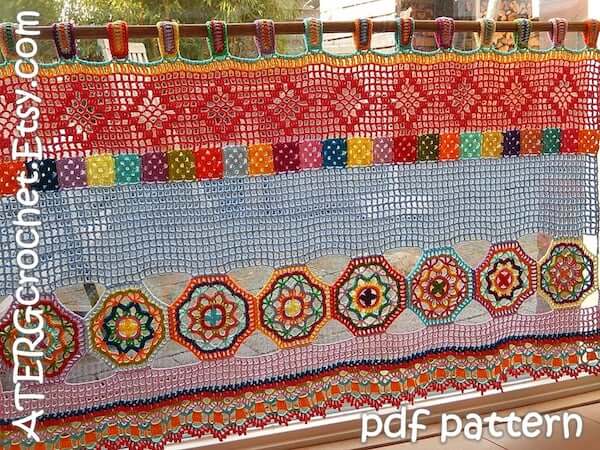 Get the Pattern by ATERG Crochet here

9. Farmhouse Cotton Curtains Crochet Pattern by Willow Yarns
Dress up your windows with sweet striped curtains in a farmhouse-inspired style!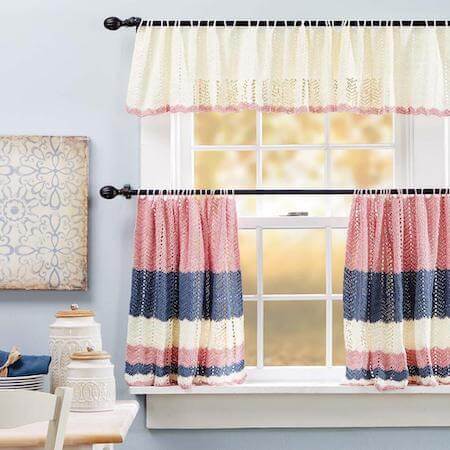 Get the Pattern here

10. Blowing Wheat Valance Crochet Pattern by Kathryn Clark Design
The calming design of this filet crochet valance, featuring wheat blowing in the wind, cascades down on each side for added dimension. The rod pocket is built into the design with a lacy border across the top. The valance is shown on a 36″ wide window.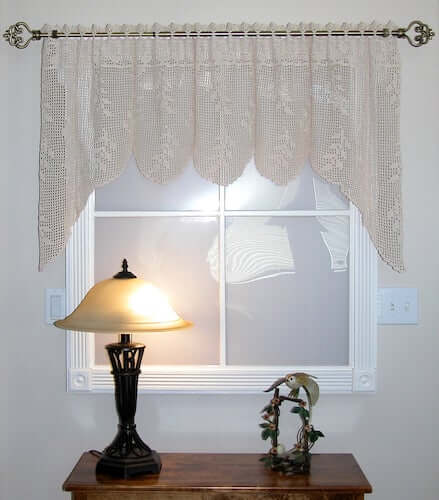 Get the Pattern by Kathryn Clark Design here

11. Crochet Macrame Curtain Pattern by Midknits
This gorgeous crochet curtain piece is inspired by macramé and embodies the Modern Boho Chic style. It works well as either a curtain or a wall hanging and is worked side-to side so creating the width you want is a breeze.
The written instructions also include a chart, making this pattern an easy to follow how-to!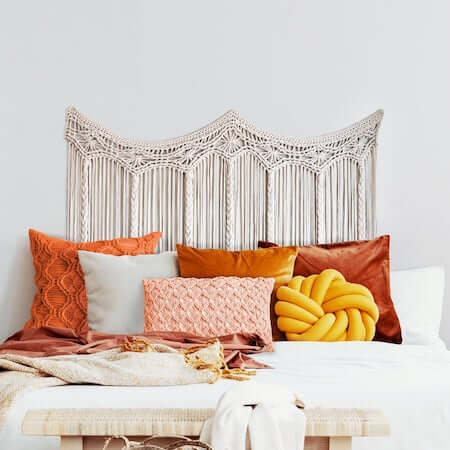 Get the Pattern by Midknits here

12. Daisy Crochet Kitchen Curtain Pattern by Diane Stone
This simple daisy free crochet curtain pattern will definitely perk up your home. The flower design will bring a lively, fresh, spring vibe all year round!
Once completed, the crocheted daisy valance should measure approximately 14 inches high and around 45 inches wide.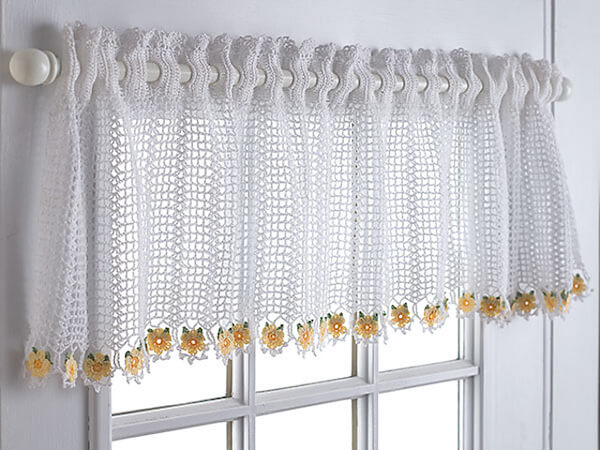 Get the Pattern here
13. Crochet Kitchen Curtain Pattern by EntreTejudosCrochet
This crocheted kitchen curtain would make the perfect addition to your home. It has a lacy and breezy design. The beautiful lace pattern allows light to enter while providing a bit of privacy.
This crochet curtain pattern is suitable for advanced beginners. The curtain can be easily adjusted to fit any window size. It is recommended that you use cotton yarn for durability. The pattern is written in English using US terminology.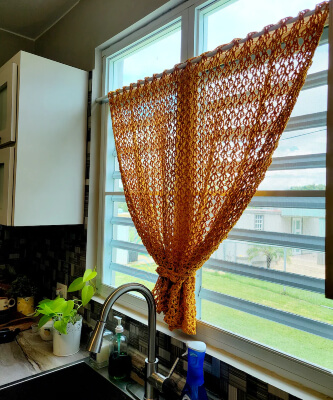 Find the Pattern by EntreTejudosCrochet Here
14. Easy Filet Curtain Crochet Pattern by CreazioniPiopi
Add a touch of beauty and elegance to any room with this crochet filet curtain. Its lacy and decorative design is eye-catching.
This crochet curtain pattern is written in English and uses US crochet terminology. The maximum width of the curtain panel is 12.5 inches (31 cm). The minimum width is 9.44 inches (24 cm). It has a height of 23.62 inches (60 cm) and consists of 83 rows.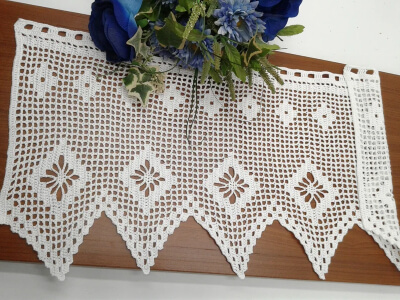 Find the Pattern by CreazioniPiopi Here
15. Cafe Curtain Free Crochet Pattern
Decorate your kitchen or dining area with these crochet cafe curtains. These beautiful window treatments are hung in pairs over the lower part of your window to add privacy while allowing natural light to filter through the top.
To make these curtains, the designer recommends using Premier® Yarns Afternoon Cotton and a US F-5 (3.75 mm) crochet hook. Completed, each panel will measure 36 inches (91.44 cm) wide x 27 inches (68.58 cm) long (excluding the loops).
Find the Pattern by Maggie's Crochet Here
16. Beaded Hippie Doorway Curtain Pattern by PrismaticForest
Transform your room into a boho paradise with a beaded hippie doorway crochet curtain. This curtain uses granny squares to create a unique piece. Whether you choose a colourful and vibrant design or a monochromatic palette, this curtain will instantly enhance your décor.
To make this curtain you will need intermediate crochet skills. The pattern allows you to customise the length and width of the curtain by attaching as many granny squares as needed.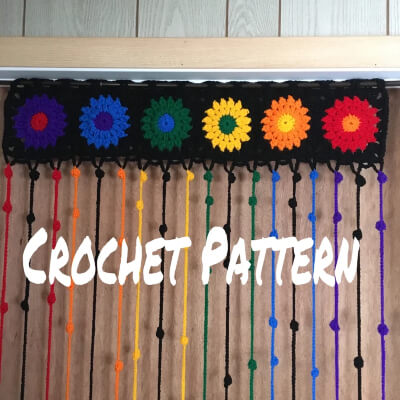 Find the Pattern by PrismaticForest Here
17. Crochet Curtains Valance Pattern by DeuxLCrochet
These valances would make the perfect addition to a home decorated in farmhouse decor. The crochet curtains feature a delightful heart motif and elegant, lacy design. They would add a touch of charm to your windows.
The pattern is available in both English (US terminology) and French. It is classified as intermediate level.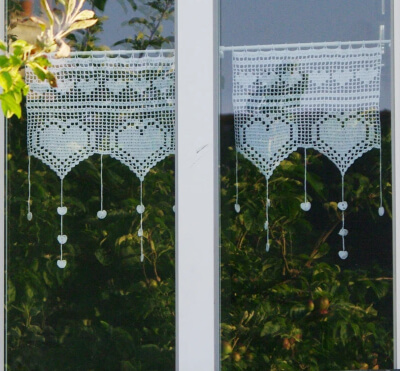 Find the Pattern by DeuxLCrochet Here
18. Simple Plarn Curtain Crochet Pattern by Vera Grguricin
Opting for a plarn crochet curtain is an excellent choice. By using plarn yarn you are helping to reduce waste and embracing an eco-friendly lifestyle.
The free crochet curtain pattern does not provide written row-by-row instructions. Instead, it includes a graph. By following the charted design and using double crochet stitches, you can easily make the repeating diamond pattern.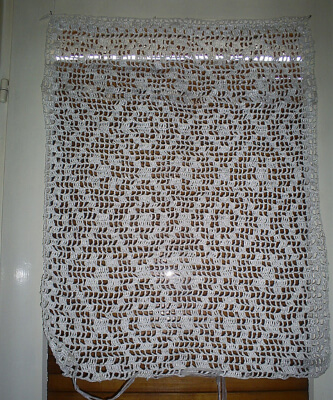 Find the Pattern by Vera Grguricin Here
19. Crochet Lace Filet Curtain Pattern by CreazioniFiopi
This crochet filet curtain exudes elegance and sophistication. The vertical stripes and delicate design create a gorgeous visual effect. The airy pattern of the curtain allows light to filter through while still maintaining some privacy.
The crochet curtain pattern is easy to follow. It is written in English and Italian using US crochet terminology. The curtain measures 21.65 inches (55 cm) wide x 48.42 inches (123 cm) high.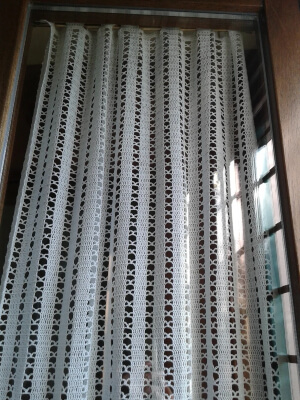 Find the Pattern by CreazioniFiopi Here
20. Sunbeam Squares Curtain Crochet Pattern by CherryHeartShop
Here is a beautiful crochet curtain valance inspired by a vintage shawl. The lacy square motif will add a touch of vintage charm to your home. It would be a wonderful choice for those who have a home decorated with antiques and vintage decor.
The valance pattern is suitable for those with an intermediate skill level. It only uses basic crochet stitches and an intermediate level joining technique. The size of the curtain is easy to customise.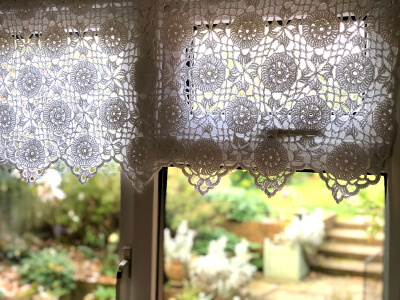 Find the Pattern by CherryHeartShop Here
21. Crochet lace Curtains by CreazioniFiopi
This crochet curtain features a simple and charming repeating floral pattern. This curtain would be an excellent choice for any room in your home. With its versatile design, it will complement various home decor styles.
The crochet pattern is written in both English and Italian, using US crochet terminology. The finished curtains will measure approximately 19.69 inches (50 cm) wide x 57 inches (145 cm) long.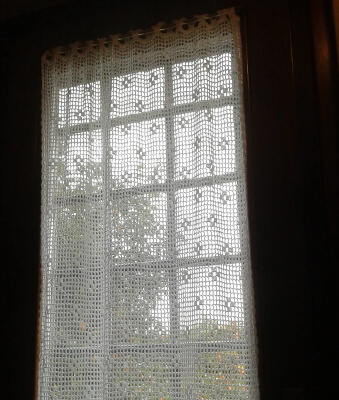 Find the Pattern by CreazioniFiopi Here
SAY NO TO NAKED WINDOWS AND GET INSPIRED BY THESE CROCHET CURTAIN PATTERNS!
The best part is that you can use any color or style that you like in making your crochet curtains. You don't have to spend loads of money to buy a curtain because you can easily make one yourself!
We're excited to see what you make, so please do share them on our Facebook Page!

You may also want to check our collection of Crochet Valance Patterns, Crochet Home Decors, Crochet Chair Cover Patterns or these Macrame Door Curtain Patterns for some potential weekend projects.

We hope you can start working on some crochet decor projects like these crochet curtain patterns of your own! Happy crocheting!