Wouldn't it be so convenient if you could find a crochet beanie pattern that would work for every single person that you know? That's exactly what you'll find here; in fact, you'll find 42 such patterns to suit different styles.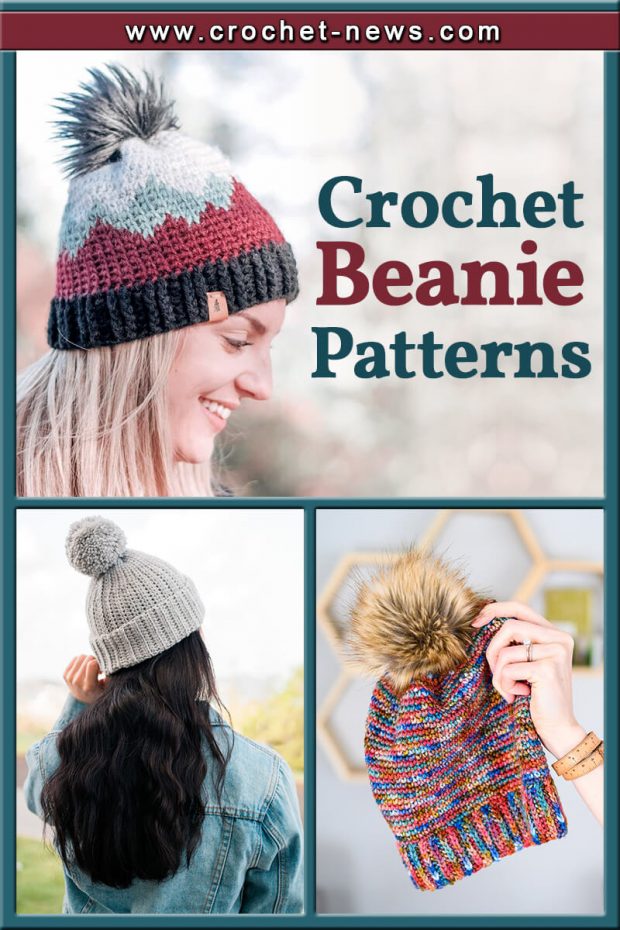 Beanie Crochet Patterns
Because of all these different types to choose from, beanies are no longer just a winter accessory. They have turned into an essential fashion accessory for any time of the year. Change the crochet stitches, play with colors, and add details to make a basic beanie just a bit more special!

1. Easy Everyday Crochet Beanie Pattern by For The Frills
This Everyday Crochet Beanie is exactly as the name describes! It's the perfect, easy crochet beanie that will become a staple in your fall and winter wardrobe. The beanie pattern has seven different sizes – preemie, baby, toddler, child, tween, adult small and adult large – so you can make a beanie for everyone in the family!

This beginner-friendly crochet beanie features a ribbed fold over brim with a tapered head and is topped off with a yarn pom pom! You can also add a faux fur pom pom or leave off the pom pom entirely for a chic and minimalist beanie.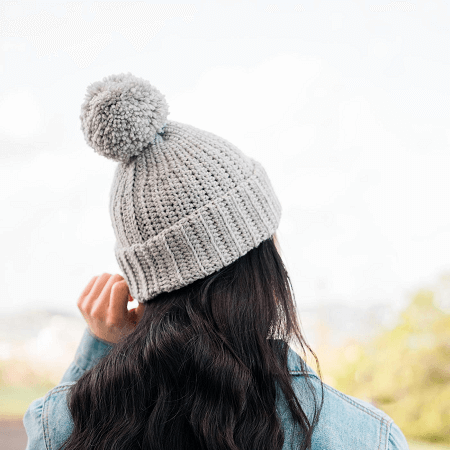 Get the Pattern here

2. Jelly Beanie Free Crochet Pattern by Loops And Love Crochet
This Jelly Beanie is such a fun one to work up. The puff stitches add such fun, jelly bean texture (hence the name) and endless color possibilities! These beanies look great in multiple colors or just in single color. The pattern includes instructions for sizes newborn to adult.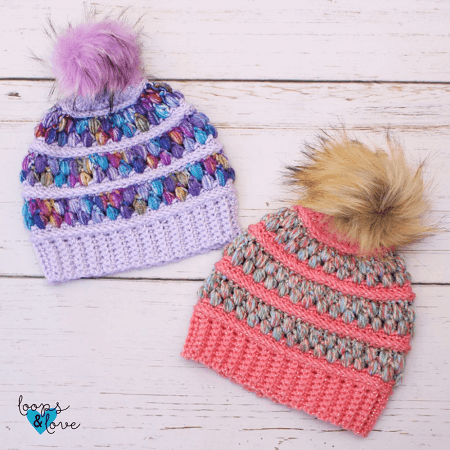 Get the Pattern here

3. Lark Beanie Crochet Pattern by Alyse Crochet
This Lark Beanie is a beautiful, cozy knit-look beanie pattern that's sure to become your new favorite hat! This beanie features a unique, stretchy faux-stockinette stitch pattern and a squishy ribbed brim, with easy short-row decreases for the perfect shape. It works up quickly and easily with less than 110 yards of Bulky yarn, and would make a great last-minute holiday gift!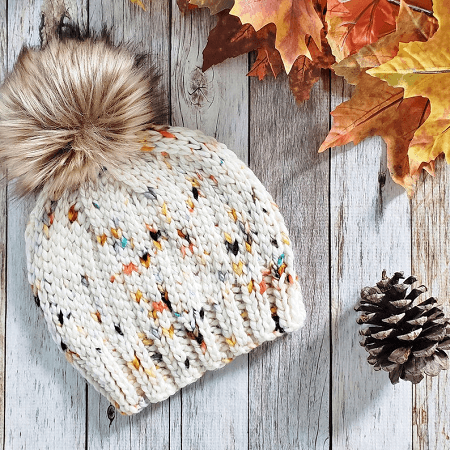 Get the Pattern by Alyse Crochet here

4. Branch Out Beanie Crochet Pattern by Kay Krochets
This unique, unisex beanie is the perfect lightweight accessory for the whole family! It is filled with front post stitches that create a stunning, branch-like design and eye-catching texture. It is worked in the round, from the top down and it's a super quick make since it's filled with double crochets!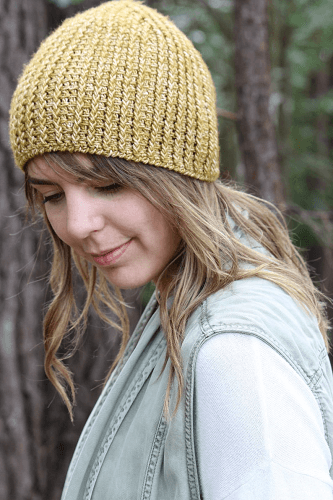 Get the Pattern by Kay Krochets here

5. Crochet Granny Beanie Pattern by Red Heart
Begin at the crown of this hat and work in rounds of alternating colors of granny clusters to create a stylish and cozy, must-have accessory! Using basic crochet techniques like double crochet and front and back post ribbing, this crochet beanie is quick to finish and fun to wear.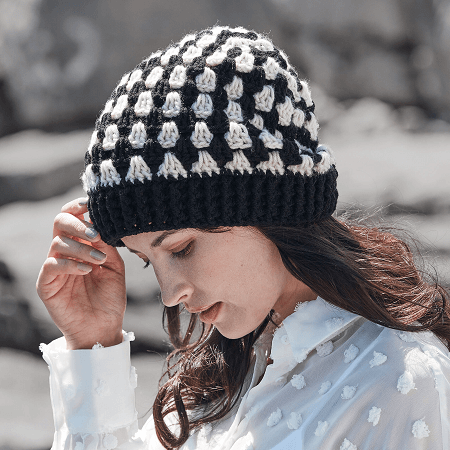 6. Wavy Shells Beanie Crochet Pattern by Kathy's Crochet Closet
This Wavy Shells Beanie Crochet Pattern makes a cozy, fitted beanie or slouchy beanie using worsted weight yarn and a size J crochet hook. The design has a beautiful texture and features shell stitches done with double crochet. It is easy enough for an experienced beginner to make.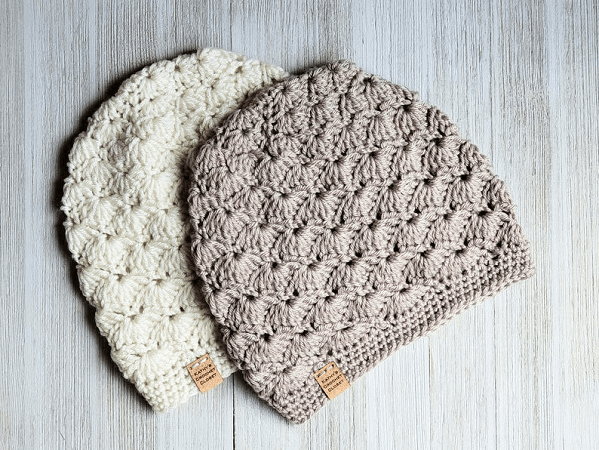 Get the Pattern by Kathy's Crochet Closet here

7. Summer Comfort Beanie Crochet Pattern by Yarnspirations
Perfect for warmer weather, this slouchy beanie is made using two strands of crochet thread held together. It's an easy pattern that is crocheted starting at the top with a lacy floral motif.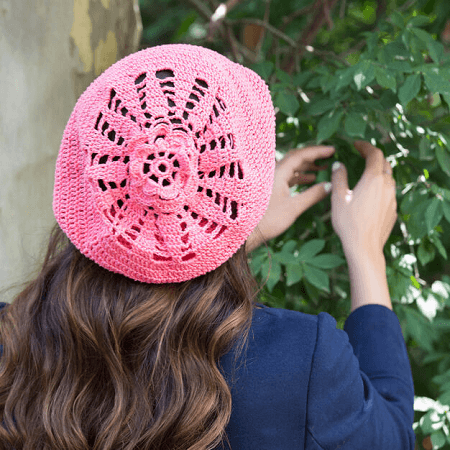 Get the Pattern here

8. Two Toned Free Crochet Beanie Pattern by E'Claire Makery
Do you love the look of ribbed knitted beanies, but don't enjoy knitting? If you like crochet, this is the perfect crochet ribbed beanie pattern to add to your winter wardrobe!

This beginner friendly quick and easy crochet ribbed hat pattern works up really fast, and makes great gifts. It also is a unisex hat, so it can be worn by both men and women! It's just the hat you need to make for markets or as a gift. Plus it's extra cozy thanks to the cozy super bulky yarn!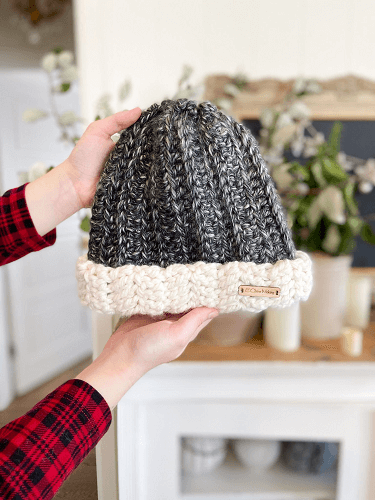 Get the Pattern here

9. Animal Crochet Beanie Pattern by Peach And Paige Designs
Looking for a way to totally change the meaning of 'cute' once and for all? An Animal Crochet Beanie is just the thing! With patterns to make a bear, reindeer, fox and bunny earflap beanie, imagine that special little someone in your life wearing one – it's almost too cute to bear, isn't it?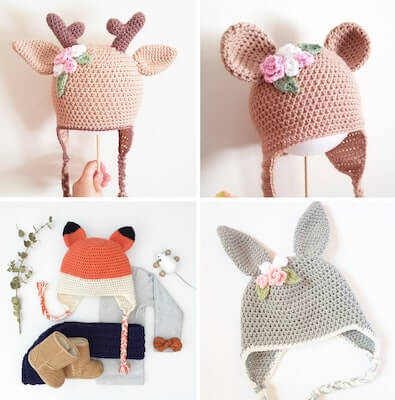 Get the Pattern by Peach And Paige Designs here

10. Strata Beanie Crochet Pattern by Evelyn And Peter Crochet
This Strata Beanie Pattern is worked from the bottom up. The brim incorporates slip stitching for the perfect amount of stretch. The surface stitches add just enough detail for a fun and unique look. It's also super easy to adjust length for your desired fit.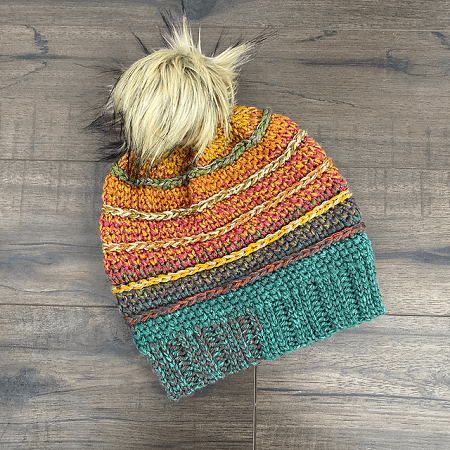 Get the Pattern here

11. Crochet Fair Isle Beanie Pattern by For The Frills
Introducing the Ombré Fair Isle Beanie! Featuring lightly cascading stitches falling into a ribbed hem, this ombré fade effect creates a stylish and sophisticated take on the traditional fair isle style.

The dense yet flexible stitches ensure that your head will stay cosy and snug all winter long! This beanie is worked from the bottom up and then in a spiral so the beanie is seamless and the stitches line up perfectly!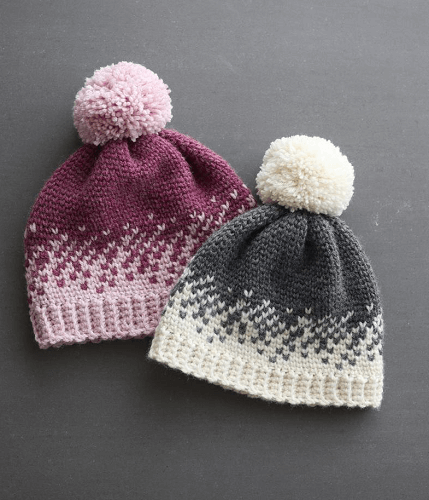 Get the Pattern by For The Frills here

12. Vintage Flannel Beanie Crochet Pattern by Woods And Wool
This Vintage Flannel Beanie is a classic pattern brought to life with colorful yarn. Whether you have your eyes on a hand dyed colorway or have something stashed away, your favorite skein of worsted weight yarn will work perfectly for this pattern.

This pattern is an easy introduction to making crochet hats and is the perfect pattern to dip your toes into using colorful yarns! You'll love how mindless and simple this pattern is and it will work up beautifully in so many different color ways.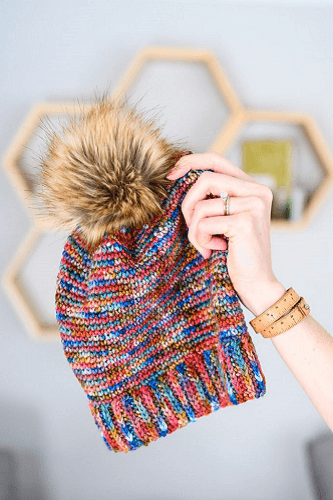 Get the Pattern here

13. Autumn Plaid Beanie Crochet Pattern by Love And Stitch Designs
This pattern is fairly easy, pretty quick to work up, and includes pattern for both beanie and messy bun beanie. This pattern is advanced beginner friendly and would make the perfect gift for anyone who loves plaid!

This Autumn Plaid Beanie is worked from the bottom up by crochet in the round. It's very easy to modify it too. Perfect for keeping your head warm while keeping your hair up in a bun.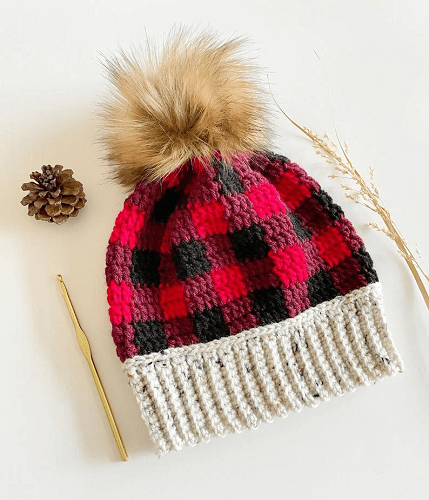 Get the Pattern by Love And Stitch Designs here

14. Ombre Slouchy Beanie Crochet Pattern by Gleeful Things
Late to the trend or not, you'll still enjoy making your own Ombré Slouchy Beanies! The crochet slouchy hat is made using the linen stitch, one of our favorites due to the simplicity and texture.
It's really a great project for when you just want to relax and not think too hard, or when you aren't able to give it your full attention. So grab your favorite colorway, get comfy, and enjoy watching each color fade into the next as you work!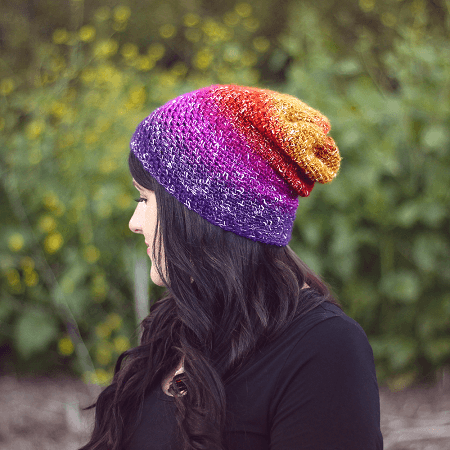 Get the Pattern here

15. Scandi Stashbusting Crochet Beanie Pattern by Dora Does
This Scandi Stashbuster Crochet Beanie Pattern is a simple top-down hat which can be made in a variety of colours and patterns to use up left over yarn. The opaque stitch pattern creates a super cosy and warm beanie to see you through the winter and beyond.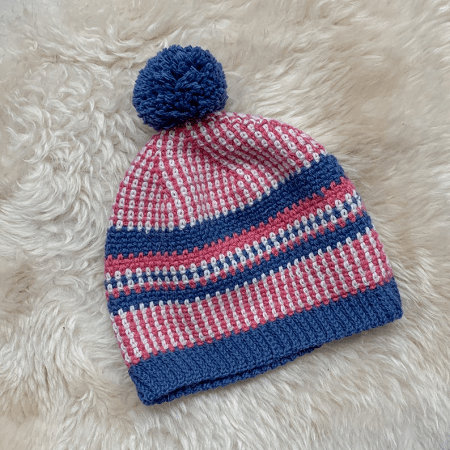 Get the Pattern by Dora Does here

16. Chunky Cabled Slouchy Beanie Crochet Pattern by All About Ami
This Chunky Cabled Slouchy Beanie is so luxurious and can be made for the whole family. Cables are not just for knitters, and you'll adore learning the technique of how to crochet cables! Make it in a bright color add a nice pop of color to your winter wardrobe.
Get the Pattern here

17. Men's Classic Beanie Crochet Pattern by Rich Textures Crochet
This Men's Classic Beanie looks like it is knit, but it's crochet! This crochet pattern includes two variations – with a brim and without. The finished size is approximately 8 x 9 inches laid flat, 20-21 inch circumference when stretched.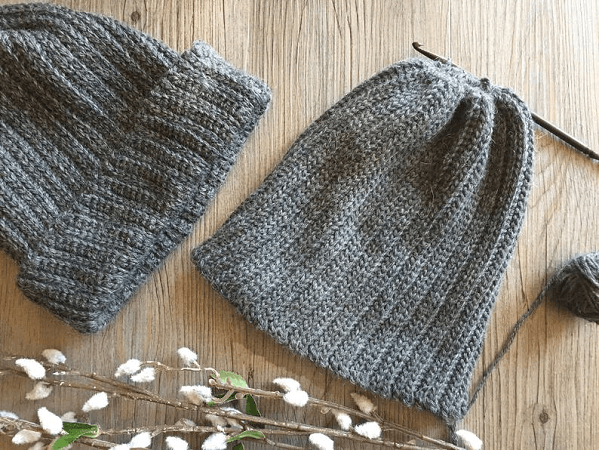 Get the Pattern by Rich Textures Crochet here

18. Vintage Vibes Baby Beanie Crochet Pattern by The Crochet Fix
You'll find that these Vintage Vibes Baby Beanies fly off the hook. Make them as gifts, for your market stall, or for charity. Pair them with a pretty filet baby blanket. Top them with a pom pom and add earflaps for some extra cuteness. Use one or more colors to add your personal touch to the design.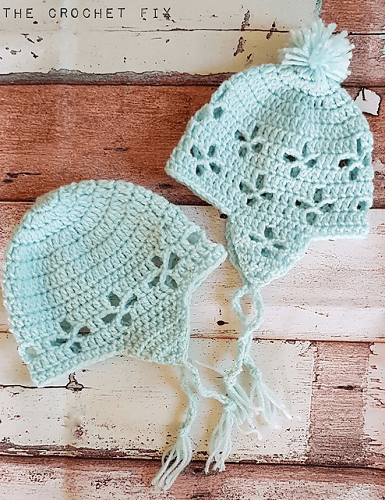 19. Pineapple Crown Beanie Crochet Pattern by The Plush Pineapple
This Pineapple Crown Beanie will have you dreaming of summer with strategically placed cables that come together to represent pineapple outlines! While the design itself is subtle, the texture from the cables adds depth and dimension along with three optional color changes to give the maker lots of options.

This basic crochet plaid stitch uses all half double crochet and can be easily modified to create a different plaid or gingham look by simply choosing a light (or white), medium and dark shade of the same color.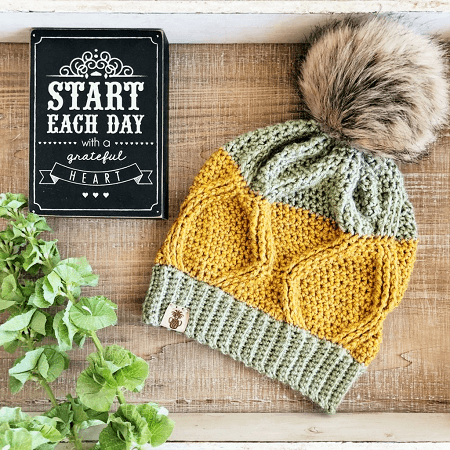 Get the Pattern here

20. Unicorn Beanie Crochet Pattern by But First Crochet
What little girl or baby would not look adorable in a unicorn crochet baby beanie? The pattern works up quickly and is adaptable to any size with simple measuring.

Little girls love unicorns and would be ecstatic to stroll around with mom, dad, grandma, or friends sporting their comfy, warm, and stylish beanie made just for them.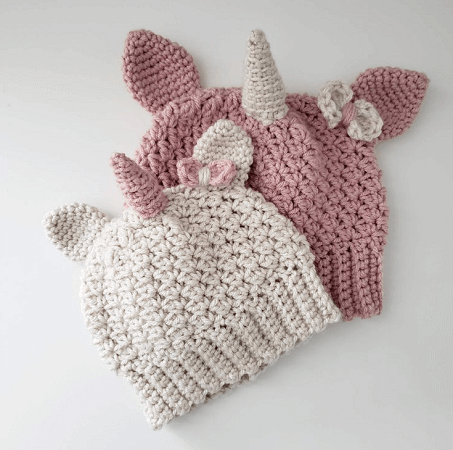 Get the Pattern by But First Crochet here

21. Plaid Crochet Beanie Pattern by Make And Do Crew
Sport a popular plaid look with this versatile Crochet Plaid Beanie Pattern written in three sizes. While the color changes might look intimidating, the technique becomes rhythmic after after the first few rounds and ensures you'll be left with only a couple of ends to weave in.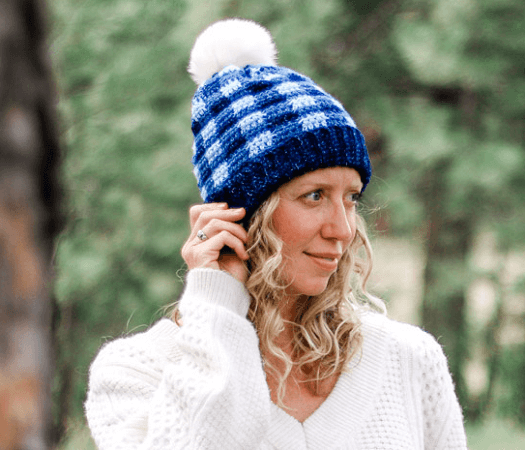 Get the Pattern here

22. Soft Serve Beanie Crochet Pattern by The Hat And I
A cozy, cute beanie is a cold weather must have. Prefer a slouchy? This Soft Serve Beanie Crochet Pattern includes directions for both a beanie and slouchy – two adorable patterns packed into one!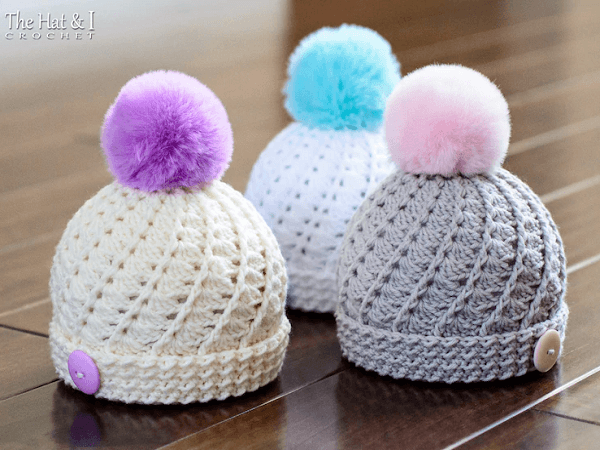 Get the Pattern by The Hat And I here

23. Easy Striped Beanie Crochet Pattern by Daisy Cottage Designs
Wouldn't any little girl look adorable in this sweet little beanie? Embellished with a pink flower for a little girl or left plain for a little boy, this striped hat will be perfect for photo shoots, every day wear, or as a unique gift.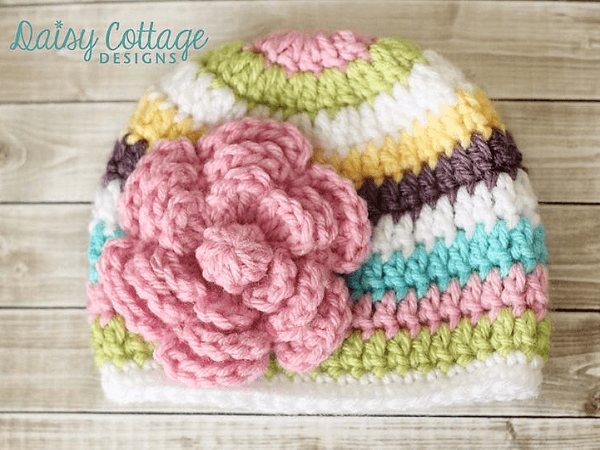 Get the Pattern by Daisy Cottage Designs here

24. Crochet Baby Beanie Pattern by Kirsten Holloway Designs
This basic newborn baby beanie crochet pattern is a perfect quick crochet project for beginners, or for those who want to donate hats to charity or their local NICU. The easy pattern is written for newborns and 0-3 months since those are the sizes that many hospitals need.

Feel free to change the colors of this beanie up as you see fit. Since this crochet pattern is so basic it can be made for either boys or girls.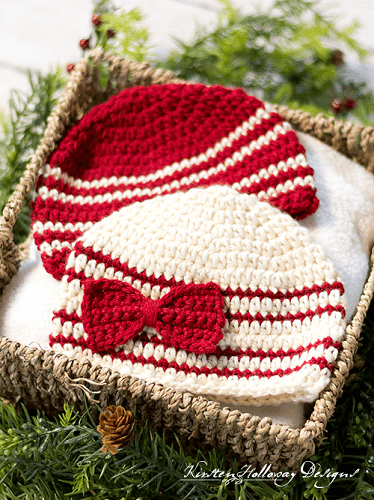 Get the Pattern here

25. Crochet Ridge Beanie Pattern by Red Heart
Toss out those old, ratty toques in favor of this relaxed crochet hat that's a must-have in any winter wardrobe. A slouchy style makes it comfy to wear in any shade you prefer. Make it neutral as designed, or choose a more distinctive color to set off your look. It's on-trend, and you can wear it with or without the optional pompom!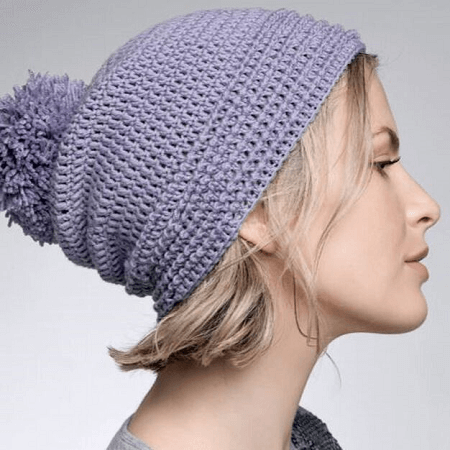 26. Striped Bun Beanie Crochet Pattern by Made With A Twist
Designed in super bulky yarn, this Striped Bun Beanie works up in about an hour to maximize your productivity and your profit margin. Create one in every color and then, mix it up a bit, by adding stripes and a coordinating bow. Your friends, family, and customers will love this!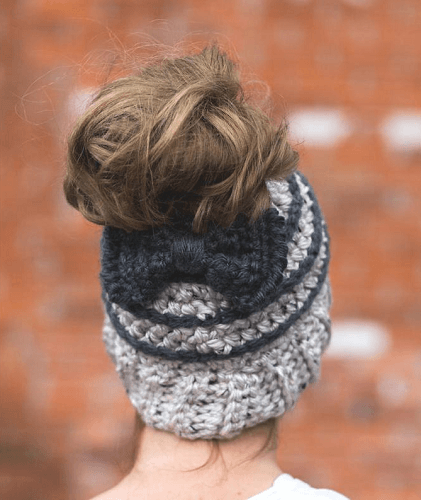 Get the Pattern by Made With A Twist here

27. Hippie Crochet Beanie Pattern by It Was Yarn
This Hippie Crochet Beanie is a great stash-busting hat. The color combinations are endless! This colorful hat is ideal for autumn or spring. Choose your favorite colors and in a short time, you can wear a beanie that spreads a good mood!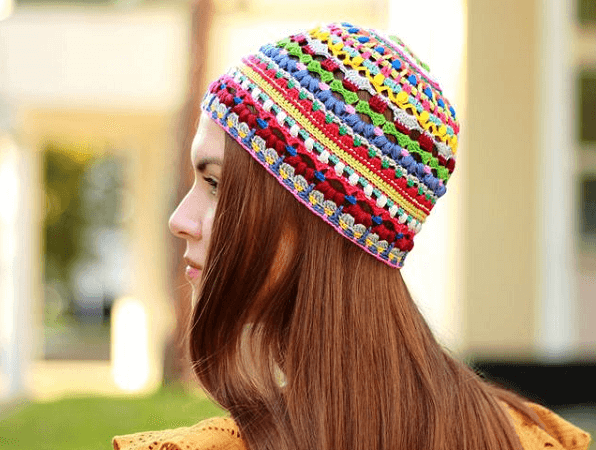 Get the Pattern by It Was Yarn here

28. Simply Swirled Beanie Crochet Pattern by Alyse Crochet
This Simply Swirled Beanie is a versatile and stylish beanie that works up quickly with stunning, knit-look results! This beanie is the perfect one-skein project, is easy enough for an advanced beginner, and looks amazing in both solid and variegated yarns.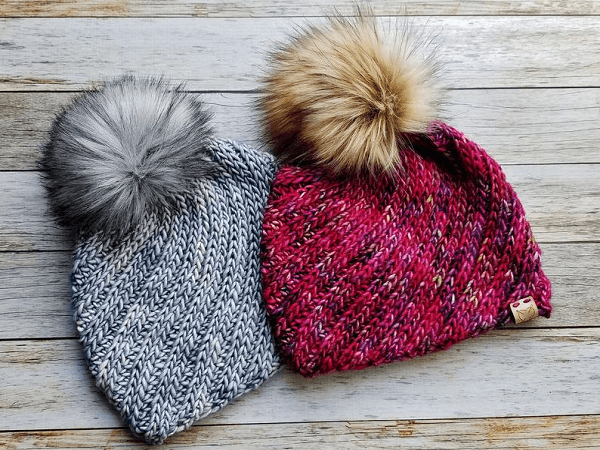 Get the Pattern by Alyse Crochet here

30. Crochet Beanie Pattern by Craft Her Blog
This double crochet v-stitch beanie is the ultimate stashdown project. With its simple stitch repetition round after round, popping color combination options and multiple sizes, you will always have a someone to make this beanie for.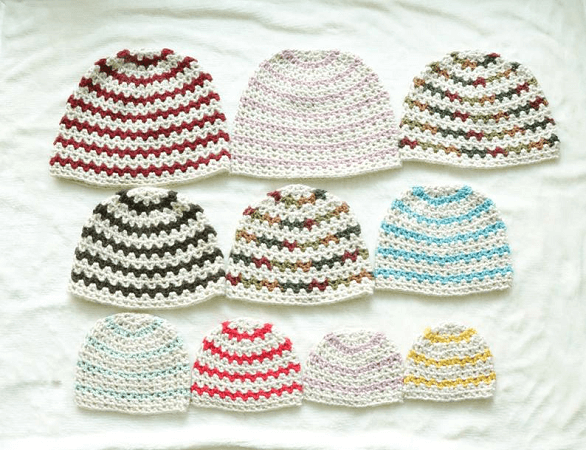 Get the Pattern by Craft Her Blog here

31. Faux Cabled Crochet Bun Beanie Pattern by Make And Do Crew
Would you believe this free crochet beanie pattern uses only single crochet and chain stitches? Despite its simple construction, the "cabled" look of this beanie is sure to dress up even the messiest of messy buns. And the functional bottoms mean that you can pop this puppy on without pulling it over your perfectly tousled hair.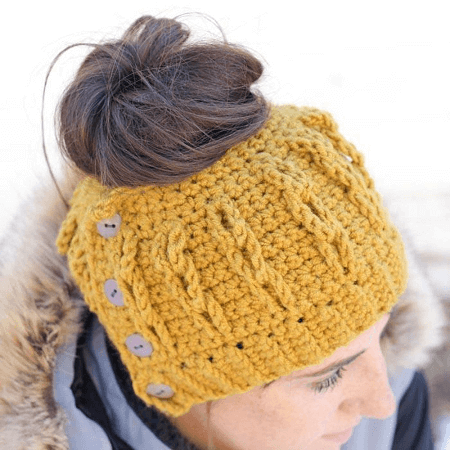 Get the Pattern here

32. Dancing Snowflakes Beanie Free Crochet Pattern by Divine Debris
If you're still experiencing some chilly weather, let this Dancing Snowflakes Beanie keep you warm. This beanie is a fun mix of crochet techniques that creates a very eye-catching and exciting design. The combination of washed-out blue and neutral beige is very versatile, without a doubt.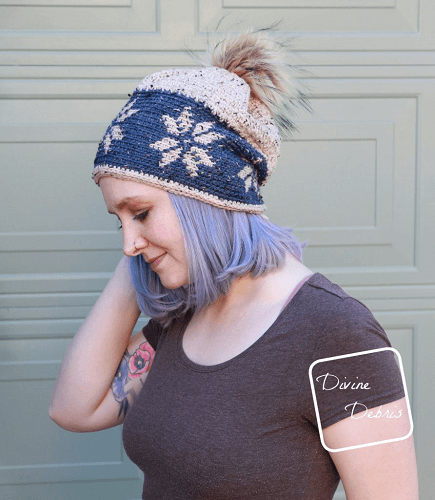 Get the Pattern here

33. Tapestry Crochet Diamond Beanie Pattern by Crochet For You
This beanie features diamond shapes with 4 colors on the body of the hat. All the stitches in this pattern are single crochet. You can make this beanie with many color combos, seasonal colors, mix and match with your outfits and also perfect way to get rid of your yarn stash to make more hats for you and your family.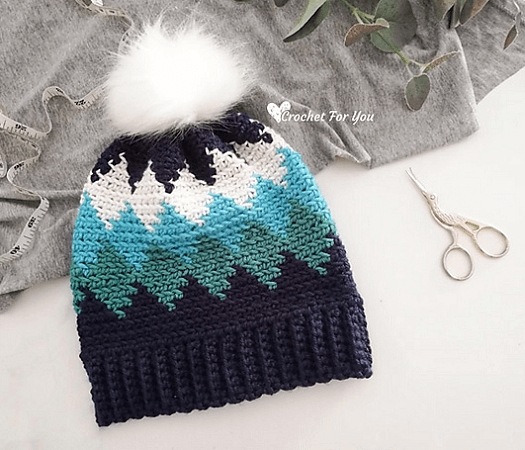 Get the Pattern here

34. Crochet Houndstooth Beanie Pattern by The Blue Elephants
This Houndstooth Beanie is perfect for guys and girls this Fall! The subtle pattern and the warm rich colors make this beanie great for brisk days out apple picking. This beanie is made using simple stitches and it creates a beautiful rustic look. It's unisex and looks great on both men and women.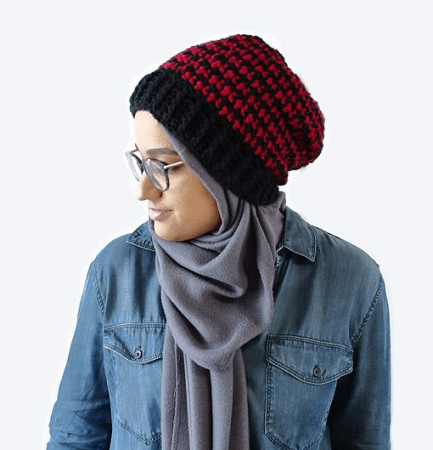 Get the Pattern by The Blue Elephants here

35. Velvet Lace Beanie Crochet Pattern by Kathy's Crochet Closet
This velvety beanie is a quick project using worsted weight chenille yarn and a size I crochet hook. The design features shell stitches done in a lacy design and trendy "velvet" yarn creates a warm but lightweight beanie. The finished hat will measure approximately 9 inches from the top of the hat to the edge.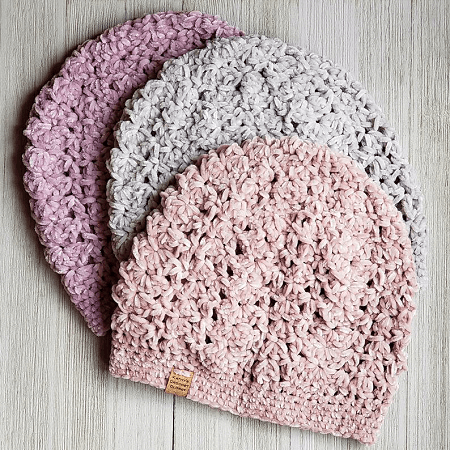 Get the Pattern by Kathy's Crochet Closet here

36. Crochet Basketweave Beanie Pattern by Yarnspirations
No matter where your travels take you, here's a crochet beanie that's up for all sorts of winter adventures. The basketweave design is easy and interesting to stitch up, so simply select the shade you love or go with a solid to let the handiwork shine. This project is a perfect gender-neutral style that suits all ages.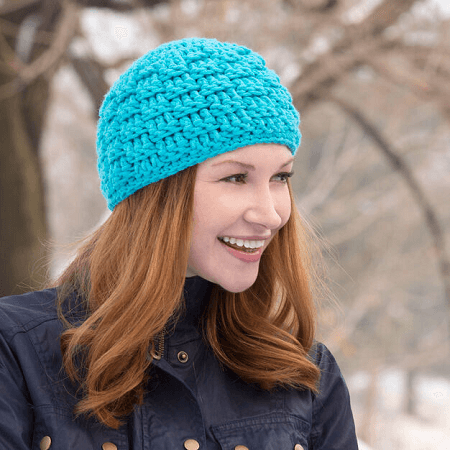 37. Easy Chunky Crochet Beanie Pattern by Persia Lou
This Easy Chunky Crochet Beanie works up in just 30 minutes! This free pattern will have you making gifts for friends and family in no time. Super chunky yarn and a ridiculously huge hook are what make this hat go so quickly – perfect for last minute holiday gifts!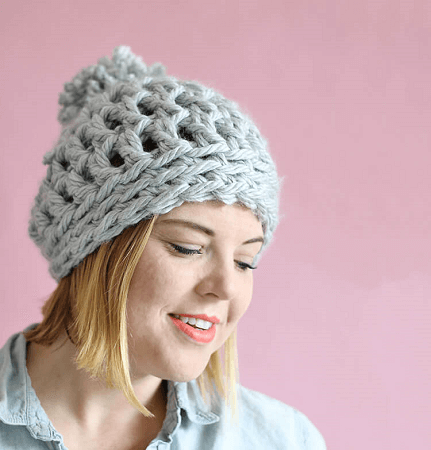 Get the Pattern here

38. Easy Crochet Beanie Pattern by Dabbles And Babbles
This baby beanie uses the crochet puff stitch to create texture and is made with two colors to make the puffs really stand out. This is one of the greatest crochet hat patterns for beginners. It's so simple you'll probably end up making several crochet baby hats before you're done.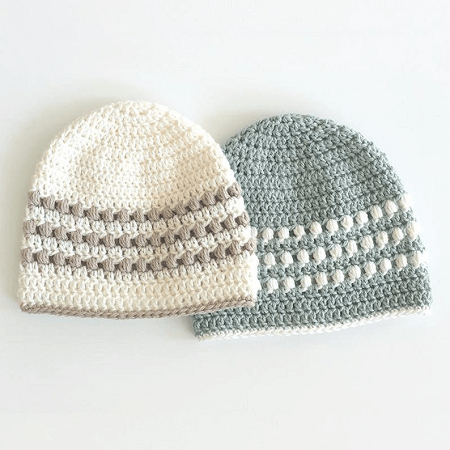 Get the Pattern by Dabbles And Babbles here

39. Crochet Knot Beanie Hat Pattern by Sewrella
This Crochet Knot Beanie Hat is simple and easy to make, stunning to wear, and even better to talk about! It's a super speedy, mindless project to whip up in less time than it takes to watch a movie!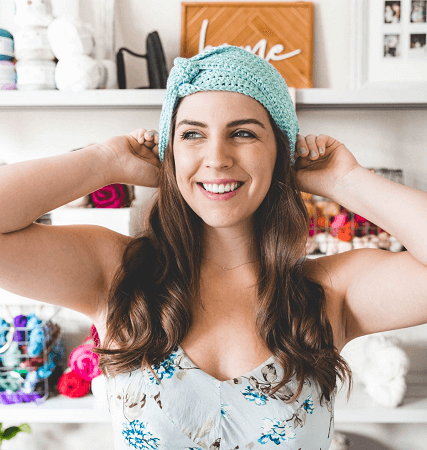 Get the Pattern here

40. Mountain Range Crochet Beanie Pattern by Wild Sapling
This Mountain Range Crochet Beanie Pattern is for a stylish yet practical hat inspired by nature. Whip it up in your favorite earth colors! If you are a nature lover, adventurer, or outdoor enthusiast, you will love this warm and comfy fitting hat complete with a yarn pom pom or fur pom pom.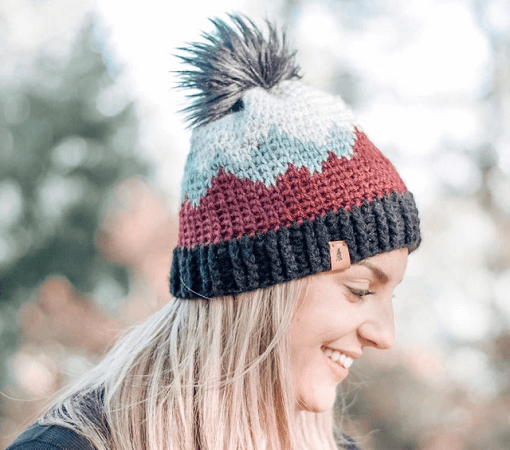 Get the Pattern by Wild Sapling here

41. Silver Men's Beanie Crochet Pattern by Salty Pearl Crochet
This Silver Beach Beanie Men's Beanie uses a variety of interesting crochet textures to create an easy yet interesting crochet hat for men (or women!).

The bold textures are separated by lines of knit look stitches for a simple, understated look with lots of eye-catching detail, but no frills or lace to put off masculine tastes.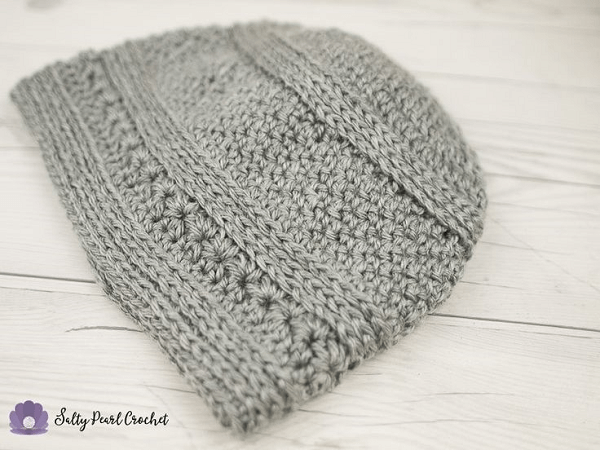 Get the Pattern here

42. Simple Crochet Beanie Pattern by The Snugglery Patterns
Oh no! You forgot your best friend's birthday and now you're looking for the perfect gift you can make on time!
Looks like we have the perfect pattern for you! This Simple Crochet Beanie Pattern is so quick to finish you can make a lot in no time.
If you're interested to learn more about how to make this beanie, read through the article to find out more about the pattern!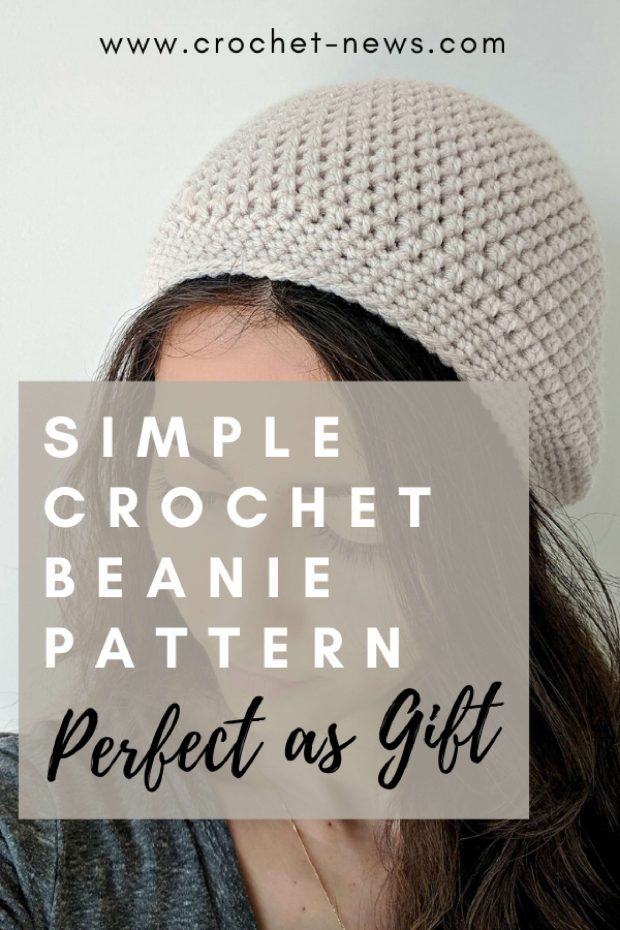 Perfect Simple Crochet Beanie Pattern
This simple beanie crochet pattern is made by MYandGG. They have a variety of other patterns for items like clothes, headbands, and even blankets.
Because it's really simple to do and quick to finish, you can make lots of beanies in less than a day! Why not make a beanie for every member of her family, right?
Are you worried that because it's too easy it will look too plain? You can opt to use the front/back post double crochet stitch on the brim of the beanie to add some details.
Make a set and mix things up! Make the simpler ones for your best friend's husband and her little boys. The more intricate ones will look good on your best friend and her girls.
Want to make your gift extra special? How about making the beanies in their favorite colors? It will surely be their new favorite beanie when they receive it in the color they like best!
A warm and comfy beanie, the perfect last minute gift for everyone!
About the Yarn
Soft to touch, warm and comfy – it's the formula to a perfect beanie. Using the Wool-Ease Solids, Heathers & Twists by Lion Brand, you'll get all these in just one yarn! It has the warmth and softness of the wool and the easy maintenance of acrylic.
With its wide range of colors, you'll never have a hard time looking for the perfect color palette to use for these beanies!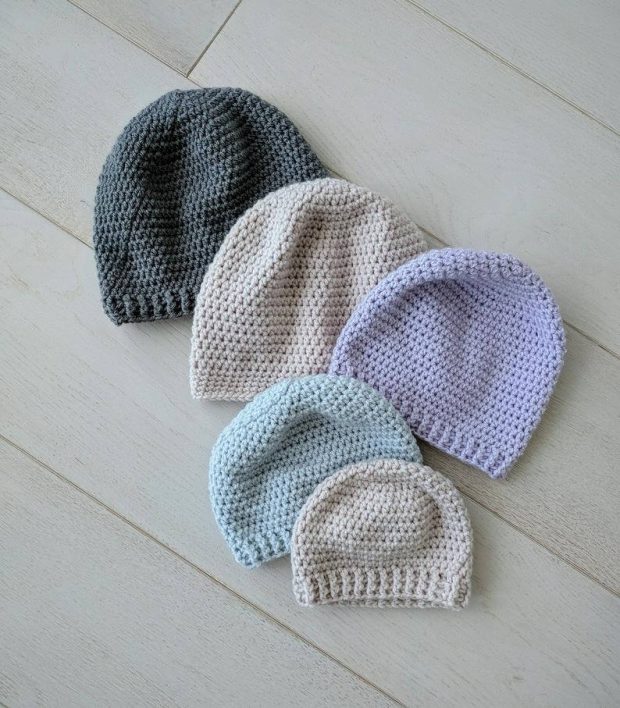 About the Pattern
Being a really simple pattern, it's perfect for beginners! It's made using the usual basic stitches and a few more complicated ones if you want to add more details.
With only a few stitches to learn and a few rows to make, you'll be able to finish one beanie in less than two hours! Imagine how many set of beanies you can make in a day. It is indeed the perfect quick to make gift for your best friend and her family!
To help you with the stitches needed in adding the details on the brim of the beanie, we added a link to a tutorial you can follow!
Skill Level
Beginner
Materials Needed
Skein of worsted weight yarn – Wool-Ease Solids, Heathers & Twists by Lion Brand
An H (5mm) crochet hook
A G (4mm) crochet hook.
Stitches Used
Front post/Back post double crochet – optional, Learn how to make this stitch here.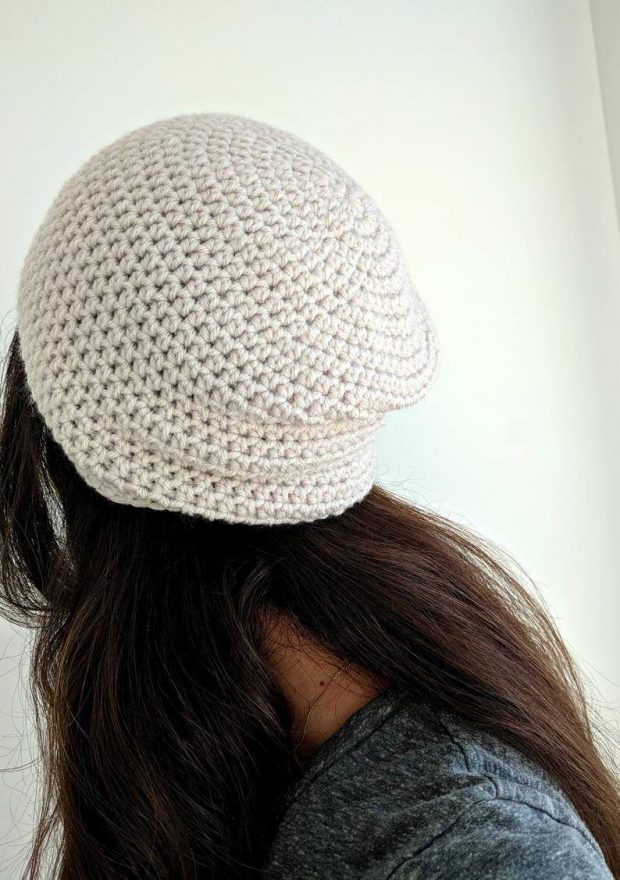 With this simple crochet beanie pattern, you'll never have to worry about last minute gifts!
Oops, your best friend's birthday! Gather your materials and make this simple and quick pattern simple crochet beanie pattern for your best friend(and her whole family)!
Refer to chart below for crochet beanie sizes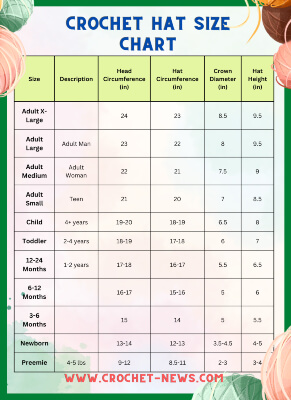 Frequently Asked Questions About Toque Hat vs Beanie
What is a beanie hat?
A beanie hat is a close-fitting hat that is typically knitted and thin. It generally has a snug, form-fitting design. However, some beanies do have a slouch design.
Unlike traditional beanies that fit snugly around the head, slouch beanies have extra material that creates a slouch or drape at the back. Beanies may or may not have a folded cuff that can be adjusted to the wearer's liking.
What is a toque hat?
A toque hat is also known as a knit cap. It is a type of hat that is similar to a beanie but often has a longer, slouchy design and thicker fabric. Toque hats have a close-fitting, round shape. They are commonly associated with cold, winter weather. Many toque hats also have a decorative pom pom on top.
What are the main differences between a toque hat vs beanie?
Toque hats and beanies have several distinct differences. Beanies tend to have a snug, form-fitting shape that hugs the head closely. While toques are generally looser and longer. The length of the toques allows the wearer to fold up the brim.
Beanies are typically shorter. Beanies are often associated with a casual, sporty look. Toques are more fashionable and are usually worn in extremely cold weather.
Are beanies called toque hats?
No, beanies are not typically called toque hats. However, you will find that the terms are sometimes used interchangeably. Beanies and toque hats are distinct styles with their own specific characteristics.
Why are there pom poms on toque hats?
Pom poms are often added to toque hats for decorative purposes. The pom poms add a playful or whimsical touch. Pom poms are also used to hide the seams on the top of the hat.
The pom pom itself is usually made of yarn and can come in a variety of sizes. While pom poms are not exclusive to toque hats, they are a feature that can help you distinguish between a toque hat vs beanie.
Pop your new crochet beanie on your head and get to work on making one for everyone you know!
If you've got a beautiful end result – and of course you do – show it off! Share it on our Facebook Page. We'd love to see it! Looking for more hat patterns? Check out our huge collection of Slouch Beanie Patterns and Crochet Hat Patterns that are all trendy and stylish!

For now, make a bunch of these patterns in your favorite colors, and you'll have a crochet beanie to match whatever you wear!