When you learn how to crochet with beads, you open up an entirely new world for your craft. Many people like to use bead crochet to make jewelry.
Once you know how to, the beaded crochet necklace patterns below offer some great designs to get you started.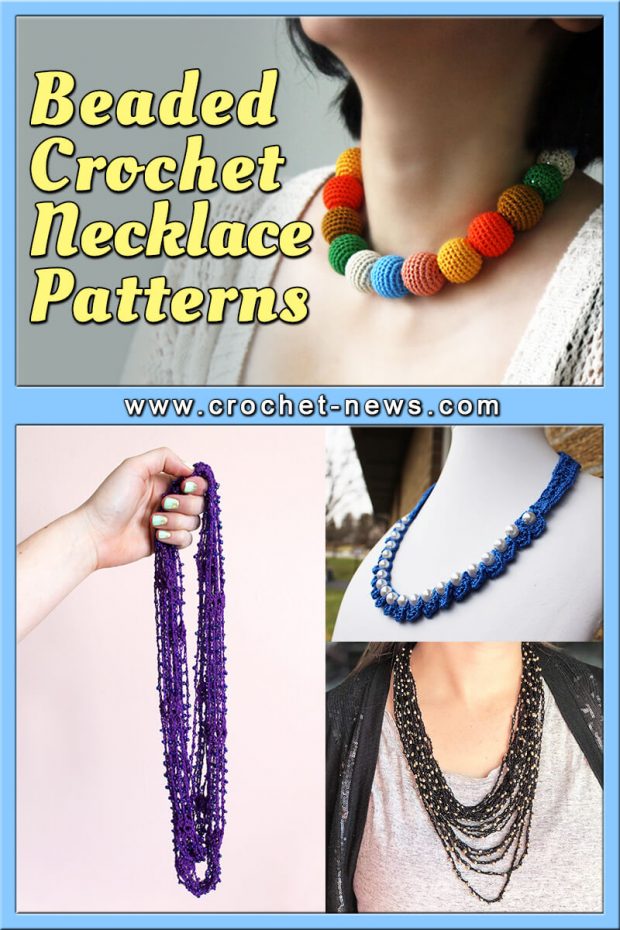 Using a wide range of stunning beads in lovely color combinations, the pieces may look complicated, but are very easy to make.
With crochet skills and a supply of beads, you can create lavish necklaces to complement ay fashion or occasion. Make it elegant, or make it fun, but definitely make it yourself!

1. Beaded Crochet Necklace Pattern by Red Heart
Simple, but oh so effective! This delicate necklace combines small beads, crochet thread and easy chain stitches.
Wear it as a single strand, double it or crochet multiple strands. It will add just the right amount of sparkle to your outfit.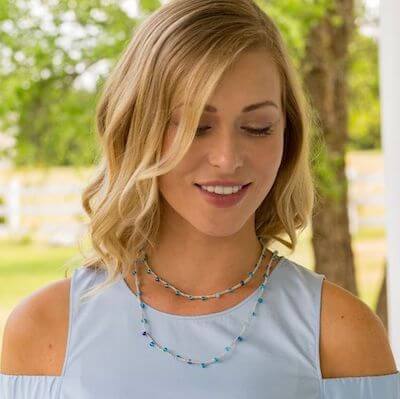 Get the Pattern here

2. Beaded Crochet Necklace Pattern by The Spruce Crafts
This beautiful necklace is made with glass seed beads studding crocheted embroidery floss and accented with a dichroic glass pendant.

This beaded crochet necklace pattern makes a 14-inch long choker necklace, but you can adapt it to make any length you desire. There are so many possibilities for combining colors and textures, you may not be able to make just one!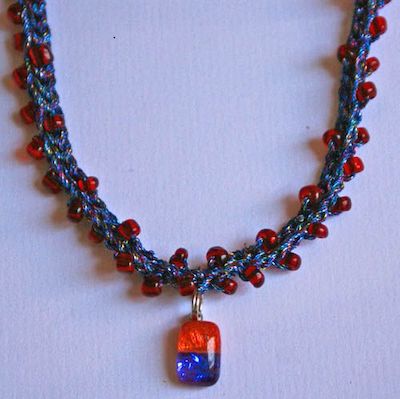 Get the Pattern here

3. Bohemian Crochet Beaded Necklace Pattern by Winding Road Crochet
This Bohemian Beaded Necklace is a nature-inspired accessory that is the perfect compliment to almost any outfit. It's neutral colors and natural materials lean towards the bohemian style.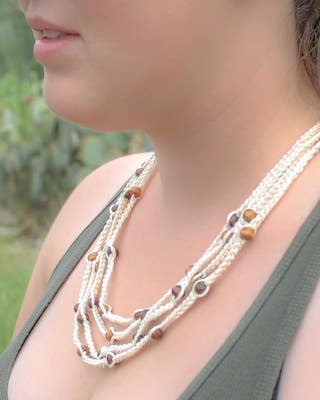 Get the Pattern here

4. Crochet Bead Necklace Pattern by Instructables
It's time to pamper you with this gorgeous and colorful crocheted necklace. This gorgeous and thin in size necklace is made out of the ladder thread and the colorful beads strung in.
It would make a great statement piece for your summer tanks and tops and also make a pretty gift idea too.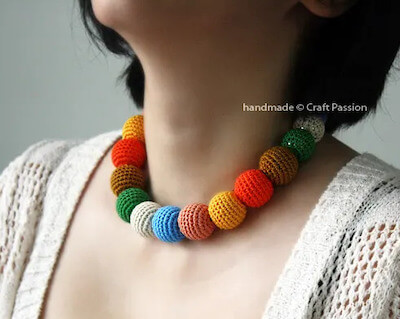 Get the Pattern here

5. Bead Crochet Chain Necklace by Marly Bird
Bead crochet is a great way to incorporate some bling to your crochet project. Beaded crochet chain necklaces are the easiest way to branch out into a new technique.

Not only willl you step up your outfit but you get to include crochet to your everyday. This necklace is easy peasy and a great gift idea.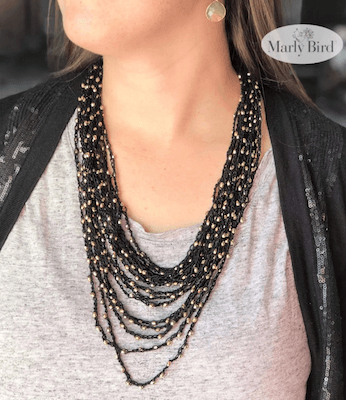 Get the Pattern here

6. Easy Crochet Necklace With Beads Pattern by Amelia Makes
This crochet necklace project is a great design to try if you are new to beaded crochet, or just want something simple and striking.

This necklace has a very simple concept. As long as the beads you choose can be threaded on your crochet thread/cord, you can use whatever types and colors of beads that you desire!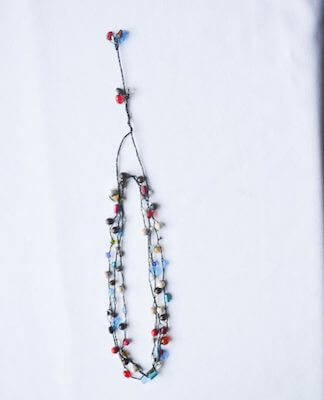 Get the Pattern here

7. Beaded Necklace Crochet Pattern by Craft Passion
This Beads Necklace is a great gift to female friends and relatives. Choose her favorite color and make one for her especially this gifting season.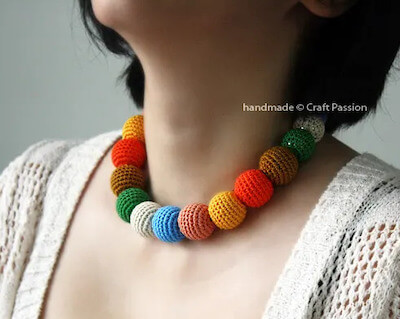 Get the Pattern here

8. Casual Crochet Bead Necklace Pattern by Yarnspirations
Create a one-of-a-kind accessory with a bit of crochet thread, fiberfill and beads. Or, change up the colors for a completely different original look!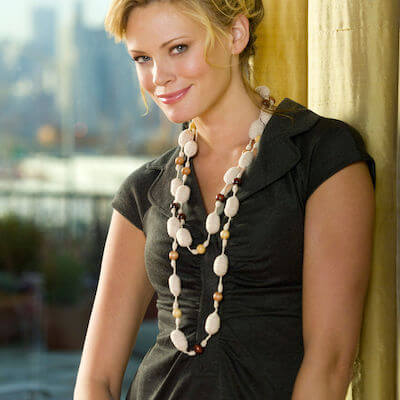 Get the Pattern here

9. Sweetheart Beaded Choker Crochet Pattern by Oombawka Design Crochet
This Sweetheart Beaded Choker Necklace is designed with an adjustable beaded closure. The necklace is worked lengthwise – making it very easy to customize to any size.
The pattern is very straightforward and it will take you less than 1 hour to make the complete necklace.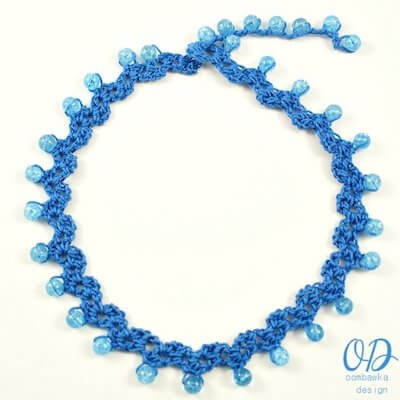 Get the Pattern here

10. Crochet Pearl Bead Necklace Pattern by Only Made For You
This is a simple crochet beaded necklace pattern but it's particularly elegant. It was designed to remind you of the cozy comfort of seeking into a bubble bath.
It also looks like a classic pearl necklace elevated with the blue thread detail. You'll make sophisticated crochet shells and adorn them with the beads.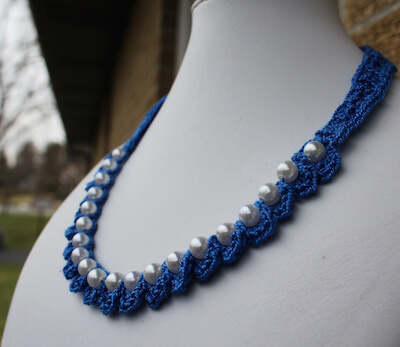 Get the Pattern here

11. Crochet Beaded Necklace Pattern by Nailya Plaskey
This beautiful feminine necklace of dainty hearts is worked in 3 easy rows of crochet. Gold-colored beads are added to the tip of each heart, and a cluster of three beads is used as a clasp.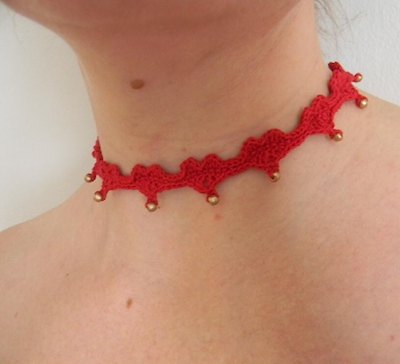 Get the Pattern by Nailya Plaskey here

12. Crochet Beaded Choker Necklace Pattern by Rhinestone Mumma
Some bead crochet necklaces really allow the beads to shine. Others, like this one, emphasize the beauty of the crochet stitches and allow the beads to simply supplement the yarn craft.

This one is designed as a choker necklace, although if you're knowledgable about crochet you could easily adapt it to make a longer necklace.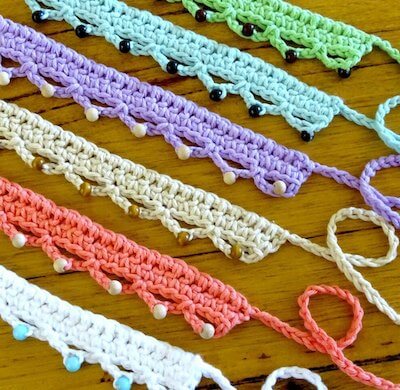 Get the Pattern by Rhinestone Mumma here

13. Crochet Neva Necklace Pattern by Javori Designs
This Neva Crochet Necklace is a stylish design featuring gorgeous combinations of jewel-like glass beads and fastened together with a complementing toggle clasp. Whip up one at the last minute to wear to a party!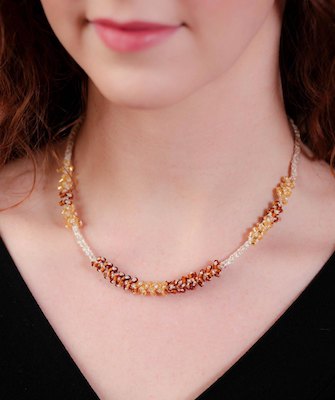 Get the Pattern by Javori Designs here

14. Crochet Beaded Necklace With Tassel Pattern by Outstanding Crochet
Did you already crochet yourself a stunningly neutral coloured pair of hoop earrings and now you fee like you just really need a few pieces to match?
In that case, check out this crocheted and beaded necklace that is simultaneously super intricate looking and easier to make than it actually appears upon first sight.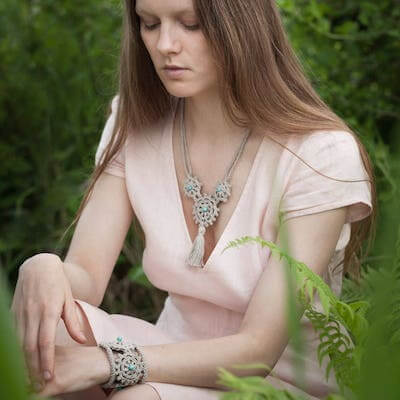 Get the Pattern by Outstanding Crochet here

15. Mardi Gras Beaded Crochet Necklace Pattern by Linda Lehman
This is a pattern for a bead crocheted necklace that features two distinct geometric shapes, diamonds and rectangles. The inter-play of these two shapes allows for lots of color variations.

You can choose the colors that Mardi Gras is known for, or, if you would like the necklace to be "bolder", try using black, white and two primary colors.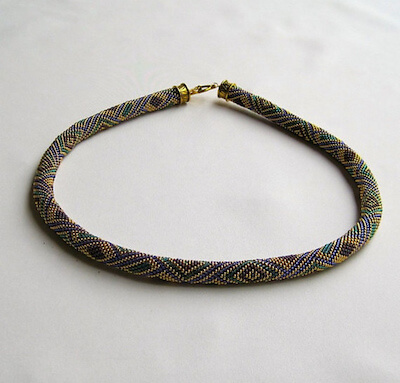 Get the Pattern here

16. Beaded Crochet Wrap Necklace Pattern by The Craft Patch
This easy peasy beaded crochet necklace tutorial doesn't need a clasp because it just wraps (twice) around the neck.

The design involves doing simple beaded crochet chains in sections which are joined with shell stitches. What a clever idea as this keeps the long necklace from tangling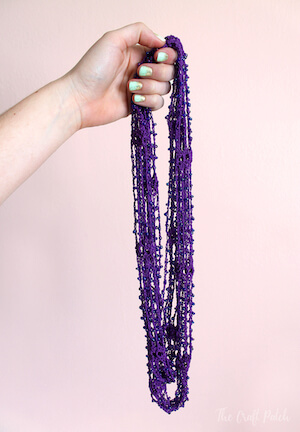 Get the Pattern here

17. Easy Beaded Crochet Choker Necklace Pattern by Kay Clair Goodies
Isn't it nice to wear an accessory that you made? Here is a very quick-fishing and easy pattern for you!
You can choose any shape or color of beads for this pattern as long as you can put them through the thread before making!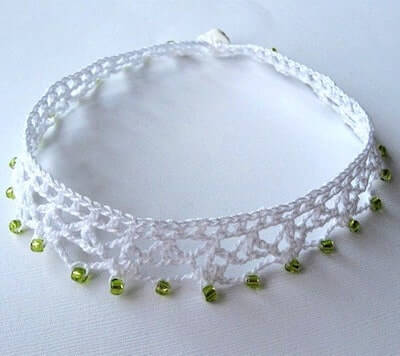 Get the Pattern by Kay Clair Goodies here

18. Waterfall Style Crochet Necklace Pattern by Jessie At Home
Inspired by a gold-and-diamond necklace, this necklace is made up of simple chains punctuated by beads—it will add instant glamour to any outfit.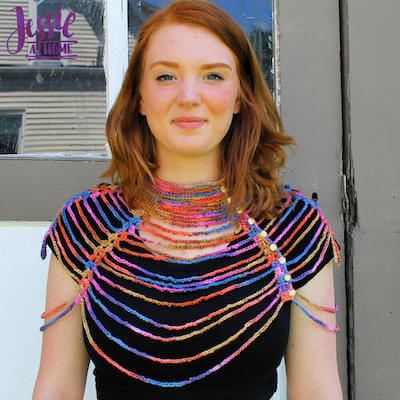 Get the Pattern here

19. Day And Night Bead Crochet Necklace Pattern by Linda Lehman
This is a pattern for a bead crocheted necklace that's comprised of only two colors, but features three different loading sequences within the pattern.

The black and white tend to make it wearable any time of day or night. However, you can always change the colors to make it more of a colorful necklace suitable for days, or use metallics for evening wear.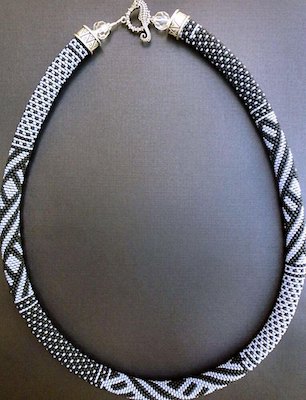 Get the Pattern by Linda Lehman here

20. Twinkle Links Crochet Necklace Pattern by Vashti Braha
This is the perfect project for showing off medium-size accent beads that are too fancy to have thread strands covering them (as is the case with most beaded crochet). Seed beads add twinkle to the crochet links.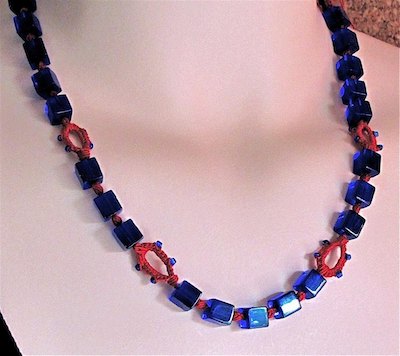 Get the Pattern by Vashti Braha here
THESE BEADED CROCHET NECKLACE PATTERNS WILL HAVE YOU CREATING YOUR OWN DESIGNER ACCESSORIES IN NO TIME.
If you want to try your hands at crochet jewelry, we would be so glad if you share your finished works with us on our Facebook Page. Once you start making fabulous crochet necklace patterns, you'll be hooked!
Making crochet jewelry is easier than you think! Just starting out? Here are crochet necklace patterns, macrame necklace patterns, crochet bracelet patterns, and crochet earrings that are all worthy addition to your jewelry collection.
Whip up a few (or all!) of these beaded crochet necklace patterns and create a little sparkle for yourself or a friend today!