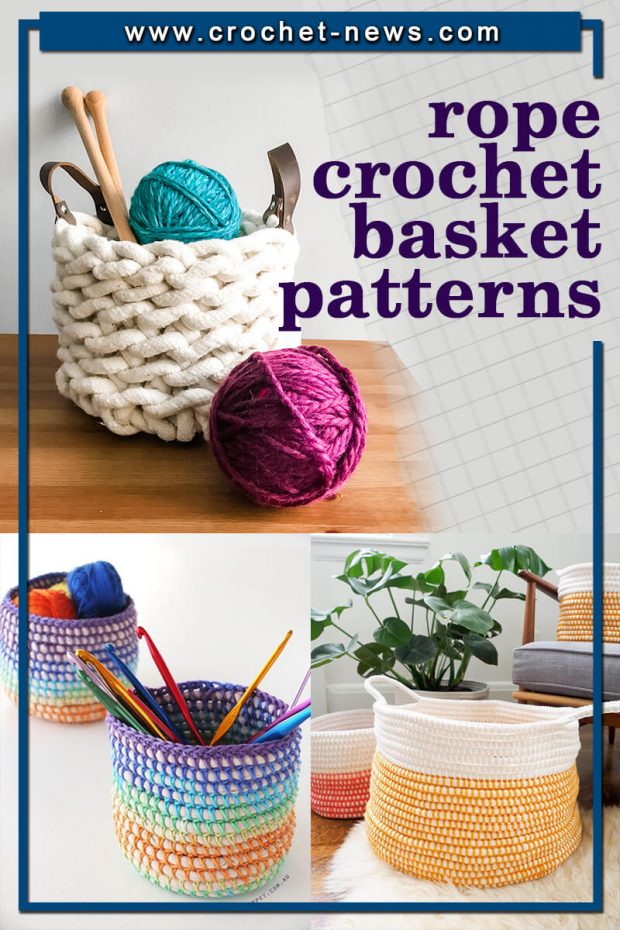 1. Rope Crochet Basket
This rope crochet basket is similar to the Ropey Rainbows basket we featured a few weeks back? We've had some requests for more baskets, and this one was a big contrast to the other one we posted. So thought you might like this too, for a bit of a change.

This one features less of the yarn and more of the rope for a more natural and rustic look and feel. The Rainbow Basket was round, thisbasket has a rectangular base with rounded corners.
It works up the same way but with a lot less yarn. Using about a 1/4 to a 3rd of the yarn used in the ropey rainbows basket.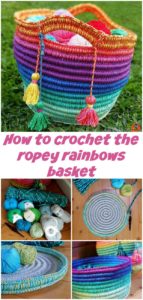 You will need:
Length of rope (this one used was 38m in length and 6mm diameter, for a 22x42x17cm basket) Try looking in hardware stores and garden centers.
Stash yarn (this example used 310m of Patons 100% cotton 4ply in a cream colourway)
Size 5.00mm crochet hook (use a metal hook if possible as the work is quite stiff), or larger if your rope is thicker
Our tip – get a nice set of ergonomic crochet hooks or use some crochet hook cushions for this project as it can be quite stiff and you'll want to crochet quite tightly in places.
Find the full instructions for this basket here

2. Rope Crochet Basket Pattern by Cara Corey
This rope crochet basket pattern shows you how to crochet a basket with thick cotton rope, using your fingers rather than a crochet hook to make the stitches.

These rope basket crochets are great for storing craft supplies, toys, books, and other household items. The crochet pattern creates very sturdy sides.

The basket is approximately 10 inches in diameter and 8 inches tall, although yours may come out slightly different. If you wanted to adjust the size of the basket, you could make a bigger or smaller ring of stitches before starting your side stitches.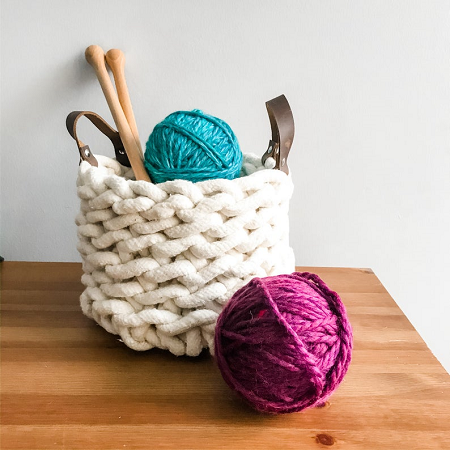 Get the Pattern by Cara Corey here

3. Chunky Rope Basket Crochet Pattern by Fiona Meade Crochet
Create a beautiful chunky basket using natural cotton rope, perfect for storage and display in a bedroom or bathroom.

The coarseness of the material creates a rigid basket that keeps its shape, even when empty. This "medium" basket is approximately 27 cm in diameter and 18 cm high. Instructions are provided for adjusting the pattern to make smaller or larger baskets. These sizes will nest inside each other.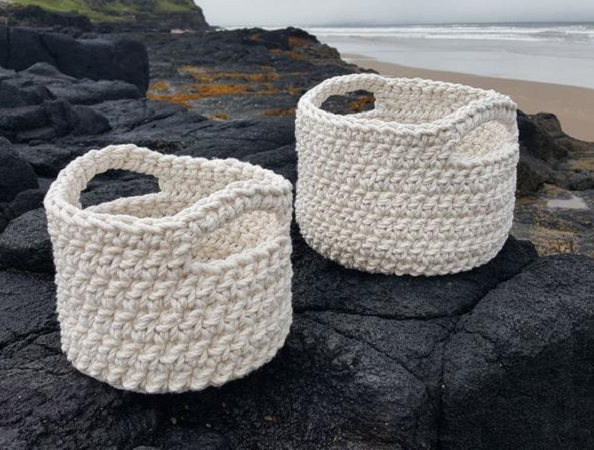 Get the Pattern by Fiona Meade Crochet here

4. Crochet Hemp Basket Pattern by Craft Passion
This darling basket crochet pattern is made from rope and hemp twine. Looks sophisticated, but is easy enough to crochet your own.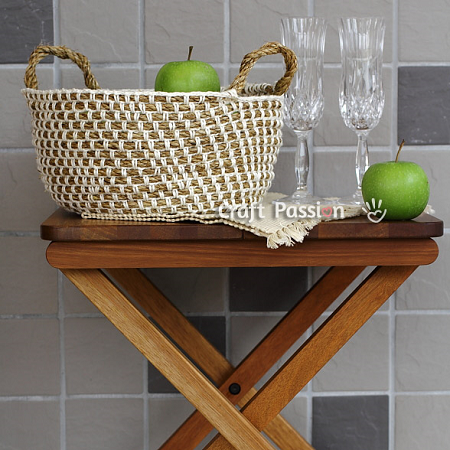 Get the Pattern here

5. Crochet Coiled Rainbow Basket Pattern by My Poppet Makes
These Crochet Coil Baskets show of the rainbow gradient perfectly, it's been sized to make the best use of the yarn's pattern. If you have yarn with a less prominent gradient/variegation, you can adjust the size of your basket accordingly.

If you want a firmer basket consider using thin rope. You can even make them fit around an old jar and hey presto, a new vase!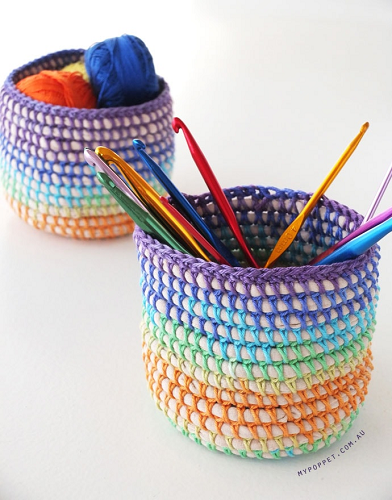 Get the Pattern here

6. Coiled Crochet Basket with Rope Pattern by 1 Dog Woof
Here's a way to make a Coiled Crochet Basket that's quick and easy, and allows you to use up scraps of thinner yarn in the process.

You may use cord that is very soft and flexible or use ropes so you'd get something much sturdier, but also much heavier and/or less flexible.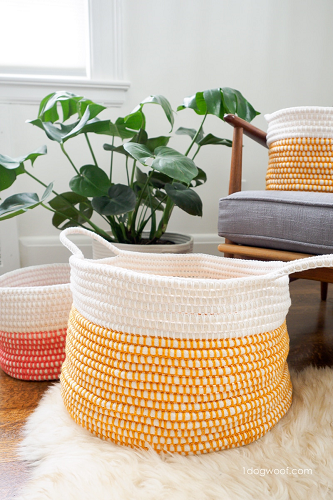 Get the Pattern here
More Crochet Basket Patterns Here
If you love organizing and crocheting at the same time, check out these Crochet Square Basket Patterns, crochet basket patterns and Crochet Toy Hammock Patterns.