If you're looking for the perfect DIY gift idea inspired by Pokemon, these 10 Pokemon Crochet Blanket Patterns will get you started.

They all look absolutely stunning and are sure to impress everyone!
These patterns are sure to help you score lots of badges – of the needlecraft variety. Why not make them for a Pokemon fanatic and aspiring Pokemon trainer you know? It's super effective!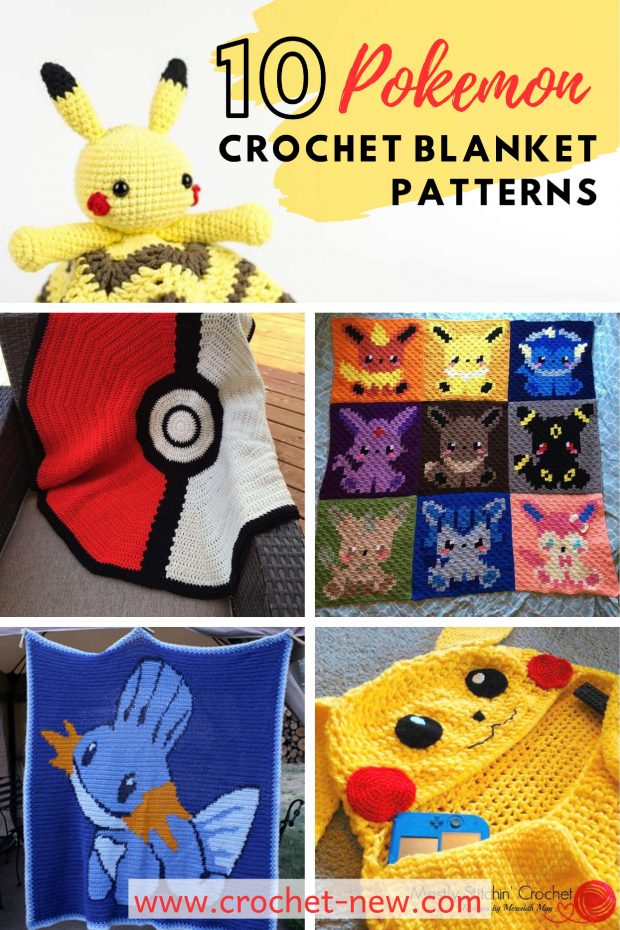 1. Snuggle Pikachu Crochet Blanket Pattern by Mostly Stitchin
This Pikachu blanket is the amigurumi-snuggle blanket that every Pokémon fan is going to want! Perfect for gaming or cuddling up to watch your favorite show!
The arms have built-in pockets to hold controls, remotes, or snacks! This is an advanced-beginner pattern that requires basic sewing skills.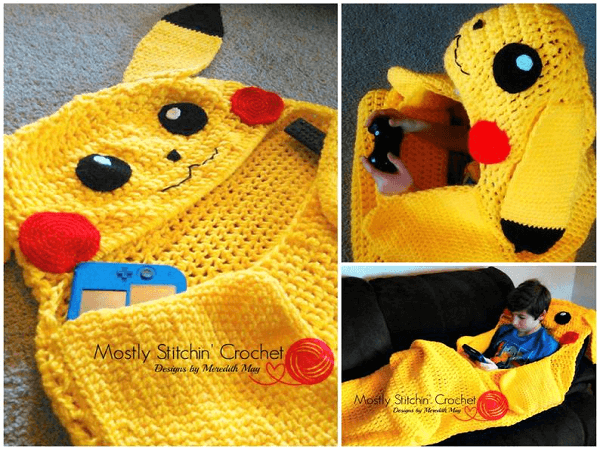 Get this Pattern by Mostly Stitchin here

2. Pokemon Blanket Crochet Pattern by Trish Rice
This Pokeball blanket is constructed in one piece using intarsia. This pattern is written in standard US abbreviations. Use whatever color you prefer, you can use a darker or a lighter shade. Love how the black background sets off the Pokeball!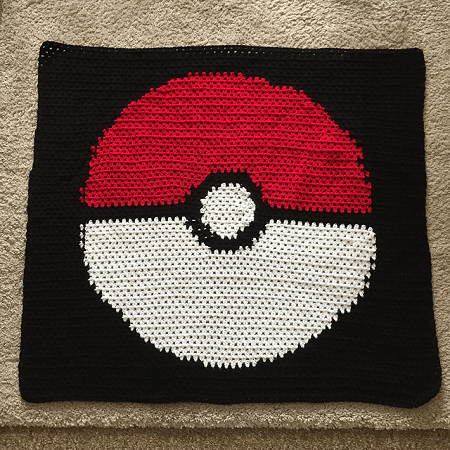 Get this Pattern here

3. Eeveelution Crochet Blanket Pattern by Craftipus
Finally, you can catch 'em all with this Eeveelution blanket pattern. Join Eevee and all its evolutions as you make this awesome blanket. This pattern requires some knowledge of Corner to Corner (C2C) blankets also known as the Box Stitch, and how to read a graph. Video tutorials on color changing methods, square joining, and border are also included in this pattern.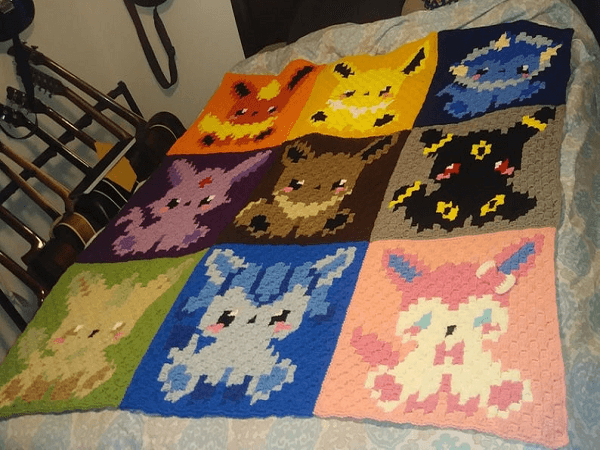 Get this Pattern by Craftipus here

4. Mudkip Crochet Pokemon Blanket Patterns Free by Betty McKnit
This is a single crochet blanket. A super-thin sharpie was used to define the image more clearly. At the moment, it only consists of the chart to make this blanket.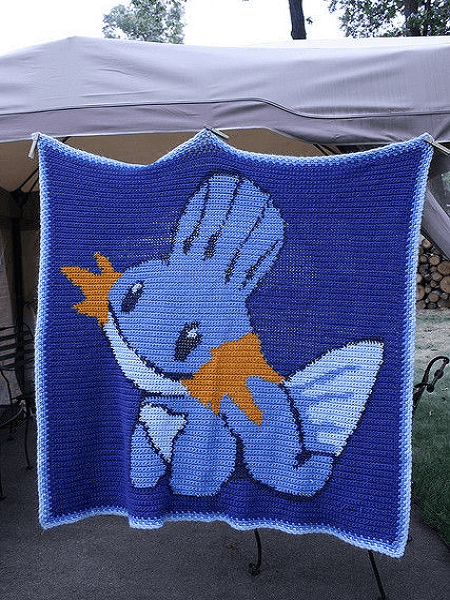 Get this Pattern here

5. Crochet Pokemon Granny Square Blanket Pattern by Dunn Life & Crafts
This pattern is a video pattern. It does not appear to have a written one. Each granny square has a Pokeball in the middle!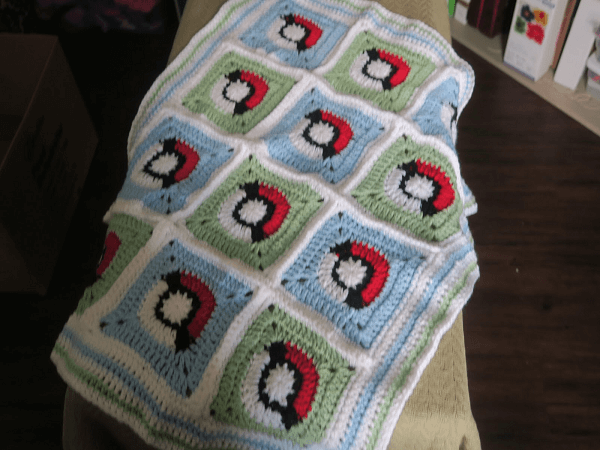 Get this Pattern here

6. Crochet Pokemon Blanket Pattern by Hayley Made Peterhead
This pattern includes a chart, written instructions, row by row instructions, and material lists. A brightly colored blanket with the famous Pokemon characters will surely bring joy to you and your kids!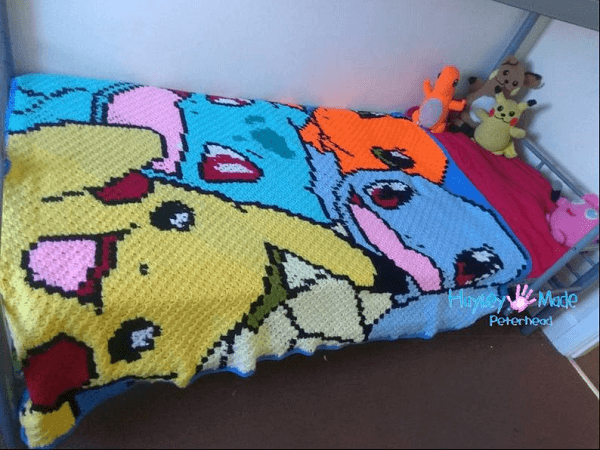 Get this Pattern by Hayley Made Peterhead here

7. Pokeball Blanket Crochet Pattern by Lisa Vanilla
This pattern is sized to fit for baby in the crib or the pram. It is just like the adult size, but all instructions will fit for the baby. Great for the little fan to snuggle under.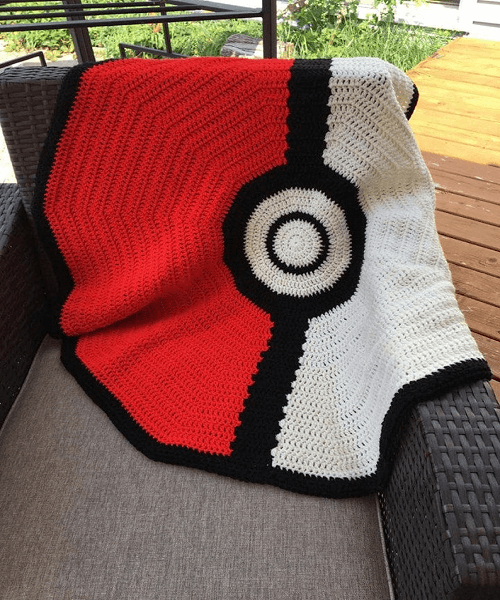 Get this Pattern by Lisa Vanilla here

8. Crochet Eevee Blanket Pattern by Little Giraffe Crochet
This pattern is for SC and comes with pattern preview, Graph, and written instructions! Perfect for the Pokemon lover in your life!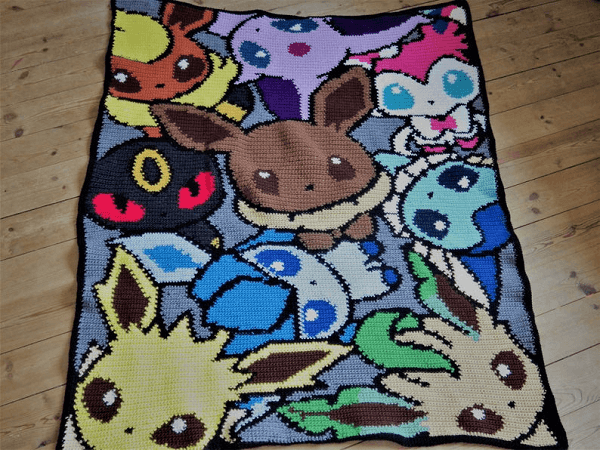 Get this Pattern by Little Giraffe Crochet here

9. Pikachu Lovey Blanket Crochet Pattern by Amigudolls
Pikachu is the most famous Pokemon and has something that makes both children and adults fall in love, that's why this security blanket perfect to give as a newborn gift.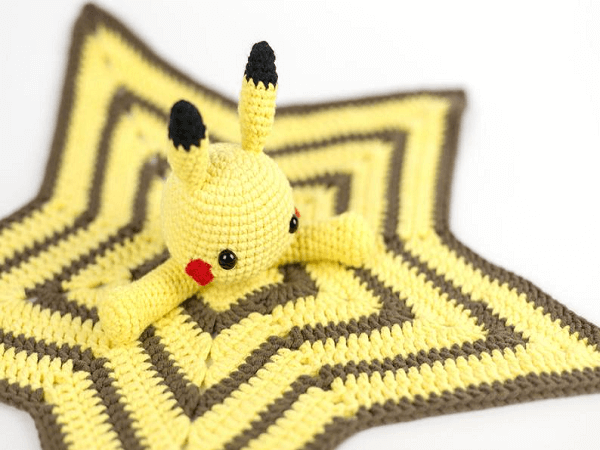 Get this Pattern by Amigudolls here

10. Pokemon Afghan Blanket Crochet Pattern by Stephy W 2001
3O colors are used to make this blanket but you can have the fun of counting if you like. This pattern contains 20 Pokemon characters squares that can be made into one blanket! Because of the acrylic yarn that is used, this afghan blanket is large, warm and comfortable!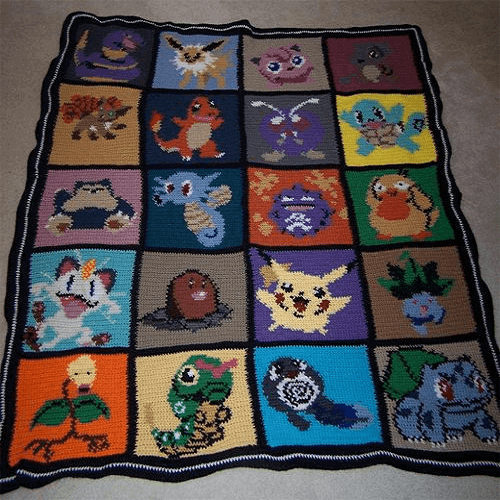 Get this Pattern by Stephy W 2001 here
This is the only list of Pokemon Crochet Blanket Patterns you'll ever need!
Put your hook on the test by crocheting these adorable blankets that would be perfect gifts for all Pokemon loving kids. These 10 Pokemon Crochet Blanket Patterns will provide you great crochet blanket projects from Pikachu to Pokeball blankets, and you will have great fun while crocheting them!
Check out these other awesome Pokemon patterns
If you love these patterns, check out our Crochet Blanket Patterns Archives for more!
Just hit the respective source links to gain the complete Pokemon crochet blanket patterns, step-by-step visual guides, and instructions!