Tapestry needles are a staple tool for crocheters. These specialised needles make it easy to sew with yarn and weave in loose ends.
Choosing the right tapestry needle may be somewhat confusing. But once you have found the right one, it will become an indispensable part of your crochet tool kit.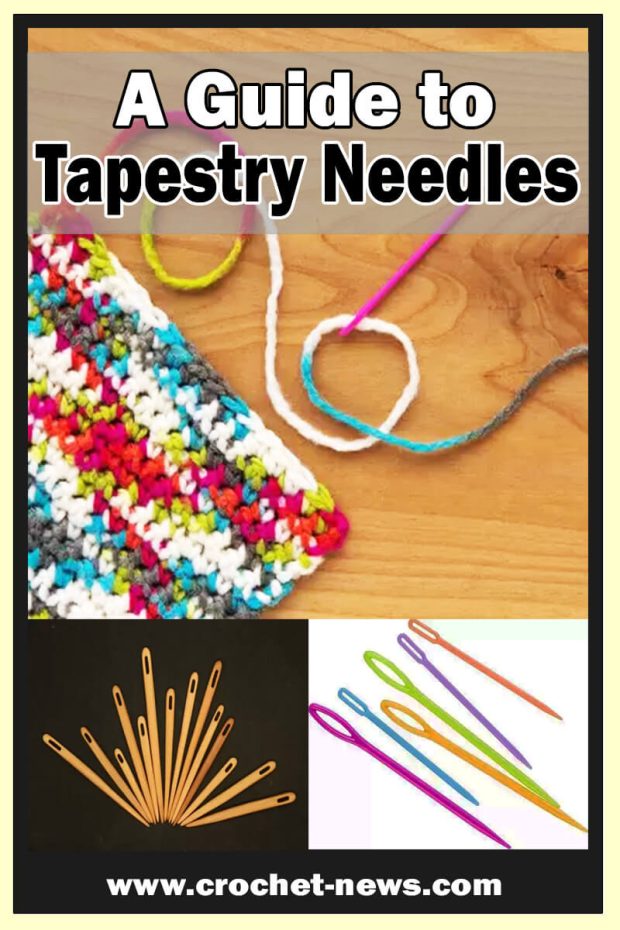 There are several different types of tapestry needles available. Below, I have broken down the differences between the needles. When you understand the differences, you will be able to make an informed decision. I have also listed 5 unique types of tapestry needles that all crocheters should have in their stash.
What is a Tapestry Needle?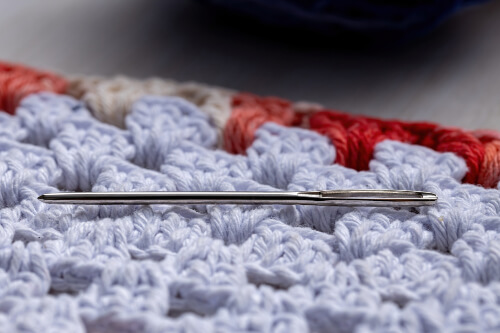 A tapestry needle is a large-eyed, blunt needle used in various types of crafts. The large eye of the needle makes it easier to work with thick thread and yarn.
Tapestry needles are commonly used in embroidery, needlepoint, cross-stitch, crochet, and knitting. In crochet and knitting, they are particularly useful for weaving in loose ends and sewing pieces together.
Things to Consider When Choosing a Tapestry Needle
Tapestry needles are very simple tools that all crocheters need. Even though all tapestry needles are similar in design, there are some things you want to consider when choosing your needle.
1.Size
These needles come in a variety of sizes. It is important to select a needle that is suitable for the specific project you are working on.
2. Eye Size
These needles have larger eyes than other types of needles. Eye sizes do vary. Look for a needle with an eye that is large enough to accommodate the thread or yarn you will be using. You do not want the eye to be too big or too small.
3. Tip Shape
Tapestry needles usually have a blunt tip. However, some may have a sharper or more pointed tip. Consider the type of project you are working on and choose a needle with an appropriate shape.
4. Brand and Quality
Consider the brand and quality of the needle. Cheaper needles are cheap for a reason. They may not be as durable, or they may have rough edges that could snag your yarn. Higher-quality needles are often more expensive, but they will often last longer and provide better results.
5. Material
Tapestry needles are made from a variety of materials, including metal, plastic, and wood. Consider which material will be most comfortable for you to work with.
Each type of tapestry needle has its own set of pros and cons, which are listed below:
Pros:
Durable and long-lasting
Smooth and easy to use
Ideal for working with thicker or tougher materials
Available in a wide range of sizes
Easy to sanitise and clean
Cons:
May have rough edges
Can be more expensive than plastic and wood
May not be suitable for people with metal allergies
Plastic Tapestry Needles:
Pros:
Affordable and widely available
Come in a variety of bright colours
Less likely to snag fabrics or yarns
Can be washed and sanitised easily
Cons:
Not as durable as metal or wood needles
Easily bend
Limited range of sizes
May have rough spots
Pros:
Can be used comfortably for long periods of time
Have a natural, warm feel in the hand
Less likely to damage fabric and yarn
Cons:
Can break or splinter
Not as durable as metal or plastic needles
Limited range of sizes
Not as easy to clean as metal or plastic needles
5 Different Tapestry Needles for Crochet
1. Large-Eye Blunt Steel Tapestry Needles
These tapestry needles are practical for both weaving in ends and sewing up seams on your crochet projects. They have extra-long eyes, blunt tips, and thick shafts, making the needles easy to use.
The large eye tapestry needles come in three sizes: 5.3 cm, 6 cm, and 7 cm. The variety of sizes makes them suitable for various projects. Included are 9 needles, which come in a clear bottle for easy storage.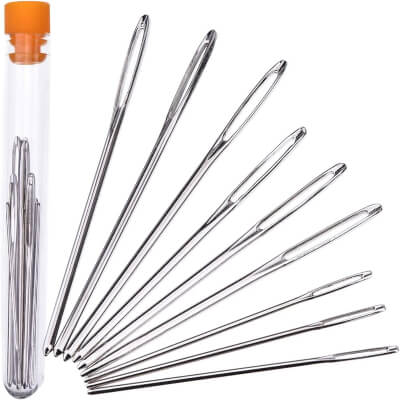 2. Boye Plastic Yarn Sewing Needle Set
Constructed from strong plastic, these tapestry needles are durable and lightweight. Their thick design ensures that they can handle repeated use with heavier yarn without breaking.
Not only are these tapestry needles great for crochet, but you can also use them for knitting and plastic canvas projects. Included are 2 blue yarn sewing needles, each measuring 3 inches (7.62 cm) long.

3. Aluminum Crochet Tapestry Needle
This tapestry needle set includes 8 jumbo needles in 4 colours. The curved tip of the tapestry needles makes it easier to get under stitches. These needles are durable and lightweight, making them ideal for crochet.
The blunt tipped needles come in a clear bottle for easy storage. They are made from aluminum and measure 2.75 inches (6.985 cm) long.
4. Boye 42-40036 Plastic Yarn Tapestry Needle for Crocheting and Sewing
This Boye yarn needle set includes 6 tapestry needles. 3 of the needles measure 3.75 inches (9.525 cm) long. The other 3 are 2.75 inches (6.985 cm). The needles are suitable for various yarn weights.
Crafted from sturdy plastic, these needles are highly durable and can withstand extended use. They are designed for comfort and are safe for children to use.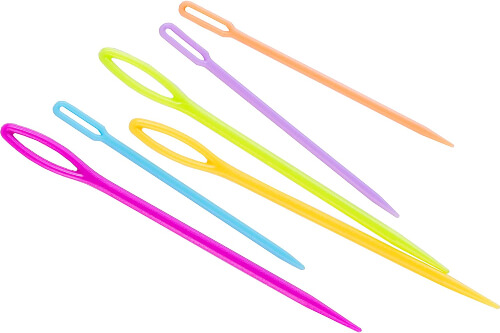 5. Apple Wood Tapestry Needles
These durable Apple wood needles are perfect for not only Nalbinding but also large gauge crochet projects. Made from sturdy apple tree wood, the tapestry needles have been preserved with a natural linseed oil and beeswax mix. They are free from wrinkles and sharp corners that could damage your yarn.
These needles have been skillfully hand-carved using traditional craftsman hand tools. This gives each one a distinctive and authentic quality. Their smooth finish enables them to move through stitches with ease, making your work faster and more enjoyable. The needles are available in 19 different sizes.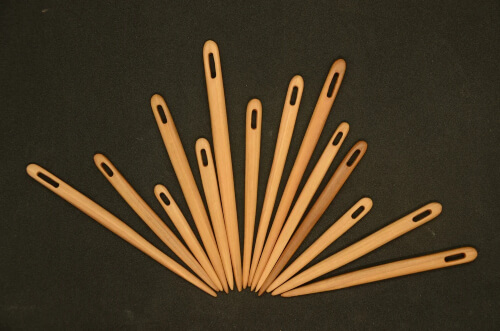 How to Care for Your Tapestry Needles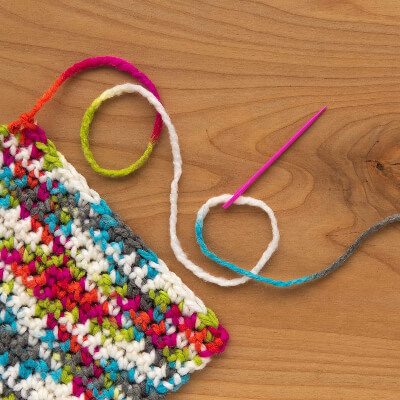 Properly caring for your tapestry needles is very important. It will ensure the needles remain in good condition and lasts for a long time.
Below are a few tips to help you care for your tapestry needle:
After each use, gently wipe the needle with a clean, dry cloth. This will help remove any dust, debris, and oil.
To prevent damage or loss, store your tapestry needles in a safe place. Consider using a needle case or a small plastic container.
Tapestry needles are often made from metal. If they get wet, they can rust.
Tapestry needles are delicate tools. If mishandled, they can bend or break. Always handle your tapestry needles with care. Also, avoid applying excessive force whenever possible.
By following these simple tips, you can help ensure that your tapestry needles remain in excellent condition. And they will be ready to use whenever you need them.
Tapestry Needles Frequently Asked Questions
How is a tapestry needle different from other types of needles?
A tapestry needle is different from other types of needles in several ways. First, it has a larger eye, which makes it easier to thread. Second, it has a blunt tip that prevents it from damaging fibres. Lastly, it is usually longer, making it easier to maneuver.
What size tapestry needle should I use for crochet?
The size of the tapestry needle you should use depends on the project. Generally, a larger needle is used for thicker yarns, while a smaller needle is used for finer yarns.
What is the difference between a tapestry needle and a darning needle?
Tapestry needles and darning needles are both used for sewing and embroidery projects. However, they differ in a couple ways. Tapestry needles have blunt tips and a large eye. While, darning needles have a pointed tip and a smaller eye.
Are tapestry needles suitable for use by children?
Children should always be supervised when using needles. If the project they are working on requires a tapestry needle, you should choose a plastic needle with a very blunt tip.
Can tapestry needles be used with different types of yarn?
Yes, tapestry needles can be used with different types of yarn. However, it is always important to choose a tapestry needle that is the right size for the weight of the yarn you are using.
What are Tapestry Needles Used for?
Tapestry needles are used for a variety of crafts. In knitting and crochet, they are typically used to weave in ends and sew pieces together. They are also commonly used for needlepoint, cross-stitching, and plastic canvas.
A tapestry needle is an essential tool for anyone who enjoys crochet. With its large eye and blunt tip, this needle is a versatile and practical tool.
Tapestry needles are important tools for anyone who loves crochet. With their large eye and blunt tip, they make weaving in ends, sewing up seams, and creating intricate stitch patterns a breeze.
Whether you are brand new to crochet or have been crocheting for years, having a high-quality tapestry needle will make the job easier.