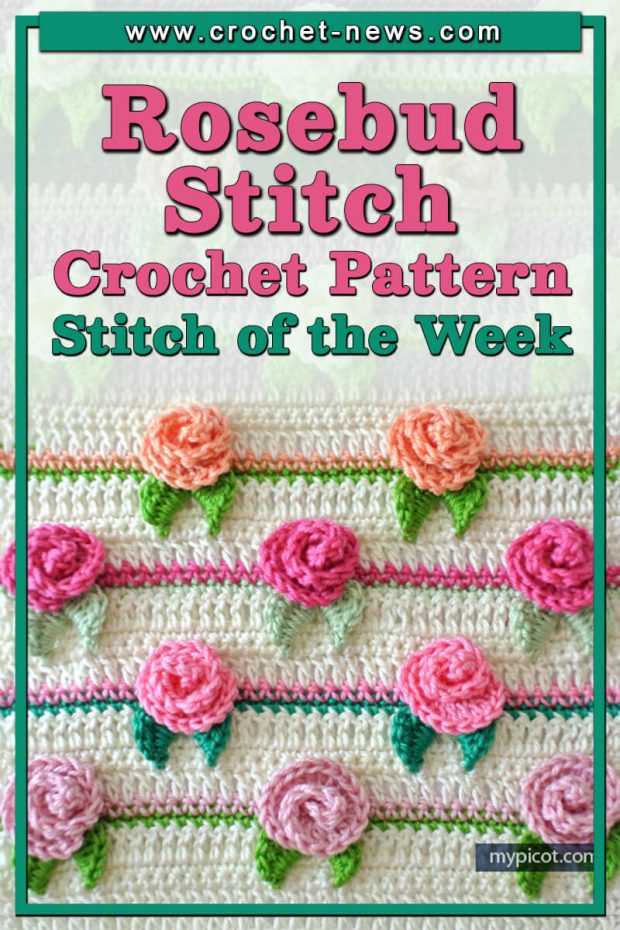 Rosebud Stitch Crochet Pattern
Rosebud Stitch Crochet Pattern Stitch Of The Week is here in time for Valentines Day. You may be seeing signs of life in your garden as Spring flowers start to push through the soil and burst into bloom.
So today we're sharing the beautiful Rosebud Stitch with you. Delicate and dainty, this stitch looks gorgeous as shown in a series of rows. It could also be used in a single row in the round perhaps around a hat.
The smell spring is in the air, the flowers blooming and bees buzzing around. Spring is such a beautiful time of the year. Everything is born a new and so should your home. And that is where the rosebud stitch crochet pattern comes in a beautiful pattern just to commemorate the season.
Honestly, I don't even think that "stunningness" is even a word which should give you the idea that it made quite the impression on me. The delicate nature of the rosebud crochet stitch pattern just takes it to a whole new level of elegance, indeed a beautiful addition to your home.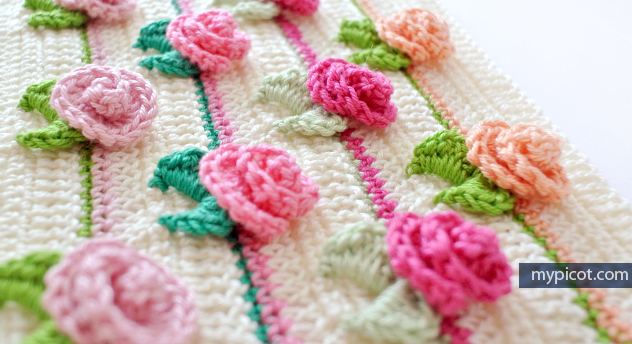 Rosebud Stitch PDF And Tutorials
Now the pattern involves quite a bit of finesse since it will require some stitching but that's the worst of it. The PDF and tutorials are explained in quite simple English; both in American English and United Kingdom English so, they are easy to follow, and you can't get confused.
They also include a rich display of diagrams and illustrations to guide you through every step hence you will know what you're looking for. No technical stitching or crocheting skill is required, even a beginner can get this pattern down in no time.
If you follow the rosebud stitch crochet pattern instructions, you will have your beautiful creations by the end of the day.
The rosebud stitch crochet pattern also does not limit you. You do not have to stick within the confines of the materials mentioned in the directions. For example, you can try different weights of yarn.
The heavier the yarn, the puffier your rosebuds will be, by doing so, you can create different textures and add depth to your beautiful creations. You could also play around with the colors. There are many different variations of roses out there, so there is no need to limit your imagination.
You could even add a little "bling" to your pattern by making use of beads and rind stones. Just stick a few on and watch as you create magical beauty with your own two hands.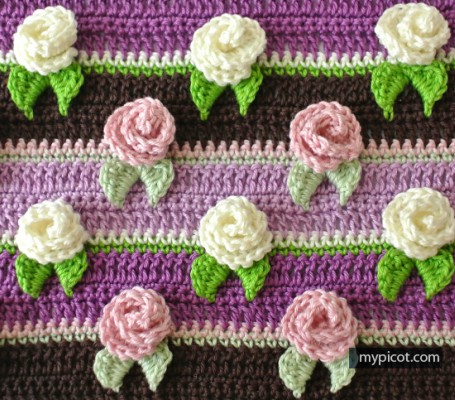 Multiple Uses For A Crochet Rosebud
There are more ways than one that you can use the rosebud stitch crochet pattern. You can crochet it in a single row and use it to line out walls or around art pieces hanging on your wall. You can try it as a dining table divider straight down the middle, and it will look beautiful.
A more fun way to use them is on your porch pillars. Spiral them around your pillars for that spring look instead of using actual crawling flowers. The rosebud stitch crochet pattern is way less messy by far.
You're bound to get a few stares as it will look breathtaking.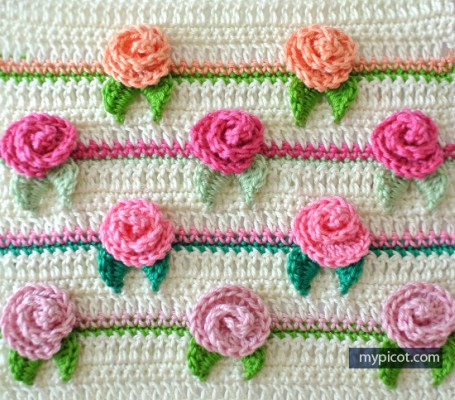 So if you were looking for something floral and dainty, something to add a little spice this spring you can stop looking. You've found it. I just know you will love it so go ahead and try out the rosebud stitch crochet pattern.
For more stitch tutorials, check out our Crochet Ripple Stitch Tutorial and Crossed Ripple Stitch Tutorial.
Download the stitch diagram here
Find the full step by step written instructions here