The Crochet Puff Stitch will soon be added to your repertoire if you haven't already.
It is a fairly simple crochet stitch, so it is great for beginners, and it creates some beautiful patterns and great texture too.
Not only is it aesthetically pleasing, it also makes the yarn that you are working with slightly thicker, which means that you stay warmer on those chilly nights.
Follow along for our full written and video free crochet puff stitch tutorial!

Materials for the Puff Crochet Stitch
All you need for the puff stitch is yarn, a hook and some scissors. You have a few different options for the yarn, including 100% acrylic, wool/acrylic blends, silks and cottons.
If this is your first time trying the puff stitch, stay clear of fuzzy yarns and fingering or sock weight yarns as these make it slightly harder to see what you are doing.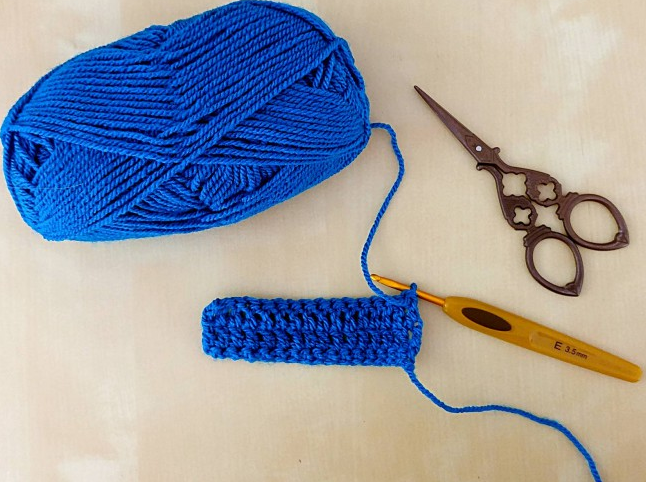 Puff Crochet Stitch Tutorial
Step 1: Make a foundation chain in a multiple of TWO plus FOUR stitches. (Ex: 20 + 4 = 24)
Step 2: Begin with the FOURTH chain stitch from your hook. Yarn over and insert your hook into the fourth chain stitch.
Step 3: Yarn over again. Bring up a loop, creating THREE total loops on your hook.
Step 4: Still working in the FOURTH chain stitch from your hook. Yarn over, insert your hook, yarn over again and bring up another loop. This should have created a total of FIVE loops on your hook.
Step 5: Repeat STEP 4 until you reach the number of loops called for in the pattern, which should be a minimum of 5 loops.
Step 6: Complete the puff stitch. Yarn over and pull through ALL of the loops on your hook. Congratulations, you just made your first crochet puff stitch!
Optional Step 7: Some patterns call for an extra chain stitch to secure the puff stitch. Check your pattern carefully for the optional step 7.
Step 8: To continue across a row, work the puff stitch in EVERY OTHER chain stitch. End the row with a puff stitch. Turn your work.
Step 9: After turning, make a turning chain of THREE chain stitches at the end of the row.
Step 10: The next row you will work in the spaces BETWEEN puff stitches. Additionally, DO NOT chain 1 between puff stitches. End the row with a puff stitch.
Crochet Puff Stitch Video Tutorial
If you are after some inspiration on what to make with your crochet puff stitch, click on the patterns below: