Sometimes you need to keep your neck warm but don't want to spend all day adjusting a scarf to get it just right, and sometimes those long scarf ends simply get in the way. These crochet neck warmers are ideal since they are warm enough to take away the chills of a light breeze while not being as heavy as a thick winter scarf.
Let the crochet patterns begin. In this list, you'll find a hand-picked selection of stunning crochet neck warmer patterns that you can complete in a day or two with just one or two skeins of yarn.
21 Crochet Neck Warmer Patterns

1. Crochet Perfect Neck Warmer Pattern by Miss Kochkina
Chilly offices have nothing on this no-nonsense, crochet neck warmer. It creates a conservative, tailored look. Wear it over or under a jacket for this uniquely designed gift idea.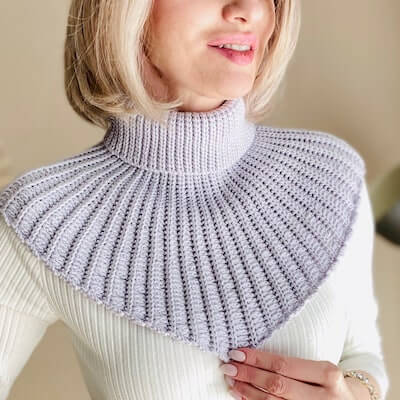 Get the Pattern by Miss Kochkina here

2. Crochet Ribbed Neck Warmer Pattern by Red Heart
This 5-color crochet neck warmer looks great beneath a jacket or over a blouse and made with only one ball of yarn. It's an excellent project for improving your back loop single crochet and short-row techniques. Play with color to make a version that sets off your best look.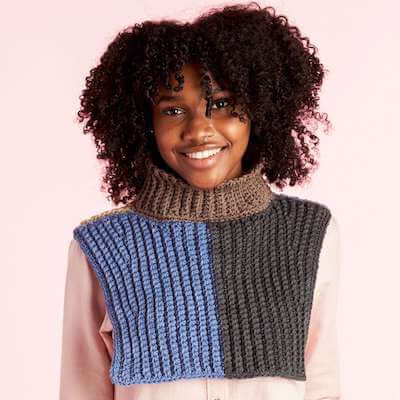 3. Easy Slip-On Neck Warmer Crochet Pattern by Crochet Spot Patterns
There are no buttons or sewing necessary for this neck warmer – great for those days when you feel lazy but still want to crochet! It is an excellent addition to your fall or winter accessories, keeping you toasty warm.

Although the neck warmer will fit most adults, the instructions include instructions for adjusting the size as needed. You may even turn it into a neck warmer for little ones. Feel free to make it taller, shorter, looser or tighter if you prefer.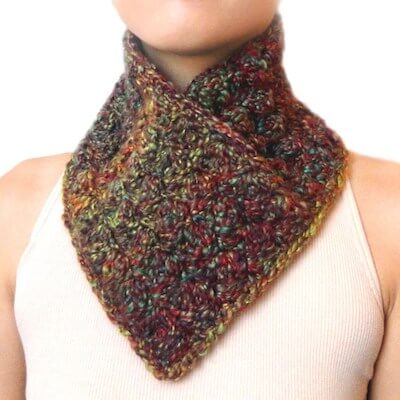 Get the Pattern by Crochet Spot Patterns here

4. Ribbons And Grace Neck Warmer Crochet Pattern by Kirsten Holloway
This Ribbons and Grace Neck Warmer embodies timeless romance, and charm. It's quick and easy to crochet and is a perfect winter accessory for date night, or any special occasion.

This beautiful neck warmer uses easy stitches in new ways to create an elegant accessory. You will need to be familiar with single crochet, half double crochet, and double crochet to complete this project. Take the lace edging one comma at a time if you feel overwhelmed by the project.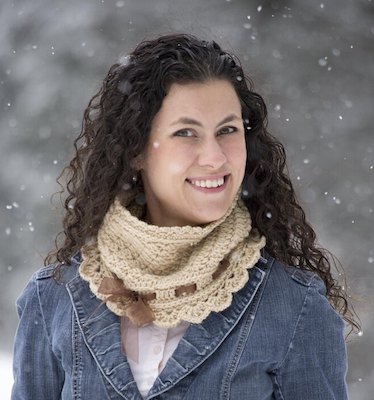 Get the Pattern by Kirsten Holloway here

5. Crochet Floral Peony Neck Warmer Pattern by Valerie Baber Designs
This Floral Peony Neck Warmer is perfect to add elegance and style to your day. It is made using DK weight yarn on the base and sock or fingering weight yarn on the flowers and leaves.

This neck warmer is a fashionable way to keep cozy, so make a few in different colors to match all your outfits.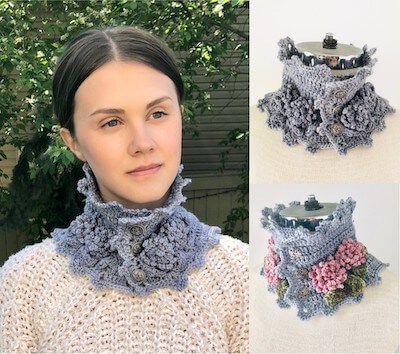 Get the Pattern here

6. Bobble Ridge Neck Warmer Crochet Pattern by Sweet Bee Crochet Shop
Bobbles always make every pattern that much better. The texture in this neck warmer is incredible! Using both a bobble stitch and the herringbone double crochet stitch, this pattern is a good learning project for beginners and fun for more advanced crafters.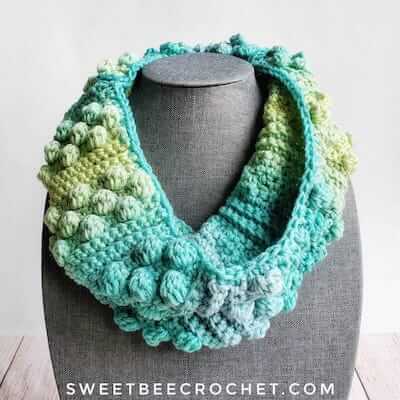 Get the Pattern by Sweet Bee Crochet Shop here

7. Crochet Cozy Cables Neck Warmer Pattern by Knot Sew Cute
This simple two-strand cable is made in double crochet and is a wonderful way to get started with cables. If you can front post treble, then you're good to go! Enjoy a touch of luxury every day to make winter a little easier to handle.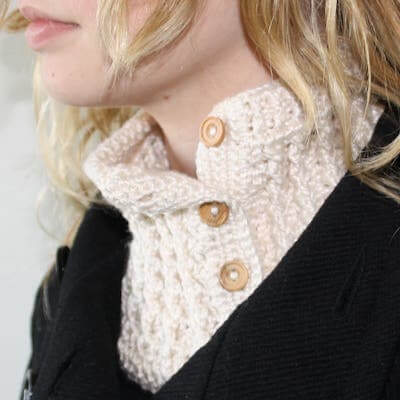 Get the Pattern by Knot Sew Cute here

8. Grey Sea Waves Crochet Neck Warmer Pattern by Lesia Little Adventure
This Grey Sea Waves Crochet Neck Warmer is a dream for this with open-neck coats or who always have a cold neck. What a great way to keep warm and cozy while being stylish!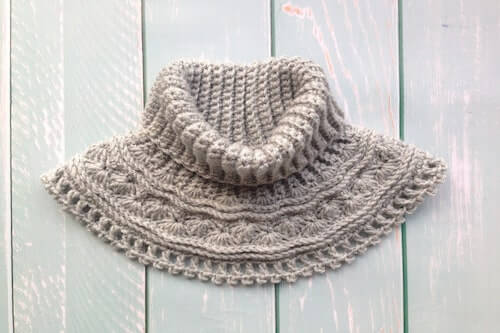 Get the Pattern by Lesia Little Adventure here

9. Tapestry Crochet Neck Warmer Pattern by Ned And Mimi
If you're a fan of colorwork, you'll adore this superb crochet neck warmer that adds richness and warmth to your look.

Made with tapestry crochet technique, it's an interesting design that keeps you fascinated from start to finish. It's a cozy way to welcome cooler days, so put this pattern on your to-do list!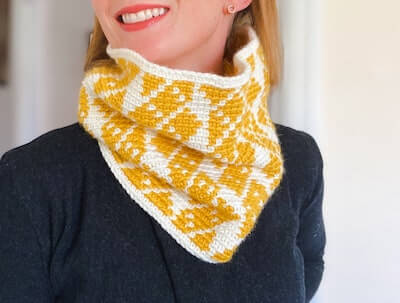 Get the Pattern by Ned And Mimi here

10. Tunisian Crochet Neck Warmer Pattern by Make & Do Crew
If you're a confident beginner, this neck warmer is perfect for you. It features two stitches: Tunisian Knit Stitch and Tunisian Reverse Stitch. You will need to know how to work in round, but once you do, this cowl is incredibly simple to make!

This pattern is also reversible; the front and back appear somewhat different, but the cowl may be worn either way!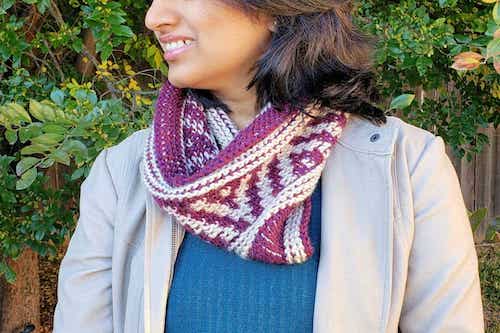 Get the Pattern here

11. Crochet Bow Neck Warmer Pattern by Simply Hooked By Janet
Make the colder season a little more bearable by refreshing your wardrobe with this cute crochet neck warmer. This unique design allows you to wrap it around your neck rather than pulling over top of your head. Featuring a pretty tie design, you'll look lovely while keeping out the chill.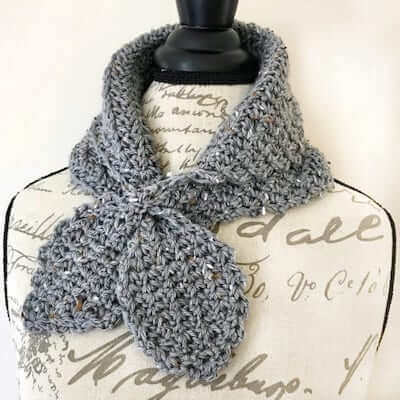 Get the Pattern here

12. On The Double Neck Warmer Crochet Pattern by Sweet Bee Crochet
Abundant in texture and warmth, this On Double Neck Warmer is as appealing as it is easy. Using simple double crochet stitches, this neck warmer's super lofty texture captures the heat, while its squishy touch delivers on cozy.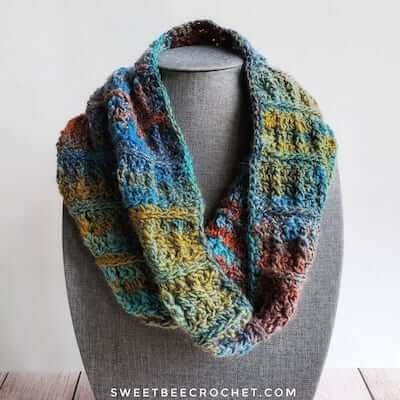 Get the Pattern by Sweet Bee Crochet here

13. Crochet Neck Warmer Dickie Pattern by Croch Art Shop
Practical without losing any ground to good looks, this toasty layer is designed to protect the parts of you that coats don't always cover, while sparing your shoulders from added bulk.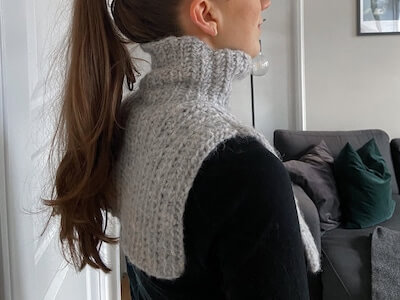 Get the Pattern by Croch Art Shop here

14. Crochet Neck Warmer For Kids by Adore Crea
Nothing makes your kid feel warmer than wearing this crochet neck warmer in cold winter days. Especially when it's handmade by mom! This cowl has a double upper part which makes it extra warm.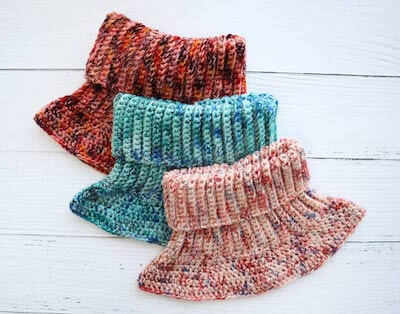 Get the Pattern here

15. Lacey Charma Neck Warmer Crochet Pattern by Traverse Bay Crochet
If you're not a long scarf kind of person, discover the smart style of this crochet neck warmer.

Its body is made up of a series of half double crochet stitches worked into the front and back loops only. The neck warmer is then folded, and the lace edging is finished with a series of chains to complete the fashionable design. It's great with a coat or to keep on during the day.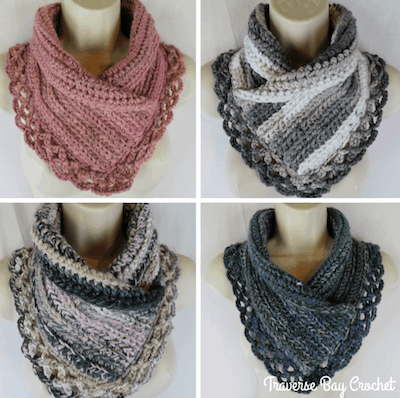 Get the Pattern here

16. Granny Square Crochet Neck Warmer Pattern by The Pigeon's Nest UK
Crochet granny squares are a classic for a reason. They are easy, fast, and versatile. Combining this easy crochet stitch with bulky yarn means that this neck warmer will be quick to make. This makes it a perfect last minute holiday gift, craft fair item, or donation!
Get ready to raid your stash and play with different color combination.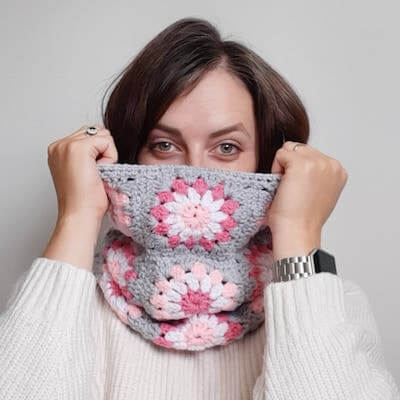 Get the Pattern by The Pigeon's Nest UK here

17. Rhythm Neck Warmer Crochet Pattern by Ana D
This Rhythm Neck Warmer is the perfect cowl neck warmer that looks just like a sweater without making you too hot! Pop it under you favorite jacket or coat for those days when you want to keep your neck warm but don't want the weight of a bulky sweater.

The pattern is filled with nice details, which makes this a perfect weekend project.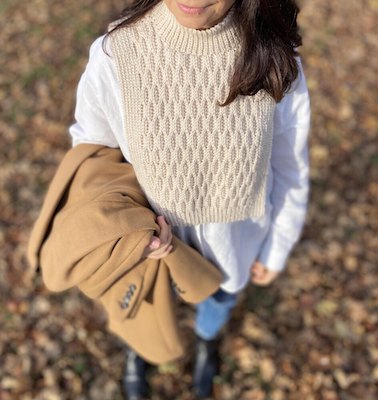 18. Crochet Woodland Neck Warmer Pattern by Pretty Darn Adorable
How unique is this super adorable neck warmer? If you envision a more energetic look, simply crochet it in color that makes it personal to you. Gotta love the fringe too, making this a stylish accessory everyone wants. Wear this fashion essential over a solid top to really let the fringe pop!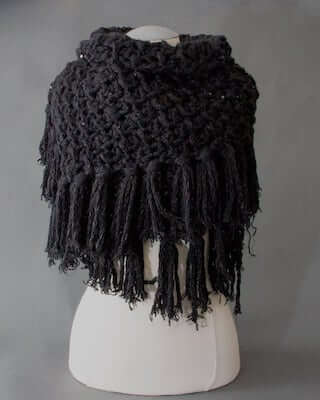 Get the Pattern by Pretty Darn Adorable here

19. Bridgeton Neck Warmer Crochet Pattern by Stitch Of Nature
Keep cozy with this comfortable neck warmer equipped with a fun pom pom drawstring. Made with worsted weight yarn, crochet it in the colors shown or turn it out in another color that reflects your personality and style. It's a distinctive original that's a great gift for any fashionable lady.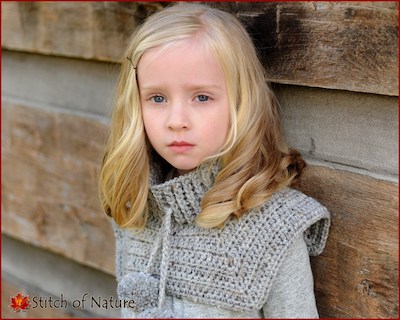 Get the Pattern by Stitch Of Nature here

20. Easy Crochet Cotton Neck Warmer Pattern by Daisy Farm Crafts
This Easy Crochet Cotton Neck Warmer uses the moss stitch, which is a straightforward combination of single crochet and chain stitches.

Because it's small, you can complete this neck warmer in half the time of a normal scarf. Since it's such a quick crochet project, make it in a wardrobe of colors to match everything in your closet!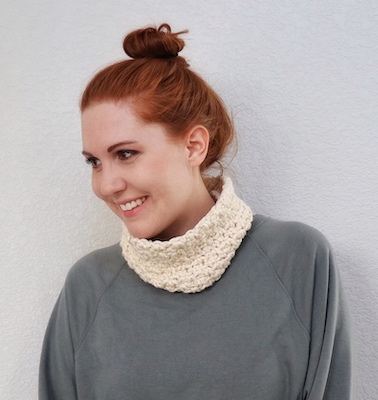 Get the Pattern here

21. Crochet Butternut Squash Neck Warmer Pattern by Fiber Flux
Although half the size of a scarf, this Butternut Squash Neck Warmer is crocheted with thick, chunky yarn, so you'll enjoy as much warmth as a full sized scarf! Make it in your favorite colors and even customize button choices for a fantastic original anyone will love.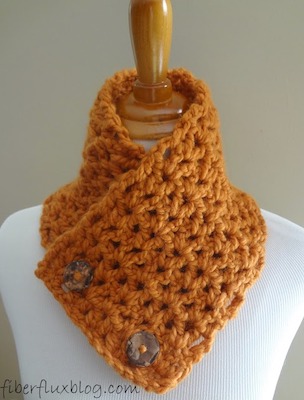 Get the Pattern here
The difference between neck warmer, cowl, scarflette, and snoods:
Neck warmers, cowls, scarflettes, and snoods are all types of accessories worn around the neck, but they sometimes differ in their design and function.
Neck Warmers: Neck warmers are similar to cowls in terms of their shape and purpose. They are designed to provide warmth to the neck area and can be easily tucked inside or outside of jackets or coats.
Cowls: Cowls are circular or tubular in shape and are typically made of single continuous piece of fabric. They are generally shorter than snoods and longer in length compared to neck warmers. They can be worn in different ways: pulled over the head like a hood or draped loosely around the neck for a more relaxed look.
Scarflettes: Scarflettes, also known as neck warmers with a twist, are a hybrid between cowls and scarves. They are shorter in length compared to traditional scarves and may have additional design elements like buttons, clasps, or decorative accents.
Snoods: Snoods are typically wider and longer than cowls and can be worn around the neck or pulled up to cover the head, similar to a hood. It can be worn loosely to create a casual and relaxed look or pulled up tightly to keep the hair securely in place. They are often used for practical purposes, such as during physical activities or to protect the hair from dust or wind.
THESE CROCHET NECK WARMER PATTERNS ARE SO QUICK AND EASY TO MAKE AND THE PERFECT PROJECTS TO TAKE WITH YOU ON THE GO.
Whatever designs you decided to make, we are sure they turned out great! So don't be afraid to show us some of your works by posting them on our Facebook Page!
Looking for more patterns that tickle your winter crochet fancy? Don't miss these gorgeous patterns to keep you hookin'!
So, choose your pattern, pick your colors, and get cracking to find out why these crochet neck warmers are winter's must-have accessories!