This Crochet Japanese Geisha Amigurumi Dolls pattern will guide you, step by step, to make an elegant Crochet Japanese Doll.
The best part?
You will complete this amigurumi with confidently and stress free by following the well explain instructions.
That's not all…
Your amigurumi crochet skills will be put to the test, but, you will become a greater crocheter from the experience.

Crochet Japanese Amigurumi Dolls Kimono Pattern
The Orient is a beautiful place full of rich culture and exotic dresses and cuisine. What if you could bring a piece of that right into your home?
Bring just a touch of that elegance and beauty through your fingertips. The crochet kimono doll pattern does just that.
It is a stunning piece that will inspire you to a whole new level. The tiny petite doll will definitely be a wonderful addition to your home.
Not to mention the absolute satisfaction that you will get from completing this doll.
The crochet kimono doll is absolutely breathtaking. So what are the materials you will need to bring this cute kimono doll to life?
Amigurumi Kimono Doll Materials
• Worsted medium weight (4) yarn in selected colors
• 3.50 mm crochet hook
• 9mm plastic safety eyes
• Yarn needle
• Fiberfill stuffing
• Beads/pellets for weighted stuffing in body
Finished Kimono Doll Size
Around 17cm tall

You can see that you don't really require a lot of items for the crochet kimono doll pattern.
Most of the items can be found in your basic crocheting kit and the ones you don't have can be easily sourced from your local arts and crafts store.
Easy To Follow Step By Step Tutorial
The crochet kimono doll has a pattern and a tutorial that will teach you on a step by step basis how to make the doll. The tutorial is easy to understand and is clear and concise though, a few technical skills will be required.
A beginner may have a hard time at first but after a try or two, you will definitely be on your way.
Mix Up The Colors And Make A Whole Set
The crochet Japanese amigurumi dolls pattern doesn't limit you in terms of creativity. In fact feel free to let loose your imagination with this pattern.
For one you can try to change up the color of the kimono; blue will definitely look exquisite on the doll.
You could even try to mix up the colors and create a multi-colored kimono.
Whatever color you may fancy you can try it out. And that's not all you can also try some embroidery on the pattern and your crochet kimono doll will look heavenly.
Design some intricate patterns on you kimono doll and watch it sparkle. Another idea is to add some beadwork or some rind stones onto the finished doll to further enhance your doll.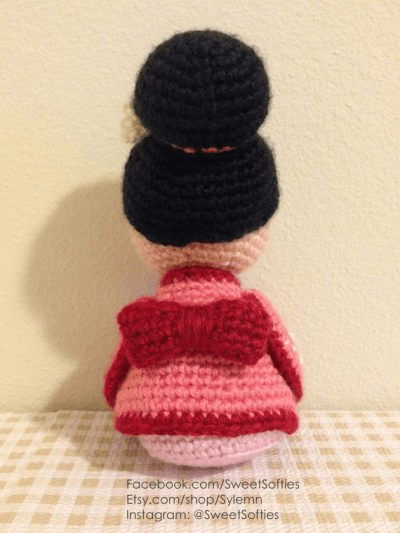 The Perfect Elegant Hand Made Gift
The crochet Japanese amigurumi dolls pattern has a million and one uses. It certainly makes the perfect gift to give to a friend or a loved one, just a little token of love from you to them.
You can also use the crochet Japanese amigurumi dolls pattern as a decorative piece in your home. Place a few around the house and feel the ambience change.
You could even hold an oriental themed party and use them as centerpieces for the tables just to set the mood.
If it has to do with anything Asian then the amigurumi Japanese kimono doll is perfect for the occasion. The beauty of it all is that it only cost you a little patience.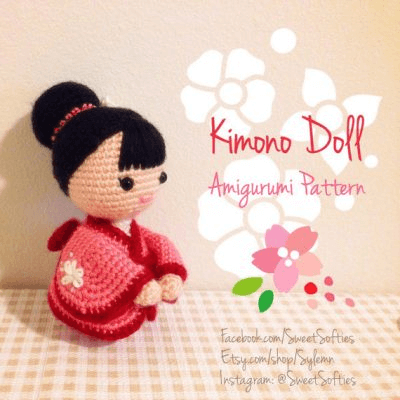 Get Your Crochet Japanese Doll Pattern Now
So if you were looking to add a little culture to your life then look no further you found the right pattern. A fun way to spend the afternoon and beautiful creation the crochet Japanese Geisha kimono doll just ticks all the boxes.
Get The Kimono Doll Japanese Crochet Pattern Here