If you're looking for the best Frozen toys to give little ones, you've come to the right place. From blankets to hats to character dolls and beyond, we have you (and your kiddo) covered for all your Frozen needs with these Crochet Frozen Patterns just right below!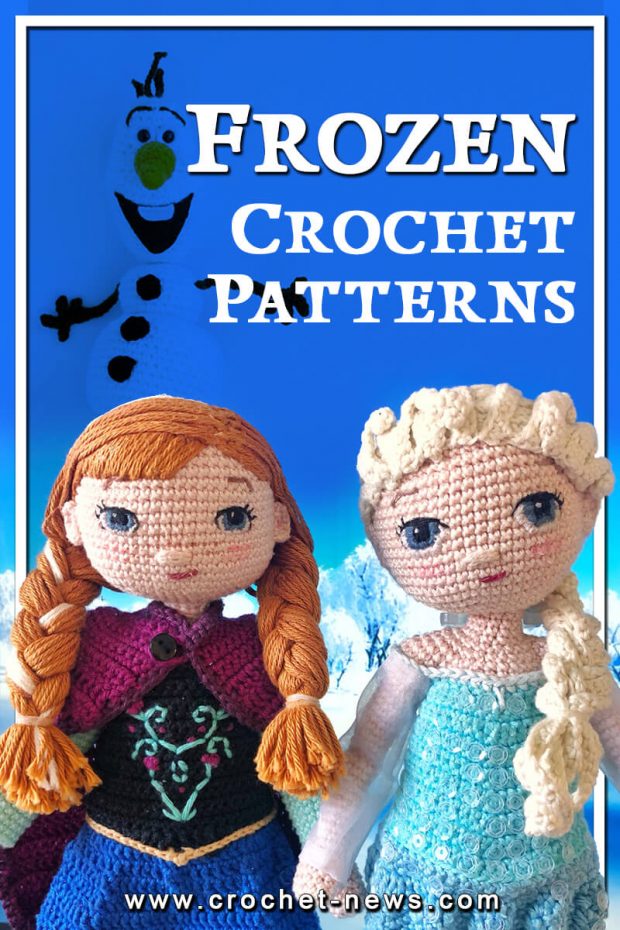 Kids of all ages (and even some adults) can't seem to get enough of Disney's Frozen film, and we don't blame them. From the inspiring story line, to the lovable characters and catchy tunes, Frozen is definitely a film worth seeing.
Hop on board as we take you and your child on a ride full of ice, snow, and magic!

1. Olaf Amigurumi Crochet Frozen Pattern by 1 Dog Woof
He's jolly and full of energy, and he loves warm hugs. Let's start off with an adorable Olaf Frozen Amigurumi Pattern! Although it was meant as an amigurumi toy, it will also be a funny Christmas tree ornament or home decoration.
If you love Olaf so much then don't miss our list of Different Olaf Amigurumi patterns.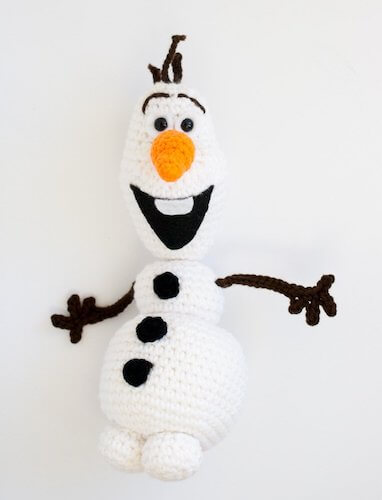 Get the Pattern here
2. Frozen Amigurumi Doll Crochet Pattern by Little Beau Mouse
No matter where you shop these days, it's inevitable that you're going to run into some Frozen-inspired toys. If you're in the market for a Frozen toys this holiday season, skip the mall madness and make your own anna frozen amigurumi! Children will appreciate the homemade touch!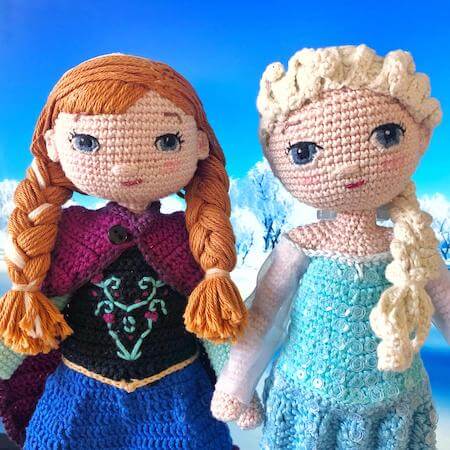 Get the Pattern by Little Beau Mouse here

3. Anna And Elsa Crochet Hats Pattern by Amber Simmons
These Anna and Elsa braided hats inspired by Disney's Frozen will make your favorite little princess's day a little more magical. How cute are these? Is there a little girl in your life who would love these? Or a big girl like you who would?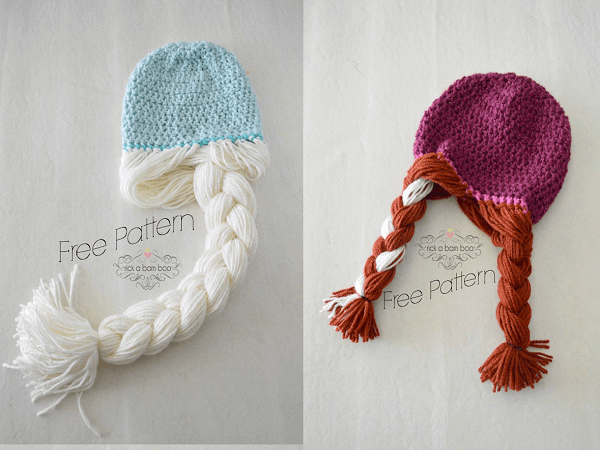 Get the Pattern here
4. Sven Frozen Amigurumi Pattern by Patterns By Portik
Sven is an adorable reindeer that accompanies his owner Kristoff everywhere! He loves carrots, songs and snow! Now you can enjoy playing with Sven in your home by making your own.
When finished, this plush will measure 23 cm tall and features all the characteristics of the much loved Frozen character.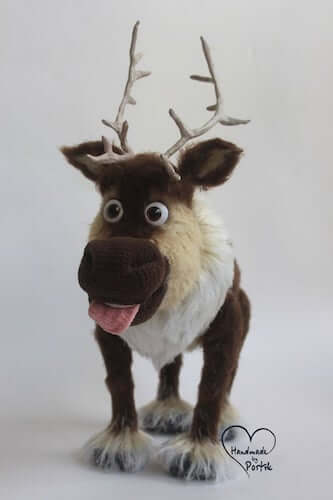 Get the Pattern by Patterns By Portik here
5. Olaf Hat Crochet Frozen Pattern by Top Stitches Crochet
Do you want to build a snowman but don't want to go outside in the cold weather? Then cozy up inside, grab your hook and yarn, and get to work on this insanely cute crochet hat for the children in your life.
Inspired by the hot Disney movie, Frozen, this Olaf hat is definitely one to add to your to-do list.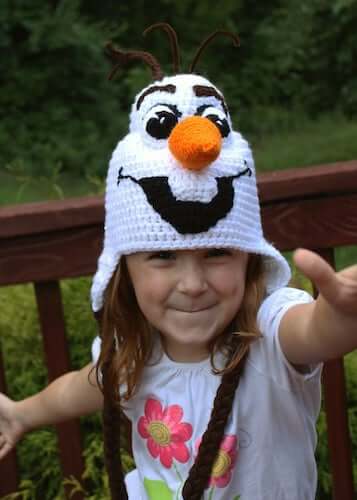 Get the Pattern by Top Stitches Crochet here
6. Crochet Anna Frozen Amigurumi Pattern by Epic Kawaii
Anna is one of the most-loved Frozen characters for her free-spirited and forever optimistic attitude. If you or your child is team Anna, this Anna Crochet Amigurumi Doll will be the perfect gift.
This crochet pattern makes a soft, cuddly doll about 12 inches (30 cm) tall. The clothes and shoes are not removable.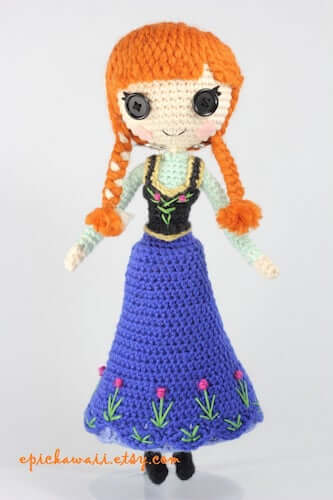 Get the Pattern by Epic Kawaii here
7. Crochet Anna Cape Pattern by Knot Your Nana's Crochet
Look and feel like a princess with this Crochet Anna Cape. It's inspired by the character of Anna in Disney's Frozen movie. Work up this pattern so your daughter can have a cute winter accessory that matches the popular figure that no one can get enough of.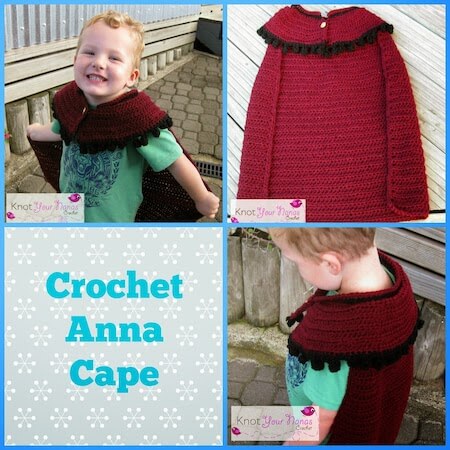 Get the Pattern here
8. Kristoff Amigurumi Frozen Pattern by Chiara Cremon
In Frozen 2, resourceful, nature-loving Kristoff is always ready for adventure. Kids can recreate scenes from Frozen movies with this classic Kristoff Amigurumi Doll inspired by the movie.
Give this little man as a present for kids (or even adults) who love to imagine exploring the magical world of Arendelle and beyond!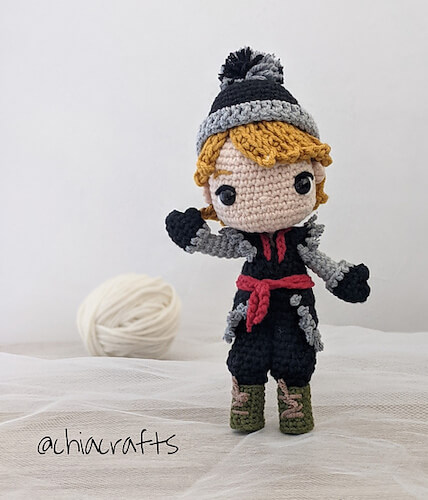 Get the Pattern here
9. Elsa Amigurumi Pattern by Creaciones Popalina
Sometimes, there is nothing better than a classic doll of your favorite character. This frozen amigurumi pattern features our favorite protagonist, Elsa, dressed with her crown and cape.
This 8 inches tall Elsa amigurumi doll will leave your child feeling inspired for adventure, just like our fearless heroine Elsa.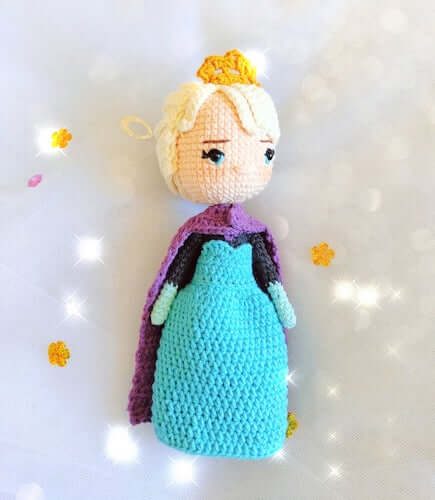 Get the Pattern by Creaciones Popalina here
10. Frozen Princess Dress Crochet Pattern by Sarah Beth's Crochet
Aren't these Frozen Princess Crochet Blanket the ideal gift for the fervent Frozen lover in your life? Perfect for bedroom, living room or take it in the car for short or long road trips. The pattern features our favorite sisters Elsa and Anna and includes 3 sizes from child to adult.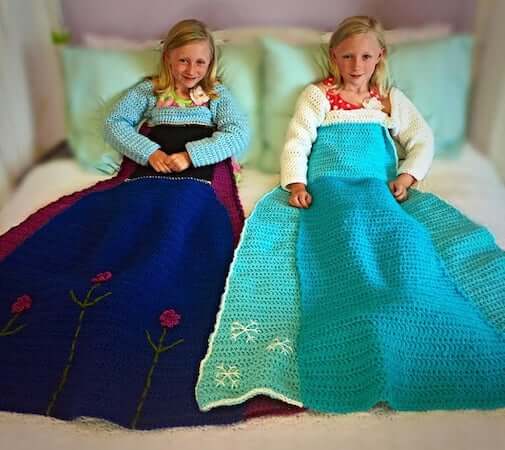 Get the Pattern by Sarah Beth's Crochet here

11. Ice Queen Crochet Hat Pattern by Kerry Jayne Designs
What fun! Here's a magical, enchanting hat for your little princess! Not only is it a warm and cosy winter hat, it is a great addition to the dressing up box too! This hat works up quickly using two strands of yarn crocheted together as one, making it soft, stretchy and durable.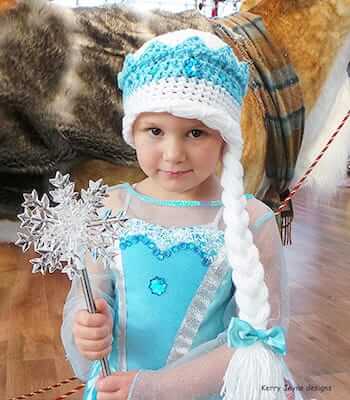 Get the Pattern by Kerry Jayne Designs here

12. Queen Elsa Beanie Crochet Pattern by The Cozy Castle
Become your favorite Disney princess and stay cozy warm in this turban style princess inspired character hat. With instructions for 3 different sizes, it's a great accessory for Frozen movie lovers adults and children alike!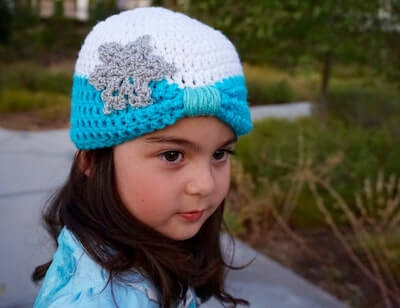 Get the Pattern by The Cozy Castle here

13. Snow Queen Crochet Hat Pattern by Repeat Crafter Me
This Snow Queen Hat is really just a very basic hat pattern with a crochet tiara sewn on the front. There are two different tiara sizes included in the pattern that could easily be turned into stand-alone crowns. You could add as many snowflakes as you want to the braid and hat.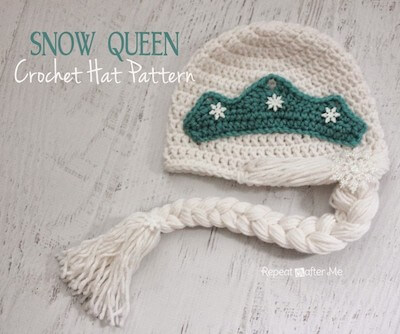 Get the Pattern here

14. Ice Queen Elsa Crochet Hat Pattern by Top Stitches Crochet
Which girl does not want to be Elsa? A beautiful snow princess—surely every girl(young or old) does! Wear this cute hat to transform into Elsa! It features Elsa's face on the front and a long side braid. A perfect addition to your Frozen-inspired costume, indeed!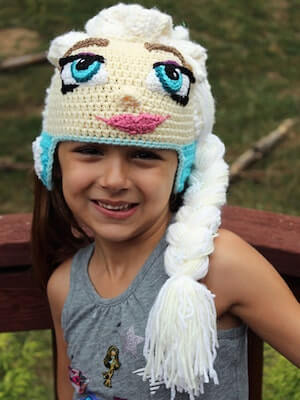 Get the Pattern by Top Stitches Crochet here

15. Crochet Elsa Hat Pattern by Baby Stitches By KA
Making this hat for your Frozen obsessed little girl will surely make her day! The size in this pattern may vary depending on how tightly you crochet. The base of the pattern is for a 1-3 year old but there are notes in the pattern on how to increase for size 4-6 and 7-12.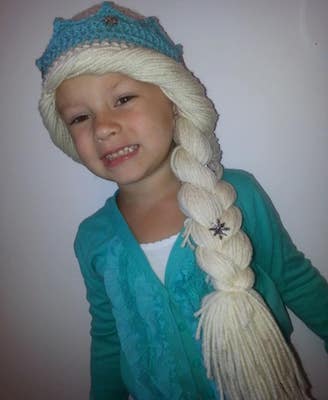 Get the Pattern by Baby Stitches By KA here
IF YOU AND YOUR KIDS HAVE HOPPED ON THE FROZEN BANDWAGON, YOU MIGHT AS WELL WORK UP THESE CROCHET FROZEN PATTERNS TO KEEP IT WITH YOU ALL YEAR ROUND.
Show your love by sharing your finished pieces with us on our Facebook Page.

Not only kids are a massive Disney fan, I know a lot of grown-ups that love the movies, the parks, the characters, the shows – just everything!
So, if you're craving for more, you may also want to check out these patterns: Disney and Crochet Mickey Mouse Hat Patterns, Baby Yoda Crochet Patterns, Beauty And The Beast Crochet Patterns, and Winnie The Pooh Crochet Patterns.

It's time to hook your kids and friends on all ten of these adorable Crochet Frozen Patterns along with other Disney characters!