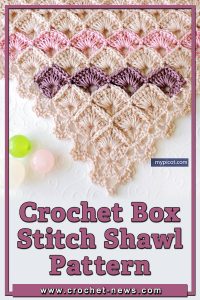 This Crochet Box Stitch Shawl Pattern will guide you step by step, to creating an exquisite crochet shawl.
The best part?
Each step has written and picture instructions, so you can confidently crochet this masterpiece, with less stress throughout the process.
That's not all…
By the time you have completed this free triangle shawl shell pattern you will have the crochet box stitch down pat, and therefore have another crochet stitch in your repertoire.

Crochet Box Stitch Shawl Pattern
The free crochet triangle shawl box stitch pattern is trending right now. Did you see the Crochet Box Stitch that was Stitch of the Week last week? We've been busily practicing this stitch.
Making up little squares to keep in our stitch folders, and generally having fun with it. But we were looking for a neat pattern to use this stitch on and eventually tracked down this one.
Tackling The Crochet Shawl Box Stitch Pattern
It's a triangle shaped shawl, so that gives us a little extra challenge after we'd been learning by regular rows. Not to fear because this triangle shawl box stitch crochet free pattern includes written instructions.
Including step by step photos and a pattern diagram you can download if you prefer to crochet that way.
Enjoy this crochet box stitch shawl in a solid, or we'd love to make it in ombre rows, getting gradually darker in color towards the bottom. How will you make it?

Numerous crocheting techniques are meant to serve different purposes. Some of these methods are more useful than others, and some of them can be described as being simply brilliant. The crochet box stitch is one such case.
Learning how to put together the crochet box stitch, which is fabulous for crochet afghans, entails advanced knowledge of crocheting methods.

How To Incorporate The Triangle Box Stitch To Your Crochet Regime
The crochet box stitch shawl pattern is in more ways than one likened to the waltz of crochet stitches. It is elegant, pretty, and takes a little bit more skill and effort to perfect technically.
The stitch is a delightful way to add character, texture and different design elements to any crochet project.
It can be used to make a variety of unique and aesthetically appealing pieces. Such as gorgeous shawls or perhaps a stunning baby blanket and even a prayer shawl.
This crochet technique produces beautiful and unique pieces. It works well both with solid colors or in a fantasy combination of colors schemes.
When doing a box crochet stitch, it is recommended to use a soft yarn. You should also ensure that the size of your crochet hook is larger than the size that you typically use on other techniques.
This ensures that get your project to look the same. At a basic level, you should have sound knowledge of; or be well practiced with the box crochet stitch.

Do I Need A Specific Crochet Skill Level For The Crochet Box Stitch Shawl?
As mentioned, the crochet box stitch shawl does require some level of expertise and experience.
Inexperienced individuals often encounter difficulty in perfectly executing this stitch pattern, however anything can be done with practice.
Like everything else; the crochet box stitch requires consistent practice and patience.
The prerequisite knowledge of crocheting techniques required includes the likes of single crochet and treble crochet.
Commonly referred to as double crochet and double treble crochets in the United Kingdom.
Other techniques crucial to the perfect execution of the crochet box stitch include half double crochets, slip stitches and chain stitches.

It doesn't take long before you can complete your first project. Using this method, you can put together beautiful pieces that will surprise even yourself.
After mastering the crochet box stitch, you can let loose your imagination and explore all the different patterns and shapes you can come up with while at it.
This crochet stitch makes good use of triangular patterns and similar spacing common in other crocheting styles.
As an art form, crocheting can be used to express designs, patterns, and feelings using yarn and a crochet hook.
The choice of hook and yarn size is another important factor to consider. A crochet hook is the most critical part of any knitting exercise alongside yarn.
Finding the perfect hook set goes a long way in determining the quality of your finished product.
Crochet hook brands such as Susan Bates, Lion Brand, Skacel and Knitters Choice are among the most popular picks and offer great choices for beginners.
Learn How To Crochet Box Stitch Video Tutorial
Starting On Your Crochet Box Stitch Shawl Project
The crochet box stitch has been used by many crocheters to create stunning projects. The likes of which can only be comparable to pricey cashmere pieces from name brands such as Louis Vuitton and Alexander Wang.
The technique is quite popular for putting together baby blankets, prayer shawls, Afghans, and ponchos. As far as designs go, there is not much that the crochet box stitch cannot do.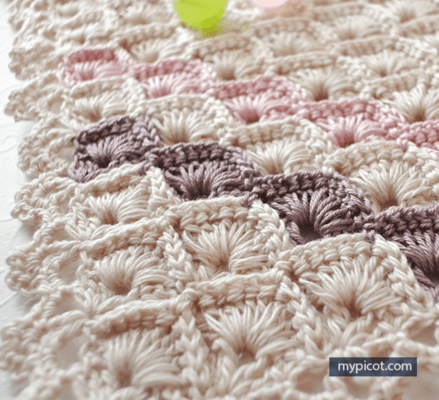 Feel free to post your finished crochet box stitch shawl on our Facebook Page and share your work with the whole community.
So do yourself a favor, pick up that yarn and hook and practice your crochet box stitch, then once you have the hang of it move onto the crochet box stitch shawl pattern. Thank me later.
Download The Crochet Triangle Shawl Diagram Here