Spring Into Summer Blanket
Might you be familiar with the corner to corner crochet technique? Well, if not, you're going to love the spring into summer blanket. It is a colorful, lightweight corner-to-corner blanket that can be crocheted up into any sizes you may prefer.
The spring into summer blanket is quite terrific I must admit. If you use yarn with long color runs, the finished blanket will be self-striping and will not require woven ends. The pattern works up quite easily and is a no-brainer for most advanced to experienced knitters.
The spring into summer blanket is perfect for relaxing on warm spring nights or hot summer days. You can also crochet the summer into spring blanket in readiness for the cold winter season. What I loved most about this blanket is the delicate chain-effect borders and how the colors come together.
Crochet Baby Blanket Materials
Worsted weight yarn, approximately 9 wpi. You will need around 700 to 750 meters.
A U.S size 8 OR 5mm crochet hook.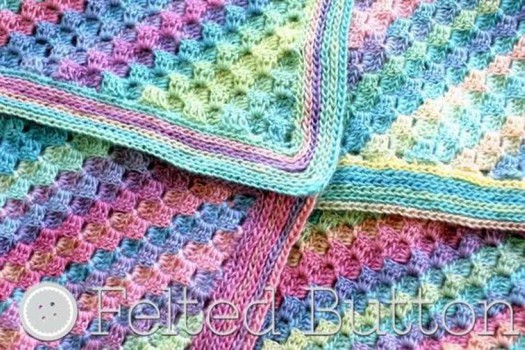 Crochet Baby Blanket PDF
The spring into summer blanket pattern can be purchased and afterwards downloaded as a PDF document. The document comes loaded with lots of pictures and instructions that aid you at every step. The pattern's instructions are however for a baby-sized blanket, but with more yarn, you can create an equally stunning blanket.
The spring into summer blanket pattern makes heavy use of standard U.S knitting terms and abbreviations and is written in clear and concise American English. The crochet corner to corner pattern is typically best used in instances where you only have a set of yarn, or you have it in limited amounts.
When you've burnt through almost half the amount of yarn you have, simply start decreases, and you should have just the right just the right amount. Of course, you shouldn't forget to save some for the borders. Alternatively, use a different yarn for the borders altogether.
The basic skill level necessary is anything between intermediate and advanced. An in-depth command of the basic crochet stitches is prerequisite too.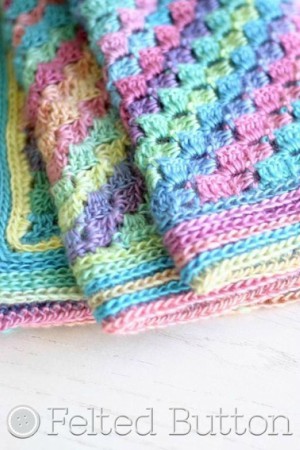 Spring Into Summer Blanket Sizing And Measurements
The finished spring into summer blanket should measure 32 inches by 32 inches or 82 centimetres by 82 centimetres for a baby blanket. Using the same instructions, you can easily adjust the spring into summer blanket to any dimensions you prefer. In your efforts to put together a spring/summertime ensemble, make a mental note to include the spring into summer blanket.
I have of late been coming across amazing crochet patterns on Pinterest, but this one is definitely in the top three. Most people who know me would say I have a knack for this kind of thing which is mostly true. However, what I like most is sharing my creations with people that matter most to me.
The crochet blanket is one of those projects you have to crochet up in bulk. What I mean is one or two is simply not enough, no. Think of all the special people you could make happy with this superb spring into summer blanket. I'm sure you have a little nephew or niece in mind, your kids perhaps or even an adult you care about.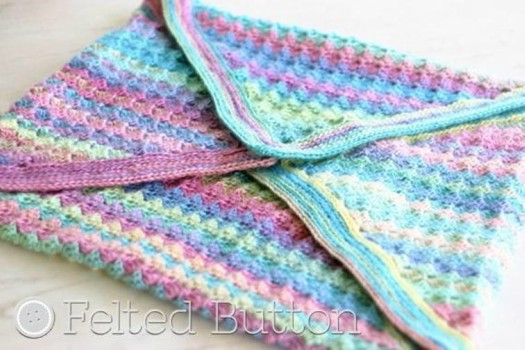 Splendidly Gorgeous Crochet Pattern
One look at this spring into summer blanket and I assure you, you're going to want it. You can use as many bright colors as you please, its spring after all. Depending on who you are crocheting the spring into summer blanket for, you can choose color combinations that suit their specific tastes.
As mentioned earlier on, the spring into summer blanket is made possible by the corner to corner crochet technique. The corner to corner crochet pattern is a popular crochet technique that uses graphs to create stunning pieces.
The graphs can be arranged into blocks to form a complete pattern. Therefore, they can be made into a variety of pieces which may include baby blankets, Afghans, and warm shawls you can cover up in during the cold season.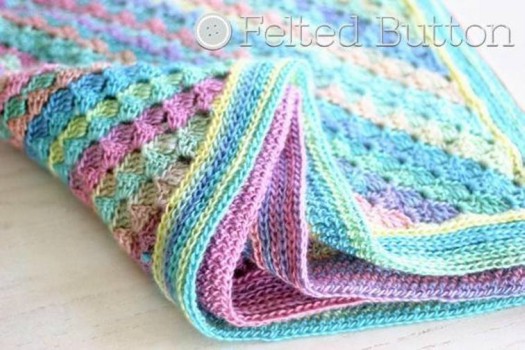 Do you want more patterns? Check out our 15 Crochet Lap Blanket Patterns. One thing remains constant as far as the corner to corner technique and spring into summer blankets are concerned; you cannot go wrong.
This is one of those projects that will make you feel proud of your crocheting skills and generally good about yourself. Be a good human, crochet up spring into summer blankets today.
Download Summer Crochet Blanket Pattern Here