Are you new to the world of graphgans? I love working on graphgan patterns. With a simple graph, you can create beautiful designs using a variety of crochet stitches. Whether you are new to crochet or are an experienced crocheter, graphgan crochet is simple to learn.
To learn more about graphgans and the stitches used, continue reading below. I have also included 24 graphgan crochet patterns.
What Is a Graphgan?
A graphgan is a type of crochet pattern that uses a graph. It is similar to pixel art. The squares of the graph represent stitches and colours. By following the graphgan crochet pattern, crocheters can create intricate and detailed designs.
Graphgans are a very popular choice because they give crocheters the ability to recreate images, logos, characters, and even personalised designs.
Projects You can Make with a Graphgan
Graphgans offer endless possibilities for creating images and shapes into a piece of fabric. The patterns can be used to create a wide range of items, such as:
Blankets and Throws
Cushion Covers
Wall Hangings
Handbags and Totes
Pillows and Pillowcases
Scarves
Cowls
Clothing
Table runners
Placemats
…and more
What Stitch Is Best for a Graphgan?
Graphgans can often be completed using a variety of stitches. Here are some of the most commonly used stitches:
Single crochet is the most basic stitch that can be used to complete a graphgan pattern. Using single crochet stitches creates a solid fabric. The small stitches are ideal for creating detailed designs and images.
The half double crochet stitch is slightly taller and looser than the single crochet stitch. Since they are taller, they can cover more space with fewer stitches. This can be an advantage when working on large graphgans patterns.
Double crochet stitches are taller than the half double crochet. The stitches are looser and are used to make a more open fabric.
The Tunisian simple stitch is a technique that uses a special crochet hook. The hook has an elongated shaft. Some hooks have cords to create extra length. Tunisian simple stitch creates a thin, dense fabric that is ideal for pixel art.
C2C crochet is a very popular technique for graphgans. It requires you to work diagonally, starting at one corner and finishing at the opposite corner. The project is created by gradually increasing and decreasing stitches to create a square or rectangular shape.
How Do You Read a Graphghan?
Reading a graphgan crochet pattern involves translating squares of a graph into stitches. Below are some tips for reading a graphgan pattern.
1. Know the symbols and colours
Get familiar with the key or legend before you start. Each symbol or colour on the graph can represent a specific colour of yarn.
2. Know where to start.
Most graphgan patterns require you to start from the bottom right. This means you will begin working your stitches from the lower right-hand side of the chart. The direction you move from there will depend on the type of stitch you choose to use. If you are left-handed, the direction you work in may be different.
3. One Square = One Stitch
Each square on the graphgan represents one stitch. As you work through the pattern, mark the square off. This will help you keep track of where you are in the pattern and prevent mistakes.
How Do You Turn a Picture Into A Graphghan?
Turning a picture into a graphghan can take some time. It involves turning your picture or design into a pixelated grid. The squares of the grid represent each stitch required to make your design. There are several ways you can turn a picture into a graphgan.
Here are some of the ways you can turn a picture into a graphgan:
Manual charting can be done with writing tools and graph paper. Start by deciding the size of your pattern and drawing a border to define the edges. Next, lightly outline your design with a pencil.
Then fill in the squares within your design. If the design will be stitched in one colour, simply fill all the squares in with your pencil. If the stitches will be different colours, use corresponding coloured pencils or markers to fill in the squares.
There are specialised software programs available that will turn your picture into a graphgan. Most software applications automatically translate your picture into a crochet graph. Then you can make changes if needed.
The software applications often allow you to choose stitch sizes, stitch types, and colour palettes. There are free programs that have basic features and paid programs with more options.
Cross Stitch Pattern Conversion
If you have a cross stitch pattern that you love, you can transform it into a graphgan pattern. Cross stitch patterns already use a grid, making them a wonderful starting point. Some patterns can be stitched just as they are. While others may need you to make some small adjustments.
24 Graphgan Crochet Patterns
Are you ready to explore the world of graphgan crochet? Below is a collection of 25 graphgan patterns. These patterns include a wide variety of designs, from cute animals to attractive geometric shapes. There are free graphgan patterns as well as paid patterns.
1. Baby Bunny Graphgan Pattern by C2CPatternShop
This Snuggle Bunny blanket would make a wonderful gift for a baby shower. With colour options like pink, blue, or yellow, the blanket can be customised for different genders or nursery themes. The Snuggle Bunny blanket is a gift that families can cherish for years to come.
The graphgan crochet blanket pattern can be worked with SC, MINI C2C, HDC, DC, TSS, bobble stitch, and even cross stitch. The graphgan consists of 144 x 216 squares. Using SC, the finished blanket will measure approximately 36 inches (91.44 cm) x 54 inches (137.16 cm).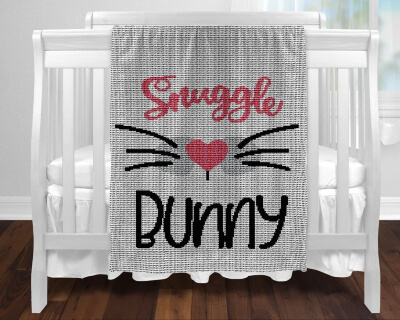 Find the Pattern by C2CPatternShop Here
2. Alphabet Baby Afghan by CrochetCouch
This baby afghan is a fantastic way to introduce the alphabet to a young child or baby. This blanket is an early educational tool that also adds warmth and colour to a room. With its six colourful stripes, letters, and hearts, the blanket will capture a child's interest.
The gender-neutral baby graphgan pattern uses bobble stitches and single crochet. Completed, the afghan will be about 40 inches (101.6 cm) x 48 inches (121.92 cm). The graphgan measures 115 blocks wide x 137 blocks tall.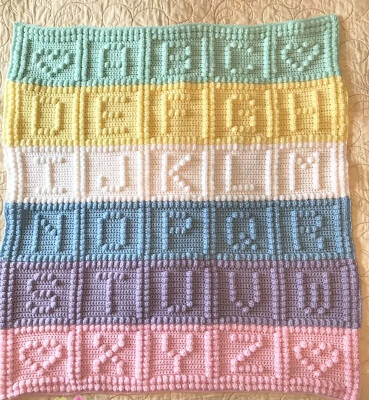 Find the Pattern by CrochetCouch Here
3. Crochet Butterfly Afghan Pattern by PrettyThingsByKatja
Crocheted using the C2C technique, this butterfly afghan is beautiful. The graphgan pattern can be used to make butterflies of different colours. The blanket would make a wonderful gift for anyone that loves butterflies.
The butterfly graphgan pattern includes written instructions. To complete the afghan, you will need yarn in six colours: white, orange, light orange, black, dark grey, and grey. However, you can easily customise the colours. The graphgan measures 110 squares x 104 squares.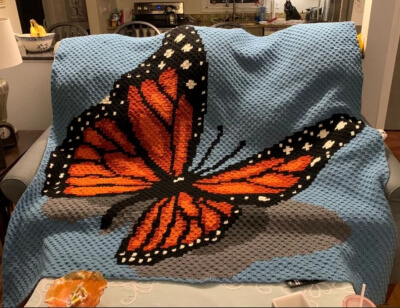 Find the Pattern by PrettyThingsByKatja Here
4. Corner to Corner Heart Blanket Pattern by EasyCrochet
Here is a free C2C graphgan pattern that features a large heart against a solid background. The blanket would make a wonderful Mother's Day or Valentine's Day gift. You can use the recommended colours or customise them for your giftee.
Included are both a graph and written instructions. Using the C2C technique, the completed blanket will measure approximately 40 inches (101.6 cm) x 40 inches (101.6 cm). The finished size may vary depending on the yarn and your gauge.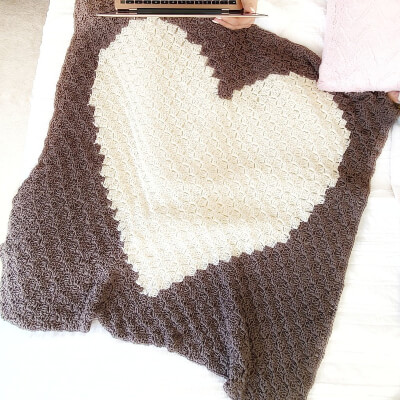 Find the Pattern by EasyCrochet Here
5. Day At The Beach Afghan Crochet Graph Pattern by CrochetCouch
When you are unable to get to the beach, this delightful blanket will take you there. You will be able to picture yourself lounging in a cosy chair under a colourful umbrella, sipping on a refreshing, ice-cold beverage.
To create the lovely afghan, you can use either SC or TSS. The graph is 177 blocks wide x 239 blocks tall. Completed, the blanket will measure close to 53 inches (134.62 cm) x 72 inches (182.88 cm).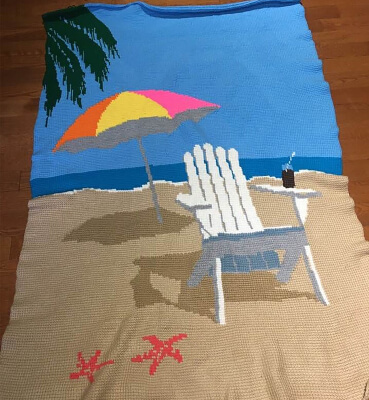 Find the Pattern by CrochetCouch Here
6. Argyle Afghan Crochet Graph Pattern from KarlasMakingIt
Add a touch of elegance to your decor with this argyle blanket. Its classic diamond pattern never goes out of style. It would also make a perfect gift for a variety of occasions such as housewarmings and baby showers.
This graphgan pattern is made using the C2C technique. Finished, it will measure about 38 inches (96.52 cm) x 38 inches (96.52 cm). Included are instructions for customising the size.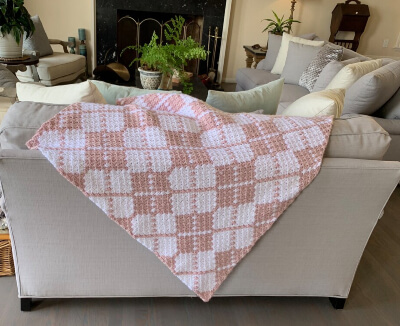 Get the Pattern from KarlasMakingIt Here
7. Teddy Bear C2C Baby Blanket Crochet Pattern by C2CPatternShop
Children will love this adorable bear baby blanket. It is perfect for cuddling and staying warm. It makes an excellent gift for baby showers or christenings. The pattern makes it easy to customise colours.
The C2C graphgan pattern is 55 squares wide x 70 squares high. Included is the full graph on a single page as well as the graph divided into smaller sections. Also included are written instructions, helpful tips, links to yarn calculators, and tutorials.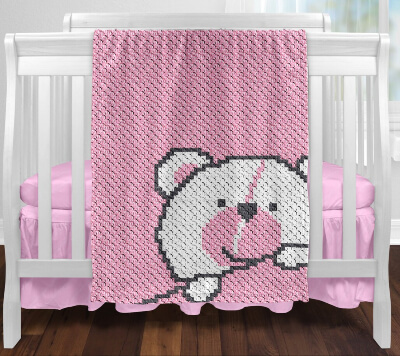 Find the Pattern by C2CPatternShop Here
8. Tunisian Dog Crochet Pattern by C2CPatternShop
I absolutely love this adorable cartoon dog blanket. The delightful design features six whimsical and colourful dogs. It would make the perfect gift for dog lovers of all ages. The colourful design will help to brighten any room.
This versatile graphgan pattern can be used with either SC or Tunisian crochet. The size of the graphgan crochet pattern is 204 x 315 squares. To make the project even easier, the designer has included written instructions.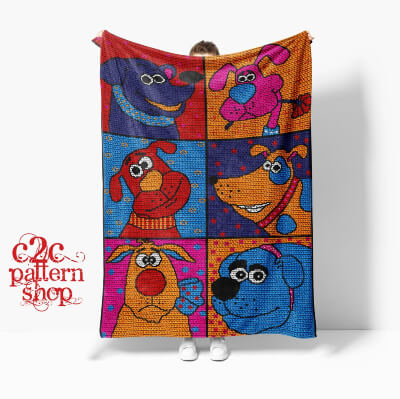 Find the Pattern by C2CPatternShop Here
9. Corner to Corner Bunny Crochet Grid Blanket Pattern by Make & Do Crew
Here is a free corner-to-corner crochet bunny blanket graphgan pattern. The plaid pattern colours can be customised or you can make the rabbit in a single colour. Using a single colour would be easier for those new to C2C crochet.
The free pattern will create a blanket that measures approximately 36 inches (91.44 cm) x 36 inches (91.44 cm). There are no written instructions. You must be able to work directly from a graph.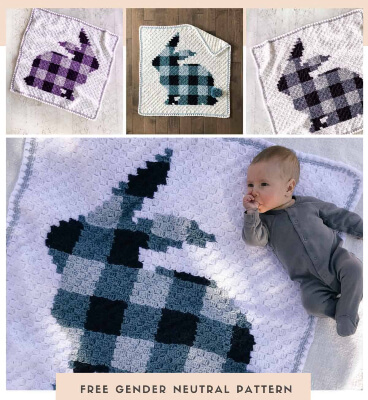 Find the Pattern by Make & Do Crew Here
10. Mother Graphgan Crochet Pattern by CrochetCouch
Are you looking to make a heartfelt gift for a new mother? This graphgan crochet pattern features blocks adorned with inspiring words like love, happiness, friend, and trust. The afghan will be a constant reminder of how much she is loved.,
This graphgan was designed to be completed using the bobble stitch. It measures 173 blocks wide x 223 blocks high. Completed, the blanket will measure close to 61 inches (154.94 cm) x 71 inches (180.34 cm). Included is a full-size graph, a single page version that fits on a single page, written row-by-row counts, and helpful video links.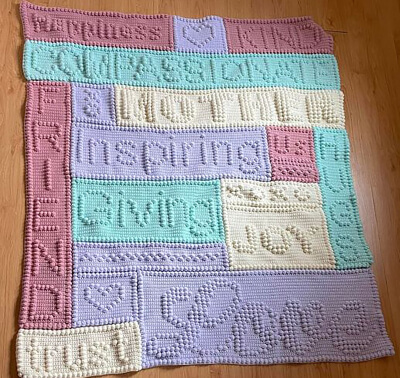 Find the Pattern by CrochetCouch Here
11. Wedding Crochet Graph Pattern by C2C PatternShop
This wedding afghan will be treasured for a lifetime. This stunning graphgan depicts a husband and wife in an embrace. The bride is holding her bouquet and her veil is flowing elegantly behind her.
This blanket is crocheted using the C2C technique. However, the graph can be used with other techniques such as MINI C2C, SC, HDC, DC, TSS, bobble stitch, and even cross stitch. The graphgan is 150 x 150 squares.
Find the Pattern by C2C PatternShop Here
12. Chevron Blanket Crochet Pattern with Graph by KarlasMakingIt
The chevron pattern is a classic design that works well in both traditional and modern homes. Its bold zigzag pattern can add a lively element to any space. Despite its intricate appearance, this graphgan pattern is relatively easy to complete.
The graphgan pattern recommends using a size F/5 or 3.75 mm crochet hook and light weight (3) yarn. The amount of yarn you need will depend on the size blanket you want to make.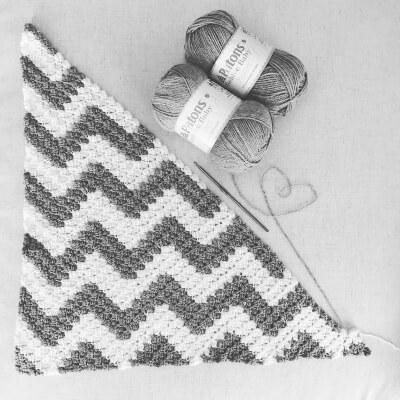 Find the Pattern by KarlasMakingIt Here
13. Ray of Sunshine Baby Blanket Crochet Graph Pattern by woolbirdx
The Ray of Sunshine Baby Blanket is a charming blanket. The blanket is made using a monochromatic colour scheme. It features alternating squares, each adorned with either a rainbow or sun designs.
Included are two size options: a baby blanket and a larger throw blanket. It is an intermediate level tapestry crochet pattern that does not include any row-by-row instructions.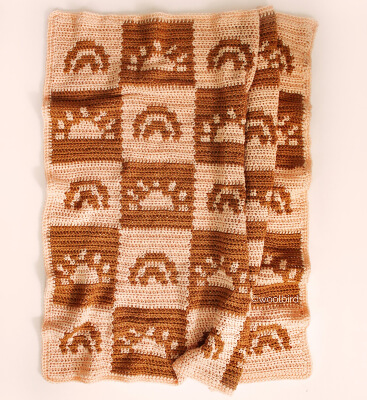 Find the Pattern by woolbirdx Here
14. Cape Hatteras Lighthouse Pattern by bjshobe
This afghan was designed to pay tribute to the Cape Hatteras Lighthouse. The beautiful design captures the essence of the lighthouse and beach.
Since yarn colours have changed, you may have to select shades that closely resemble the original design. The single crochet graphgan crochet pattern itself is straightforward. However, there are a lot of colour changes.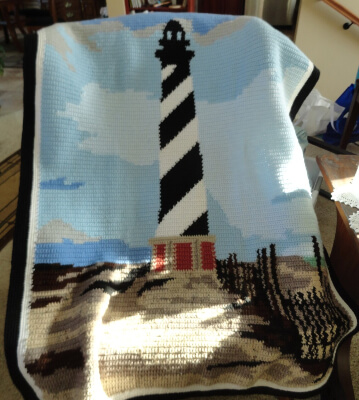 Find the Pattern by bjshobe Here
15. Easy Corner to Corner Crochet Baby Blanket Pattern by Em's Fiber Arts
Here is a quick and easy baby blanket project that is made using the C2C technique. The colour pattern is created by using Lion Brand's Ice Cream yarn. There are no colour changes required, making this an ideal pattern for beginners.
Using the suggested yarn and hook, the finished blanket is approximately 26 inches (66.04 cm) x 26 inches (66.04 cm). Instead of giving you the graph to work from, the designer has provided row-by-row instructions.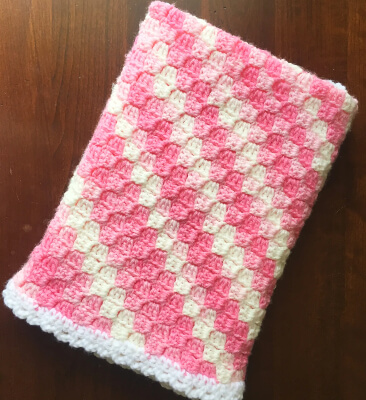 Find the Pattern by Em's Fiber Arts Here
16. Yin Yang Rose Swirls crochet graph Pattern by PartyPie
The Yin Yang Rose Blanket features a mesmerising design with two roses and swirling patterns. It is crocheted using only two colours. The yin yang symbolises balance while the roses represent beauty.
The Yin Yang Rose Swirls graphgan is a versatile design. It is suitable for a wide range of crochet techniques, including C2C, Mini C2C, SC, HDC, DC, TSS, and Bobble Stitch. It can also be used for other crafting techniques. The graph size is 80 squares wide by 100 squares high.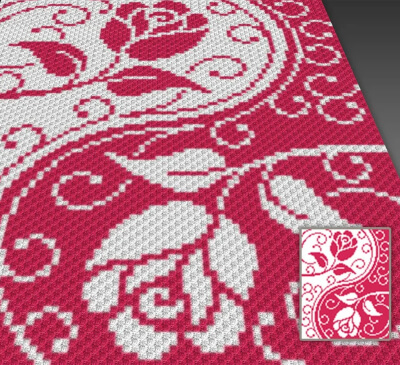 Find the Pattern by PartyPie Here
17. Mountain Landscape Crochet Graph Pattern by MagicYarnPixels
The artistic design of soft colours of this mountain scene creates a sense of tranquillity. This blanket is not only a cosy accessory but also a stunning piece of art. It would make a great accent piece in a cabin or home decorated in rustic decor.
The graphgan offers a range of crafting options, including crochet, cross stitch, knitting, hama beads, plastic canvas, and diamond painting. The pattern measures 80 squares x 100 squares. The completed size of your project will depend on the technique you use. It includes C2C graphs and written row-by-row instructions.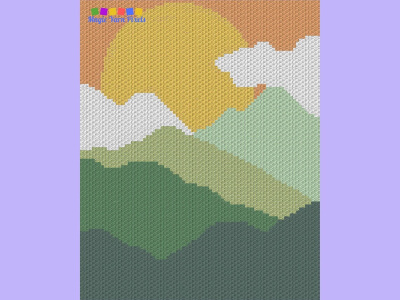 Find the Pattern by MagicYarnPixels Here
18. C2C Sunflower Photo Crochet Graph by PartyPie
This gorgeous sunflower blanket will instantly add a touch of warmth and happiness to any space. The bright and bold colours will create a focal point. Additionally, sunflowers symbolise positivity, happiness, hope, and health, creating a welcoming atmosphere.
The Sunflower graph comes with row-by-row counts for C2C. You can also use the graph for cross stitch, knitting, hama beads, plastic canvas, and more. It measures 80 squares wide by 100 squares high.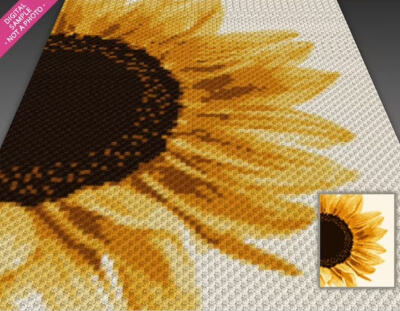 Find the Pattern by PartyPie Here
19. Ultimate Thomas The Train Crochet Graphgan Pattern by PixelPerfectCrochet
The Thomas the Tank Engine blanket is made using the bobble stitch and half double crochet. However, you can choose different stitches to complete the graphgan pattern.
The blanket is made with 4-ply medium weight yarn. To add extra comfort, the designer recommends attaching a fleece backing to the blanket. The finished size is approximately 41 inches (104.14 cm) by 45 inches (114.3 cm).
Find the Pattern by PixelPerfectCrochet Here
20. Solar System Kids Afghan Pattern by CrochetCouch
Children interested in science and space will love this solar system blanket. The fun design and vibrant colours will help capture their imagination and spark curiosity. Featured are Mercury, Venus, Earth, Mars, Jupiter, Saturn, Uranus, and Neptune along with the sun and an astronaut.
The solar system graphgan pattern is 200 blocks wide x 234 blocks tall. The finished blanket will measure close to 60 inches x 70 inches. It has options for both single crochet and Tunisian simple stitch.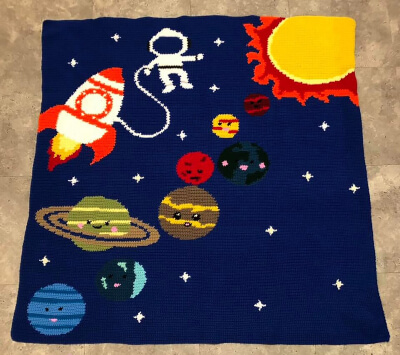 Find the Pattern by CrochetCouch Here
21. Modern C2c Crochet Blanket Pattern by MakeAndDoCrew
Use this free graphgan pattern to create a modern and versatile blanket. The blanket will add a touch of style to your couch, nursery, or bedroom.
The designer also has a free pattern to create a coordinating pillow. The graphgan is designed for the C2C technique. It is 51 blocks wide x 61 blocks tall.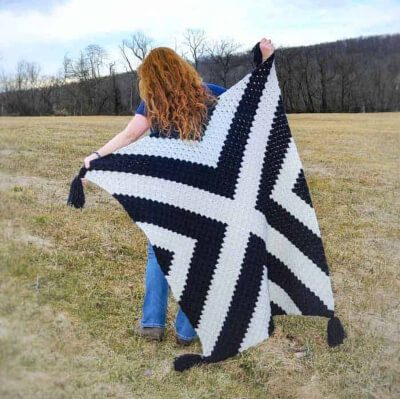 Find the Pattern by MakeAndDoCrew Here
22. Starburst Quilt Afghan Graph Pattern
The Starburst Quilt Afghan is a stunning crochet project that will add a touch of elegance to your home decor. With its intricate, eye-catching starburst design, this afghan is sure to impress.
To make this beautiful blanket worsted weight #4 yarn, a 5 mm or H crochet hook, yarn needle, scissors, and bobbins. The finished size of the afghan is approximately 65 inches (165.1 cm) x 65 inches (165.1 cm). The graphgan is 81 blocks high x 81 blocks wide.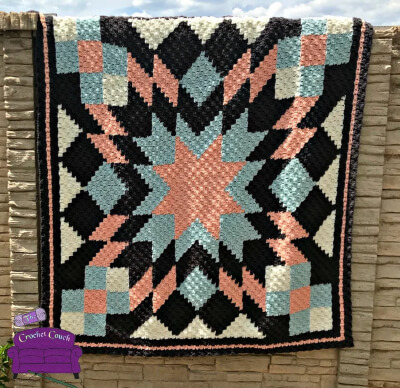 Find the Pattern by CrochetCouch Here
23. Polar Bear & Penguin C2C Graphgan Blanket Pattern by Nana's Crafty Home
This blanket will definitely bring a smile to your giftee's face. The blanket features a fluffy polar bear surrounded by his penguin pals. The secret to its cosy texture is the combination of two different yarns.
For the polar bear, you will need a soft and fuzzy yarn like Bernat Pipsqueak. For the rest of the blanket, use a #4 medium weight worsted weight yarn like Red Heart With Love. Completed, the blanket will measure approximately 56 inches (142.24 cm) wide x 44 inches (111.76 cm) tall.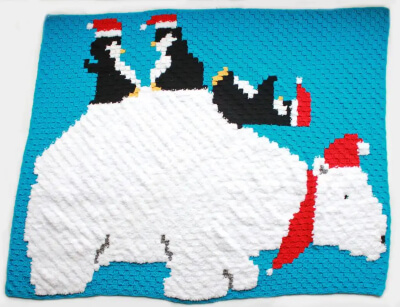 Find the Pattern by Nana's Crafty Home Here
24. Merry Christmas Quieting Santa Pattern by GaggysGraphs
Here is a classic Santa Claus throw perfect for a home decorated in traditional holiday decor. The iconic image will bring a sense of joy to any space. Whether draped over a couch, displayed as a tapestry, or used as a cosy blanket, the throw will create a touch of holiday magic.
The recommended stitch for this pattern is single crochet. The grapghan is 150 squares wide x 200 squares tall. Completed, the blanket is suitable for an adult. The download includes a graph, colour-coded block instructions, and written instructions.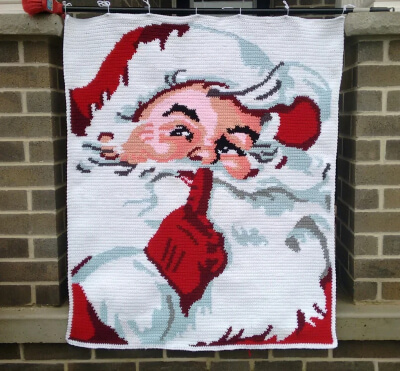 Find the Pattern by GaggysGraphs Here
Tips for Completing a Graphgan Crochet Pattern:
Whether you are a beginner or an experienced crocheter, these tips will help you master the art of graphgan crochet.
Start with a Simple Design
If you have never worked on a graphgan pattern before, start with a simple pattern. You will want to choose a straightforward design with very few colour changes. Once you understand the basics, you can work on more complex projects.
Stitch markers are your friend. If you have issues keeping track of rows, place stitch markers at the beginning or end of each row. This will make it easier to count rows and ensure you have made an error.
If gauge is important, crochet a swatch using the same yarn, hook, and stitch pattern to check your gauge. This will help you determine the correct hook size to use.
Organise your yarn before you start. Get your yarn bobbins wrapped and ready, so you do not have to stop part way through your project.
Carry the Yarn Behind Stitches
When changing colours in your graphgan, you do not want to see the transition. To help camouflage the colour change, carry the yarn behind the stitches. This will also help secure the yarn in place.
Use a Highlighter or Marker
When working on a graphgan pattern, use a highlighter or marker to mark off completed squares. Marking off the squares will help you keep track of the row you are working on. Doing so is extremely important to help prevent mistakes.
You can wait until you are done to weave in the ends. However, weaving in the ends as you go can help reduce the amount of finishing work required.
Graphgan crochet can be time-consuming. Do not work until your hands are sore. Take regular breaks and rest your hands to prevent fatigue. You can incorporate stretching exercises to help reduce discomfort.
Frequently Asked Questions About Graphgans
Are graphgans patterns easy to complete?
The difficulty of Graphgan patterns varies depending on the complexity of the design. While some graphgan patterns are relatively simple and beginner-friendly, others feature highly detailed motifs that are harder to complete.
Is there a program to create a graphan?
Yes, there are various programs you can use to create a graphgan pattern. These programs usually give you the ability to upload an image or design a pixelated graph by hand.
There are some free programs that provide you with some basic tools. Paid programs typically have more features and can also provide written row-by-row instructions.
Which stitch is recommended for a graphgan?
When working on a graphgan,, there is not a standard best stitch. The stitch you use will depend on the pattern you are working on along with your personal preference and desired outcome.
The most common stitch options for graphgans are single crochet (SC), corner-to-corner (C2C), Tunisian simple stitch (TSS), and bobble stitch. Each stitch creates a unique look. Different stitches will also result in a varying project sizes.
How do you read a graphgan crochet pattern?
In graphgans, the stitch you choose will determine how to read the pattern. In C2C the graphs are worked from the bottom corner up to the opposite top corner. Other types of stitches require you to work directly back and forth across the rows.
While Tunisian simple stitch works all rows from the same direction.
What type of crochet stitches can be used in a graphgan?
Graphgans can be worked using various crochet stitches. The most commonly used stitches are single crochet (SC), half double crochet (HDC), double crochet (DC), corner-to-corner (C2C), Tunisian simple stitch (TSS), and the bobble stitch.
Are graphgan patterns suitable for beginners?
Graphgan crochet patterns can vary in complexity. The complexity of the pattern depends on the design of the specific pattern and the stitches used. More complex crochet grid patterns require several colour changes. Simpler patterns have fewer colour changes.
Graphgan crochet patterns allow you to create unique and interesting projects.
I love the way graphgans combine the worlds of crochet and pixel art. The grid designs allow crocheters to create intricate designs on items such as blankets, cushion covers, and wall hangings. The finished graphgan projects are not only visually stunning, but can also become treasured keepsakes.