Our crochet popcorn stitch tutorial will guide you step-by-step through learning and working your new skill into a masterpiece.
This eye-catching stitch is a must have in your crochet arsenal.
Check out the tutorial below to learn how to make your crochet projects POP!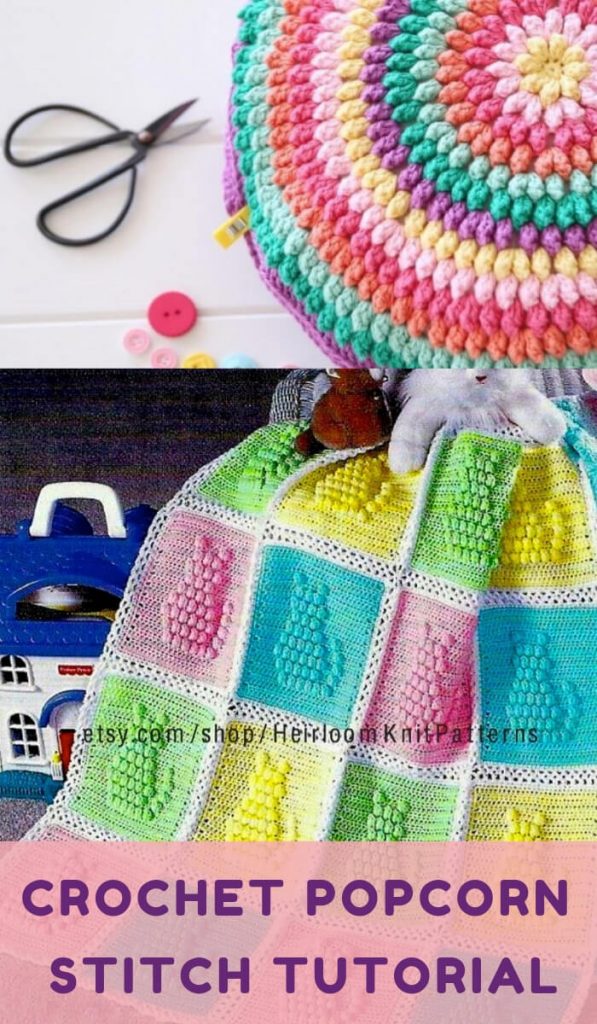 Crochet Popcorn Stitch Tutorial
The popcorn stitch is made by working 5 double crochet stitches into a single stitch making the double crochet stitches pop outward.
This stitch adds a lot of texture and interest to your crochet projects. While similar to other textured stitches like the bobble or cluster stitches, the popcorn stitch is completely different.
If you want a bigger or smaller popcorn effect simply increase or decrease the number of double crochet stitches you work.
The crochet popcorn stitch can be worked in rows or in the round.
Important to note is that the pop effect faces the front of your work.
If working in the round the pops will naturally stay in the front (or outside) of your work.
If working a flat piece, or rows, you will have to alternate your popcorn every other row to ensure the pops face the correct way.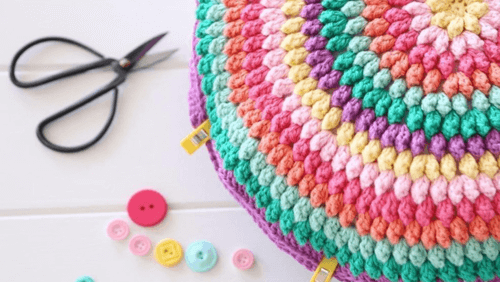 Popcorn Crochet Stitch Tutorial Written Instructions
The popcorn stitch is often shown in abbreviations as "pc." It is worked as follows:
Step 1: You will work up FIVE double-crochet stitches all into the same stitch.
Step 2: Drop the loop.
Step 3: Insert the hook under the first two loops and then grab the dropped loop.
Step 4: Pull the dropped loop through those two loops hanging out on your hook.
Step 5: Look at the crochet Popcorn stitch you just made!
I know probably sounds a bit complicated, but just remember you're working a standard double crochet 5 times into ONE chain or single crochet stitch, depending on the pattern you're working with.
There is a slight variation among crocheters as to how to close the popcorn stitch.
The two methods are to close by chaining 1 or not to close by chaining that 1 extra stitch.
The puffiness of the popcorn stitch can obscure the next stitch that you will need to work in so keep an eye out for that.
Another thing to keep in mind is that the popcorn stitch uses up a lot of yarn so make sure you have plenty when working on projects using the popcorn stitch.
Also, check out this great how to crochet popcorn stitch video tutorial!
What Can You Use the Crochet Popcorn Stitch for?
Probably the most popular use for the popcorn stitch is afghans. You can use the "pop" effect to create designs that pop up.
But, you don't have to stop at afghans. The popcorn stitch is also widely used for scarves, pillows, and more.
Crocheted flowers add excitement to any project when made using the popcorn stitch.
Try adding an extra chain stitch between popcorn stitches to create an elegant lace effect.
Just be creative and try adding the popcorn stitch to any project. You never know what you might come up with!
Patterns to Use the Popcorn Stitch Crochet
Heirloom Knit Patterns wonderful vintage baby blanket uses the popcorn stitch effectively to create adorable kitties on each block of the blanket. Even worked in one color the kitty stands out and makes a sweet addition to the baby blanket.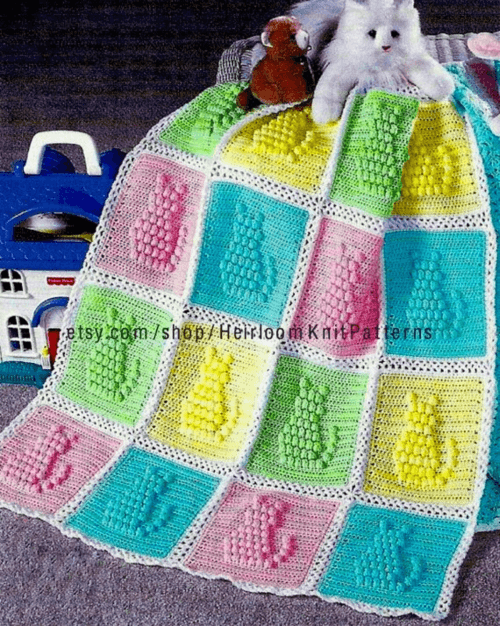 Crochet Popcorn Stitch Tutorial Conclusion
Hope you enjoyed learning the popcorn crochet stitch, be sure to post the patterns you make to our Facebook page.
Check out all of our advanced crochet stitches here.
Happy crocheting with your new popcorn crochet stitch!