When looking for pieces that will truly stand the test of time, you can't get much more classic and versatile than the shoulder bag. So, if you're looking to update your accessory arsenal but don't want to waste your money on passing trends, we have rounded up 27 stylish crochet shoulder bag patterns that will instantly transform your look, but won't feel dated any time soon.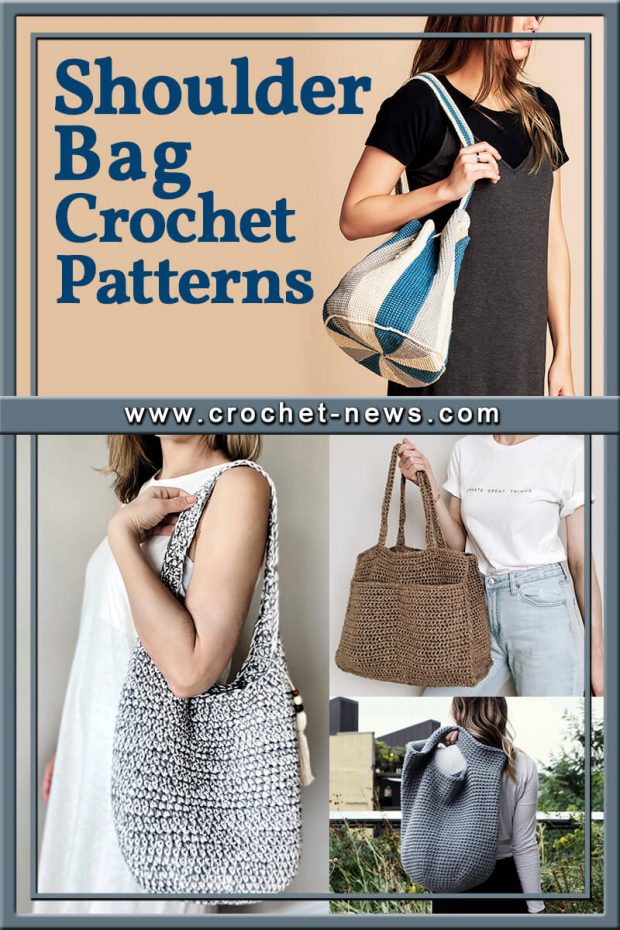 Whether small and compact, and therefore perfect for the evening, or something big enough to work all day long, there are plenty of shoulder bags to choose from, whatever your style.

1. Crochet Oversized Shoulder Bag Pattern by Two Of Wands Shop
The Crochet Oversized Shoulder Bag will immediately become the bag of your dreams! Oversized and roomy to fit all of your essentials and more, this tote has reinforced surface crochet details to help it retain its shape and prevent too much stretching.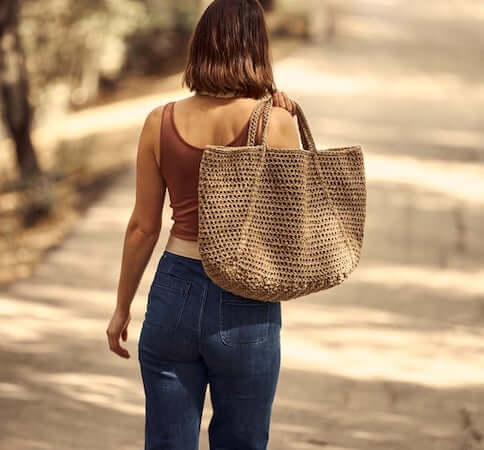 Get the Pattern by Two Of Wands Shop here

2. Belmont Crochet Shoulder Bag Pattern by Stitching Together
This Belmont Bag is so simple yet classically stylish you'll love using it as your everyday purse. The stitches are simple, the construction is simple, the details are simple but you'll make a bag that'll have people going, "you made that?"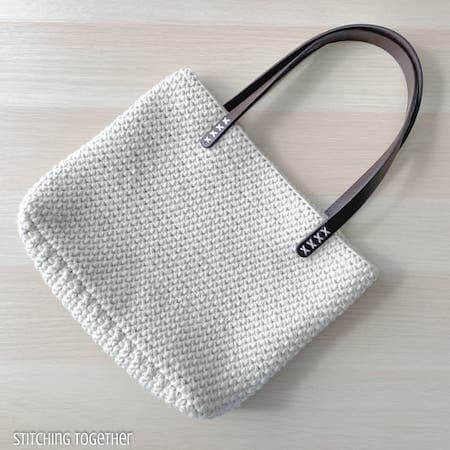 Get the Pattern here

3. Mini Crochet Shoulder Bag Pattern by Whistle And Ivy
This Mini Crochet Shoulder Bag is just the right size for your phone and all your little essentials. Perfect to pair with leggings or pants with no pockets! The gorgeous stitch texture is easy to achieve. Make one in buffalo plaid or in a solid color.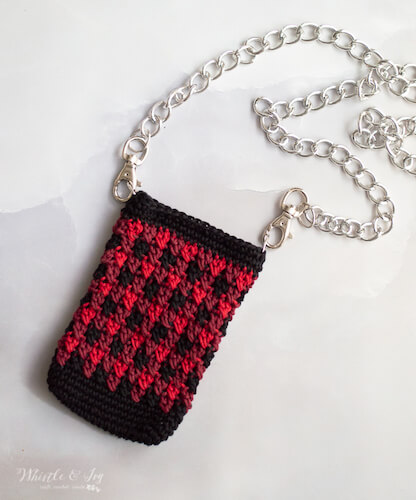 Get the Pattern here

4. Pinwheel Bottom Tunisian Bag Crochet Pattern by Yarnspirations
This sturdy crochet bag is perfect for people on the go. The sides of the bag are done in rows, while the graphic bottom is stitched separately and attached later.

The top edge of the bag includes small holes for a drawstring to keep contents safe. Including Tunisian simple stitch and short-turn rows in Tunisian simple stitch, this is a functionally fabulous bag that can be customized using any colors to match your style. It also makes a great gift for a lady on the go.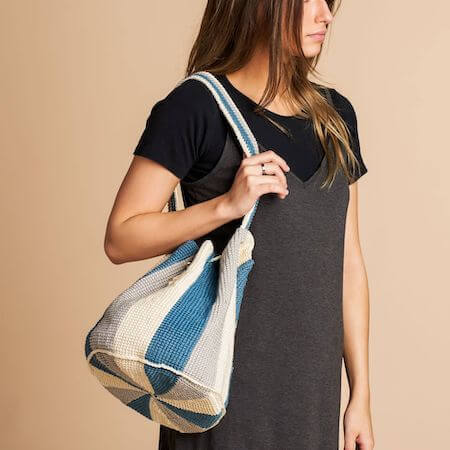 Get the Pattern here

5. Wildflower Shoulder Bag Crochet Pattern by Yarn And Chai Design
This Wildflower Shoulder Bag is a gorgeous crochet pattern for an incredibly versatile purse. It doesn't matter what yarn or hook size you use, the pattern will work; use the recommended yarn and hook size for a large shoulder bag or tote, or use a finer yarn and a smaller hook for more of a purse size.

Make it all one color for a chic look, or add some flair with different colored flowers. Once you discover all of the possibilities, you won't be able to make just one bag!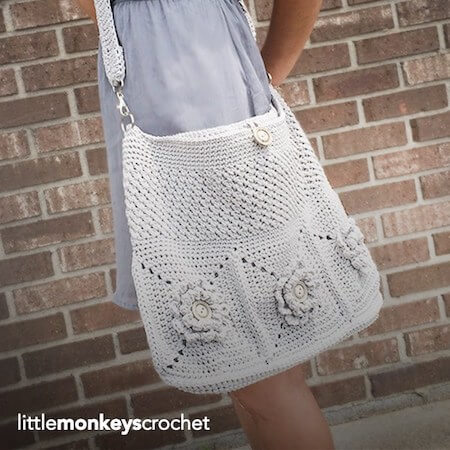 Get the Pattern by Yarn And Chai Design here

6. Openwork Crochet Shoulder Bag Pattern by A Crocheted Simplicity
Style meets function and versatility in this fun crochet bag. Basic stitches form the bag's solid bottom and also the delicate openwork design. The openwork crochet design will be a fun challenge for advanced beginners and it will keep experienced crocheters from losing interest.

Use your bag as a crochet project bag, beach bag, or everyday tote bag – customize it to suit your taste by playing around with color, or by adding tassels, poms, and more!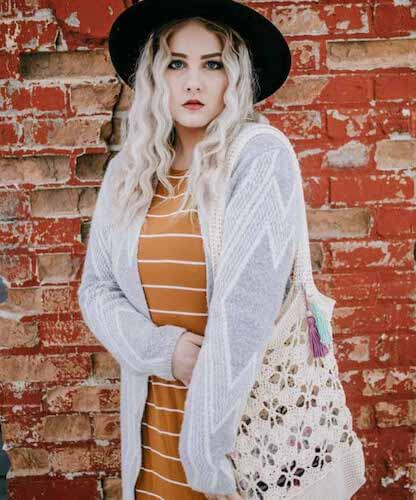 Get the Pattern here

7. Crochet Drawstring Shoulder Bag Pattern by Kathy's Crochet Closet
This pretty shoulder bag features cute quatrefoil granny squares! It is crocheted with sturdy mercerized cotton yarn in a seamed granny square design. The stitches used in this project are chain, double crochet, half double crochet, single crochet, reverse single crochet, triple crochet and slip stitch.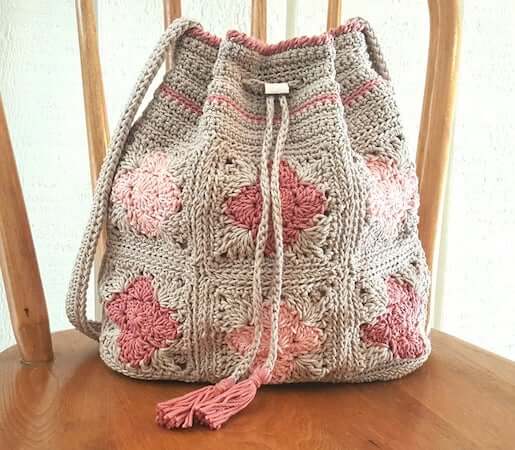 Get the Pattern by Kathy's Crochet Closet here

8. Denim Envelope Crochet Shoulder Bag Pattern by Han Jan Crochet
Effortlessly stylish and understated, this Denim Envelope Shoulder Bag is a perfect addition to your handmade crochet wardrobe. With a simple construction of two panels joined with a bottom strap and then a metal chain handle, it's a project that anyone can make and enjoy.

Great for selling online or at craft fairs, measuring 21cm by 14 cm, the bag is just the right size to fit all the essentials in with a little room to spare.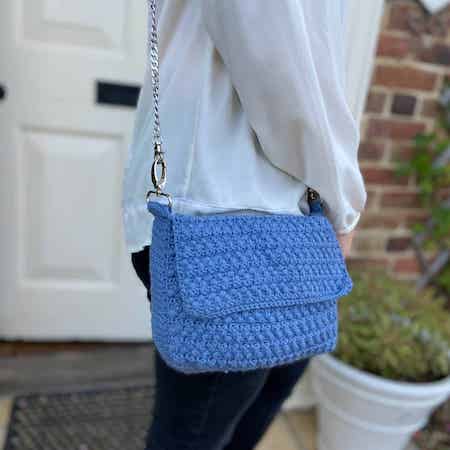 Get the Pattern here

9. Crocodile Flower Shoulder Bag Crochet Pattern by Joyce Lewis
Tapestry crochet, surface crochet, and a chain-loop version of the popular Crocodile Stitch are used to create this unique motif, and whether you see it as a flower, a multi-point star, or a mandala, this motif is a whole lot of fun. It can be exuberantly colorful or elegantly monochromatic.

Make one in poinsettia colors for the holiday season, a sunflower themed bag for Summer, one in Autumn colors for Halloween, and stash bust for a wild Springtime version. Add the easy optional lining to ensure that nothing falls through the small holes in the fabric and customize the length of the crocodile scale strap to make your own one-of-a-kind accessory.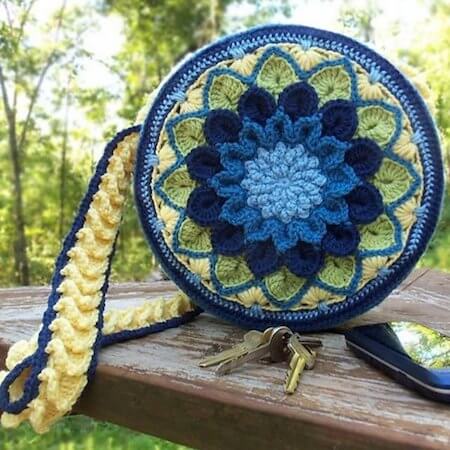 Get the Pattern by Joyce Lewis here

10. Summer Shoulder Bag Crochet Pattern by Joy Of Motion Crochet
Looking for a quick summer crochet pattern, this crochet Summer Shoulder Bag is perfect for that. Use it to bring your small yarn project and phone outside while having your hands available for something to drink and snack. Or use it for your water bottle on a nice summer walk.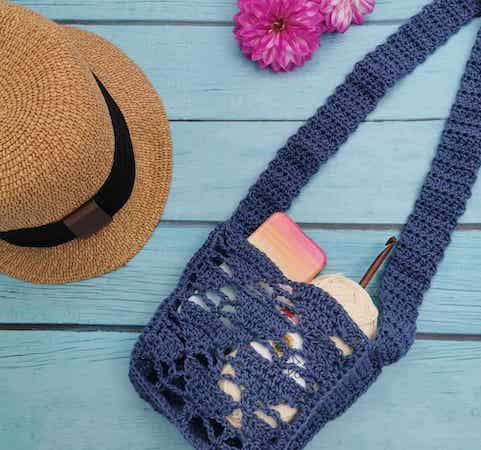 Get the Pattern here

11. Crochet Tote Bag Pattern by Crochet Spot Patterns
Crochet a classic tote bag to carry your craft projects, groceries, work gear, or anything else you may need it for. This simple tote is extremely versatile. The tote bag is crocheted seamlessly in the round from the bottom up.

The strap is crocheted with a tight stitch and wraps around the bottom of the bag to prevent the strap and the bag from over stretching. For an even sturdier bag, feel free to sew in a liner. You can also add your own closure such as a zipper, button, or snap.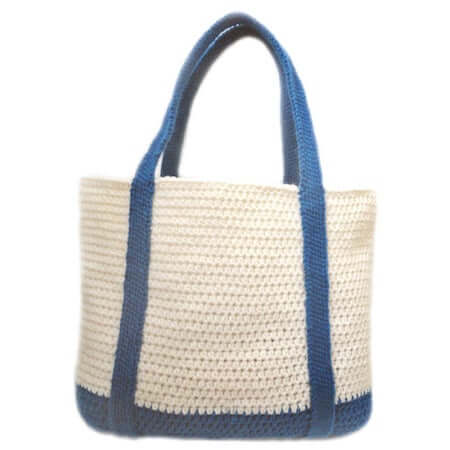 Get the Pattern by Crochet Spot Patterns here

12. Square Flap Shoulder Bag Crochet Pattern by Pierrot
This minimalist Square Flap Shoulder Bag would be perfect for the office, especially if you choose high-quality yarn in a neutral black, brown, gray, or navy.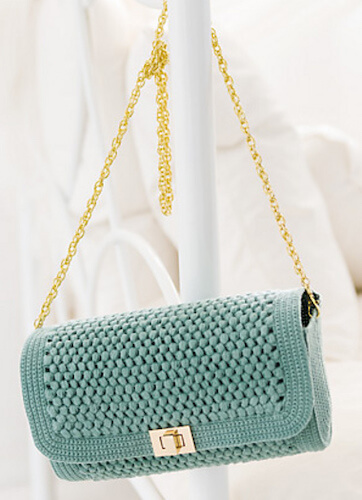 Get the Pattern here

13. A Touch Of Africa Shoulder Bag Crochet Pattern by Knot Sew Cute
This bag is thus named because this self striping, chunky yarn will remind you of the colorful, hand woven baskets of Africa. You can take this functional, oversized shoulder bag with you to the market, the beach, or use it as your everyday bag. The simple shaping of the bag and the funky colours should make lining this bag fun and easy.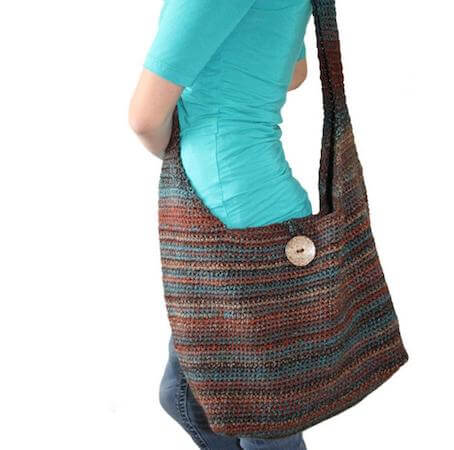 Get the Pattern by Knot Sew Cute here

14. Annie's Crochet Shoulder Bag Free Pattern by Christa Co Design
This crochet shoulder bag features the lovely x stitch. Annie's Bag is a large crochet tote designed to have a sturdy, solid bottom. This free tote bag pattern is both a fun and useful summer crochet project. Crochet this beautiful bag in your favorite cotton yarn. That makes it usable in real life, because then you can wash it.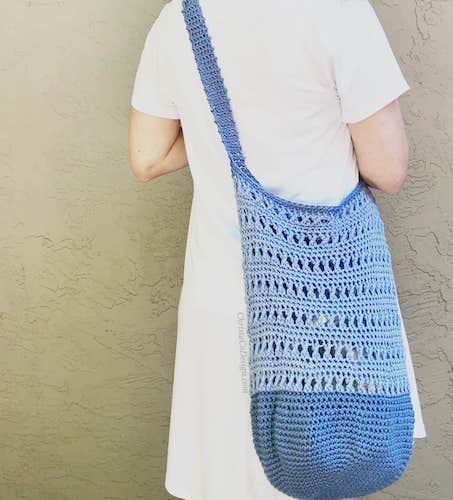 Get the Pattern here

15. Everyday Boho Bag Free Crochet Pattern by E'Claire Makery
This Everyday Boho Bag is a simple yet chic purse that's oh so fun to wear. Going out for the night? This bag is big enough for your phone, wallet, lipgloss, keys, and a few other essentials to help you rock the night. Or heading to brunch with the girls? Whatever the occasion this bag is the perfect accessory for your outfit.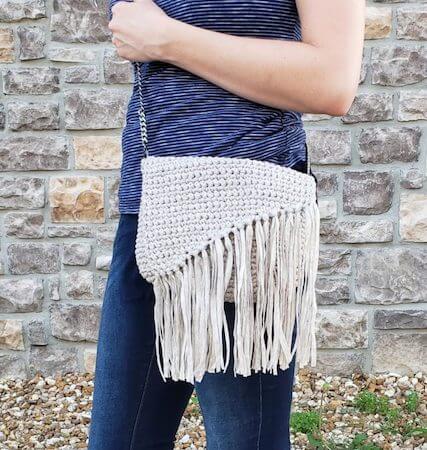 Get the Pattern here

16. Seafarer Shoulder Bag Crochet Pattern by Ruby Webbs
Brighter days are ahead! Perfect for the pool, beach, market, or just about anything – this casual shoulder bag is very easy to make and works up fast. Youtube videos included to help with the shoulder strap and finishing round. Tassel instructions also provided in pattern.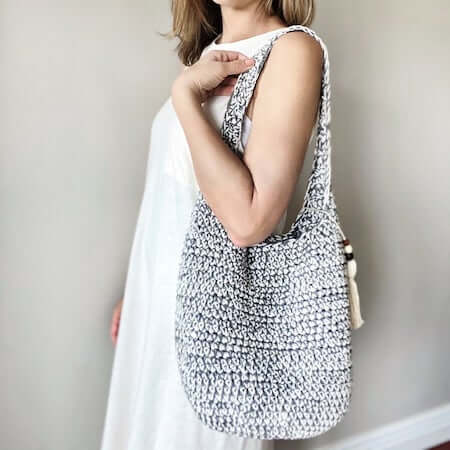 Get the Pattern by Ruby Webbs here

17. Oversized Shoulder Bag Crochet Pattern by M Madison Marie
This Wesley tote is a modern, oversized shoulder tote bag with a rectangular shape and relaxed style. Perfect as a market bag for shopping trips or project bag for keeping things tidy. Uses weight 5 yarn and 6.5mm hook (substitute if needed to achieve gauge).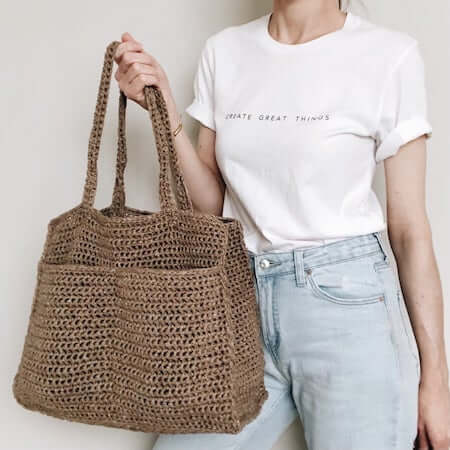 Get the Pattern by M Madison Marie here

18. Dip-Dyed Shoulder Bag Free Crochet Pattern by Eye Love Knots
This is a free crochet pattern for how-to make this Dip-Dyed Shoulder Bag! This bag features a fun ribbed pattern, two color blocks, a braided crochet strap, added zipper and front pocket. Don't be afraid, it is all worked in simple stitches.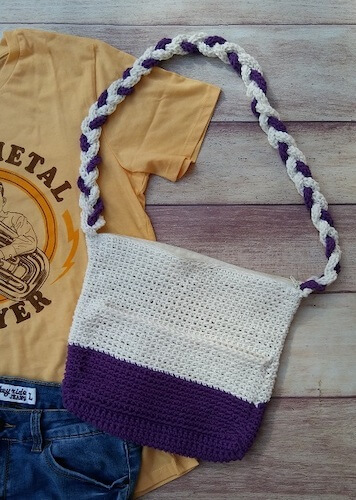 Get the Pattern here

19. African Flower Shoulder Bag Crochet Pattern by The Hat And I
This African Flower Shoulder Bag Crochet Pattern is easy, exciting, and vibrantly colorful. The flower hexagon motif is unique, and you have the freedom to make it even more personal. The number of things you can create is unimaginable. You could do purses, shawls, skirts, bags, and many more!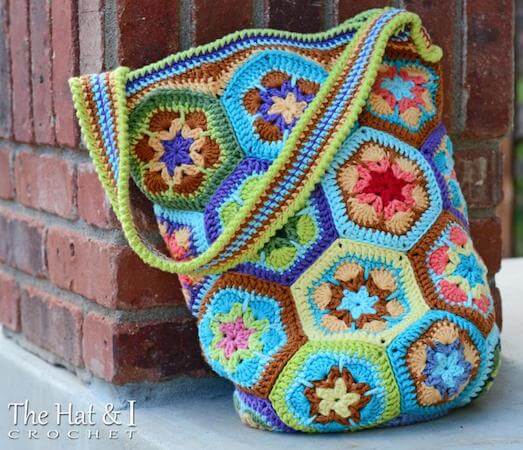 Get the Pattern by The Hat And I here

20. Working Girl Shoulder Bag Crochet Pattern by Crochet Spot Patterns
This bag is designed for everyday wear and tear. The bottom is extra thick with a neat ridged texture to maintain the shape of the bag while still holding all the things a working girl needs.

The front 2 pockets are convenient for cell phones, keys, coins, or anything else you don't want to dig through a large purse to find. Feel free to line the interior of your finished purse for extra protection.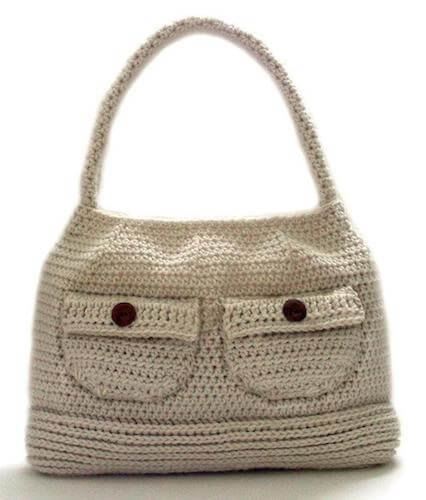 Get the Pattern by Crochet Spot Patterns here

21. Matilda Tote Free Crochet Pattern by Megmade With Love
This Matilda Tote is a lovely structured and cabled shoulder bag that is surprisingly simple to make. It consists of three pieces, a front and back panel along with a long piece that wraps around the sides and bottom.

The bag is made with two strands of worsted weight yarn and a smaller hook to achieve a structured look to it. This bag would make the perfect yarn tote. It's a pretty good size, plus the pattern features a button-close feature on the top to keep yo junk from falling out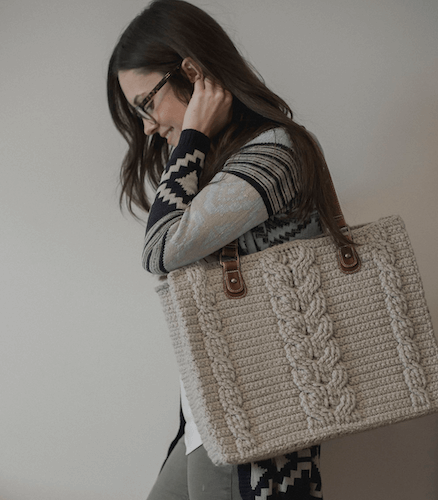 Get the Pattern here

22. Summer Crochet Shoulder Bag Pattern by Anabelia
This Mini Summer Crochet Shoulder Bag is perfect for summer walks to avoid huge bags and bothersome backpacks – a bag to simply carry my sun glasses, a coin purse and keys, just the essential!

This is an easy project and you can work in the whole thing from start to finish over a day or two. The beaded fringes area adds beautiful crowning touch.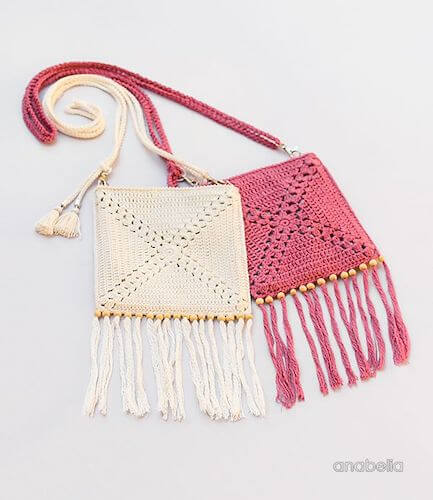 Get the Pattern here

23. Red Hook Afternoon Shoulder Bag Crochet Pattern by Two Of Wands Shop
Toss your essentials and more in this roomy, comfy hobo bag. The soft shaping makes this bag both unique and functional and the perfect companion for a day out on the town.

This is a beginner level crochet pattern and the techniques involved are the magic loop, single crochet, working in the round, chaining and skipping stitches, and working into a chain space.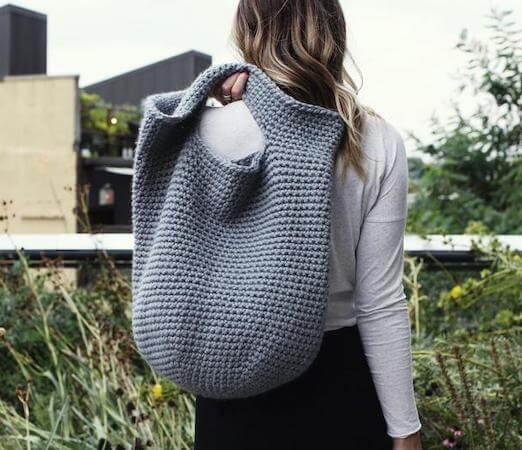 Get the Pattern by Two Of Wands Shop here

24. Crochet Fringed Bag Pattern by Yarnspirations
This warm weather crochet bag is all about fun and fringe, while adding style to your outfit. The front of the bag is worked in a side-to-side direction with double crochet front post bars for playful fringe. You'll also practice single crochet and double crochet techniques. It only takes one ball to create this chic accessory, making it an economical choice for gifting.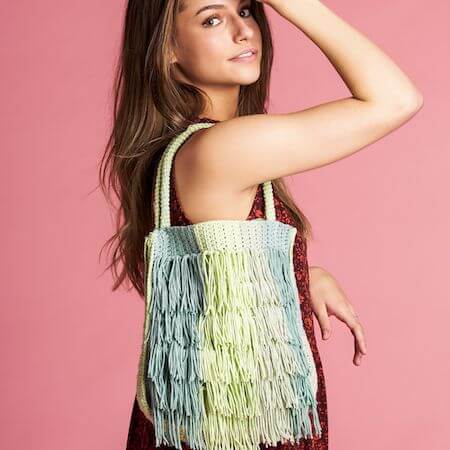 Get the Pattern here

25. Swirls Tapestry Crochet Shoulder Bag Pattern by Rebeckah Ferger
This shoulder bag is a lot of fun to make! Perfect for anyone who loves swirly designs. It is about 6"-7" long/wide, just the right size to carry a passport, wallet, keys and other bare necessities for when you do not wish to carry a large bag.

This bag particularly uses a 2.1mm hook and crochet cotton lace for this pattern, but if you would prefer to make a larger bag, all you have to do is use a thicker yarn, and a corresponding hook size to match it.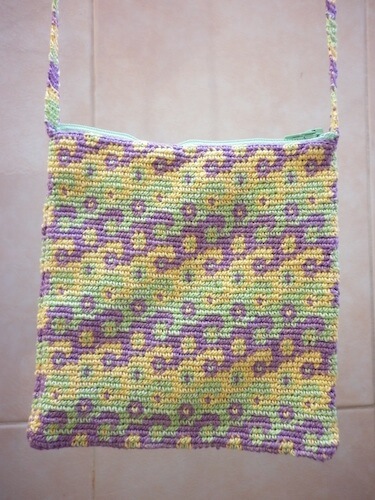 Get the Pattern here

26. Summer Stripe Beach Bag Crochet Pattern by Han Jan Crochet
Everyone needs that big, comfy, casual bag you can pop everything in whether you are off to the beach, the park, the shops or just for a wander. The Summer Stripes Beach Bag is the perfect size, shape and style to swing over your shoulder and head out with.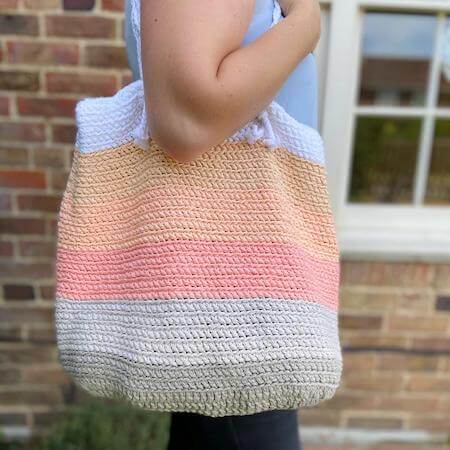 Get the Pattern by Han Jan Crochet here

27. Ocean Waves Crochet Shoulder Bag Free Pattern
This Crochet Shoulder Bag is another great free pattern. The Ocean Waves Crochet Pattern – so pretty! We love all the gorgeous yarns at Knit Picks.
It's hard to decide but they just might be our favorite online yarn supplier. So do check them out and all of their lovely products when you click over for the free pattern.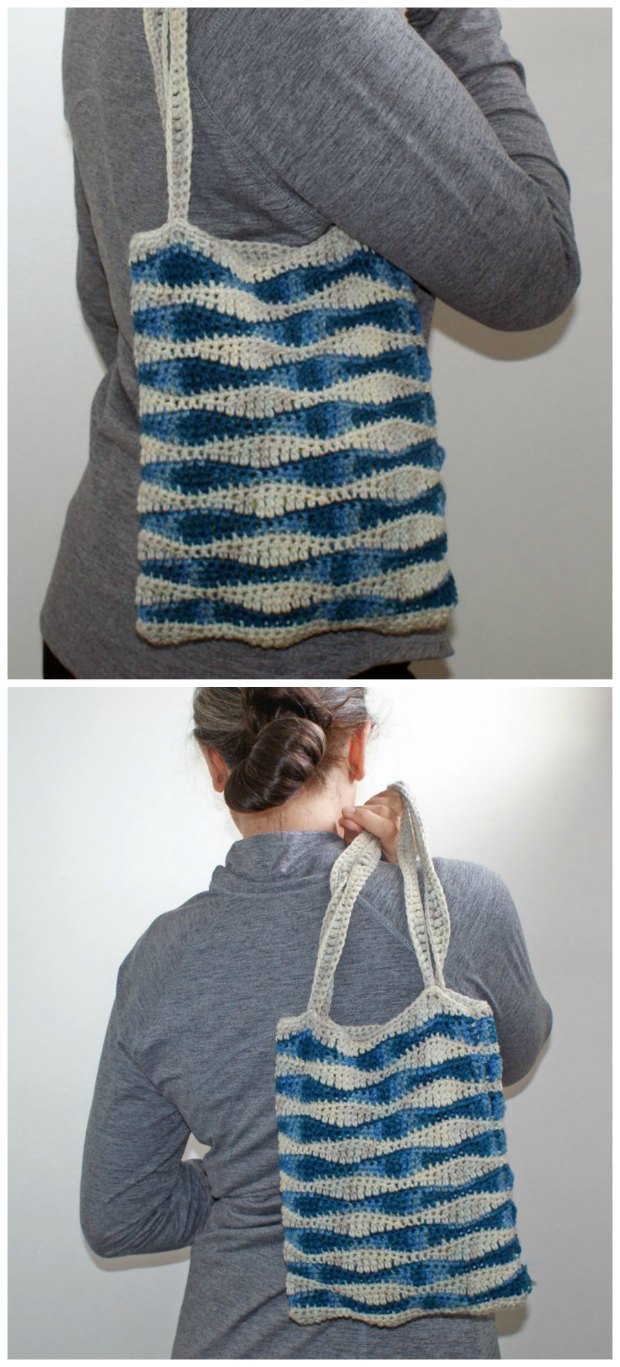 Even better, pick a free project from their site and you can see exactly what you need in terms of materials and add the lot to your cart in a single click.
I wanted to make a lunch bag that was good for the environment (forget brown bagging it, it's all about the "green" bags now) and I wanted it to be summery.

This is what I came up with. The colors remind me of the sand and waves of the beach.

I gave the bag generous straps so you can easily tie them to close off the top and still have enough strap to hang it off your wrist or stroller.
This bag can also be used for so much more. It can hold your bathing suits for the beach, keep your book and iPod safe from the sun, or use it as a cute purse with a sundress.
This bag only takes one skein of each color to complete, which means not only is this bag good for the environment but its also good for your wallet.
Ocean Waves Crochet Shoulder Bag Pattern Details
Difficulty Level: Easy
Sizes Included: 9″ x 11″ (without straps)
Yarn Shown: Preciosa Tonal Worsted Yarn
Yardage: 440
Needles/Hooks Suggested: Size H (5mm): crochet hook
Weight: Worsted/Hvy Worsted
Download The Ocean Waves Bag Pattern Here
WITH THESE CROCHET SHOULDER BAGS, YOU CAN MAKE NEW ACCESSORIES TO MATCH YOUR WARDROBE DURING EACH SEASON OF THE YEAR!
Do please share your finished crocheted bags with us over on our Facebook Page. We would love to admire your work. If you're a bag lady like most of us, you might also enjoy these Crochet Purse Patterns, Crochet Backpack Patterns, and Crochet Tote Bag Patterns.

The best part of all these beautiful crochet shoulder bag patterns is deciding which one you'll make first! We'd love to hear what's headed for your hook in the comments!