I love all things Disney, and Minnie Mouse is one of my favorites! Everyone loves her, so it's no surprise that there are tons of crochet Minnie Mouse patterns to bring her into just about everything! From toys to accessories, and wearables to home decor, the ideas are endless.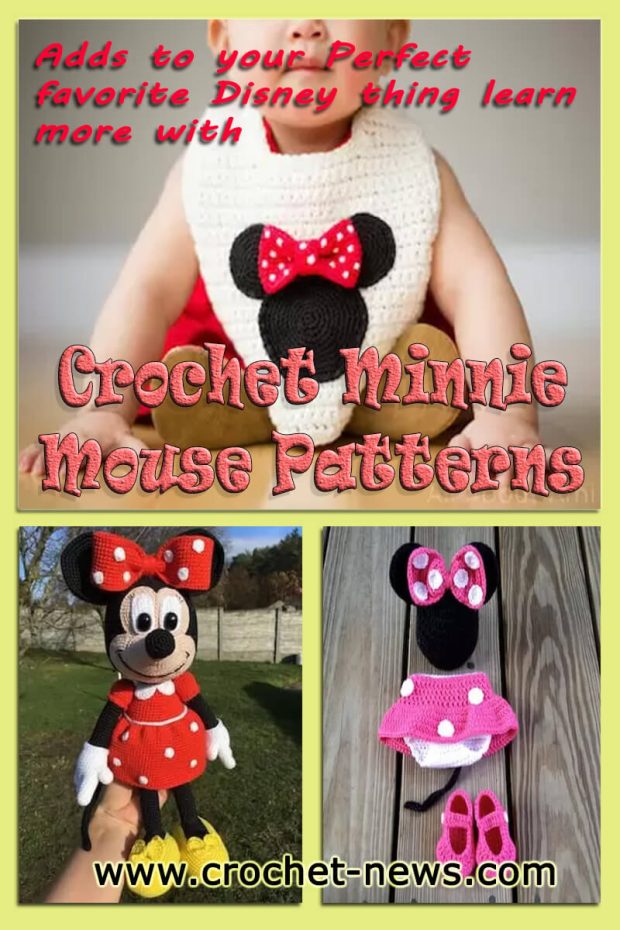 12 Crochet Minnie Mouse Patterns
If you're a Disney fan and a Minnie Mouse obsessed, look no further! I rounded up the absolute best crochet Minnie Mouse patterns to make for anyone who considers Disney World or Disneyland your second home. And okay, even if you're not Disney-obsessed, you probably know someone who is.
So, the next time you're in the mood to make something fun, I hope at least a couple of these possibilities appeal to you. Grab some yarn and hooks, and let the Disney magic begin!

1. Crochet Minnie Mouse Hat Pattern by Lizzziee
This is the perfect hat to make for your next trip to Disney, your little girls will love it! You won't believe how easy it is to make this adorable hat! The pattern includes complete instructions to make a beanie and an earflap hat in 6 different sizes from newborn all the way to adult.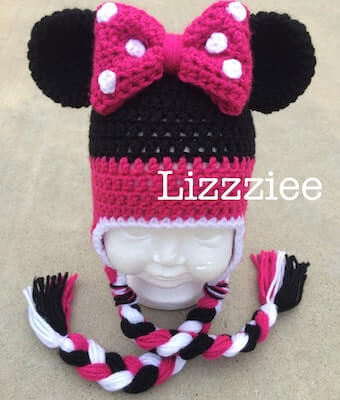 Get the Pattern by Lizzziee here

2. Crochet Minnie Mouse Pattern by Zombiegurumi Tienda
Your Minnie me has found their match with this sweet plush toy! Featuring the iconic Minnie Mouse character, dressed to impress in a polka dotted dress and matching bow. Great for advanced beginners who want to test their basic stitches and colorwork, this Minnie Mouse plush will make a fantastic first toy project.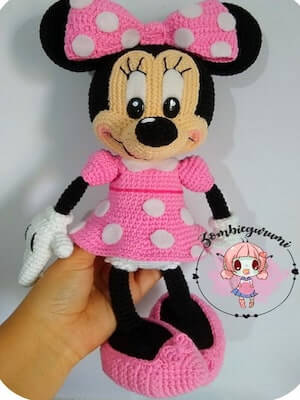 Get the Pattern by Zombiegurumi Tienda here

3. Crochet Minnie Mouse Purse Pattern by Emma Crochet Design 4 U
Be ever-ready for Mouseketeering adventures or trips to Minnie's Bow-tique with this purse! This crossbody bag will happily carry all your essentials in one.
Get the Pattern by Emma Crochet Design 4 U here

4. Crochet Minnie Mouse Ears by Julie Measures
Are you planning a trip to the Disney Parks? Why no treat yourself with this Crochet Minnie Mouse Ears to compliment your cutest outfits?! Crochet your own Minnie Mouse ears for your next Disney trip or for your Halloween costume!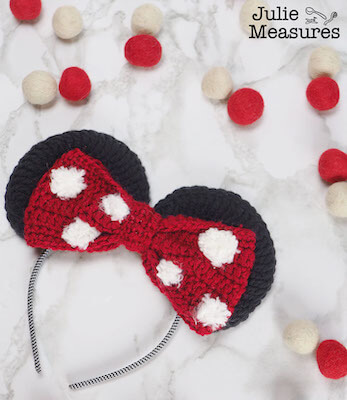 Get the Pattern here

5. Crochet Minnie Mouse Blanket Pattern by Tinker And Heart
Sleepovers are a lot more fun when Minnie Mouse is invited! This C2C blanket keeps kids warm and cuddle-ready as they fall asleep at night, watch TV, or take a mid-day nap.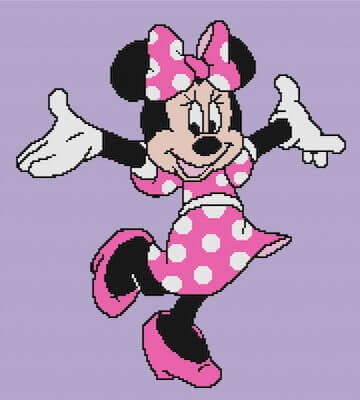 Get the Pattern by Tinker And Heart here

6. Crochet Amigurumi Minnie Mouse by Michala Crochet
Sweet, soft-hearted and oh-so-huggable, 37cm tall Minnie is always ready to play and brighten your day in her red polka dot dress. There are sweet snuggles in store for this plush!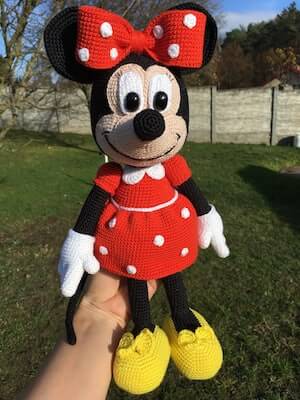 Get the Pattern by Michala Crochet

7. Crochet Minnie Mouse Baby Outfit Pattern by Knits N Blooms Designs
Imagine how cute your wee one would look for her photo shoot in this one-of-a-kind Crochet Minnie Mouse Baby Outfit. This pattern includes instructions for hat, bow, skirt/diaper cover with tail, and mary jane style shoes.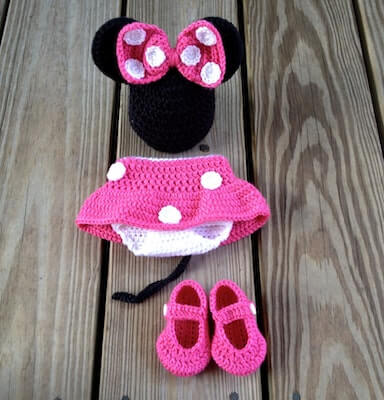 Get the Pattern by Knits N Blooms Designs here

8. Crochet Minnie Mouse Bib Pattern by All About Ami
Minnie Mouse is classic, and everybody can recognize this stylish mouse with red bow. Crochet this basic bib that provides great coverage. Make it plain or add different appliqués, letters, or even phrases!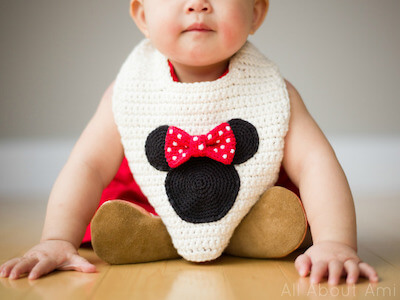 Get the Pattern here

9. Minnie Mouse Inspired Baby Booties Crochet Pattern by Hopeful Honey
How adorable will your minnie-me look with these Minnie-Inspired Crochet Baby Booties?! These are perfect addition to any baby's wardrobe!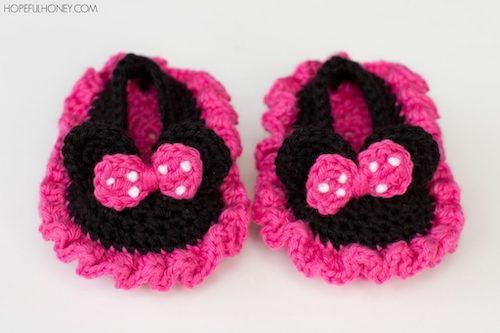 Get the Pattern here

10. Crochet Minnie Mouse by Chonticha Design
Bring home the magi and cuddle with your favorite Disney gal. This huge 35 inches tall Minnie Mouse will bring sweet memories from your own childhood as it brings joy to your children today. She is sure to bring big impression as the perfect playmate or room decor piece.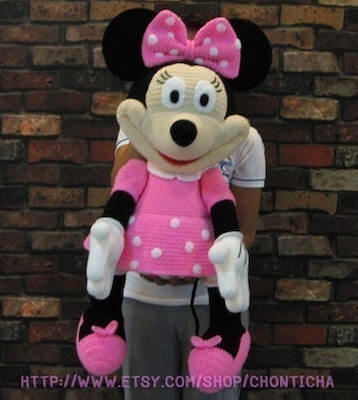 Get the Pattern by Chonticha Design here

11. Sweater Minnie Mouse Crochet Pattern by Once Upon A Cheerio
Disney's Minnie Mouse is one of the finest fashionistas ever to grace our screens – and now you can steal some of her style with this Crochet Minnie Mouse Sweater. Whether you wear it out and about with shorts and your favorite flats or throw it on with a simple pair of legging, this is ultimate comfort, Minnie-style!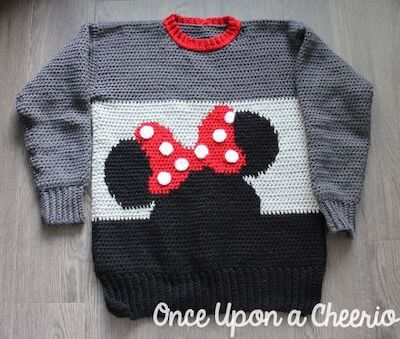 Get the Pattern here

12. Christmas Ornaments Free Crochet Minnie Mouse Pattern by Easy On The Tongue
Get into the true spirit of Christmas and start with this adorable Minnie Mouse Christmas Ornament in time. You'll spoil the folks!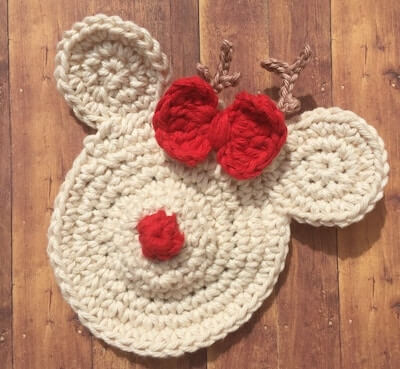 Get the Pattern here
THESE CROCHET MINNIE MOUSE PATTERNS WOULD MAKE FABULOUS GIFTS FOR KIDS, BABY SHOWERS, OR EVEN THE GROWN-UPS IN YOUR LIFE WHO LOVE HER!
Not only does crocheting provide a creative outlet for the maker, but the possibilities are endless for the finished products. So once you're done, please do share your works on our Facebook Page. I'd love to see your makes!
Show off your infatuation of Walt Disney with more adorable Disney-inspired crochet patterns:
What are you waiting for? Happy hooking with these crochet Minnie Mouse patterns!