Do you want to showcase your air plant in a more creative manner? Well, plant parents, this crochet basket pattern is for you!
Show off your plant babies by hanging them on your door knobs or on hooks inside your room!
Read through this article to learn how to make this adorable teardrop crochet pattern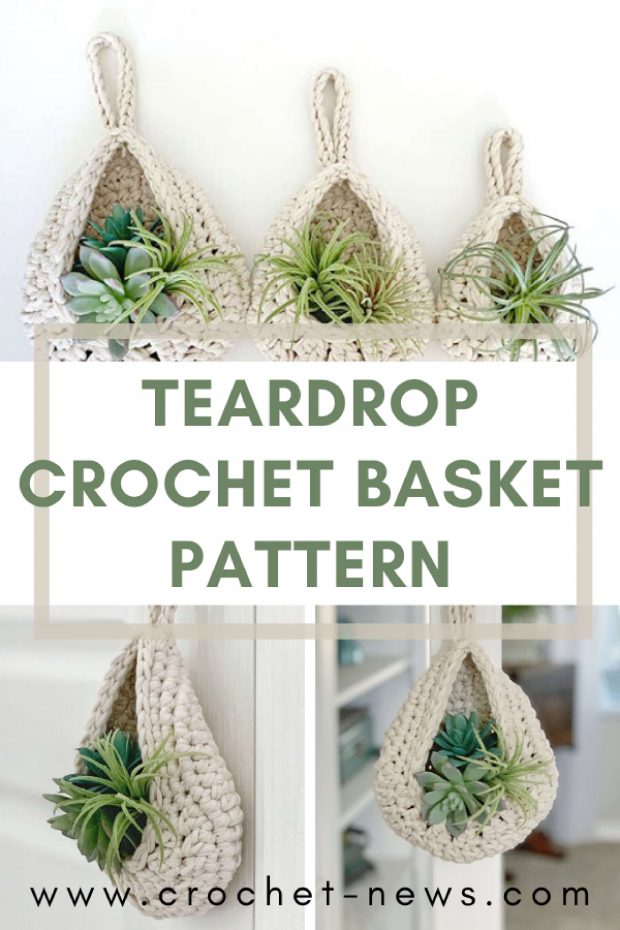 Adorable Crochet Teardrop Basket Pattern
If you're a plant parent, you have to checkout SimplyMadeByErin's shop! They have a few patterns perfect for your plants, just like this teardrop shaped crochet basket pattern. Aside from planters,they also have patterns for other items like hats and ear warmers that are definitely something you should take a look.
This teardrop shaped basket comes in 3 sizes, mini, small, and large. It's flexible and sturdy enough to support air plants, and even small succulents! Made with two strands of chunky yarn, your plants can safely hang around on this adorable crochet basket.
Create a few ones in your preferred color, your plants will surely feel at home!
About the Yarn
Since it has to support your plants' weight, it is suggested that a bulky yarn be used for this pattern. The pattern suggested to use Bernat Maker Home Dec yarn for this project. Made with 72% cotton and 28% manufactured fibers, it is a bulky yarn perfect for this project!
If this bulky yarn is not available in your area, you can use a Jumbo T-shirt yarn instead. Just make sure the yarn you'll use can support the weight of your plant.
Since this teardrop crochet basket is made with two strands of bulky yarn, you're sure it's flexible and sturdy. We want our little baby plants safe and secure, right?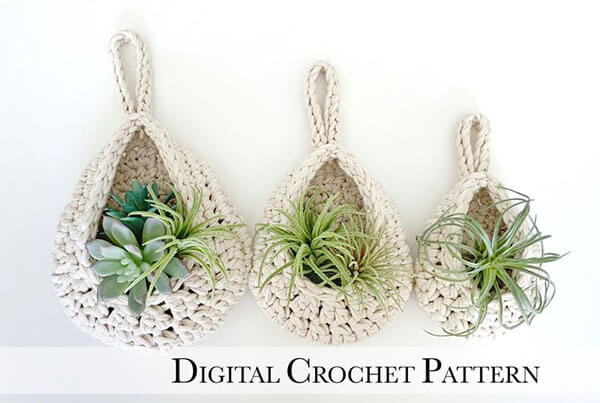 About the Pattern
The best thing about this pattern is that it includes 3 possible sizes, perfect if you have air plants and succulents too! You can choose from mini, small, to large sizes. Plus, they included an optional XXL pattern using Jumbo T-shirt yarn too!
Although the pattern uses basic stitches, it's actually for the more advanced beginners. But, do not fear! The pattern is really easy to understand and has tips and suggestions to help you along the way.
With this crochet door knob basket pattern, you can hang your plants on hooks and even on door knobs! Putting them on wire air plant holders might look really cute on tabletops, but pretty sure your plant will be more comfortable hanging on its new home.
Skill Level
Advanced beginner
Materials Needed
Bulky Yarn – Bernat Maker Home Dec
Hook size 8.0 mm
Finished size
Mini – approximately 4 ½ inches wide by 7 inches tall (including handle)
Small – approximately 5 ½ inches wide by 9 inches tall (including handle)
Large – approximately 6 ¾ inches wide by 11 inches tall (including handle)
Stitches Used
Basic Stitches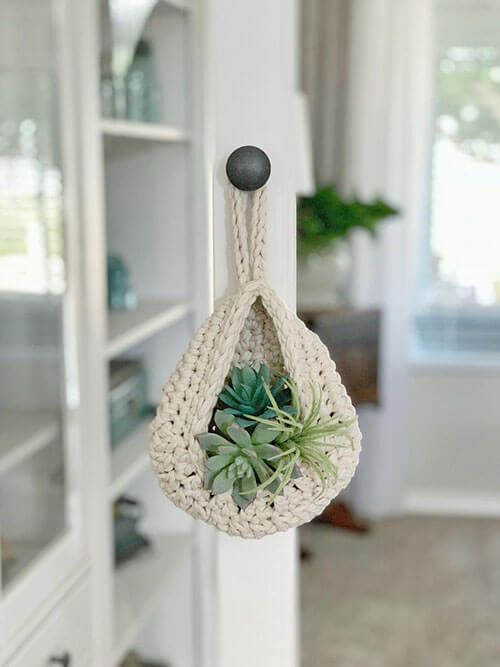 Show your plants some love by making them their own home using this pattern!
With a few basic stitches, your plants will be hanging around in no time!
Prepare your bulky yarns and start working your magic using this adorable crochet basket pattern.
Check out our compilation of crochet hanging planter patterns for more designs!