If you are always looking for new and individual decorating ideas, these crochet lamp shade patterns will be just what you wanted. Give your lamp a new look for the upcoming season or style it according to your decorating preferences – make it in neutrals or in beautiful colors!
You might not realize how something as small and perhaps insignificant as a lamp shade can change the look and feel of a room. The fun thing about these crochet lamp shade patterns is that you can truly customize the look you're going for.

Maybe you want to go a little modern, shabby chic, retro, or rustic? The opportunities can be endless, and the look you achieve at the end is a masterpiece you need to deck out your living room, bedroom, or office. Get ready to be impressed!
18 Crochet Lamp Shade Patterns

1. Crochet Dahlia Lamp Shade Pattern by Days Crochet NC
Add a bit of texture to a plain lampshade with this Dahlia Shade. The design used a neutral color DK weight yarn, but depending on needs of your room, it is perfect for adding a pop of color.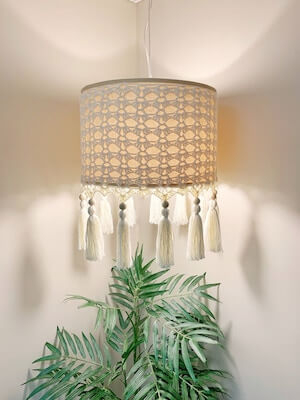 Get the Pattern by Days Crochet NC here

2. Crochet Lamp Shade Trim Pattern by Creative Jewish Mom
With the addition of some simple little granny square crocheted trim, a plain white lamp shade is transformed into an attractive decorative element! This crocheted lampshade trim project is a great way to add some color to any home while having fun crocheting with your favorite color combinations.

Not to mention that it's a terrific way to use up leftovers and would make a great holiday present with a personal touch that can be created in an evening.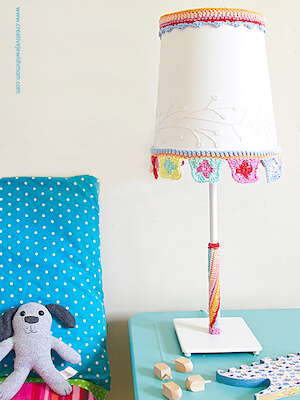 Get the Pattern here

3. Crochet Granny Square Lamp Shade Pattern by Dainty Bouquet
Liven up a plain lampshade with this cute crochet pattern featuring granny square techniques in the round. The texture of the crochet adds depth and dimension to the lamp shade, creating a cozy and inviting atmosphere.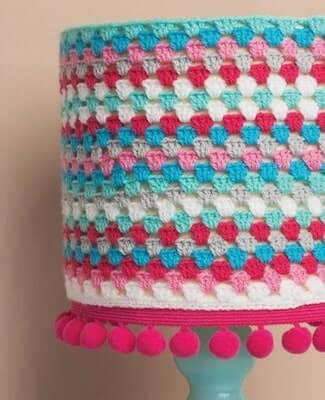 Get the Pattern by Dainty Bouquet here

4. Butterfly Dreams Pendant Lamp Crochet Pattern by A Crocheted Simplicity
Here's an intricate and playful crochet pattern to sink your hook into! This Butterfly Dreams Pendant Lamp, worked in a sparkly yarn, is the perfect addition for a little girl's reading nook.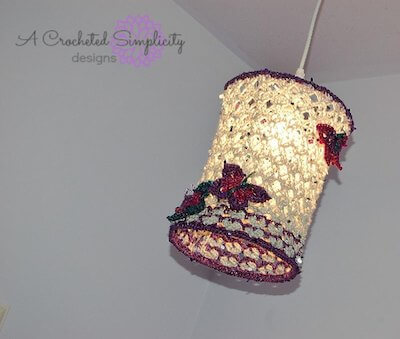 Get the Pattern by A Crocheted Simplicity here

5. Crochet Capiz Lamp Shade Pattern by Elisa DeSena
This Capiz Lampshade Pattern features the crochet shell stitch. The pattern is an easy-to-make project as it has only 2-row repeat and can be modified to any size of your choice. Easy peasy, right?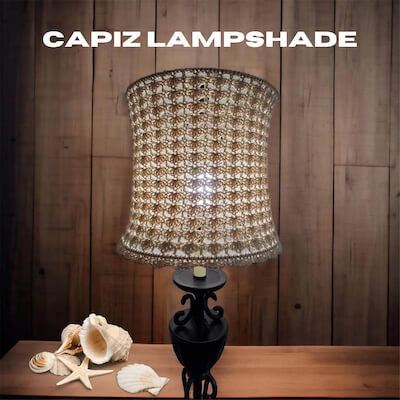 Get the Pattern here

6. Free Crochet Lamp Shade Pattern by Top Knotch Crochet
Treat yourself to this boho crochet lamp shade! The bobble stitch design is trendy and modern, and it is a great way to add a pop of color to your room.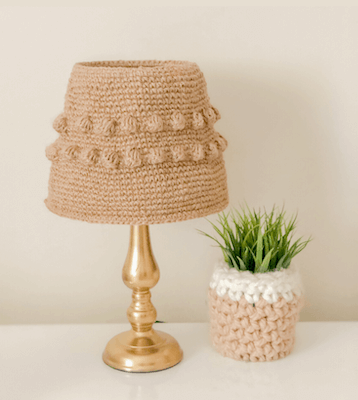 Get the Pattern here

7. Crochet Rustic Lamp Shade Pattern by Fun Crochet Magazine
This uniquely designed crochet lamp shade will surely be the eye catcher! It gives out a very warm glow when lit. Whether you hang it in your bedroom, over your dining table, or in your living room, this modern light fixture is sure to be a conversation piece anywhere.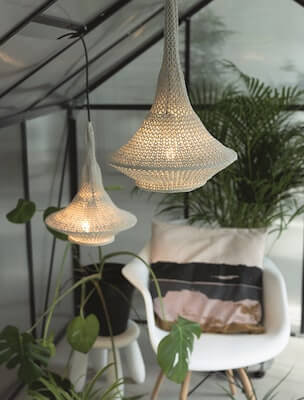 Get the Pattern by Fun Crochet Magazine here

8. Crochet Dolly Lamp Shade Pattern by Craft Passion
Make-over an old lamp shade with a new look by crocheting a cover that brightens up the room. This lamp shade cover is made from knitted fabric strips (3/4" wide). The 1/3 bottom is loop stitch and the 2/3 top is single crochet.

The pattern is meant for Ikea's SKIMRA lampshade but there is a tutorial in the pattern page to show you how to make one that suits your lamp shade.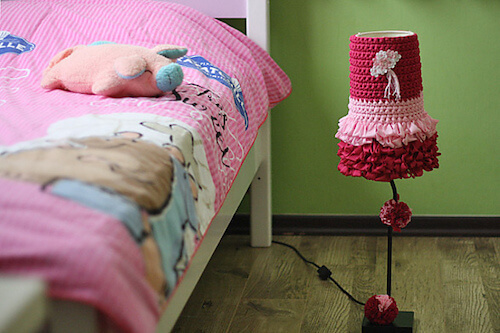 Get the Pattern here

9. Coastline Lamp Shade Cover Crochet Pattern by Red Heart
Pretty fringes will raise your lampshade's boho rating. It's a super simple crochet pattern for beginners to have a go at. This shade would make a statement in a living room or bedroom, or even in a modern, neutral nursery.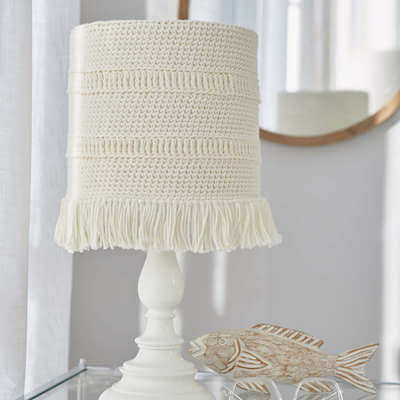 Get the Pattern here

10. Crochet Lamp Shade Pattern by Hip 2 Thrift
Made with super bulky yarn, this crochet lamp shade works up quickly and looks so cozy, not to mention looks great in a modern or rustic interior. If you're ever craving a little bit of cuteness you can always add a little stripe of color or some crocheted trim.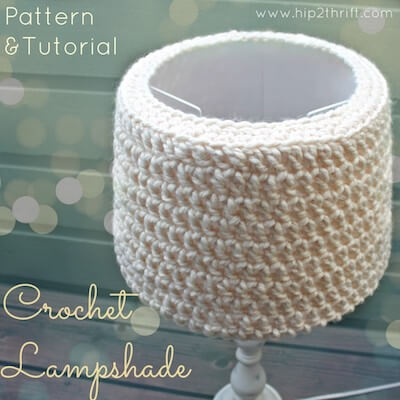 Get the Pattern here

11. Crochet Sol & Luna Lamp Shade Pattern by Mallorca Made Crochet
Cozy up your garden with these gorgeous lanterns. Let them hang catch movement from the wind during the day. Equipped with a chain of lights, they look even more beautiful by night. The pattern is beginner-friendly and can easily be varied in length and diameter.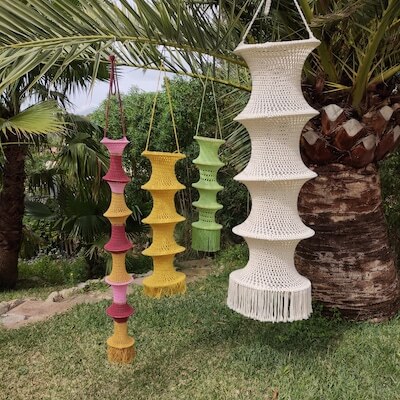 Get the Pattern by Mallorca Made Crochet here

12. Crochet Lamp Shade Cozy Pattern by Chabe Patterns
Lampshade cozies are a great way to give your interiors a seasonal update without actually changing your furnishings, and this lampshade cozy would definitely look amazing in a snug living room.
And if you just love earth tones, you can certainly use those colors to make something that suits you. This little lampshade cozy is a basic, quickie project to get you started!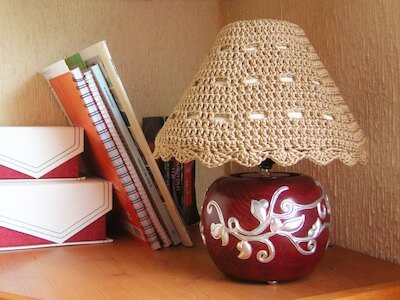 Get the Pattern here

13. Weeping Willow Lamp Shade Crochet Pattern by Leni McCormick
Here's a lovely and lacy lampshade with a cottage design. Make it in a bright color for a more modern appeal. From top to bottom, the finished lampshade measures roughly 26cm.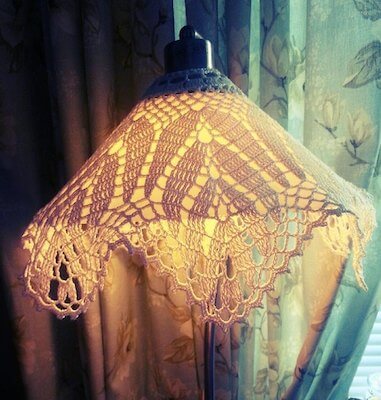 Get the Pattern by Leni McCormick here

14. Fringed Lamp Shade Trim Crochet Pattern by The Knitting Network
I love the look of a crocheted lamp shade on a modern lamp, just so sweet, though if you are looking for a similar effect for a considerably smaller time investment, take a look at these fringed lamp shade trim and simply dress up your lampshade without actually covering it.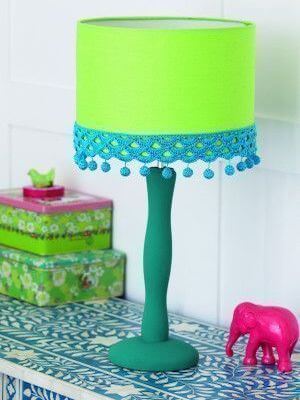 Get the Pattern here

15. Crochet Lampshade Covers Pattern by Sarah Shrimpton
The rounds in this project may appear lengthy and difficult at first glance, but they are actually very simple to learn and uses basic stitches. Make sure your cover fits snugly so that the stitches are clearly defined; if you make it too loose, it may slip off over time.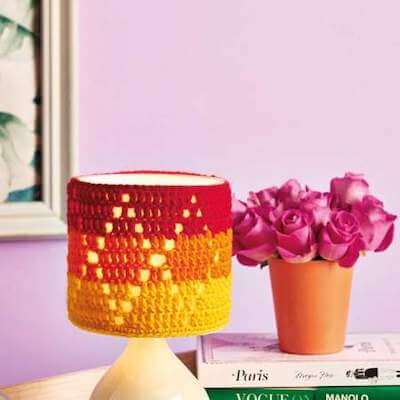 Get the Pattern here

16. Tunisian Crochet Lamp Shade Pattern by Sarah Reed
Spruce up your bedside table with this pretty Tunisian lace pattern and light up your home. Use a bright color yarn to create a statement piece that'll instantly liven up your decor, day or night.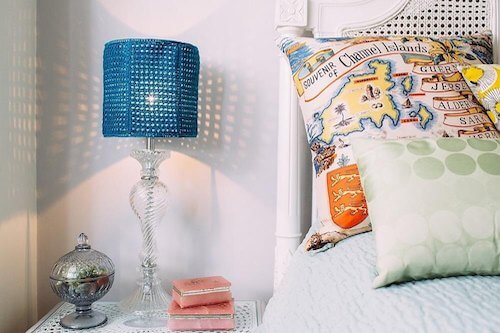 Get the Pattern by Sarah Reed here

17. Boho Crochet Ceiling Lamp Shade Pattern by Top Knotch Crochet
If you're thinking about switching up your home decor for fall, this Boho Ceiling Lamp Shade is the perfect project to make right now. When the light's on, the soft glow peeking through the stitches will create such a soothing atmosphere. Plus neutral yarn decor always looks cozy!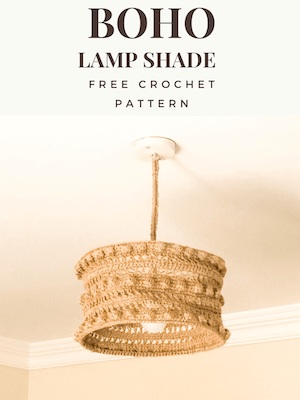 Get the Pattern here

18. Granny Collage Lampshade Free Crochet Pattern by New Leaf Designs
Is your lampshade in need of a make-over, or do you want to personalize a plain lampframe? Then you might like this tutorial! Make a collage of tiny multicolored granny squares and transform it into a lampshade cover.
This lampshade cover is very simple to customize to fit your lampframe. You should be able to make it fit as long as it's the same shape – round and the same diameter above and below.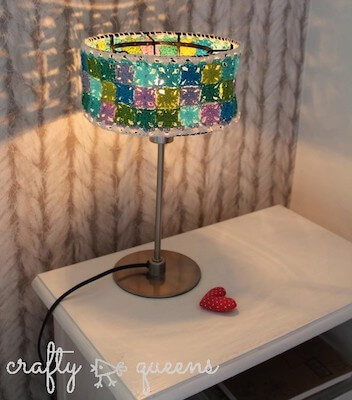 Get the Pattern here
IF YOU'RE LOOKING TO SPICE UP YOUR SPACE, TRY MAKING THESE CROCHET LAMP SHADE PATTERNS!
One of the benefits of crocheting your own home decor is that you can create something that you wouldn't be able to find anywhere else. DIY is all about customization!

Love these DIY ideas? Browse through our home decor section to see other projects.

We'd love to see your version of these projects, so be sure to share photos on our Facebook page.
This list of crochet lamp shade patterns has something for every style. So choose your favorites and get crocheting!