Do you know how to whip stitch crochet pieces together to finish a project?
If not, you need to stop right now and take a minute to learn it!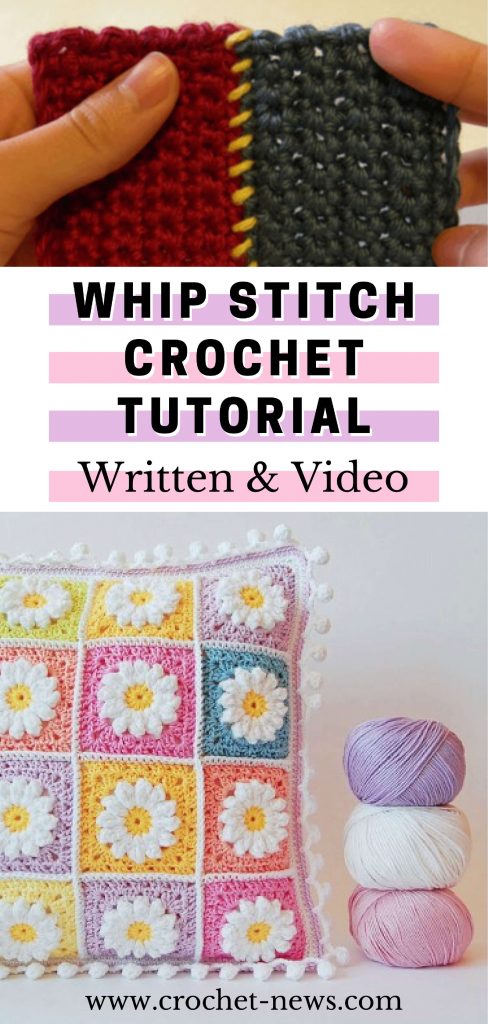 Whip stitch is a great way to seam together crocheted pieces and is easy to learn.
Check out our crochet whip stitch tutorial below to learn how to work this stitch method!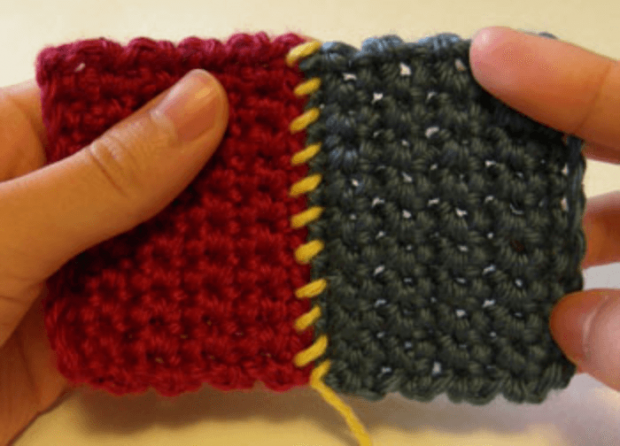 Whip Stitch Crochet Written Instructions
Whip stitch is a sewing method for seaming. But, using a yarn needle and yarn, you can whip stitch together crocheted pieces easily.
Step 1: Once you have your yarn needle, or a large tapestry needle, you'll need to choose your yarn.
Depending on the effect you wish to achieve, you may choose a matching or contrasting yarn color. If you want the seams to stand out, pick a contrasting color!
Step 2: Next, you will line up the pieces you are going to whip stitch together. For example, if working up an afghan made of granny squares, you'll line up the squares corner to corner.
If you have any experience with sewing, you'll probably be most comfortable lining the squares up back to back. But, many people like to lie the pieces on a flat surface to sew.
Since you'll be stitch either right-to-left or left-to-right, line up your pieces so that the seam will be horizontal.
Step 3: Then you will insert the needle either behind the back loop or both loops of the top piece and the front loop or both loops of the bottom piece.
Working through only the back loop and front loop will create a less bulky seam than working through both loops. It simply depends on the project you're working on!
Step 4: Once you've decided on the loops and inserted the needle, pull the needle and yarn through the loops. Be sure to leave a tail at the end of the first loops-approximately six inches!
Step 5: Then you will insert your needle into the next set of loops just like you did before, creating a sort of circle. Pull the needle and yarn all the way through the loops.
Step 6: Continue on with the next set of loops and on until you reach the end of the row!
Whip Stitch Crochet Video Tutorial
Patterns or How to Use Whip Stitch Crochet
While there are several different ways to seam, whip stitch is an easy favorite among many crochet enthusiasts!
It works particularly well for granny square afghans, but is also great for other projects as well.
To create a sturdier seam, you can double the yarn you sew with and/or work through both loops.
Check out the patterns below and try using the whip stitch crochet seaming method!
Crochet Frog Patterns
Take a loot at these 27 crochet frog patterns to give as a gift for a loved one expecting a little bundle of joy!
Crochet Daisy Patterns
A fun, bright pillow to add some color to any room, check out these 19 crochet daisy patterns.
Crochet Granny Square Long Cardigan
For something totally different, but totally cute, check out this cardigan pattern here.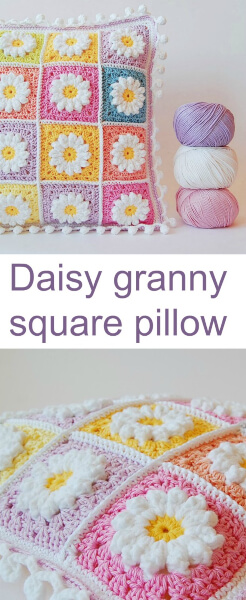 Whip Stitch Crochet Seaming
We hope you've enjoyed learning the whip stitch crochet seaming method!
Be sure to post any patterns you make to our Facebook page!
Check out our other tutorials here.
Happy crocheting with your new whip stitch crochet!