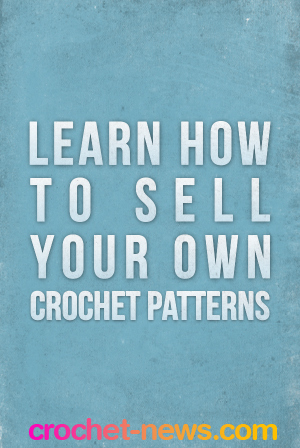 An interesting question arose this week from one of our readers and it made is think more about how the site can benefit the crochet community in a wider way. Susan had designed her own crochet pattern and wanted to know if we could help her sell it. We were intrigued of course and anxious to help.
Having discussed this with her and the team, we're pleased to announce we are offering a new service to all of you amateur crochet designers out there who are looking to earn some extra cash from your designs and ideas.
We will:
format your pattern into a downloadable PDF ready for sale
offer it for sale in a new store page we will open up here on Crochet News
write an article about the launch of your pattern
set up an account for your customers so they can download your pattern immediately after purchase
promote your pattern on our sister site at Crafting News
pin it to our crochet boards on Pinterest
share it with our audience on our Facebook page
include it in our weekly newsletter
This would be an excellent opportunity to get your pattern published out into the big wide world for everyone to enjoy, and of course, you can choose to make the pattern available to everyone for free, or charge for it if you like. Why not earn a little extra cash so you can buy that nice yarn you have your eye on!
What we would need from you:
A name for your design
Some nice, bright, clear photos of the finished project. Better photos make for better sales.
Step by step photos along the way for any special techniques or stitches if needed
An assessment if the pattern is easy, intermediate or advanced
A materials list
Typed instructions. You can type this into Word and send us the document, or straight into the form we will send to you.
The price
Confirmation that you have tested the pattern and found it to be free of errors
…and we will take it from there to translate your instructions and pictures into a formatted pattern, ready to sell.
What if you already have a pattern that is ready for sale?
If your pattern is already in a PDF format and ready for sale, we would be delighted to consider it for inclusion in the new pattern store. Please send it to us at admin@crafting-news.com and complete the other details on this form.
Submit a ready-for-sale pattern here
Terms and conditions of the service
The price for formatting your pattern, offering it for sale, writing the launch article and promoting it on our social media is $15, to be paid in advance.
If your pattern is ready to sell, there is no formatting fee or listing fee
Due to VAT tax restrictions, patterns will only be sold to non-Eu countries only.
There will be a 25% fee per sale which will include all payment processing costs
The minimum fee per sale is 50 cents plus PayPal fees. This is waived for free patterns.
Sale proceeds are paid monthly by Paypal
We reserve the right to decline any pattern if you cannot supply all of the information needed, such as photos
You are free to sell the pattern on any other platform or site, but agree that the selling price across all platforms will be the same
How do you get started?
If you would like to go ahead, please head over to the Pattern Service below and make your purchase. If you have multiple patterns, we suggest submitting one at a time. Once you have completed the purchase, you will be prompted to download a document that gives you all of the instructions on how to get the information to us in a way that best suits you. If you have any questions at any step of the process, just ask. We will be happy to help you.
We are excited to see your designs and to help you get your patterns out into the wider world.
Get started with your pattern here