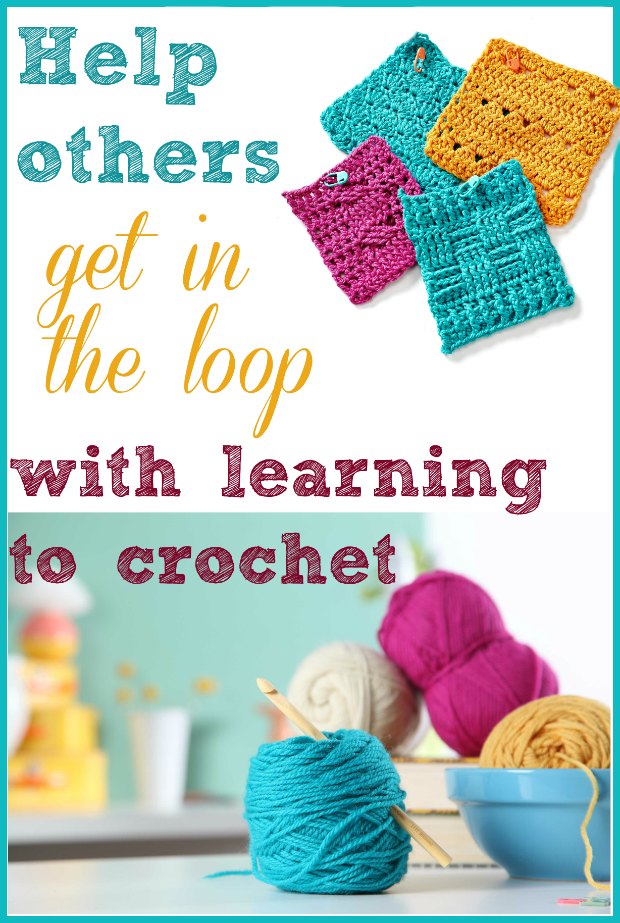 Help Someone Learn To Crochet
If you've followed our site for a little while now, you might have realised that we are BIG fans of Craftsy and the fabulous crochet classes they provide. You might even have taken some classes yourself, in crochet or one of their other subjects.
But did you know that you can also give classes as a gift? Ah ha, that's some more people you can cross off your shopping list – email them a class instead!
No need to battle through the shops in the last few weeks running up to the holidays.
There are two ways you can gift a class or number of classes…
Gift A Class You Choose
If you know someone is a complete beginner at crochet then you can make it simple by picking a beginner class for them. Or if you know someone who you think would LOVE amigurumi, then again picking a class is easy.
There are a LOT of subjects you can pick so if you know what someone would like, you can gift them an individual class. Here's how…
Pick any class of your choosing and on the right hand side, one of the buying options is to "Buy as a Gift". Click there.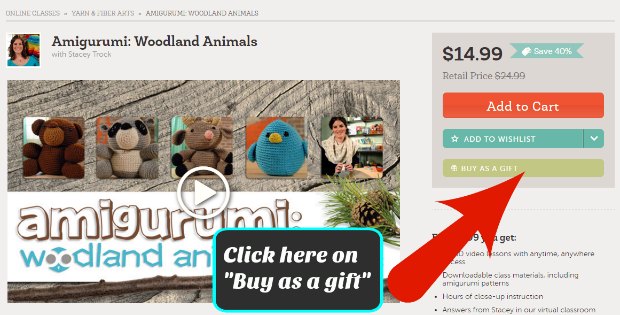 2. Fill out the name and email for the lucky recipient, fill our your own details and add a message. You can even pick the date you want the gift delivered to their email inbox – for their birthday, Christmas, or just right now as a special thank you.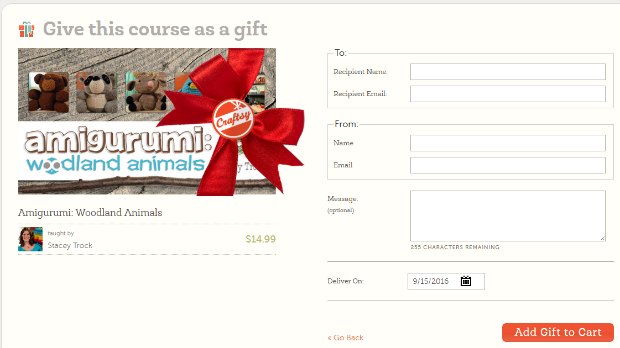 3. Click the add Gift to Cart button and check out as usual.
Gift a class or classes of their choice
So what to do if you aren't so sure about what class they would like. Maybe they really aren't into crochet, but love to knit – and you don't know enough to gift them the right class.
Or maybe you know someone who loves to learn about cooking – again, you don't know which class they would like. Did you know that Craftsy do subjects that men might like too?
There are classes in woodworking, photography, drawing and painting, even gardening.
You can give a Craftsy gift card so that yoru friend can choose his or her own classes. Either one, two or three. Again, you can leave a message, pick a delivery date and have the gift card sent directly to your friend at the exact right time.

Click HERE for the option to buy a Craftsy gift card.