You're going to love this crochet top pattern roundup. You'll find tees, tanks, and layering pieces – something to fit every style and everybody. These tops can be worn to the office, dates, or any time in between!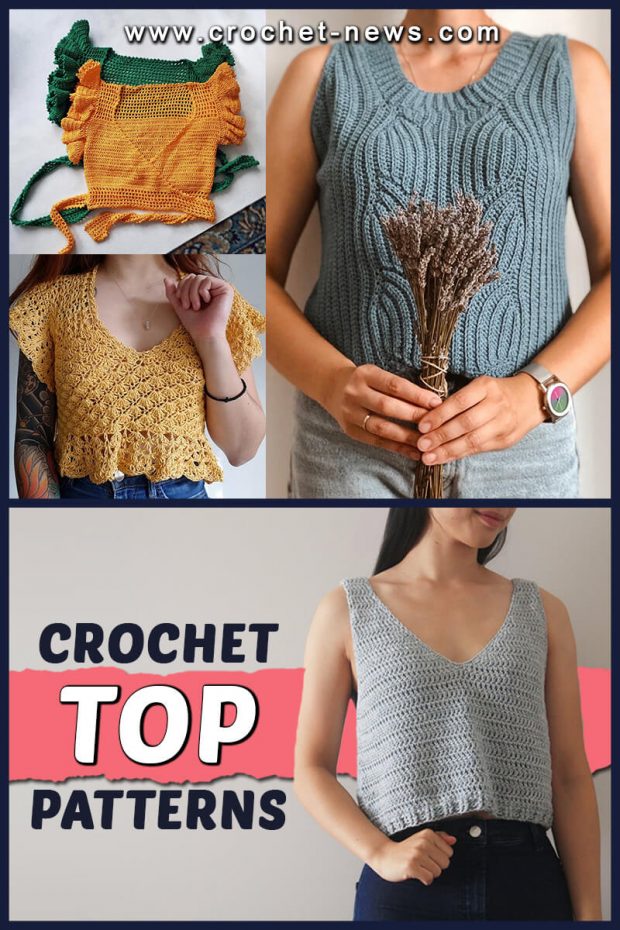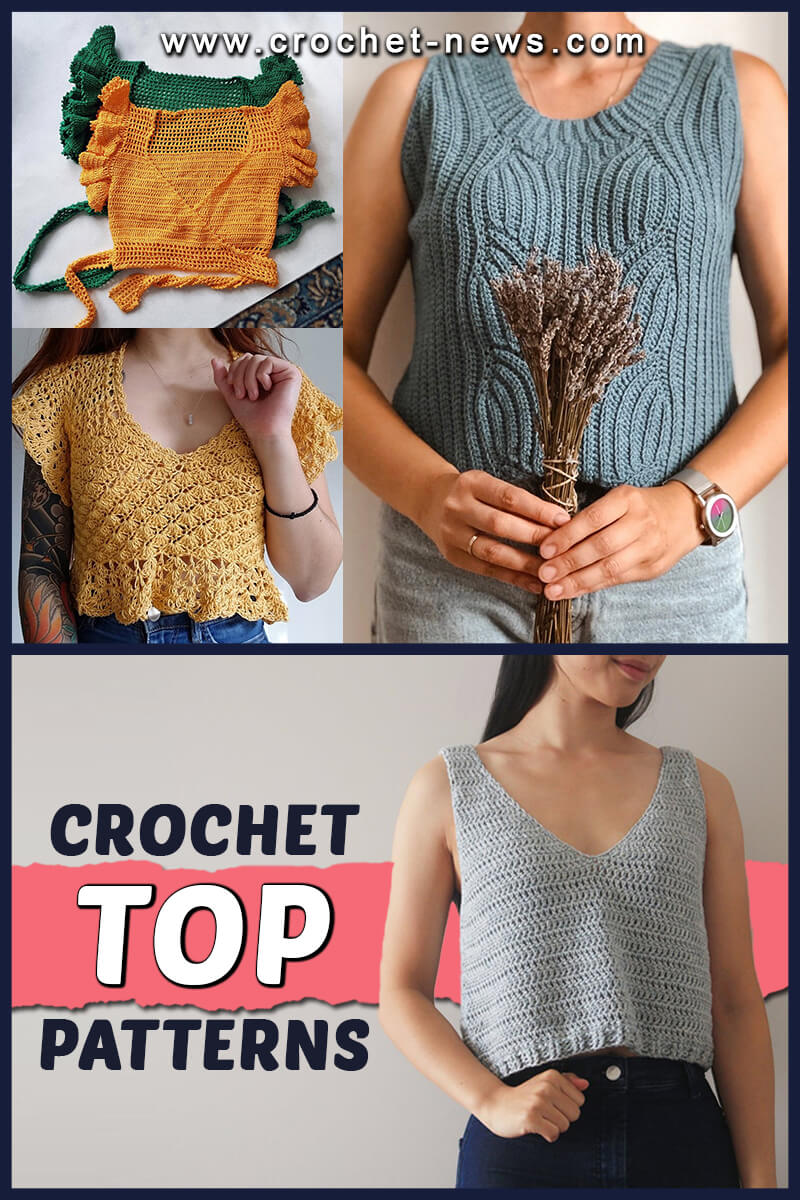 With such variety, it can be a challenge to decide what you'll make first. But, let's face it. You'll probably want to make more than one of these designs for your closet!

1. Crochet Top Pattern by Shop Daisy And Dime
Light, lacy, and airy, this crochet is perfect for breezy warm days. This crochet tee pairs beautifully with cutoff shorts, capris, or skirts.

Any DK or sport weight yarn can be used, however using natural fibres such as bamboo, silk, cotton, or linen is recommended as they provide a lovely drape that compliments the flouncy sleeves and trims along the bottom of the top.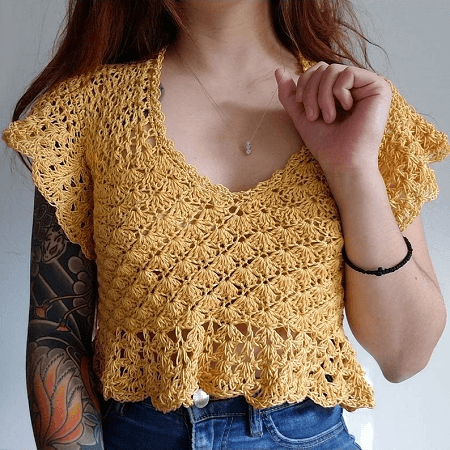 Get the Pattern by Shop Daisy And Dime here

2. Beginner Tunisian Crochet Top Pattern by Make And Do Crew
This Beginner Tunisian Crochet Top is the perfect pattern to dip your hook into the Tunisian crochet craze. It may look complicated, but this off-the-shoulder summer crochet shirt is made from two identical panels and basic stitches.

The off-the-shoulder design and flowy body are perfect for warm summer days. This top can easily be thrown over a bathing suit on your way to soaking up some rays.

Or ock it with a pair of high waisted jeans or shorts and some flops, and what seems like a simple tee becomes a summer wardrobe staple!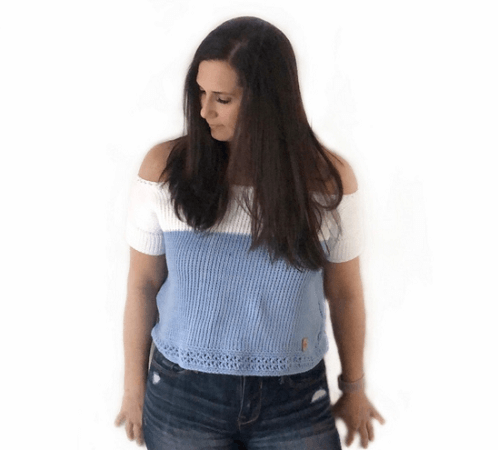 Get the Pattern here

3. Crochet Summer Tee Top Pattern by Evelyn And Peter
This Crochet Summer Tee Top is a must-make for the warmer months. It's slightly oversized for a comfy fit that flatters all body types.

You can easily add or take away rows for a longer or shorter fit. It's also perfect for beginners because there are minimal shaping and seaming.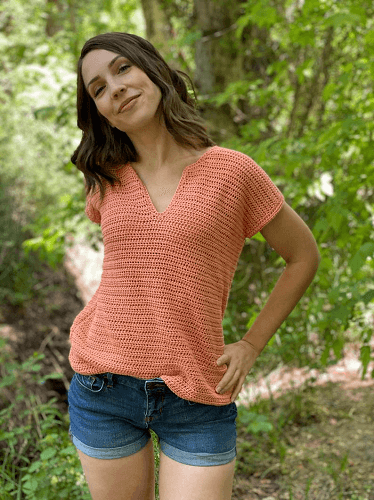 Get the Pattern by Evelyn And Peter here

4. Desert Cactus Top Free Crochet Pattern by E'Claire Makery
If you've been dreaming of a cactus crochet garment pattern, then you are going to love this Desert Cactus Top. You'll want to wear it through all of the warm weather!

The pattern has so many ways to customize it! It comes in sizes XS-5XL, and can be made as a crochet tank top, a crochet peplum top, or even as a crochet dress!

You can adjust the fit, length, and colors to be exactly what you want it to be.
Get the Pattern here

5. Crochet Sea Breeze Tank Top Pattern by For The Frills
Loose and airy this Sea Breeze Tank Top is perfect for summer! This modern crochet tank is an easy crochet pattern and is created by crocheting two identical panels that are seamed together down the sides and straps.

This pattern can be a crochet crop top or easily extended into a full length tank top.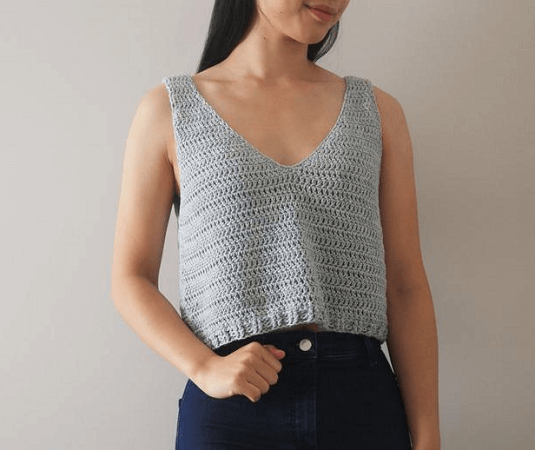 Get the Pattern by For The Frills here

6. Shades Of Autumn Crochet Top Pattern by The Missing Yarn
This super chic Shades of Autumn Crochet Top is what your wardrobe needs for all of your summer adventures. With tons of color possibilities, you'll want to make one for all of your friends!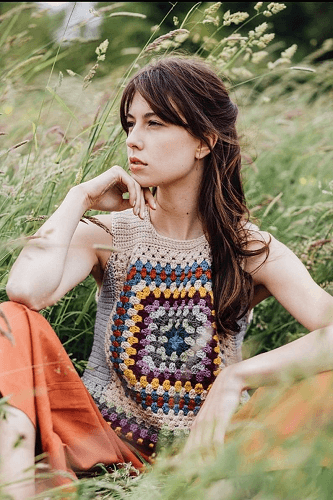 Get the Pattern by The Missing Yarn here

7. Wildflowers Tunic Crochet Pattern by 1 Dog Woof
This Wildflowers Tunic Crochet Pattern makes a gorgeous lacy-but-not-too-lacy spring/summer top.

Both the width and the length are dictated by stitch patterns repeated at specific intervals, so it's hard to really create a custom size.

That's okay though because this top is meant to be a loose-fitting tunic top worn over a camisole. You can even make it extra large to use as a swim cover-up!
Get the Pattern here

8. Crochet Savanna Top Pattern by Alyona She Design
With this very thorough tutorial, you will be able to complete a "ribbed" knit-style Crochet Savanna Top if you have a little bit more than intermediate crochet skills. Yes, it's totally crochet! and yes, it's written stitch-by-stitch!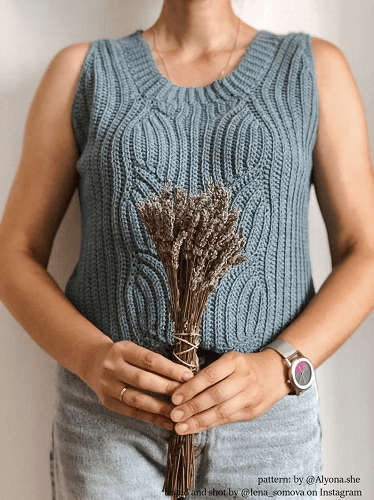 Get the Pattern by Alyona She Design here

9. Swaleigh Top Crochet Pattern by The Velvet Acorn
This Swaleigh Top is handcrafted and designed with comfort and warmth in mind – a perfect accessory for all seasons. It's made with worsted weight yarn and can be used as a tunic or dress. Whip up one for your little one!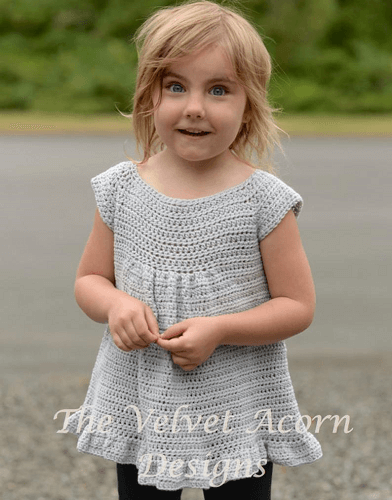 Get the Pattern by The Velvet Acorn here

10. Modest Princess Summer Top Free Crochet Pattern by My Accessory Box
This Modest Princess Summer Top is elegant, simple, and fashionable. It is designed to fit everybody's taste and to go with any fashion outfit.

This one, in particular, is suitable for many ages, you can make this summer top for an 8-year-old or for a 30-year-old. The sizes are very adjustable and are included in the written pattern.

Try making this lovely crochet top in no time to spice up your wardrobe this summer!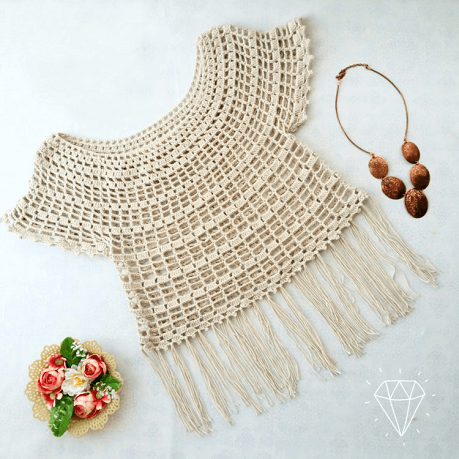 Get the Pattern here

11. Crochet Parisian Tunisian Top Pattern by Sewrella
This Crochet Parisian Tunisian Top is a pullover style with short ruffled sleeves that make a chic statement. It's lightweight and easy to wear and so much fun to make!

It only uses 2 front panels, some seaming, and the simplest ruffle sleeves you've ever seen! It is a great project for those still new to Tunisian crochet – very beginner-friendly.
Get the Pattern here

12. Easy Sleeveless Crochet Top Pattern by Mama In A Stitch
Subtle vintage vibes make this denim-look crocheted top a classic for summer. The boat neck top features clean lines, open stitching and a fabric that's both soft and has amazing drape.

Pair it with jeans, a skirt or shorts to take you from the work day to coffee with friends. The simple design of the shirt is created by an equally simple pattern which will be enjoyed by beginners and intermediate crochet artists alike.
Get the Pattern by Mama In A Stitch here

13. Crochet Yellow Top Pattern by Yarnspirations
This breezy, openwork crochet top design is created with alternating rows of single crochet and rows worked in double crochet and chain stitches.

Front and back panels are worked separately, then seamed at the shoulders, while half double crochet and slip-stitching are used to form the set-in armbands and neckband.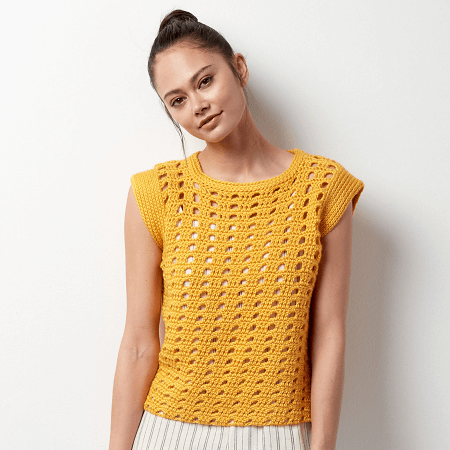 Get the Pattern here

14. Milla Crochet Tank Pattern by Two Of Wands
The goals for this design? A fun but casual summery crochet top that's quick to make and super wearable.

This 70s inspired Milla Crochet Tank is both easy to wear and easy to make! The ribbed hem and straps and an ever-so-slightly shaped front neckline add subtle but thoughtful details to this simple silhouette.
Get the Pattern here

15. Easy Crochet Top Pattern by Ruby Webbs
This Easy Crochet Top is perfect for all of your summer adventures. This sweet little top is easy enough for a beginner to make.

The picot edging around the neckline and straps give this top a feminine look. The length of the top can easily be adjusted by adding or omitting chains from the foundation row or by adding or omitting rounds from the bottom trim.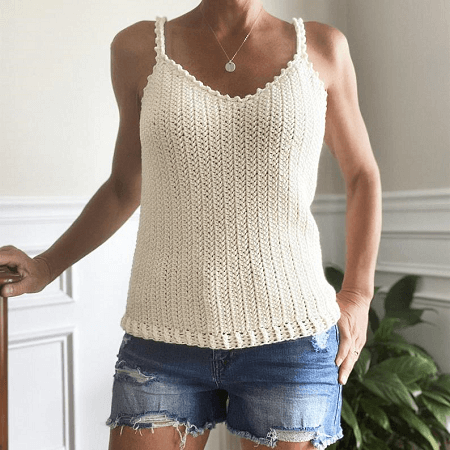 Get the Pattern by Ruby Webbs here

16. Talulah Top Crochet Pattern by Maria's Blue Crayon
This Talulah Top is a universal garment each of us would be very comfortable in, which would go very well with a broad range of other clothing and accessories, jeans included.

The top is available in 6 sizes, from S to 3X, and you can match the color to suit your style!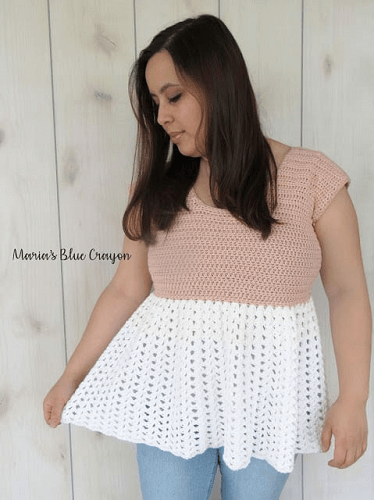 Get the Pattern here

17. Crochet Wrap Top Pattern by Muto Crochet Designs
This Crochet Wrap Top is a versatile crochet top with a sexy flair. It's the perfect top for your closet this summer. It's cropped and it features a ruffle design on the sleeves.

The only stitches you will need to know are chain, slip stitch, single crochet stitch, and double crochet stitch.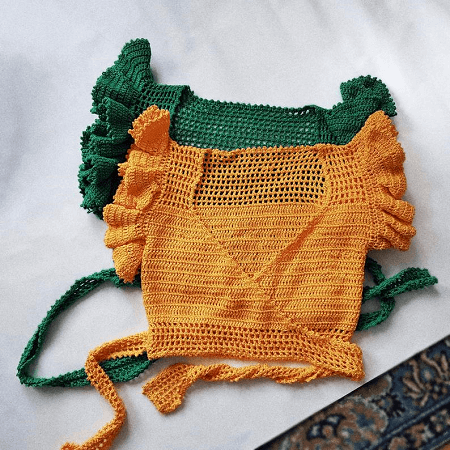 Get the Pattern by Muto Crochet Designs here

18. Zig Zag Crochet Top Pattern by Red Heart
Summertime style comes effortlessly with this light and breezy Zig Zag Crochet Top in your closet! It's a delightful garment that's worked in rounds from the neck down.

The pretty openwork, zigzag stitch pattern is just enough to keep you engaged on this pretty top that's an easy mix 'n' match favorite! Flattering on a variety of body types, this project is offered in a range of sizes for the perfect fit.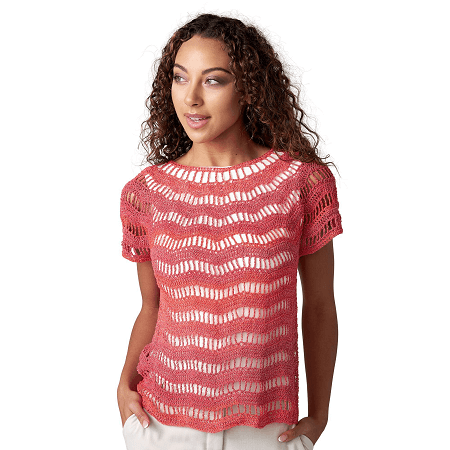 Get the Pattern here

19. Lily Top Crochet Pattern by The Hook Up Crochet Co
Using only single and double crochet, you will be able to create this intricate-looking Lily Top Crochet Pattern. The pattern comes in sizes small, medium, large, and extra-large, and can be easily customized to fit anyone's style.

Whether you want a crop top, a mini crop, or a full-length top, this Lily Top can be made to fit those needs.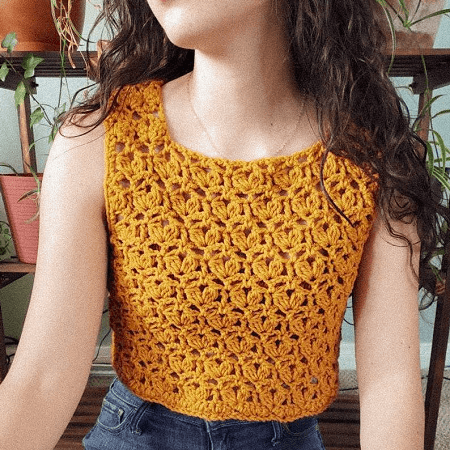 Get the Pattern by The Hook Up Crochet Co here

20. Wandering Free Crochet Summer Top Pattern by A Crocheted Simplicity
This Wandering Free Crochet Summer Top will make the perfect addition to your spring and summer wardrobe. It's got an amazing drape and is very lightweight – perfect for our hot summer days!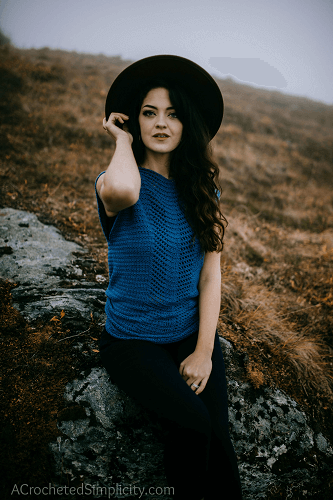 Get the Pattern here

21. Planned Pooling Crochet Top Pattern by Wilmade
Learn how to make a simple planned pooling crochet top with this free crochet pattern!

If you've been interested in planned pooling crochet, but never took the time to dive into this fun technique, then this top is a perfect project to start with! It's made with 2 simple squares sewn together and available in size S up to 5XL.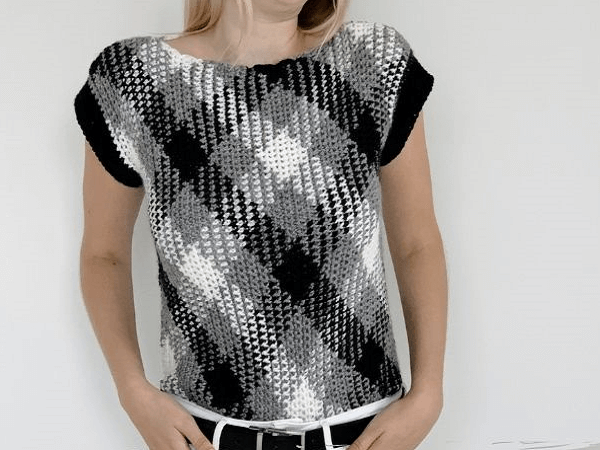 Get the Pattern here

22. Crochet Zalktis Top Pattern by Eleven Handmade
This Crochet Zalktis Top is a rich textured seamless top-down design with instructions to add long sleeves.

The design of this lovely top is something different than the usual. Whether you choose just one color or more, you're sure to keep this top in rotation.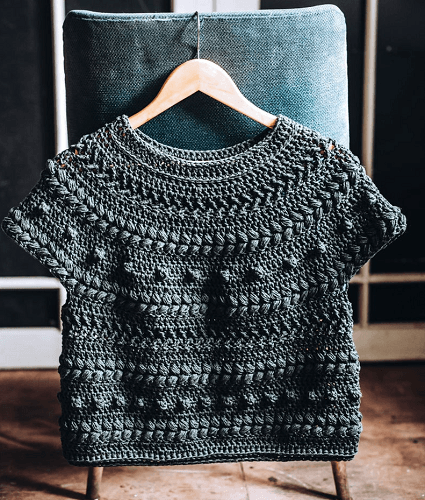 Get the Pattern by Eleven Handmade here

23. Ruffled Crochet Top Pattern by Hooked Homemade Happy
This Ruffled Crochet Top Pattern is a fitted, short top with cute ruffled sleeves. It's a great top for spring! It's not too heavy and with the 3/4 sleeve it gives a bit of warmth without being too hot.

This top is designed to show a little bit of tummy, but rows could easily be added to make it longer. Or take them out if you want more tummy showing, too!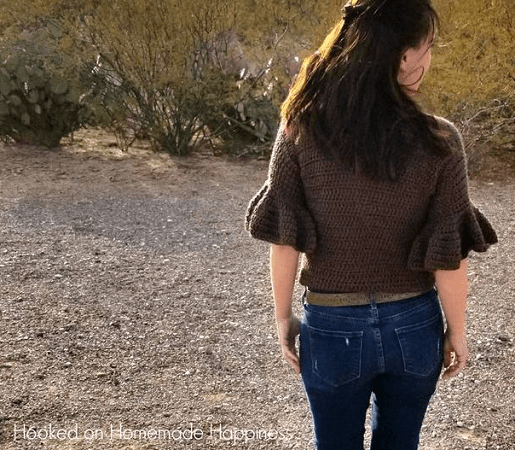 Get the Pattern by Hooked Homemade Happy here

24. Shell Stitch Top Crochet Pattern by Red Heart
The classic style of this crochet top can be worn all year round — on its own when it's warm, or under another jacket or sweater when the weather is colder.

It's gorgeous in a single shade that allows the lovely shell stitch pattern to be admired. Enjoy this pattern that's a comfortable favorite among crocheters!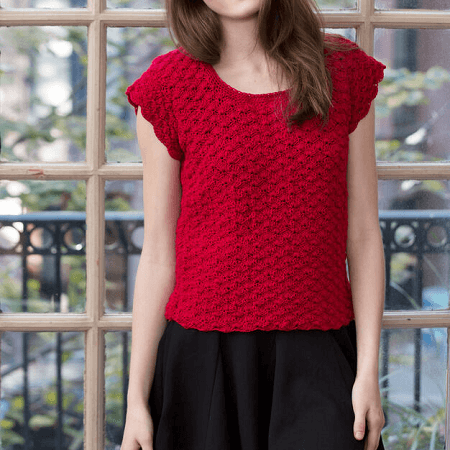 Get the Pattern here

25. Crochet Top Pattern by Crochet Garden
This Crochet Top Pattern is perfect for all of the girls in your life. This top is crocheted from the top down, allowing you to try on as you go for that perfect couture fit.

Long layers set the mood for a day of play or a classy night out. A perfect staple for the wardrobe – just put on a pair of leggings and be ready for attention!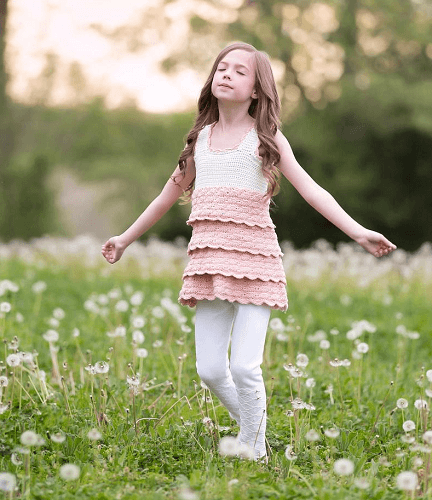 Get the Pattern by Crochet Garden here

26. Crochet Peplum Top Pattern by Knitting With Chopsticks
This Peplum Summer Top is an easy crochet summer top for advanced beginners. The shoulder shaping and elegantly rounded v-neck add femininity to this loose-fitting simple peplum top.

Crafted after my favorite go-to summer tank, it's sure to become your favorite too! The pattern uses single crochet and double crochet stitches, along with a bit of shaping (decreases) for the neck and armholes.
Get the Pattern here

27. Crochet Racerback Top Pattern by Life And Yarn Designs
This Crochet Racerback Top is great for the warmer months but also perfect for fall under a jean jacket!

Worked in increasing rounds, this top is super flattering by creating a light, flowy material. Perfect for the beach, or dinner with friends this is for sure a piece you need in your wardrobe!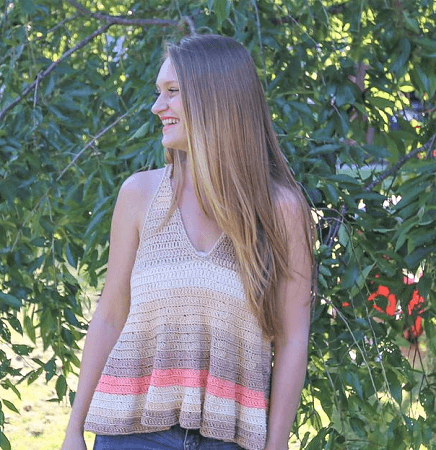 Get the Pattern by Life And Yarn Designs here

28. Crochet Spring Flowers Tee Pattern by Yarn And Colors Shop
This summery ladies top takes the bobble stitch to the next level, where they blossom into spring flowers.

Combine it with some color blocking for a unique top that you can wear whatever the season is not just in spring. Did we tell you yet you can make it in four different sizes?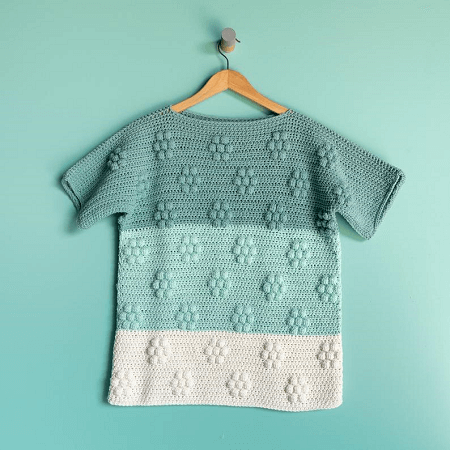 Get the Pattern by Yarn And Colors Shop here

29. Over Size Crochet Top Pattern by Knit Cro Addict
This Oversize Crochet Top Pattern is another simple, beginner-friendly, free project for everyone to enjoy.

It's simply two panels sewn together with some added accents. It's a project for everyone. The oversized fit makes it extra comfy and wearable.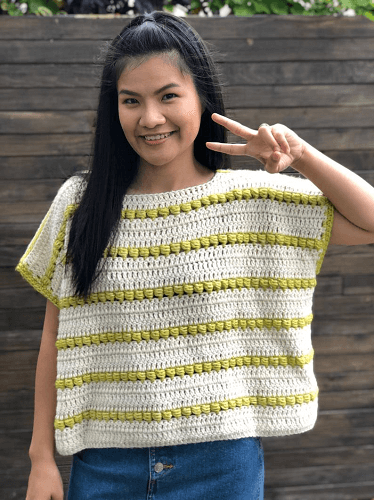 Get the Pattern by Knit Cro Addict here

30. Crafty Crochet Top Pattern by Yarnspirations
Use three colors of yarn for each granny square and neckline triangle for a casual, fun take on a crocheted tee. This season-spanning piece is perfect for warm weather or for layering when the weather is cool.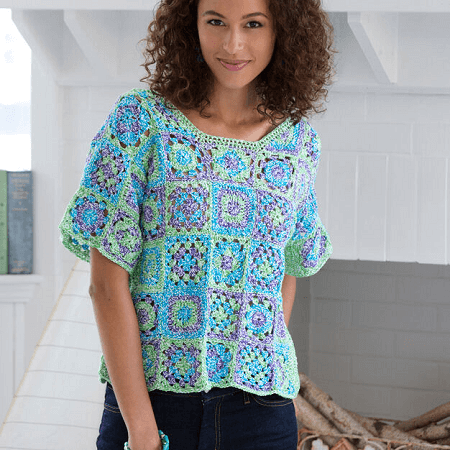 Get the Pattern here

31. Crochet Girls Top Pattern by KT And The Squid
This Crochet Girls Top Pattern is designed with wearability and practicality in mind. A DK weight, cotton-blend yarn makes this top breathable, light, and durable all at the same time.

The tank is worked all in one piece with very little seaming at the shoulders. The construction is simple which makes it perfect for anyone still fairly new to crochet.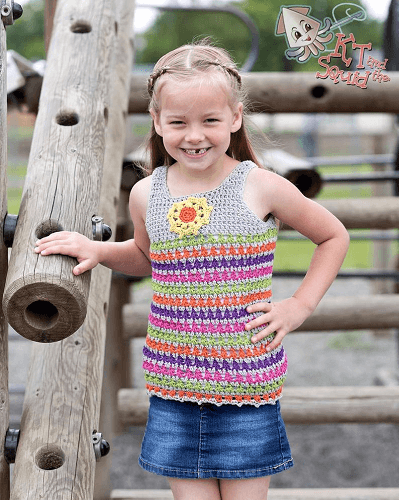 Get the Pattern by KT And The Squid here

32. Anabelle Sava Top Crochet Pattern by Lee Sartori
Say hello to the Anabelle Sava Top, a beautiful motif garment made with simple squares and triangles!

This pattern is available in 9 sizes, with bust changing with the size of each individual square/triangle. This is a loose fitting tee, with a string tie at the back of the neck.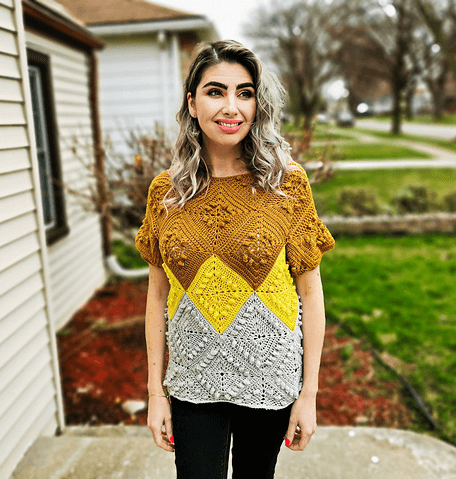 Get the Pattern here
Which crochet top patterns are you adding to your wardrobe?
If you make tops out of these patterns, would you mind sharing your finished works with us, please? Post it on our Facebook Page. We'd love to see your efforts!
And if you're eager to find a lot more crochet clothing patterns (that go beyond women tops), we have a collection here where you can find fashion-forward garments that are all worthy addition to your closet.
Challenge yourself and crochet up your perfect outfit today with these crochet tops patterns that go with your jewelry and bottoms!