Are you looking for a chic, quick crochet hair net patterns? A snood of sorts? It's not only prima ballerinas that are wearing hair nets nowadays. From the runway and the red carpet to the streets and hottest cities, hairnets are making a comeback.
A snood or a hair net is a great hair accessory when you're having a bad hair day, or just want an easy way to gather your hair. Just tuck your hair in and go about your day!
Rather than buying hair nets, crochet your own and customize them to the size of your head and amount of hair you need to cover. You can also customize each hair net for color, coordinating them to your outfits.
15 Crochet Hair Net Patterns

1. Crochet Solomon's Hair Net Pattern by Heart Hook Home
This Solomon's Knot Hair Net Crochet Pattern is stylish and so fast to crochet. There are two patterns included in this pattern: the first is for a headband style that has a button at the top and the second uses less yarn, and is quicker to crochet and has ties for closure instead.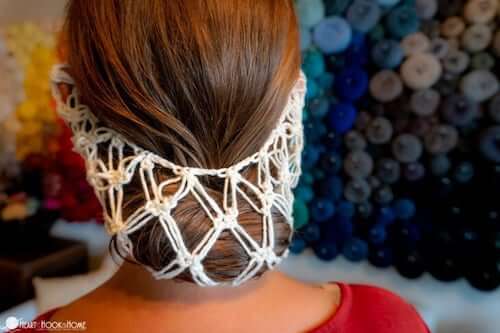 Get the Pattern by Heart Hook Home here

2. Vintage Inspired Crochet Snood Pattern by Little John's Yarn
Snoods have been worn for over a thousand years and the look never goes out of style. This Vintage-Inspired Crochet Snood uses simple stitches and works up quickly. It is made in DK weight yarn but this pattern would also work great with worsted weight or aran weight yarn.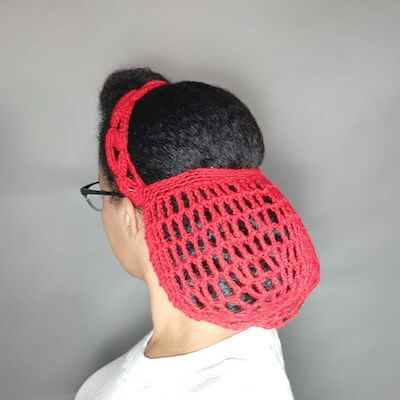 Get the Pattern by Little John's Yarn here

3. Glitz N' Glamour Hairnet Crochet Pattern Red Heart
Using yarn with sparkle, you can quickly crochet this fascinating hairnet. Not only is the look alluring, it is a creative way to keep your hair in place.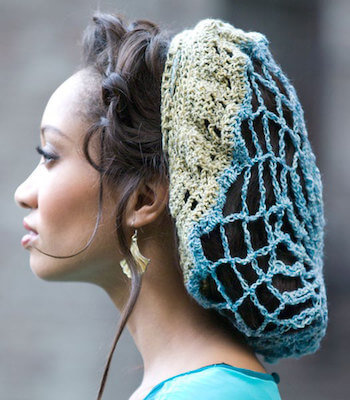 Get the Pattern by Red Heart here

4. Crochet Hair Net Pattern by Heart Hook Home
Use this pattern to crochet a classic netted hair snood. This pattern uses elastic at the edge of the snood to keep it snug on your head. Feel free to crochet a bunch of snoods in your favorite colors.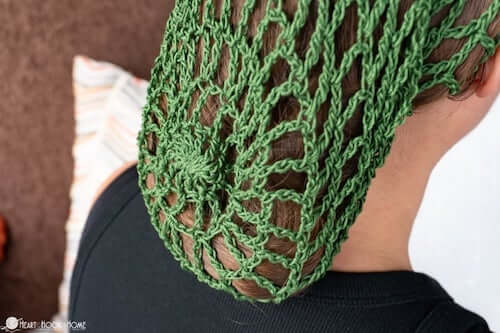 Get the Pattern here

5. Crochet Snood-tastic Pattern by Knitting Suna
Here's a simple thread crochet snood worked in the round using thread. It is shaped a bit differently and looks a little bit like a modern slouch hat in comparison with other snood designs.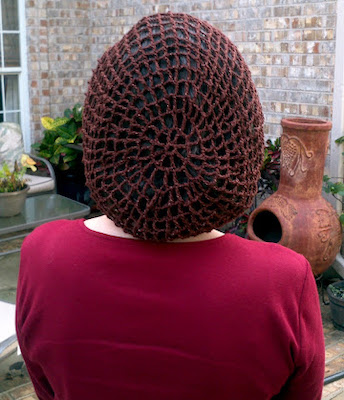 Get the Pattern here

6. Crochet Netted Hair Net Pattern by Crochet Spot Patterns
This crocheted snood – or hair net – pattern is perfect for keeping your hair out of the way while hanging around the house, or letting your curly hair dry undisturbed. Whip one up with this super quick crochet pattern!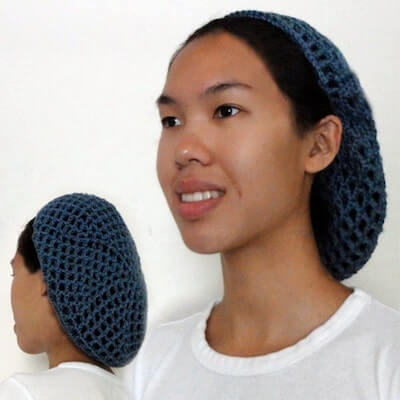 Get the Pattern by Crochet Spot Patterns here

7. Crochet Barrette Hair Snood Pattern by Patterns Ala Carte
This Barrette Hair Snood is ideal to be used for ballet class or for simply keeping your hair neat and tidy.

By varying the yarns or using crochet thread, you can come up with different styles. You can also mix and match bows and covers because the bun cover itself is detachable from the hair clip.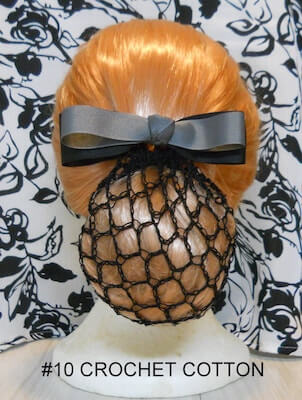 Get the Pattern by Patterns Ala Carte here

8. Wednesday-Inspired Crochet Snood Free Pattern by The Loopy Lamb
Learn how to make a cozy crochet snood with this easy pattern! This Wednesday-inspired Crochet Snood is a beginner-friendly pattern that was inspired by Enid's snood on Wednesday.

Instructions are included so you can just the length of this project as well as how to turn this project from Enid's Snood into Wednesday Snood.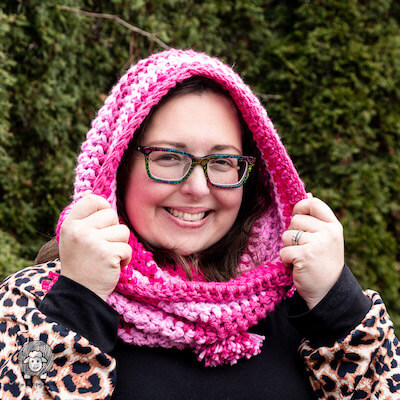 Get the Pattern here

9. Vintage Crochet Hair Snood Pattern by Patterns Ala Carte
A hair net does the utilitarian task of keeping your hair out of the way, but can also add vintage flair to your look or meet religious requirements. The addition of a frill to this hair snood adds a little creativity to the ordinary hair accessory and doesn't take long to make.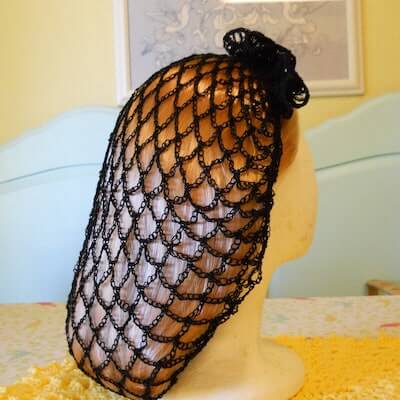 Get the Pattern by Patterns Ala Carte here

10. Filigree Lace Cap Crochet Pattern by Morale Fiber
If you're frustrated with ripping your hair out with hairbands every summer and squishing your damp hair into a matted mess every winter, crochet yourself this fancy hair net. It also looks great as just as slouch hat if you're locks are being particularly well-behaved.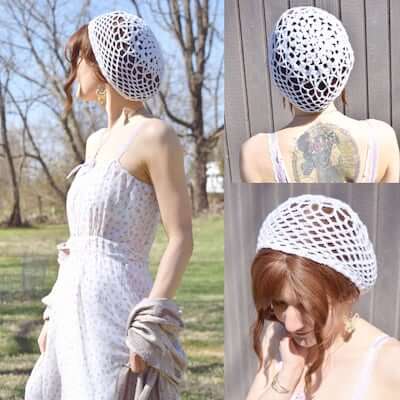 Get the Pattern by Morale Fiber here

11. Crochet Amelia Snood Pattern by The Middle Button
An elegant, feminine snood perfect for gathering wayward locks away from one's face on the warm weather; or work it in fine wool to keep damp hair covered during freezing temperatures.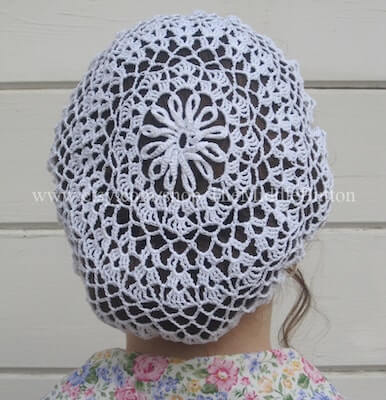 Get the Pattern by The Middle Button here

12. Crochet Snood Pattern by Kathryn White
People looking for a modern snood style may discover that headband snoods are an excellent option. This is a headband that appears to be any ordinary headband from the front, but when turned around, it reveals that it holds a low bun in place at the back of the head.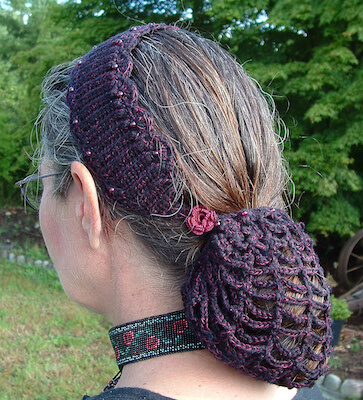 Get the Pattern here

13. Crochet Summer Snood Pattern by We R Soto Design
Whether you just want to get your hair off your neck or if you want to dress up a little, this Crochet Summer Snood will do the trick. It is also great to use for kitchen work, working in the yard, etc.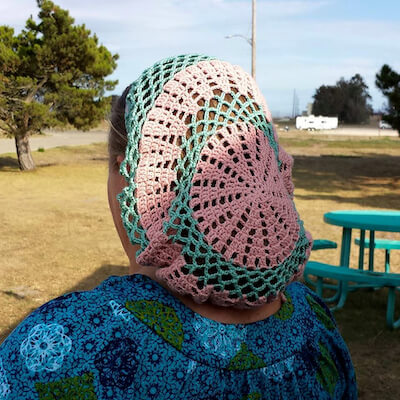 Get the Pattern here

14. Matilda Snood Crochet Pattern by The Middle Button
This pretty Matilda Snood is great for when you're rushing out of the house. All you need to do is to place one end on the crown of your head and tuck the rest of your hair into the net, then tie it up. This will make for a great '40s-inspired vintage look!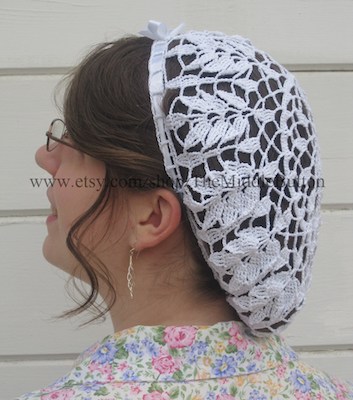 Get the Pattern by The Middle Button here

15. Crochet Snood by Athens/Delphi
There can be nothing worse than spending a small fortune on a new hairstyle and then waking up the next morning to find it ruined! Crochet yourself this useful hairnet to stop that happening.

Simply place one over your hair to protect that perfect hairstyle. Lightweight and comfortable to wear, you'll never know you have it on!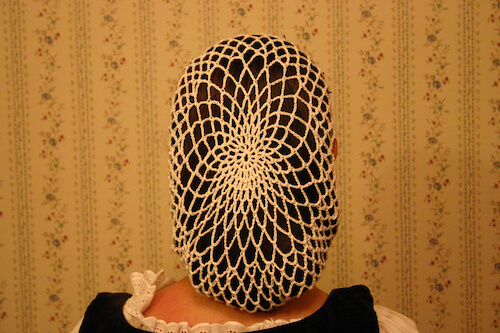 Get the Pattern here
NOT JUST A PRACTICAL WAY TO MAKE SURE YOUR 'DO STAYS PUT, THESE CROCHET HAIR NETS ARE GREAT STATEMENT PIECES THAT ANY FASHIONISTA SHOULD HAVE IN THEIR ACCESSORIES DRAWER.
When you make one, please share a photo with us on our Facebook Page.
Accessorize your hair in style! You can make so many different types of accessories with a crochet hook and some fun yarn that it's hard to stop! Here are more projects to make:
The humble hair net is having a major revival. Join on the bandwagon by making yourself a crochet hair net today!