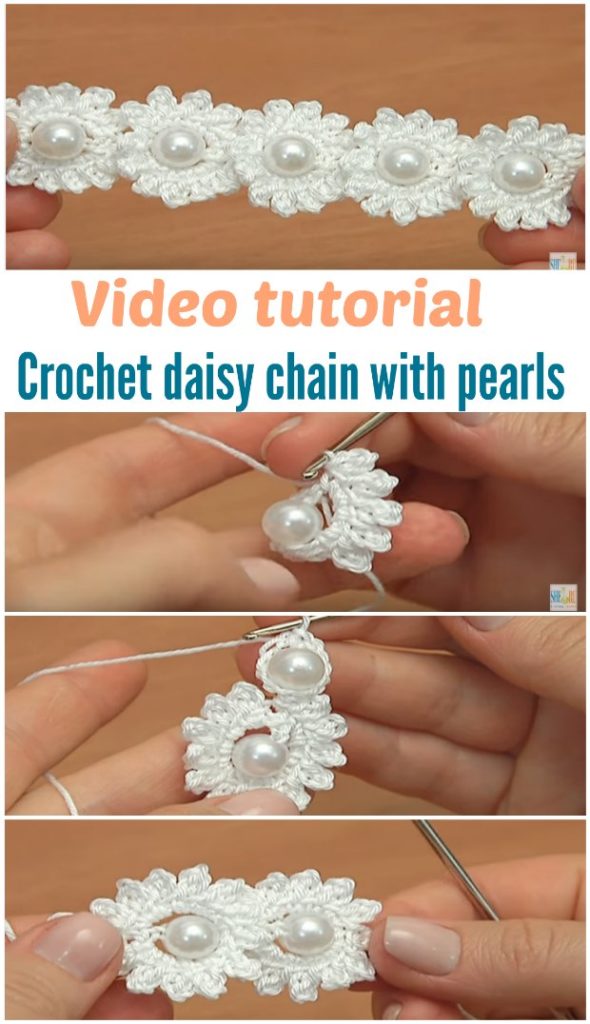 Crochet Daisy Chain With Pearls
I'm addicted to beautiful things, and the crochet daisy chain with pearls is one such beautiful things. I had seen this pattern only once before, but back then I didn't have the chance to find out how it is made.
Its elegance enthralled me and at the same time made me feel disappointed in myself that I did not know how to make it. You must know by now that I'm nuts over crocheting.
My heart nearly stopped with joy because I finally had it at my fingertips again so to speak. I had to make my daisy chain with pearls. It's a bracelet on my hand right now, and I love it. I can't stop showing it off.
So what materials do you need to create your magical daisy chain with pearls?
Crochet Daisy Chain Materials
Pearls – you can get a wide variety of large hole genuine freshwater pearls on Amazon here with 2.0mm holes which easily fit the hook through, treat yourself!
2mm crochet hook to make the flower
1.5mm hook to thread the bead
Easy To Follow Video Tutorial
The tutorial for making the crochet daisy chain with pearls is quite simple to follow. This pattern requires no technical skills in crocheting so even a beginner can handle it. The instructions in the tutorial video are well detailed and explained in simple English that is easy to understand.
I guarantee you if you follow them precisely, you will end up with a lovely daisy chain. The trickiest part of the entire exercise was probably finding the right size pearls. Waiting for the order to come had me quite impatient because I couldn't wait to have my daisy chain on my wrist.
So Many Stunning Applications
The crochet daisy chain pattern with pearls is the perfect pattern for making stunning pieces. The minimalist design in itself is what creates its appeal. You can use it to make bracelets, chokers or even a beautiful necklace. My favorite one that I made was for my niece as a head band.
You can try using it as a trim on a lovely blanket or a beautiful lace tablecloth, and it will just be the right piece to finish it off. A fun way to use this pattern is using it to make the collar for a pretty cardigan or as the edging for an elegant shawl. There is no way you can go wrong with the crochet daisy chain pattern.
Whatever you decide to do with it the crochet daisy chain pattern with pearls it will be entirely exquisite. The dainty pearls sparkle as your beautiful crocheting work holds them in place. It almost seems magical.
I promise you in any way you use it you will get a few mouths waging. Yes, the pattern is that beautiful. You could even present it as a gift to a friend or a loved one. After all, pearls are a girl's best friends, right?
Give a crochet daisy chain pearl necklace to your mom or your sister, and they will love it. The best gifts come from the heart, and the crochet daisy chain pattern with pearls is the perfect representation of that.
So what are you waiting for? I know you already want it. Don't hold yourself back. Watch the video and start the pattern right now.
Video instructions on how to make a daisy chain bracelet with pearls.